SPOTLIGHTS
The Tuesday Communique 03.12.13: Lack of Creativity
Posted by Nick Marsico on 03.12.2013

RAW thoughts, Mysterio's possible retirement and the state of WWE's creative team. Plus, El Generico unmasked, WWE developmental discussion and TNA's LockDown!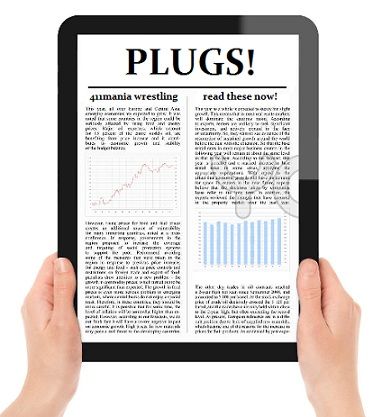 The Wrestling News Experience with Stephen Randle
Thursday Sports Entertainment Report with Sean Kelly
The Wrestling 5&1: Velvet Sky & Stacy Keibler with Tony Acero & Greg De Marco
The Piledriver Report: The History of Vince McMahon's Wrestling Empire: Part Eight with Ronny Sarnecky
The Heel Report: Old School Jobbing with James Wright
The 8 Ball: Straight Shooters with Ken Hill
The Professional: Top WrestleMania Opening Matches with Jon Harder
The Contentious Ten: Wrestling Masks with Gavin Napier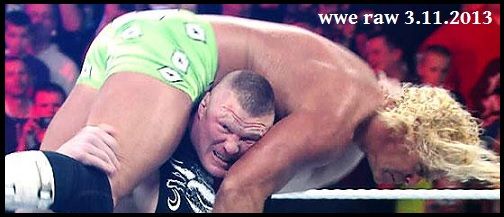 WWE Monday Night RAW from Indianapolis, IN || TV Review


The Undertaker starts us off for the second week in a row, but this time Punk is there before he can disappear into thin air. He interrupts the "In Memory Of" graphic with 'Taker in the ring. Punk "I'm sorry for your loss... at WrestleMania." Awesome. This is actually the most tasteful anybody's death has ever been used in a storyline. "To Paul Bearer, you'll always be perfect. To everybody else, you'll be 20... and 1." He didn't make fun of his death, but it was used in a very effective way without being disrespectful. And then it gets awkward as the crowd doesn't really know what to do, so some of them chant "CM Punk", the rest of the crowd boos them down and everybody sits there and waits for Undertaker to respond, but then he doesn't. Good segment but the awkward end hurt it. On WWE Active during the commercial, the crowd was chanting "Undertaker!" "CM Punk!" and the Punk chants were louder, so Kane came out and tried to chokeslam him off the stage but Punk got out of dodge. Then, backstage, Kane knocked out Alex Riley while looking for Punk. A-Ry as "the guy who got knocked out" is the best new gimmick today.

The Big Show v. Seth Rollins
Show swats Rollins around like he's nothing and sidesteps a charge, sending Rollins out into Ambrose with a tope suicida. The Shield attack Show on the outside for the DQ, but he's able to fight back and hold them off until Reigns spears the holy hell out of him, just like last week on THE WWE APP! They give him the three-man powerbomb as well. I was worried there for a minute. Show def. Rollins, DQ - 1 min, NR

CM Punk is backstage with Brickie, who book him in No DQ match with Kane tonight. Vickie told him he disrespected Bearer. Punk, incredulously: "No I didn't!" Then she told him that he has to ask Kane for mercy. Punk more incredulously: "What does that mean?" Vickie clarifies that he's wrestling Kane tonight in a No DQ match. Punk, most incredulously: "No I'm not!". Could be a good match if they let them really get going with that stip.

Daniel Bryan v. Dolph Ziggler
Action starts off hot and Bryan gets a sweet Mexican surfboard. He NAILS Zigger with a European uppercut as this match gets international, but ever the xenophobe Ziggler fights back with a dropkick. Bryan comes back with his own running dropkick in the corner. Ziggler tries to come back, but Bryan tosses him HIGH over the top rope off a charge. Bryan attempts to follow out with a dive, but Big E jumps onto the apron to stop him dead in his tracks. Commercial time. Ziggler's got the headstand chinlock as we return. Bryan catches an attempted dropkick and catapults Ziggler into the corner. Bryan has been in almost complete control of this match. He backflips out of the corner and hits the running forearm and gets a near fall off a roll up. The crowd is LOVING Bryan, as always. Ziggler stupidly tries an uppercut of his own, so D-Bry LEVELS him with one of his own, then kicks him over and over and gets a nearfall off a headkick. Crowd bought that one. Ziggler recovers and cuts Bryan off on top to block the flying headbutt, but Bryan slips out. FINALLY Ziggler is able to get something going as he turns the super backdrop into a crossbody. That gets a cloooose near fall and I thought that was it. Ziggler gets the Fameasser (called Zig Zag by Cole) for 2. Bryan is back and gets the NO! Lock, but AJ distracts the ref and Big E pulls DZ to the ropes. Bryan counters a schoolboy into the NO! Lock again, but Ziggler rolls through and hits the real Zig Zag to take the win. DOLPH WINS! DOLPH WINS! I can't believe he finally got a win! Big E lays out Bryan with his finisher after the match. I would be more than willing to accept Hell No v. Ziggler & Big E at WrestleMania. Ziggler def. Bryan, Zig Zag - 12 min, ***

Brodus and Sweet T come out and dance but they can't say Fandango's name right, so he won't wrestle. He says that he will come down to the ring if Naomi will say his name, and she smiles as he says she's the only one out there with any talent. Tensai stops her, though, since he has a crush on her, and that stops Fandango from accepting a match. I'm sorry, but I'm loving this guy.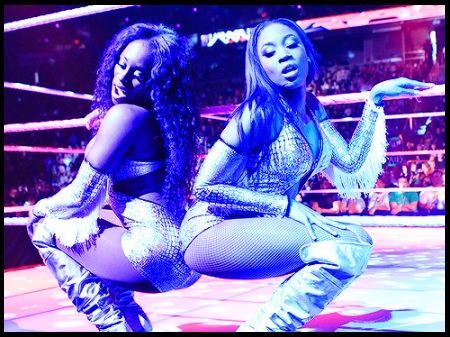 Sometimes the best part of RAW.



Team Rhodes Scholars v. New Age Outlaws
Rhodes and Sandow, whose gimmick of being a broken up team that simply keeps "reuniting" instead of being back together is just awesome, mock the NAO's classic intro Joseph Decreaux style. Road Dogg and Bad Ass enter nd do it right, and the match is on! Sandow interrupts the SHAKY LEG DROP and gets punched in the face for it, but runs into a Disaster Kick. That's about it, though, as Brock Lesnar's music hits and he kills both of the Outlaws. No Contest, 2 min

Paul Heyman runs down the destruction that Brock has left in his path. Brock will be taking on Triple H at WrestleMania, but it will only happen if he accepts Brock's personally chosen stipulations, which Triple H will have to sign a contract for before finding out what the match will be. If you're not down with that, Paul Heyman has two words for you... in the immortal randomly spoken words of Mike Goldberg: BROCK LESNAR! I wonder if they're going to go with some sort of octagon gimmick. Good segment.

Kofi Kingston v. Mark Henry
Seriously, what the hell did Kofi do to get this recent treatment? Henry throws him around for a bit and then he kicks him so hard that Kofi goes flying across and out of the ring. Kofi's able to dodge a charge on the outside, though, and gets a vaulting clothesline off the steps. Henry rolls back inside and catches Kofi off an attempted flying cross body from the top. That's what he does! World's Strongest Slam and that's all she wrote. Henry def. Kingston, World's Strongest Slam - 2 min, NR

Cody Rhodes hits on Kaitlyn in catering, but she's not having it. Sandow comes in with THE BELLAS (!) who are back because the Divas division is worse now than it was when they were the centerpieces. That's actually pretty much what they said, too. Vickie randomly shows up and tells Rhodes and Sandow that they have to wrestle Sheamus and Orton tonight. Ma

Ryback v. Heath Slater
Slater blindsides Ryback when Mark Henry walks out to watch the match, but Ryback tears him apart. McIntyre comes in after him but takes the move as well. Henry saunters down and hits the WSS on McIntyre, so Ryback hits Shellshocked again. So Henry hits the World's Strongest Slam again and they have a staredown. Ryback def. Slater, Shellshocked - 1 min, NR

Non-Title: Antonio Cesaro v. Alberto Del Rio
It's US Champ v. World Champ and nobody even bats an eye. What a fucking joke. ADR takes over with a nice headscissor takeover but Cesaro controls from there with some Very European yet very bland offense. Del Rio comes back with the normal babyface sequence and gets a superkick after the tilt-a-whirl backbreaker. That leads to the kidney shots and the backstabber out of the middle of the ropes. Cesaro catches ADR coming off the top with a European uppercut but only gets 2. He tries a German suplex but Del Rio counters into the cross armbreaker and AC taps. Some champion! Del Rio def. Cesaro, cross armbreaker - 5 min, *1/2

Josh Mathews is backstage with Kane, who holds the urn and broods sadly. I hope he shows some real aggression and passion tonight in the match with Punk. Motivated Kane is good Kane.

Promo video for Rock and Cena is actually quite good. It would be great if I actually cared about the match.

Randy Orton & Sheamus v. Team Rhodes Scholars
I hope The Shield interrupts quickly. The Scholars get screwed out of two matches! For the time being, the faces dominate until Sandow can tag in Rhodes. Sheamus comes back quickly and gets the steamroller. Sandow low bridges Sheamus and clotheslines him on the outside. Back in, Sandow is the legal man and he grounds Sheamus before tagging Cody back in. Rhodes gets a very nice running knee for 2. Into the chinlock! Sheamus clotheslines Cody off blocking a hiptoss attempt and makes the tag to Orton. Scoop powerslam for Cody as Cole calls Randy "a beauty to watch". Alright then. He hits his very not beautiful t-bone suplex for 2, but the Scholars take control on the outside. Elbow OF DISDAIN~! gets two and Cody gets two of his own with an ugly front suplex. Still not worse than that "t-bone" from Orton, though. Superplex from Orton and it's warm tag for Sheamus! Chest clubbering in the ropes leads to White Noise. Brogue Kick and RKO end it. Sheamus/Orton def. Rhodes Scholars, Brogue Kick - 7 min, **1/4

During the commercial, The Shield took out Sheamus and Orton. Why bother doing it during the commercial break if you're just going to show it immediately afterward? Why should I get the app if the important stuff ends up on TV moments after it's shown "exclusively"?

Jericho is back with the Highlight Reel and doesn't seem to remember that he missed two weeks after Seth Rollins kneed his head into next week. I guess he'd rather just promote shitty movies and help supplement a feud over who the bigger star is, starring Wade Barrett and The Miz, who is playing the role of Sheamus, who had to drop out due to prior engagements. It's embarassing, really. Jericho introduces Miz, but Barrett interrupts immediately and shows a clip from his movie. Cool! This is really great! Yeah! So are they really making Barrett into a guy who thinks he's a movie star instead of going with the character they spent weeks building up to and months having him run with on TV? Miz says "Really?" a lot, and Jericho does it too. Cole "this is so bad." Thanks for being here, Michael. Jericho threatens to take Barrett's belt, so Maddox comes out and tells them to stop arguing. He makes Miz v. Jericho for after the commercial break with the winner getting a shot at Barrett's title next week. For some reason Cole and King completely buried the whole segment, and it sounded like it was planned to happen from the beginning. What the fuck? I can't even explain how stupid this was. The actual segment was fine, but the commentary, as usual, was atrocious, just moreso with the two morons at the desk burying them. And yeah, I'm putting them blame on them even though they were simply taking orders from Vince. That's based on the fact that they suck at their job in general.

#1 Contendership for the IC Title: The Miz v. Chris Jericho
Barrett is on commentary, likely without any idea that the men sitting next to him just buried his entire segment. Jericho comes off the top with a sledge but runs into a big boot from Miz for 2. I like it when smaller guys do the big boot. Don't know why, but I do. Jericho counters the Reality Check and gets the facebuster but hits knees on the Lionsault attempt. He catches Miz going for the running corner clothesline but can't get the Walls. Miz goes for the Figure Four but can't get it. He rolls up Jericho for 2, but that ends with Miz in The Walls of Jericho. He makes it to the bottom rope though. He rolls outside and Jericho follows and throws Miz right into Barrett at the announce table. Barrett goes after both men, drawing the ref to call the match. Miz hits the Skull Crushing Finale and Jericho gets the Codebreaker to take out the IC Champ. Triple Threat next week, then. It's not like the biggest PPV of the year is coming up in 27 days or anything. Jericho v. Miz, No Contest - 3 min, NR

Ricardo and ADR make fun of the Swagger/Colter videos. This is building to the World Title feud at WrestleMania! The best part of this is that ADR looks like Edge.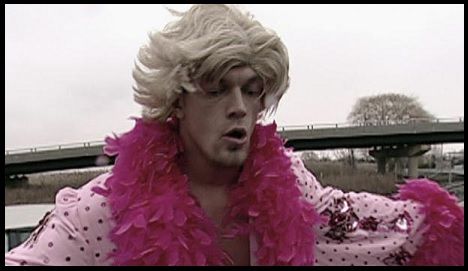 Kinda.



Sin Cara v. Jack Swagger
Zeb cuts a long and boring promo before the match, literally calling Sin Cara a "Mexican jumping bean". He has to almost literally beg the crowd to have any sort of reaction, and after they sorta politely boo, they start a "boring" chant. Well, the people who hadn't fallen asleep chanted, at least. Swagger makes Sin Cara tap to the ankle lock in the match and keeps it on, so Del Rio comes out and puts him in the cross armbreaker. Swagger def. Sin Cara, Patriot Lock - 2 min, NR

Kane is pretty hilarious in a promo video for The Call with Halle Berry. I don't know how that's supposed to get people to watch the movie, but it was damn funny.

No DQ: CM Punk v. Kane
Punk jumps Kane before he can even get to the ring. He takes off his shirt, which distracts him long enough for Kane to take control and toss him into the barricade. Punk gets thrown into the timekeeper's area so Kane can go tear up the announce table. He takes too long, though, and ends up with the ring bell in his gut. Punk gets a double sledge from atop the barricade, but Kane comes back quickly. Back in the ring, Kane controls as the crowd starts a pretty lively "CM PUNK!" chant. Punk comes off the top with the Savage Elbow for 2. I wonder if they had any idea what Punk was going to do on RAW this week before Bearer died. He gets two running knees in the corner, but Kane blocks the bulldog and throws him over the top. That sends us to the commercial. Back from break at 11:08 and Cole and King are talking about how "RAW's not over, so call your friends!" as if they haven't been routinely going to at least 10 after the hour pretty much every week. Kane launches Punk into the corner, which had a chair propped up. Kane clotheslines him over the top. He gets a chair and brings it into the ring with the intent of chokeslamming Punk, but it gets reversed into a DDT on the chair! Punk uses it once, but Kane goozles him! Big headkick! UNDERTAKER'S DONG! Punk looks around for 'Taker, but he's not there! Chokeslam! Over! Good match. Kane def. Punk, choke slam - 13 min, ***

'Taker finishes his tribute to Bearer that Punk interrupted earlier, but Punk grabs the urn and nails Kane with it from behind as he kneels in tribute. Undertaker goes down to the ring, but it's too late and Punk is up the ramp with the urn. He goes down to one knee and mocks the pose, so Undertaker grunts and slashes at his throat. Enthralling.

Overall RAW Thoughts
Well, it was okay. Punk was entertaining and had a good match with Kane, but his promos about ending the streak have been NOTHING in comparison to what they could and should be. He's got three more tries, though. I wonder if Undertaker's even going to bother to actually do anything at all leading up to the show. Bryan and Ziggler had a good match as well, and I can't believe they're actually doing to keep Kane and Bryan together. They had the ONLY organic storyline leading up to WrestleMania and they're not going with it. I'm just SO not excited for the show. RAW felt really long this week. Even though there were some entertaining standalone segments, the build (or lack thereof) for WrestleMania is so lackluster that it drags everything else down because I just can't get into it. It's supposed to be extra exciting because it's 'Mania time, but instead it's just... there. For a guy who once wrote a (pretty crappy) column about loving WrestleMania "because it's WrestleMania!", I sure don't care about WrestleMania. That's upsetting, to be perfectly honest.





The former El Generico wrestled last week for NXT without his mask. He wrestled under his real name, Rami Sebai, in a tag match teaming with Kassius Ohno against the Wyatt Family. Obviously nothing has been decided until he debuts on NXT's television show, but at least he doesn't have a bad look. It's a far cry from anybody else on TV, so that's a good distinguishing factor. I just don't understand the mentality of signing guys who are seasoned veterans with world wide experience and putting them in the watered down developmental camp. NXT should be the place where the train guys with little-to-no experience. Guys like Ohno and Luke Harper should NOT be stuck touring around Florida with guys who have been in the wrestling business for 10 months. Dean Ambrose and Seth Rollins were down there for far longer than they should have been. Daniel Bryan is an odd case since he apparently asked to spend some time in developmental, I think because he wanted to work off some rust (don't quote me on that). I wonder how his debut would have gone if he was brought right in to the main roster as opposed to FCW. In the end, though, the WWE creative team doesn't know what they're doing with the guys they do have, so maybe right now the guys who are in Florida are the lucky ones. Speaking of the creative team...





WWE has parted ways with their Senior VP of Creative Writing, Eric Pankowski. Can't get any worse, I'd bet. Apparently WWE's plans are to sink more money into the creative section of the company in 2013; that goes for writing television as well as coming up with content for social media and the app, etcetera. Honestly, I think it's a HUGE waste of money. In my opinion, they need to go very simple with it. Not a lot of people. The majority of them should be wrestling fans. They give us the bullshit that they need people to "write for TV" -- that's fine. They can be the ones to format the content to work as a television show if that's what they really feel they need (they don't). It's not fucking rocket science. They have overcomplicated it so far beyond the point where it needs to be. Throw a few guys in a room and have them come up with ideas. Throw those ideas at the boss. Move forward with the ideas that don't get shot down and come up with more to replace the ones that were rejected. Rinse and repeat. The most important thing is that everybody communicates with each other. It's just so frustrating as a fan to see such a lack of continuity and creativity week-to-week.





TNA LockDown from San Antonio, TX || PPV Review


The Stuff I Missed
I missed the first hour of the show but it doesn't really seem as though I missed much. I love that the X Division Title match had three newer faces in it with King retaining over Ion and York. I hope RVD stays far away from that belt going forward. They can really make it into something special again if they pull in a bunch of young guys and have them just fly all over the place. Joseph Park beat Joey Ryan in what appears to have been a fun comedy match and Robbie T beat Robbie E. Hopefully that marks the end of the Robbie E character. The Knockouts referee beat up Gail Kim like she was Drew McIntyre, which is cool I guess. At least it's a new storyline and a new character for the division.

TNA Tag Titles: Aries & Roode def. Bad Influence & Chavo/Hernandez
The Tag Title triple threat match was AWESOME. This is how the PPV started for me, and god damn was it the right spot for me to get in. This was action wall-to-wall with everybody performing, as the cliche goes, on all cylinders. I loved this match. The crowd was rocking, the guys were all spot-on, the different sequences were crisp and well done and, most importantly, it was 20 minutes of pure fun. Great, great stuff. The only detriment I can find is that the stupid director missed Hernandez sprinting down the elevated ramp before he leapt into the ring for a double clothesline. That move was great and the crowd popped HUGE, but it would have been better for the TV viewing audience if that part had been captured as well. Minor fault, and it had everything to do with the director and nothing to do with the wrestlers. ****

Cage Match: Wes Brisco def. Kurt Angle
Kurt Angle can indeed still pull a good match out of anybody when he wants to. Brisco tried hard, and being completely inexperienced that's all he really could do. Angle kicked his ass for a bit, he did a bunch of first day at wrestling school stuff and then Angle kicked his ass a little more until D'Lo came out and pulled Wes out of the cage for the win. The German from the top rope was awesome but looked a little too dangerous. Jumped a bit out of my seat for that one. Like the last match, this one was a lot of fun, just in a different way. ***

Lethal LockDown: Team TNA def. Aces & Eights
If Brisco had lost the previous match to Angle then I would have bought this match as the official end of Aces and Eights. That would have been glorious, but alas it was not to be. The match was definitely solid when it was limited to the first four guys (Anderson, Magnus, Knux and Joe) but after that it kind of fell apart. Eric Young got a great reaction, which was really nice to hear and proves that he really is over. They're outside of the Impact Zone bubble for good now, so we're going to find out how crowds really feel. When Sting came out with the weapons this match got FUCKING GREAT. For almost 5 minutes straight the TNA guys just absolutely laid into the A&8s guys with all of the plunder in the world. That was all kinds of wonderful to watch. They had a short minute or so where the heels started a bit of a comeback, which was weird, and for a moment when Sting stepped in front of Eric Young I thought he was turning. That would have been WAY out of left field. Instead he was just telling Young to risk his life to win the match. It was a nice spot to end the match with. Overall, even with the directionless wandering around that took over the middle 8 minutes of the match or so, this was great fun (recurring trend here) to watch. I would have had Kurt beat Brisco and then use this match to end the whole angle once and for all, but it's clear that was not what they had in mind. ***1/2

Steel Cage Match for the TNA World Title: Bully Ray def. Jeff Hardy
They didn't really gel together in this one, which surprised me. They started off definitely not on the same page and while they came closer as the match wore on, they never really clicked. That's not to say it was a bad match by any means, but it wasn't anything to get excited about. The big deal here is the angle. I truly wasn't 100% sure they were going to pull the trigger on it, but once Bischoff & Brisco hit the ring that was the end of my doubt. They did indeed do it right in that respect. The crowd seemed to buy that Bully was on the up-and-up, and even when Devon tossed him the hammer they sounded surprised. It was definitely the reaction TNA was hoping for, as the crowd reacted with shock and horror when Bully nailed Hardy in the back with the hammer to put the seal on Bully as the President of Aces and Eights. The question still sadly remains... is there a higher power? **3/4

Overall LockDown Thoughts
What I saw was definitely very enjoyable. The three-way tag title match was great wrestling, Kurt Angle proved that he can still carry anybody to something good if he wants to, the Aces and Eights guys got clobbered and clubbered for a seemingly endless period of time and they made what I'm expecting to be the second biggest reveal of the Aces & Eights club. The moment actually felt a bit surreal -- the crowd was abuzz and conveyed shock (for whatever reason) and Bully was AMAZING with continuing to get everybody riled up (which he always has been). I was hoping they would just kill the angle once and for all at the show, but if it has to continue at least the one guy who has a chance to turn it all around is now at the helm of the ship. I still think there's going to be one more person above Bully, though, and it will be disappointing and underwhelming. For this one show, though, I'm optimistic that they're going to begin a decent little salvage job. Good show. A last note; I read on Monday morning that TNA planted people in the audience to start the trash throwing. I did think it originally looked forced, but that's not the main point. That's really, really dangerous. Not only did it put all of those men in the ring in danger, but it also sets a precedent that it's okay for fans to throw things into the ring. That sets a very dangerous precedent.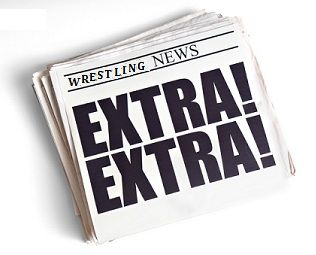 - Rey Mysterio's knee is still messed up. He's wearing a brace to prevent another surgery. The rumor is that some people backstage are pushing for him to retire. I wouldn't be against seeing him sit out until the Rumble. Have him come back in early January and announce that he's going to hang it up and that his last match will be at WrestleMania. He makes a valiant effort but can't win the Rumble match and goes on to have a good retirement match at 'Mania.

- If you want, you can sign a petition to make May 20th Randy Savage Day. I can dig it.

- Ryback is going to beat Mark Henry at WrestleMania in order to give him a big win on a big stage to make up for his losses to Punk and The Shield over the fall/winter. I like how their best idea to make him look good after his first major losses is to have him do something completely different. Run away from your problems, kids! There's no resolution to the first major storyline in his career as Ryback. He's been getting screwed by The Shield since November and they're just going to have him move on. How incredibly unsatisfying.

- TNA let Bobby Roode's contract expire because Bruce Pritchard is amazingly careless. Apparenly they didn't even realize it happened until Roode himself let the office know that he was no longer under contract. How does that even happen? They reached a deal on Sunday a few hours before the PPV was set to start and I hope Bobby got himself a HUGE raise out of the mess. There was a lot of discussion online over the weekend as to how he would do in WWE if they were to take him. This lends itself to the topic above regarding developmental. Roode already pretty much wrestles what people consider to be "WWE style"; would he end up rotting away in developmental or would they bring him up to the main roster? I feel like they would put him in NXT just to try to make TNA look even more bush leauge by having the longest reigning champ in their nearly 11-year history in the WWE training camp.

- Linda McMahon might run for Senate in 2014. You've got to be shitting me.




PROGRESS Wrestling
Marty Scurll v. Dave Mastiff v. Stixx || Chapter 4: The Ballad of El Ligero - November 25, 2012
From TJ Hawke:
"Dave Mastiff is awesome. That is all. This was Stixx's best showing, and I don't think it's a coincidence that it happened when he wasn't in the ring with Lion Kid. I wish Scurll was used better on this show, as having him wrestle for a few minutes in a triple threat seems like a complete waste of his immense talent. This was a fun match, and you should definitely check it out."
For more, please visit FreeProWrestling.com

Rest In Peace.
- Nicholas A. Marsico

comments powered by