SPOTLIGHTS
The Contentious Ten 3.11.13 The Top 10 Wrestling Masks
Posted by Gavin Napier on 03.11.2013

From Rey Mysterio's famous looks and Kane's red and black to Mankind's leather piecemeal covering, Jushin "Thunder" Liger's anime-inspired look and more, 411's Gavin Napier counts down the top 10 wrestling masks of all time!

Welcome back to The Contentious Ten. I enjoyed reading the large amount of feedback last week on the column regarding the best John Cena matches. Some agreed, some didn't, most everyone had reasons for doing so. I'm okay with anyone disagreeing with me and backing up their point. It makes for fun discussion. This week I wanted to go in a different direction, and something that should open up to more top ten lists from readers below. I hope so anyway. That said, here's the criteria for The Top 10 Masks In Wrestling History

-Iconography
-Visual appeal
-Personal preference


The thing to remember about this list is that I'm judging the masks themselves, not the wrestlers. Now, the career of the wrestlers involved is important, because a lengthy career is more likely to lead to a more iconic mask. However, you're not going to see Mil Mascaras or Mr. Wrestling on this list. Why? Because I don't care for how their masks look. They would rank highly in the first category, but virtually non-existent in the second or third categories. If this were a list of the greatest masked wrestlers, both would be on there. It's not, though.


Items that just missed the cut: In this instance, the list is just a handful of masks that I think are really fun to look at and didn't want to leave them off the list entirely. Here you go:



Dr. X



The Great Muta



Mortis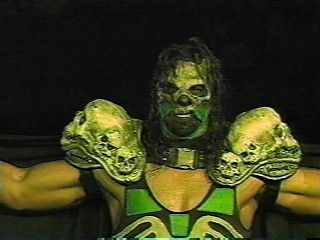 El Generico





A throwback
-Active from 2002-2013


I love El Generico's mask. The mask itself is not incredibly ornate, but is more of a throwback to old school lucha masks. Given the character, that's appropriate. Generico is a legend among the US indy scene for his work in Ring of Honor, Pro Wrestling Guerilla, CHIKARA, Dragon Gate USA, and more. For over a decade, the man behind the mask was remarkably protective of the gimmick, much like the workers from decades ago. There were no leaked pictures of Generico without his mask. There were no unmasked shoot interviews. Kevin Steen once revealed Generico's real name in a shoot interview, then asked for it to be edited out on the grounds that he "would be killed" if he leaked the name. Now in NXT, Generico uses his real name (at least temporarily). His legacy will likely always be tied closely to this mask, though.



Hallowicked and Frightmare




Two great tastes that taste great together.
-Hallowicked active from 2002 until current
-Frightmare active from 2008 until current

These masks represent arguably the best that CHIKARA has to offer. Designed to appeal to the portion of the crowd that celebrates Halloween year round, Hallowicked and Frightmare are two great tastes that taste great together. Both men are gifted in the ring, and work well together. Their masks may not be as well known as others on this list, but amongst fans of CHIKARA, Dragon Gate USA, Full Impact Pro, and Ring of Honor, Hallowicked in particular has become a staple of the independent scene on the east coast. The visual appeal of the masks are undeniable, combining the traditional lucha style with imagery similar to Batman villain Scarecrow. Out of all the gimmicks floating around on the indy scene, this team is the one that I feel like could most easily transfer to TNA or WWE without changing a thing.


Psicosis

Maybe the most dangerous mask ever.
-Active from 1989-2000, 2012

I first became aware of Psicosis during his time in ECW, when he had a series of matches against Rey Mysterio, Jr. Watching him never break through and truly win the WCW Cruiserweight title was frustrating to me, then it happened again in his short run in TNA's X Division. Psicosis recently put the mask back on after being burned and driven insane by a fireball. The horns are as iconic as nearly any mask in lucha history, and it holds the distinction of being maybe the most dangerous mask ever. Hector Garza tore his scrotum in a match against Psicosis on WCW Thunder some years ago. I can't definitively say that one of the plastic horns on Psicosis' mask was responsible for the injury, but I can't say that it wasn't either. And honestly, it's much funnier to assume that it was. If you know otherwise, don't correct me on this one.



Kane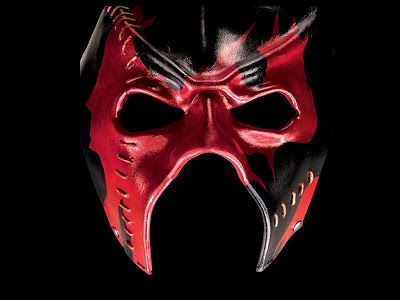 Iconic
-Active from 1997-2004, 2011-current


Some way or another, it seems like Kane finds his way on to at least every other list I make. That's odd, because he's not particularly one of the guys I would name as among my favorite wrestlers. Still, there's something to be said for the longevity and consistency of his career. Kane is arguably the greatest modern American masked wrestler due to sheer longevity. His mask has become iconic in its own right, with only minor changes through the years. The current design is actually very similar to the original design, with the exception being that the piece that covers Kane's mouth is now gone. The reasoning is to allow the big fella to breathe a little easier. For any fan that grew up through the Attitude Era and in the years since, Kane's mask will be as identifiable as The Ultimate Warrior's face paint would be to a child of the late 80's. The red and black scheme is also associated with Kane, and the has provided an identity for a big man that was burning through gimmicks very quickly early in his career.



Ultimo Dragon





Unquestionably unique.
-Active from 1991-present


Two bits of trivia here. First, Ultimo Dragon is 47 years old. Secondly, he's still active. I wasn't really aware of either of those things. Admittedly, the bit about his age was something I probably could have figured up. It's just not something you think about once a guy isn't on television every week. Ultimo Dragon's mask is unquestionably unique, and the amount of detail it contains is fantastic. From afar, it looks like a fairly standard Japanese or lucha mask, with some decoration to make it look like the namesake - a dragon. Once you get closer to it, though, you can see that there are actual scales stitched into the mask, adding layers of detail to the mask that are truly remarkable. While the cowl remains a separate piece of the wardrobe, it blends so seamlessly with the mask that it seems to be one large piece of attire. The design is terrific and immediately recognizable to fans around the world.



La Parka

Mexico's original anti-hero
-Active from 1992-current


Likely best known to American fans as "The Chairman of WCW", La Parka gained a cult following during his time in WCW after Eric Bischoff introduced an influx of luchadores to the company. While La Parka played a comedic sort of figure in America, he is in actuality a very talented wrestler and a massive star in Mexico. In many ways, he is the Mexican equivalent of Steve Austin, and was Mexico's original anti-hero. He was supposed to be a rudo, but the striking visuals of his costume as well as his ability and charisma won the crowd over. The idea of incorporating a skull to a mask in wrestling isn't original, but La Parka has done it better than anyone. The mask alone is cool, but adding the stitched on hood puts it over the top and allows it to stand out. On some level, the mask reminds children of the 80's such as myself of Skeletor, from Masters of the Universe. Regardless of subconscious ties, the mask is one of the best ever in wrestling.




Mankind




Fantastic visual
-Active from 1996-2000


To have as short of a run as this mask had and still remain as iconic as it is speaks volumes about Mick Foley's popularity. The portrayal of Mankind evolved through the years, but the mask was relatively constant for those five years...when he played Mankind. It obviously went missing during Dude Love and Cactus Jack segments, but as Mankind, that leather mask endured. It was a fantastic visual that struck numerous chords with viewers. It was part Leatherface and part Hannibal Lecter, and it absolutely desired on the initial intent of the character to disturb the audience. Foley himself has said that the mask smelled awful after a short period of absorbing blood and sweat. Even so, it was a fantastic visual that remains distinctly linked to Foley and the Attitude Era.



Tiger Mask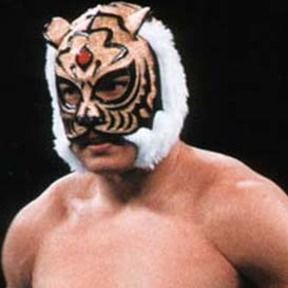 Five generations of awesome.
-Active from 1981-current


Tiger Mask is far and away the longest running gimmick you'll find on this list, with over three decades of exposure in Japan. That has resulted in five generations of awesome, as the gimmick has been passed down from Satoru Sayama to Mitsuhara Misawa, to Koji Kanemoto, to Yoshihiro Yamazaki, to Ikuhisa Minowa. The mask has a place in Japanese culture unlike anything in America. An American equivalent would be if a wrestler patterned himself after Spider Man, but didn't suck like Arachnaman. Tiger Mask was a comic book character in Japan in the late 1960's, and New Japan decided to bring the character to life. The character was an instant hit, and the visual aspect of the character was a large part of the success. Tiger Mask looked in the ring as he did in the comic book. The mask represented, obviously, a tiger. The additional detail of the white "fur" around the jawline managed to not look absurd and actually added a bit of regalia to the character. It doesn't hurt that the gimmick has been held by some of the greatest wrestlers in Japan's history.


Jushin Liger

Like a real life Power Ranger.
-Active from 1989-current


It's fairly well known that Tiger Mask came from a popular Japanese anime, but the fact that Jushin Liger has the same origin is much less often mentioned. Liger looks like a real life Power Ranger, and for good reason. Liger's costume is based from a Japanese manga that sees a creature formed by three warriors combining forms to create a warrior covered in biomechanical armor a demonic head. Don't act like you've never seen anything stranger. For the last twenty five years, Liger has made the rounds in virtually every major promotion on the planet that isn't WWE. The demonic appearance of the mask has been a hit the world over, and become a brand unto itself. Regardless of country, the mask and the man that it represents is easily identifiable.




Rey Mysterio, Jr.




The most famous mask in wrestling
-Active from 1992-1999, 2002-current


With apologies to Mil Mascaras, Jushin Liger, and everyone else, this is the most famous mask in wrestling. The sheer exposure provided by Vince McMahon and WWE over the last ten years, as well as Rey's breakthroughs in ECW and WCW have made Rey's mask one of the most recognizable images in wrestling history. It has been produced in literally dozens of colors and patterns, but the general form has remained the same. Much like Kane, Rey has rebounded from a relatively brief unmasking to return to his masked persona and achieve even greater fame. Vince McMahon understood the potential in putting the mask back on Mysterio, and time has proven him right. Regardless of Rey's decline over the last couple of years, kids still scramble to the mask and buy them by the boatloads. The mask is a legacy on its own, and will remain iconic long after Mysterio's career ends.


This is the one list that I want more feedback on than any other. I want to know what you think I missed, what's out of order, and I WANT YOUR LISTS. Discuss the above list in the comment section below. You can find me on Twitter @GavinNapier411 and check out my new podcast on iTunes by searching for The Casual Heroes, or go to www.thecasualheroes.com and I'll be back here in 7..6..5..


comments powered by