SPOTLIGHTS
The 411 Wrestling Top 5 3.20.13: Week 212 – Top 5 Wrestlemania Moments
Posted by Ken Hill on 03.20.2013

From Hulk Hogan slamming Andre the Giant and Macho Man's tearful reunion with Elizabeth to TLC II, the last match of Ric Flair and more, the 411 staff lists their top 5 WrestleMania moments of all time!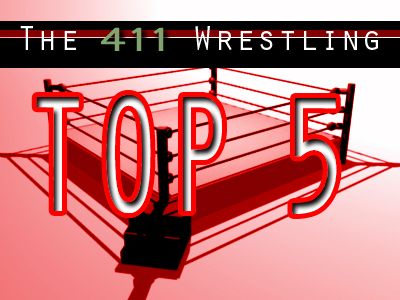 Hello everyone, your "Kennection to All Things Wrestling" Ken Hill here, and welcome to 411 Wrestling's Top 5 List. What we are going to is take a topic each week and all the writers here on 411 wrestling will have the ability to give us their Top 5 on said topic, plus up to three honorable mentions.

So, on to this week's topic…



THE TOP FIVE FAVORITE WRESTLEMANIA MOMENTS!


---


Robert S. Leighty Jr

5. Shawn's Last Match (XXVI) - I was there for Shawn/Taker I the previous year in Houston, and I am proud to say I was there a year later to see Shawn end his in ring career with the 2nd greatest match I ever had to honor to see in person (Taker/Shawn I being the greatest).

4. Hogan "Hulk's Up" Against The Rock (X-8) - Hulk Hogan came back to the WWF in 2002 and while everyone was drooling for Austin/Hogan, instead we got Hogan/Rock, and it didn't disappoint. The match itself had the most insane heat you will ever see as Toronto was clearly behind Hogan from the jump. Things went absolutely batshit crazy when Hogan kicked out of the Rock Bottom and hulked up on the Rock. I dare anyone to watch that moment again and not be awed at the ability of Hulk Hogan to connect with a crowd. It was like everyone in attendance was 8 years old again.

3. Stone Cold Bleeds Buckets (13) - I watched this at a friend's house and his mom was in shock that they would let a match get this bloody and violent. Everyone swore this wasn't a normal blade job, and that Austin clearly screwed himself up. The match itself was easily one of the greatest you will ever see. The drama of Austin fighting the sharpshooter with blood pouring out his head and into his mouth is one of the most influential moments in history that many have tried (unsuccessfully) to duplicate.

2. Randy and Miss Elizabeth Reunite (VII) - This was at the time when I would "watch" pay per views through the scrambled vision. I could hear what was happening and I was losing my mind with the thought that beyond the scrambled vision was Savage and Liz reuniting. When I finally got a chance to watch a copy it instantly become one of my favorite moments in wrestling history. It boggled my mind that Randy Savage went from being booed out of the building at the start of the match and at the conclusion when he lost his career he became more over as a face than at any other time in his career.





1. Hogan slams Andre (III) - I was a 6 year old boy sitting in my grandma's kitchen hiding from this match because I was afraid what would happen to my hero, Hulk Hogan. My parents yelled for me to come back to the living room and I watched the replay of Hulk Hogan doing the unthinkable in my mind: He slammed Andre the Giant. This is easily the greatest moment in WrestleMania history as it was the most talked about moment in what was the biggest match in the history of the business.

---


Michael Weyer
5. Face of the Devil Say what you will about Vince McMahon but he always makes sure fans get thier money's worth seeing him get his ass kicked. His litany of fights are good from the street battle with Shane at Mania X7 to being hit by a flying elbow from Shawn Michaels at 22 to Bret getting his payback at XXVI, Vince is amazing getting pounded. But the best is XIX as he and Hulk Hogan went at it in a wild brawl with an appearance by Roddy Piper and both guys making it work. Sure, Vince is no shakes in the ring (everyone openly mocks it on DVDs) but he was good here. Which all led to the brilliant moment of Vince going out of the ring to grab a pipe, kneeling up, his head slowly peeking over the ring apron, face covered with blood and an evil grin worthy of the Joker on his face. It was as if Luicifer himself was looking out at you, absolutely amazing and showed why Vince is a master showman above all and going all out for the biggest show of the year.

4. Money in the Bank begins We've become so used to MITB that it's easy to forget just how damn amazing it was the first time around. It looked like just an excuse to get a bunch of guys on the show but Edge, Christian, Kane, Shelton Benjamin, Chris Benoit and Chris Jericho went all out to rock the crowd and succeeded. From diving leaps to shots that made fans wince to Benjamin blowing away all previous ladder bouts by running up a ladder ramp to nail Jericho, you saw stuff you'd never seen before and began a great concept. Edge got the win and proved MITB was something to bring back time and again yet the first remains one of the best.



Money in the bank Wrestlemania 21 by PDS_17



3. Ultimate Warrior Returns An odd choice which I'm sure some may rail on me for but it's how I feel. With Hulk Hogan soon to depart, his match with Sid was going to be the send-off, clearly the main event despite Flair/Savage being much better. We had the typical brawl, Hogan making his comeback and reportedly, the finish was marred by Papa Shango coming out too late to break a pin by Hogan on Sid. The two double-teamed Hogan, pounding on him by the ropes, Sid going to get a chair...then a familiar pounding tune echoed through the Hooiser Dome. After leaving the company the previous August, the Ultimate Warrior came charging down the aisle to drive off Shango and Sid. It was a huge surprise to fans and let the show end well, the crowd cheering as the two men celebrated together with fireworks going off. One of the brighter spots of the Warrior's WWF tenure and a truly amazing capper to a show.

2. Steamboat vs Savage I may have issues with Scott Keith but his opinon stands: "If you don't like this match, you have no right to call yourself a wrestling fan." Brilliant in storyline and execution, you had two guys out there to steal the show and they more than succeeded. Even Savage critics had to respect his battle while Steamboat battled for payback. Naturally, as a major Steamboat mark, I had to cheer when the Dragon got the pin and the Intercontinental title but no matter who you cheered for, this was brilliant to see and the true reason Wrestlemania III is remembered so well by so many.

1. Austin vs Bret Everyone has their great memories of this from watching it on TV. But my own experience is much different as I was there live, the one time I made it to a Mania. It was amazing to watch the battle unfold, seeing Bret come out the hero but the crowd soon turning to Austin as the brawl went on, popping huge when he used a chair and then try the Sharpshooter. I was there cheering on when Austin tried to fight out and applauded when he walked out, bloodied but unbowed. That was the night Austin turned into a true superstar and I am more than proud to say my fondest memory as a wrestling fan is being there to help that along amid a great match.

---


Gavin Napier
5. Roddy Piper vs. Adrian Adonis (Wrestlemania 3) - So much of what makes a great memory is how long you've held onto it. For fans that aren't old enough to have experienced Wrestlemania III as it happened, there's no way to make them understand what a huge deal it was. It was a big enough deal that when the VHS of the event came out, we were allowed to watch it in school one Friday afternoon. As a 7 year old fan, every match meant something and left a huge imprint on my brain. Hogan and Andre, Steamboat and Savage, Jake and Honky Tonk, King Kong Bundy and midgets. Then there was Piper. This was before I had figured out that wrestling retirements didn't stick, and I thought this was truly Hot Rod's swan song. Foolishness of that notion aside, this match would have been a perfect send off had it truly been the end. It also signaled the arrival of Brutus Beefcake as an upper midcard face.

4. "I'm sorry. I love you." - Everyone knew it was coming. There was no logical way for Ric Flair to continue his career. With the threat of being forced to retire hanging over his head for months, Flair had rattled off an impressive win streak. He wasn't going to keep winning for years, though. Given their similarities and mutual admiration, there was no better final opponent for Ric than the Showstopper. Opinions are split on the match itself, from all time great to overly sentimental and spotty. Whatever you think about the match itself, Shawn's message to the greatest of all time was a touching and classy moment in a sport that doesn't have many of them.

3. Most of a Shooting Star - Not all good memories are related to quality matches or heartwarming moments. Sometimes they're just laugh-out-loud funny. Aside from Bart Gunn being beheaded by Butterbean, there haven't been a ton of those at Wrestlemania...at least not in the ring. However, when The Next Big Thing, The Most Overrated UFC Heavyweight Ever, The Former Minnesota Vikings Practice Squad Quitter, The Keeper of the Penis Sword Tattoo, The Living Jimmy John's Billboard, The Sufferer of the World's Worst Tummy Ache himself Brock Lesnar tried to pull off a shooting star press....I laughed. Out loud. A lot. And continue to do so every time I see the clip.

2. TLC II - This match raised the bar for specialty matches, not just at Wrestlemania, but in general. This match made all six men involved (and the ladder) more important than they had ever been to the WWE Universe. The match came across as a beautifully choreographed car crash, and is one of the most rewatchable matches in Wrestlemania history. Without the success of this match, so many things throughout WWE's recent history would change. There was a lot of room for things to go wrong here. They managed to get them all right.



WWE Wrestlemania 17 TLC 2 by THE_WAR_MACHINE



1. My Way - The match itself lacked a little for me. I thought Stone Cold's heel turn at the end of Wrestlemania X-7 felt forced and like a last resort. They didn't know what else to do with the character, so they turned him heel. Sure, it played to his desperation to beat The Rock, but soon enough, Heel Austin just turned into a comedy character. The video they used to hype the match, though? Easily the best promo video WWE or anyone else in wrestling has put together. Hell, it made Limp Bizkit tolerable. That in itself is a remarkable accomplishment.

---


Ken Hill
5. Punk & Bryan Make It To The Big Time (XXVIII) - Jerry Lawler once said it best during one of their epic clashes in 2012: Neither Daniel Bryan nor CM Punk really fit the mold of what a WWE Main Eventer was supposed to be or look like; yet both Bryan and Punk came into Wrestlemania 28 as the World and WWE Champion, respectively. Say what you will about "RESPECT" or "18 Seconds"; their long, strenuous climb from the independents to WWE, cementing themselves as recognized names within the company, all culminating in main eventing Wrestlemania as world champions was a great moment for those two.

4. Macho Man and Miss Elizabeth Reunite, OOOOH YEAHHHH! (VII) - This is part of a match that I researched for my upcoming "8-Ball" article on WWE anti-heroes. At the beginning, you had the "Macho King" reveling in his madness, with "Queen" Sherri spurring him on and encouraging his lunacy. Meanwhile, we see Elizabeth in the audience, looking on with a conflicted, longing stare. After the end of Savage's "retirement" match, when he lain dejected after the loss and Sherri literally kicking him when he was down, we see Elizabeth no longer conflicted, charging the ring and disposing of Sherri, saving her man not unlike how he used to save her on occasion. Savage's dawning realization, the tearful embrace, and the crowd fully re-embracing "Macho Man" by the end of the match just makes it for me,

3. Edge Goes Out On Top (XXVII) - This is more of a moment in hindsight; Edge competed in his last Wrestlemania as World Champion and came out victorious completely clean, no rumored heel turn by Christian, no destiny-sealing win for Alberto Del Rio. A surprising, good moment for Edge...then we find out he has to retire due to the increasing danger of competing with his surgically-repaired neck. The good moment is much more pronounced now, as Edge came into WrestleMania and left it, and wrestling altogether, as the World Champion, a honor befitting a man of his tenure in the WWE.

2. TLC II (XVII) / Money in the Bank (XXI) - I honestly couldn't decide between the two. You have two of the most re-watchable Mania gimmick matches in WWE's history. The amazing spots (Edge's mid-air spear, Shelton's "Ladder Run" lariat, the career-defining moments (Edge & Christian winning TLC 2, Edge winning his MITB Briefcase), and the pure spectacle of both. They are the best, most fun 20+ minute car crashes I've ever had the joy of watching in my 12 years as a wrestling fan.

1. Naitch's Final Chapter (XXIV) - The stage was set: The Citrus Bowl, Orlando, Florida. Wrestlemania 24, the Showcase of the Immortals, and you had two of the greatest "immortals" of their respective generations duking it out in the "Nature Boy" Ric Flair and the "Heartbreak Kid" Shawn Michaels. Flair's career was on the line, and "Natich" had rattled off an impressive win streak to keep his career buoyant. However, many knew it was only a matter of time; Flair couldn't keep winning forever and given the enormous emotion and mutual respect between Flair and HBK, there wouldn't be a better time or opponent for Flair to have his last match against. Whether the match may have seem too emotional or Flair indeed wound the clock back to his heyday from 20 years ago, there is no doubt in my mind that Flair's final moments stand out as some of the most auspicious, surreal moments in WrestleMania history.





---
YOUR TURN KNOW IT ALLS
List your Top Five for this week's topic in the comment section using the following format:

5. CHOICE: Explanation
4. CHOICE: Explanation
3. CHOICE: Explanation
2. CHOICE: Explanation
1. CHOICE: Explanation
TWITTER
http://www.twitter.com/411wrestling
http://www.twitter.com/411moviestv
http://www.twitter.com/411music
http://www.twitter.com/411games
http://www.twitter.com/411mma
comments powered by