SPOTLIGHTS
The Contentious Ten 3.25.13: Top 10 WrestleMania Predictions
Posted by Gavin Napier on 03.25.2013

From the Undertaker's legendary streak coming to an end and Randy Orton turning heel to John Cena beating the Rock, Dolph Ziggler cashing in Money in the Bank and more, 411's Gavin Napier counts down his top 10 predictions for WrestleMania 29!

Welcome back to The Contentious Ten. I'm your host, Gavin Napier, and this week I'll be walking you through my Top 10 Wrestlemania Predictions. A few months ago I gave my predictions for 2013, and I've been wrong about some (like EA taking over the WWE video game franchise) and right about some (The Pope being released from TNA). I figured with the biggest show of the year coming up, I'd try my hand at it again.

Here's the criteria for My Top 10 Wrestlemania Predictions.

-Stuff I think will happen.
.

I mean, that...that's about it. If I think it'll happen, I included it. If not, well...I left it out. I'm sure somebody will complain about that criteria, but I don't know how to make it any simpler.








The Intercontinental Title Will Make The Show





Barrett vs. Miz?
-Intercontinental Title was on the line last year in the Cody Rhodes vs. The Big Show match.


Every now and then, it seems like WWE is taking a step or two towards making the Intercontinental Championship relevant once again. They revert back to the classic title belt. They make it the center of a program between Cody Rhodes and The Big Show that gets decent heat. Bringing up FCW Diva extraordinaire Bo Dallas to make a short run at Barrett after the Royal Rumble. Then Wrestlemania rolls around and the title seems to disappear. If the IC title makes an appearance this year, it will be the first time since Wrestlemania X-7 (Chris Jericho vs. William Regal) and X8 (Rob Van Dam vs. William Regal) that the title will have been defended on back to back Wrestlemania main shows. The title has a history at the event, with Junkyard Dog taking on Greg Valentine at the original 'Mania, and Randy Savage defending against George Steele and Ricky Steamboat at the second and third installments. Through the years you can find great Intercontinental Championshp matches at Wrestlemania. I don't know if Wade Barrett vs. The Miz (or anyone else at the moment) will result in anything truly great, but I'd appreciate seeing the title on the main show.



Jericho jobs again




Statement from blurb
-Jericho is 4-7 at Wrestlemania

It's becoming a pattern, so it's not like this is really going out on a limb. When WWE needs somebody to make a new guy look like a star, they turn to Jericho when he's around. There's a reason for that - he makes everyone look like a million bucks and doesn't mind doing it. He's made Sheamus, CM Punk, and Dolph Ziggler look great over the past couple of years, and now it looks like they're going to stretch the limits of Jericho's abilities. That's not to say that Johnny Curtis is a bad wrestler. In fact, Curtis is a strong performer in the ring. Asking anyone to get a guy over in his debut match is asking a lot, though. If the character falls flat like Tensai did, Jericho is going to have his work cut out for him. I can see this match landing anywhere from the opener to sneaking it in right before the main event just to get the crowd going. I don't know if Fandango will be an enduring character, or if Johnny Curtis will have a long productive career in WWE. I do know that it won't be Jericho's fault if he doesn't.


Randy Orton is turning heel.

But won't be involved with The Shield.
-Orton has been a face since 2010


I hope Randy Orton turns heel, for multiple reasons. First of all, the guy is compeltely unnatural as a face. He hasn't displayed the sort of behavior outside of the ring that makes a guy likable. His mannerisms feel forced and he looks bored in the ring. For the sake of the fans, they need someone to boo. Who's out there? Jack Swagger? Brock Lesnar (sometimes)? Dolph Ziggler? Wade Barrett? WWE has done a poor job of preparing heels for the main event level. The one man that they have on the roster that can carry the load as a main event heel is Randy Orton. He's a natural jerk and is more comfortable playing the role. He's been a babyface for three years now. We're overdue for him to turn. The easiest way? The Shield picks up a win against the latest version of the Super Friends, and Orton RKO's Sheamus out of frustration.



The Crowd Turns On Del Rio (or for Swagger)

It's already happened once.
-Match is for the World Heavyweight Championship


My or anyone else's personal political leanings aside, what Jack Swagger and Zeb Coulter are doing resonates with a part of this country's population. There are people that support, at the very least, the underlying idea behind what they're saying. That was evidenced last week when a chunk of the crowd started chanting "USA" during Swagger's attack on Del Rio and Rodriguez. The seeds have been planted. Del Rio is almost as boring as a face as Randy Orton is. One crowd has already made a half hearted turn. If the crowd is bored when this match rolls around, don't be surprised to see them affect the dynamic of the match by cheering Swagger just for kicks.




Team Hell No retains





Dolph has other stuff to do
-Title reign is at 190 days and counting


Kane and Daniel Bryan are the longest reigning WWE Tag Team Champions since...wait for it...wait for it...Epico and Primo Colon in 2008! That 250 day title reign was largely uneventul, but this title run has made Kane relevant again and kept Daniel Bryan fresh. There's no reason for them to lose the titles at this point, and certainly not to a team that will (should) see one member become a legitimate singles superstar in the very near future. There's no rule that says Dolph can't hold two titles, but I'd be stunned if things unfolded that way. Big E Langston should move into a feud with somebody that will allow him to show his personality off as well as come out decisively on top - think Santino when he's healthy, or Sin Cara when he's not concussed - so a tag team title doesn't work for him, either. AJ has started dressing up like Kane, but one would assume that those are mind games. It would be a nice touch for Bryan and Kane to work together to overcome AJ and finally look like a team after nearly 7 months as tag team champions. The time will come for these two to split and drop the tag team titles, but this doesn't feel like the time or place to me. I'd much rather see a shift in the dynamic for a month or two before coming back to a split.



Brock Lesnar is going to win.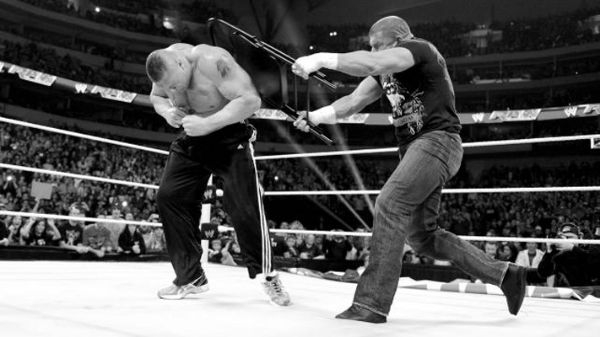 Time for Trips to go into office mode.
-A rematch from Summerslam 2012


The post-Wrestlemania landscape should shape up pretty nicely. I expect Brock to be a little more active this year than he was last year. They used his dates sparingly, and he should have a few extras left over if I'm counting right and the terms of his deal were reported correctly. Much like last year, John Cena is going to need something to do after The Rock is gone. Like last year, why can't it be Brock Lesnar? My feelings about Brock are well known, but regardless of whether I like him or not, he's a viable main event heel that has proven he can be entertaining with John Cena. Triple H is pretty well done in the ring, and probably envisions a big send off for himself like Flair and Shawn got. I don't blame the guy for wanting it, even though the affection isn't quite the same as it was for the other two guys. Brock wins here, moves back into a top level program with a main event face, and Trips gets his send off and doesn't have to worry about getting back into the ring.



Dolph cashes in




Why not now?
-World Heavyweight Championship Money In The Bank winner


Regardless of who comes out on top of the Del Rio-Swagger match, the World Heavyweight Championship picture is struggling. Del Rio is bland as a face, and Swagger has that whole wellness/arrest thing. Ziggler has been on the cusp of stardom for a long time now, so they may as well find out what they have or don't have. At the very least, Ziggler is a new face that people have shown that they'll get behind in matches. He's entertaining in the ring, has a built in support system as a heel with AJ and Big E, and makes his opponents look good. Sure, he's been booked like hot garbage for a while, but WWE fans forgive and forget that pretty quickly. Ziggler's cash in teases have been fun, but it's time to pay things off with a successful briefcase exchange. I don't particularly care which guy is the victim, as long as neither one of them is champion coming out of Wrestlemania.



The Undertaker loses





I know, I know
-The Streak stands at 20-0


Yeah, I get it. Every year, somebody predicts the end of The Streak. Now, here's the catch. Do I think CM Punk is going to, or really should be the guy to end it? Nope. This is just a matter of me being consistent. On Christmas Eve, I posted my column regarding predictions for 2013. In that column, I predicted The Streak would end. In hindsight, bad decision. I'm going to stick to my guns, though. The 20-0 DVD set doesn't really lend itself to a re-release just for the sake of 21-0, and 22-0 would be a weird number to end things on if Undertaker goes to Wrestlemania 30 and ends his career there. Just from physical appearances, The Undertaker doesn't have many of these left in him if any at all. I don't doubt his ability to tell a story in the ring, just his ability to physically perform in these matches in the years to come. Will I be happy to be wrong about this one? Yes. I think there have been better options in the past, and and could be better options now. On the slim chance that I'm right, though, I'll look really smart.


Cena will win.

Nothing about a Rock win makes sense.
-A rematch of last year's "Once In A Lifetime" match.


We've come full circle. As wrestling goes, that's pretty typical. We started with The Rock getting the best of John Cena. Cena made valid points in his criticism of The Rock, but since The Rock was a nostalgia act, he was cheered anyway. The match was what it was, The Rock won, and that was that. Groundwork was laid for The Rock to face CM Punk at The Royal Rumble for the WWE Championship, and he won. That left Cena's big win in the Rumble itself as little more than a foregone conclusion. The Rock and John Cena are arguably the largest draws of the last two eras, and their confrontation last year qualified as a dream match. This year, people are skeptical due to the fact that last year's match was marketed as "once in a lifetime" and the fact that Rock has been absent on this year's Road to Wrestlemania. Last year, Cena was in a no-win situation. This year it's a no-lose. Cena's rushed redemption story will wrap up at Wrestlemania with a big win for his 11th (!) world championship.The Rock isn't hanging around permanently, and nobody should blame him. He has about a half dozen movies coming out, all of which will make him more than a year in WWE could....with much less risk to his physical health. Of course, a John Cena win here means...




Third time is the charm.




Wrestlemania 30 needs a main event.
-TIEBREAKER!


WWE just trademarked Rockpocalypse. We can all hope that's an awesome new t-shirt for Three Man Band, or we can get one more "career ending" match at Wrestlemania. Flair vs. Michaels, Michaels vs. Undertaker, HHH vs. Lesnar.....Rock vs. Cena? How does three times in a lifetime sound?


That's all for me. Put the comments section to work and discuss the above list in the comment section below. You can find me on Twitter @GavinNapier411 and check out my new podcast on iTunes by searching for The Casual Heroes, or go to www.thecasualheroes.com and I'll be back here in 7..6..5..
comments powered by