The 8-Ball 3.31.13: Top 8 Money In The Bank Matches
Posted by Ken Hill on 03.31.2013

From Edge's win at the inaugural match at WrestleMania 21 to RVD's victory at the WrestleMania 22 bout and more, 411's Ken Hill lists the top 8 "Money In The Bank" ladder matches of all time!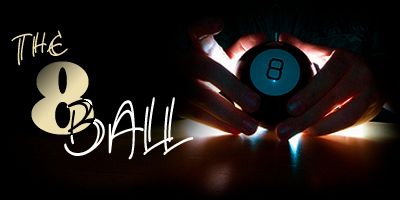 Wilkommen, boys und girls! It's your zany man with the party plan, the fire starter, YOUR "Kennection to All Things Wrestling" Ken Hill here with another (long overdue, with sincerest apologies to the 411 higher-ups) riveting edition of the 8-Ball!

Well, WrestleMania 29 is almost upon us, and with its lackluster card in the works (I'm looking at you, Brock vs. Triple H "Retirement" Match and Rock-Cena II), I'd be remissed to bring up a Mania tradition introduced in the last decade that never failed to bring the crowd to its feet. It would often steal the show with high-flying highlights by oft-underutilized talent such as John Morrison, Shelton Benjamin and Evan Bourne, and made main-event stars of Rob Van Dam, CM Punk and Edge, those whom were always knocking on the proverbial glass ceiling in professional wrestling. Of course, I'm talking about...



TOP 8 MONEY IN THE BANK MATCHES






Now how I've ranked each edition of the famed ladder match boils down to a few simple factors: The level of competition for potential case-holders, the spectacle and excitement the match brought and, and, perhaps most importantly, the overall impact the victory had on the winner in the days, weeks or months before and after cashing in the "good-as-gold" championship opportunity.

Safe to say that, despite such highlights as Jeff Hardy vaulting onto Edge and a ladder and Hornswoggle getting the Green Bay Plunge off a ladder, Mr. Kennedy's shocking win at 'Mania 23 won't see much light shed on it in this edition.

---






8. WrestleMania 26



Competitors: Dolph Ziggler, Kane, Drew McIntyre, Matt Hardy, MVP, Christian, Jack Swagger, Kofi Kingston, Evan Bourne, Shelton Benjamin

Winner: Jack Swagger





An unprecedented 10 men took part in this match, with some (Bourne, Benjamin) looking to make the Mania highlight reel, while others (Christian, Kingston) looked primed to leapfrog into the main event scenario.

Right off the bat, this MITB match ranks above Cena and Kennedy's wins for a couple reasons. For one, Swagger successfully cashed in his title shot and won the World Title. Second, virtually no one expected Swagger, who had been languishing in Raw's mid-card during 2010 and looked liked the typical fodder for a MITB match, to actually win it, so there's also the shock value.

However, that's where my kudos ends. Swagger had a hard time during that year putting away Santino Marella of all people, so one could take hm seriously as World Champ, despite that he cashed it in rather effectively and took the title handily from Chris Jericho. Having him get counted out in his first title defense against the Big Show, however, pretty much told me that WWE wasn't heavily invested in him as a long-term champion; that notion was more or less confirmed when he lost it in a Fatal Four Way to Rey Mysterio. Kingston or Christian, in my mind, would've made better winners of the case, as both were on and off the cusp of main event status and would've benefited from a decent (2-3 months) championship run to help cement their tenuous spot in the upper card.




7. 2011 Raw MITB Match



Competitors: Rey Mysterio, Alberto Del Rio, The Miz, Alex Riley, R-Truth, Jack Swagger, Kofi Kingston, Evan Bourne

Winner: Alberto Del Rio





Some interesting bits in this MITB match, particularly Miz's sick-looking leg injury falling off the ladder and the surprising pop he received when he would later hobble back to the ring from backstage and nearly took the case in back-to-back years ala Punk.

Del Rio's victory was certainly a noteworthy one, unmasking Mysterio (quite savvy, given Del Rio's own luchador roots) en route to winning the briefcase. However, I agree with one Mr. Gavin Napier in a previous article on MITB that Del Rio, at the time, just didn't click with me as a real main event threat. Challenging for the US or IC Championship? Elevating a face's championship presence? More likely. He did cash in and win the WWE Championship from CM Punk, but the win and the ensuing reign felt like more of an afterthought in the presence of Punk, Cena, Triple H and Kevin Nash; the latter two names shouldn't have had a presence in 2011, but I digress.




6. WrestleMania 22



Competitors: Finlay, Bobby Lashley, Shelton Benjamin, Rob Van Dam, Matt Hardy, Ric Flair

Winner: Rob Van Dam



Wrestlemania 22: Money In The Bank by Kehnnady



If you listened to the match card for WM 22 being previewed the Raw before the big PPV, the hype for Flair being in the match was interesting to an extent, it being only his second ladder match in Flair's career, and it certainly would've made for a twist that M. Night wishes he could have thought of.

However, with the revitalized ECW brand and their second "One Night Stand" PPV forthcoming, RVD being considered as the forerunner for the new brand and such, him winning the briefcase was really a no-brainer in this one, as the smarky Chicago crowd realized, eagerly anticipating his victory with "RVD" chants throughout the match. They would EXPLODE once he unhooked the briefcase, and would so again once he cashed in and won the title from Cena in the Hammerstein Ballroom. So why does such a monumental match and win for RVD rank low on here? In Van Dam's own words, NO ONE gets "higher" than he does, even if it means getting busted for possession and losing both the WWE and brand new ECW Title in the same week as a consequence. Sigh, *face palm*.




5. WrestleMania 24



Competitors: Mr. Kennedy, John Morrison, Chris Jericho, CM Punk, Shelton Benjamin, MVP, Carlito

Winner: CM Punk





This is one of my personal favorites based purely on the talent you had going into this match: A former winner in Mr. Kennedy, potential breakouts in Benjamin and MVP, the MITB creator himself Jericho who hadn't yet won one at that point, brash athletic stars in Morrison and Carlito, and Punk, who had slowly but surely developed a cult-like following (par for the course) in his first two years with WWE. No big men, no ground and pound; pure, unadulterated athleticism for the duration of the match.

While Punk winning the match and cashing in on Edge later in the year are remembered as some of the more exciting moments of 2008, one must still considered the aftermath of Punk winning the World Title, as well as the underlying notion that if not for Jeff Hardy's suspension right before Mania, Punk wouldn't even have sniffed the briefcase, much less won it, as it had been purportedly meant for Hardy. Like Swagger, WWE didn't really know what to do with Punk as champion outside of a couple shaky defenses against Batista and JBL. Him getting punted out of the World Title by Orton and having it put on Jericho was WWE's way of saying, "Thanks for keeping it warm, kid."




4. 2010 Smackdown MITB Match



Competitors: Matt Hardy, Kane, "Dashing" Cody Rhodes, Christian, Kofi Kingston, Big Show, Drew McIntyre, Dolph Ziggler

Winner: Kane



Kane Cashes In MITB Briefcase & Wins World... by ministry4life



I'm one of those people who believe in the saying that "the ends justify the means." Kane not only turned out to be the oldest active competitor to win MITB, but also had the quickest cash-in, capitalizing on a weakened World Champ Rey Mysterio after helping him fend off a vengeful Jack Swagger. While it wasn't the most surprising or shocking means of a MITB cash-in, the end saw Kane rewarded for every crappy storyline and change to his character over the last decade with a healthy five-month reign as World Champion, actually trumping Undertaker in their shockingly underwhelming feud in the latter half of 2010. Regardless of how the cash-in went down or how the reign itself panned out, in the end, Kane got the World Title reign many fans felt he had been owed for some time.




3. WrestleMania 25



Competitors: Mark Henry, Kane, Christian, CM Punk, MVP, Shelton Benjamin, Finlay, Kofi Kingston

Winner: CM Punk





There was certainly some shock factor in this one that has me listing it up this far. You had Christian making a big return to WWE, and the Houston crowd was HOT for a Captain Charisma MITB win. Benjamin was a MITB veteran overdue for a win, MVP was rolling with his recently-acquired US Championship...as a former World Champion and MITB winner from last year, many fans, including yours truly, automatically excluded Punk in the predictions for who would win the briefcase. Shocker of shockers, Punk won, making him the only back-to-back MITB winner in the match's history. No one really expected it

The other reason I rank it this far up is because the way the Houston crowd reacted negatively to Punk winning, I sensed the WWE might do something different with Punk's cash-in. Cue him initially trying to cash in on Edge again, seemingly miss the chance time and again, only to swerve and go after who many considered to be his antithesis in Jeff Hardy and steal the World Title following a harrowing Ladder match with Edge. While Punk's title reign here fizzled quicker than his first one, it stands out more because it provided the shift in his character that, later down the road, would lead to bigger and better things for the future "Mr. 434."





2. 2011 Smackdown MITB Match



Competitors: Kane, Justin Gabriel, Heath Slater, Wade Barrett, Sheamus, Sin Cara, Daniel Bryan, Cody Rhodes

Winner: Daniel Bryan





Those who have kept score with different columns on 411 about the same subject will come at me about having the same two top picks as Gavin did late last year, but I'm hard-pressed to disagree with Mr. Napier here. Excluding Kane, you were guaranteed a winner in this match who could break the glass ceiling and establish themselves amongst the main eventers and take a huge step in furthering their careers.

This match was what you could call the true "genesis" of Bryan's WWE character, as his MITB victory and eventual cash-in against Big Show led to serious character development for himself, AJ Lee, Sheamus, Big Show and many others. This monumental "butterfly effect" with Bryan winning the briefcase and the gold, coupled with his already phenomenal in-ring ability and knack for switching between comical and serious wrestling characters, it hard to bring up someone who's brought as much to the table as Bryan has in the past couple of years, even long after his World Title reign came to an end and "Team Hell No" would come to exist.




1. WrestleMania 21



Competitors: Chris Benoit, Chris Jericho, Shelton Benjamin, Edge, Christian, Kane

Winner: Edge



Wwe wrestlemania 21 money in the bank by Xaristaker



Given my admitted propensity for swerving the lot of you, I imagine some of you thought I'd try it again and pick Ziggler's MITB win or the WM 23 match. Nope, nada, nyet. There's nothing quite like the original; the fresh match concept, the primetime competition in Jericho, Benoit and Kane, the ladder aficionados in Edge and Christian, as well as the future MITB human highlight reel in Shelton Benjamin.

The shock value is greatest here. Edge's victory came during his initial "unhinged, crazy-eyed" heel run (one of the best) and it helped to ramp up the unpredictability. Many fans believed Edge would cash-in on a prime TV or PPV stage, or even save it for the REAL big stage at next year's WrestleMania. Then he swerved everyone on that one fateful night at New Year's Revolution '06, where he preyed on a beaten, bloodied, and battered John Cena. Two spears later, Edge would begin his "Hall of Fame" rise to glory.


---



Thank you all for reading on my post of the 8-Ball, and I certainly promise to bring you more exciting, unique topics in professional wrestling to count down. However, don't be afraid to suggest your own topics in the comments section. In the wacky, wild world of professional wrestling, there's a multitude of ideas to explore and you never know when you might stumble on a fresh idea no one's considered before. Ciao for now, boys and girls!


comments powered by