SPOTLIGHTS
The 411 Top 5 06.24.13 Week 224 - Top 5 Blood Baths
Posted by Michael Benjamin on 06.24.2013

From Eddie Guerrero's crimson mask during his match with JBL at Judgement Day 2004 and Steve Austin vs. Bret Hart at WrestleMania 13 to Brock Lesnar vs. The Undertaker at No Mercy 2002 and more, the 411 staff counts down their top 5 wrestling blood baths of all time!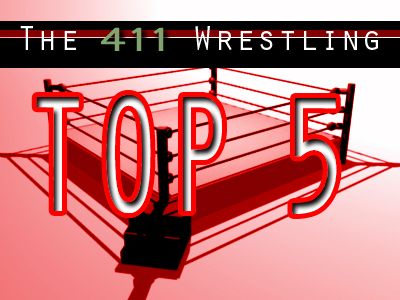 Hello everyone and welcome to 411 Wrestling's Top 5 List. We take a topic each week and all the writers here on 411 wrestling will have the ability to give us their Top 5 on said topic, plus up to three honorable mentions.

So, onto this week's topic…



TOP 5 BLOOD BATHS





Michael Benjamin
5. Vince McMahon vs. Zack Gowen - This is a hidden gem that was far better than it had any right to be. It's also one of my guilty pleasures. Vince was in full on dick heel mode at the time and he wasn't above picking on a one legged Zack Gowen to get some heat. The build up to the match included a few segments that I'd argue are among Vince's best performances. Anyways, during the match Gowen delivered a dropkick into a steel chair laying against Vince's face. Vince immediately started gushing everywhere. A huge part of the appeal is seeing Vince McMahon of all people with such a massive open wound. I was afraid that he'd pass out as the blood poured down to the canvas. Luckily he finished the match and it's a sight I'll never forget.

4. Steve Austin vs. Bret Hart - If it wasn't for the blood in their Wrestlemania classic, I don't think the finish would have been nearly as powerful. Everybody knows this match is nearly flawless. It epitomizes the way a blood feud (pun intended) should be blown off. They wrestled a grueling match that saw Austin paint the canvas red with all of the blood he lost. The ending saw Bret Hart lock in a Sharpshooter. Austin was a tough son of a bitch and wasn't going to tap out however. The visual of Austin relentlessly trying to reach the ropes with blood pouring down his face, into his mouth, and onto his chest is his first and most famous Wrestlemania moment without question. Eventually Stone Cold would pass out in the Sharpshooter due to the blood loss. If you're one of the three people who haven't seen this match, I highly recommend doing so.

3. Brock Lesnar vs. The Undertaker - This is one of my favorite Hell in a Cell matches of all time. Everybody expected a good match but I don't think anybody could have foreseen the war these two were about to have. Lesnar bled a bit but Taker bled like a sieve. Steel stairs to the face. Blood everywhere. Chaos. I don't think Taker planned on bleeding this much but he managed to keep going with the match and proceeded to blow fans minds. Taker ate the pin to put an end to this classic match. The visual of Brock standing on top of the cell posing with his championship as the show went off air will always stick with me.

2. The Great Muta vs. Hiroshi Hase - If you're talking blood you can't leave out Muta/Hase. This was a rematch to a bout in which Hase spilled buckets of blood two years prior. This time Hase would return the favor. Muta/Hase 2 is probably the bloodiest match that I've ever seen while still maintaining a high caliber of wrestling throughout. I can't imagine walking to my phone to call 911 with a quarter of the blood pouring out of my jugular, let alone wrestling a match in that condition. This is a crazy encounter that I urge hardcore fans to seek out. You'll get your blood, but beneath the layer of red there's a great wrestling story being told.

1. Eddie Guerrero vs. JBL - The amount of blood that Eddie Guerrero lost at Judgement Day '04 was pure insanity. I've never seen so much blood spilled on a WWE PPV before or after. It was shocking and almost hard to watch. There were reports circulating that Eddie felt a lot of pressure to deliver the goods and carry the blue brand on his back around this time. I couldn't help but think about how much he was willing to endure to accomplish the expectations he set for himself while watching this match. He certainly met my expectations and proceeded to exceed them beyond my wildest dreams. He took JBL and carried him to his best match to date. This was a turning point for JBL in a lot of fans eyes, He finally showed that he could put on a classic at the top of the card. This is my favorite JBL match ever and you should hunt it down.





---


Ryan Byers
5. Kevin Sullivan vs. W*ING Kanemura (March 1, 1993) - I should note that, in putting this list together, I'm not necessarily going for the absolute bloodiest matches that I can think of (otherwise it'd just be a list of five very similar Big Japan matches) but instead I'm going with the most memorable matches that involved large amounts of blood. This particular incident occurred in Smokey Mountain Wrestling, where Kanemura, who had started to build a reputation as a deathmatch wrestler in Japan and Puerto Rico, was doing a guest shot. Hearing that he was a "good bleeder," Jim Cornette decided to book an angle in which top heel Kevin Sullivan really bloodied up the young Japanese wrestler in order to get Sullivan over as a maniac. In addition to blading during the squash match, Kanemura also took a spike to the bicep from the Taskmaster that lead to a MASSIVE gash, requiring not just censoring of the footage before it could air but also FIFTY-EIGHT stitches. It's an angle that virtually no Smoky Mountain fan has forgotten, but what many don't know is that, after getting stitched up, Kanemura actually hopped on a plane to wrestle in Puerto Rico only one night later.

4. Jay Briscoe is Hung (ROH Man Up) - This is the perfect example of blowing off a huge, intense angle and transitioning into another big one, similar to the old Ric Flair/Ricky Steamboat/Terry Funk transition from Jim Crockett Promotions. Jay and Mark Briscoe had been involved in a big time feud with the duo of Kevin Steen and El Generico in 2007, and they were getting ready to put the issue to bed in not just a Ladder Match, but a Ladder War. The match was off the charts, to the point that, at the time, I was actually somewhat critical of it for the wrestlers doing too much and taking too many stupid risks. However, for people who got caught up in the moment, it was a damn near perfect brawl. No sooner did the Briscoes win their match than they were they attacked by the debuting Age of the Fall stable, consisting of Jimmy Jacobs and Tyler Black (or, as I prefer to think of them, "Do It for Her") along with the always-insane Necro Butcher. The trio severely bloodied Jay Briscoe and then hung him upside down by a cable, allowing his blood to cascade down on to Jacobs while the future Zombie Princess set forth his group's plans for Ring of Honor in a promo. It's one of those things in wrestling that probably was not a good idea in retrospect, but it definitely provided a very memorable moment.

3. The Undertaker vs. Brock Lesnar (WWE No Mercy 2002) - I didn't want to produce a list loaded down with modern WWE matches, so I had to do some thinking as to which of the three epically bloody battles in recent E memory would get the nod, between this match, the Cena/JBL "I Quit" match from Judgment Day 2005, and the Guerrero/JBL match from Judgment Day 2004. Ultimately, this bout (which occurred in the ominous Hell in a Cell structure) won out for a few different reasons. The first is that there was one particularly sick visual with blood literally pouring out of the Undertaker like a faucet and all over a downed Brock Lesnar that makes me retch like few other things I have seen in pro wrestling. The second is that the Undertaker, a character who very rarely shows any kind of vulnerability (even in his Bikertaker persona, which was in use here), bleeding so heavily had an impact in the way that Cena or Guerrero bleeding did not. Finally, even Paul freaking Heyman wound up bloody by the end of this battle. Having a double juice match with two wrestlers is one thing, but, when the manager winds up messed up too, you know you've got something the more vampiric wrestling fans out there can really sink their fangs into. Sadly, we did not get a quadruple massacre with the referee bleeding as well.

2. The Mass Transit Incident (ECW, November 23, 1996) - Again, I didn't set out to make this a list of the absolute bloodiest matches or the best bloody matches. This is a list of memorable matches involving blood . . . and this match is definitely memorable, even if it is for all of the wrong reasons. ECW was running a house show in Massachusetts, and some advertised performers don't show up. This resulted in an out of shape, underage kid who for some reason was dressed as a bus driver approaching management and asking to be placed on the card. Not knowing that he was underage and not knowing that he really wasn't a trained professional wrestler, the kid - under the name "Mass Transit" - was inserted into a tag team match with the Gangstas on the other side. Unfortunately for Mr. Transit, New Jack was not in a particularly good mood. The kid was absolutely brutalized, including being deeply bladed by Jack at one point, albeit reportedly on the kid's request. Despite not being on a main ECW show or even really being all that widely available on video, the match still makes the list because of the firestorm of controversy that it created. New Jack faced both criminal charges and a civil lawsuit related to the incident, though he won both, and word is that the incident and a related story on the television program Inside Edition resulted in the plug at least temporarily being pulled on ECW's first pay per view offering, Barely Legal. It is, for good or for bad, still talked about as one of the key moments in ECW history to this day.





1. Hiroshi Hase & The Great Muta (1990 & 1992) - In 1990, the Great Muta returned to Japan from the United States and immediately became one of the biggest stars in New Japan Pro Wrestling, being placed into the mix with all of the top guys. On September 14 of that year, he faced super-babyface Hiroshi Hase in a match that saw Hase bust out perhaps the ugliest looking bladejob in Japanese wrestling up to that point as, though it was not unheard of, getting color was not common at all in the country. Hase's trademark yellow trunks were turned brown by the blood, and the free-flowing plasma (along with the DQ finish) lead to Muta being put over as a super-heel. Fast forward two years, and Muta was the IWPG Heavyweight Champion, gearing up for a December 14 defense against his old rival Hase. In all callback to their prior encounter, there was another ridiculously large bladejob, though this time it was MUTA who bled buckets, despite ultimately rallying and retaining his championship with his trademark moonsault. The Hase/Muta two-match series is perhaps the bloodiest series in all of professional wrestling (excluding deathmatches), and they're both great encounters as well, particularly the 1992 bout. They're perfect proof of the fact that blood isn't always involved in pro wrestling to mask crappy matches, as some critics claim. Instead, used sparingly and in the right instances, blood can make a great match into something even more memorable than it otherwise would have been.

---


MICHAEL WEYER
5. War Games, Wrestlewar, 1992: Most War Games matches could make this list. But if you want to talk the bloodiest, this one is the topper. The Dangerous Alliance against Sting, Ricky Steamboat, Barry Windham, Dusty Rhodes and Nikita Koloff, the hottest feud in WCW, guaranteeing a wild battle. But no one expected the sheer brutality that followed as the cage was used to full effect, men smashed into it over and over along with hard punches, moves and Paul E. Dangerously's clunky cell phone used as well. Pretty much all ten men were bleeding hard before the match's end, still one of the more brutal of any War Games battle, a rare highlight for Bill Watts' reign and still worth checking out today.

4. Abdullah the Butcher vs the Shiek, 1980 You'd be hard-pressed trying to find a major match with either of these men that didn't include blood. But throw them in Japan and these two maniacs went at it to a measure that would make even veteran ECW fans pale. Ahead of its time in so many ways, the blood stained the ring red as they engaged in a holy war that made them both legends and still as brutal a fight as you'll ever see.

3. Roddy Piper vs Greg Valentine, Starrcade '83 Blood was plentiful at the first show of what would be NWA/WCW's supercard. But nothing could compare to the vicious dog collar match between Piper and Valentine, the two having feuded for a while over the U.S. title. The two went at it wildly, each using the chain as a weapon and smashing with blows that made you wince. They bled hard but the true damage was to Piper's ear, a mangled mess by the end of the bout that made him lose hearing. Still one of the most brutal matches in Starrcade history that helped elevate both men nicely.





2. Ian Rotten vs Axl Rotten, 1995 Practically any match involving these two guaranteed a bloodbath but this one was extreme even by ECW standards. A "Tapaei Death Match," both men had their hands taped up before dipping them in glass. "Evil ref" Bill Alphonso tried to stop it but was dragged out so the match started and yes, it was as nasty as you expect. Neither man was a great worker but they still put on a nasty battle that had you worrying about their dual sanity, each seemingly ready to gouge the other's head right off with nasty punches in glass, a display that even hardcore ECW fans had a hard time putting up with and added to its infamy as the home of extreme.

1. The Great Muta vs Hiroshi Hase, 1992 The reason for this column in many ways. The match that inspired the famous "Muta Scale" used by some fans. Defending his IWGP title, Muta took the blade job to end all blade jobs, his entire face covered with blood with seemingly no end to it. Hase's yellow trunks were stained red simply by being around Muta and the ring wasn't much better. It was wild and nasty, even by Japanese standards, still talked of with reverence by Muta fans and, over two decades later, still the standard by with all bloody matches are held and helped push Muta's legend to new heights.

---


Craig Stevens
5. Pat Patterson vs Sgt. Slaughter (WWF 4/21/1981) - The Wrestling Observer match of the year for 1981, the "Alley Fight" lived up to it's billing. There was no referee to be found, and it started off quickly with Pat Patterson bringing the hate-filled brawling. Sarge worked hard and bumped like a champ throughout, but the match hit a bit of a lull in the middle. But just when you start to think the match might be a tad overrated, Patterson sends Slaughter into the ring post with a slingshot, and it's on. A gusher opens up on Sarge's forehead, and Patterson's like a bull who sees red. He fires back up and tears into Slaughter like a man possessed. After Pat bludgeons Sarge probably twenty to thirty times with his cowboy boot, Slaughter's manager the Grand Wizard finally throws in the towel. But even as the bell rings, Slaughter is climbing back into the ring, his fists up and ready for more. A relatively short and visceral brawl that still holds up after thirty-plus years, with one of the best blood loss sell jobs you'll ever see.

4. Bret Hart vs Steve Austin (Wrestlemania 13) - This match was important for a myriad of reasons. It was the culmination of a double turn for Bret Hart and Steve Austin. It was also Ken Shamrock's introduction into the WWF. It's remembered fondly as one of the best matches in Wrestlemania history, as well as being one of the first matches that laid out the template for the main event style of the Attitude Era. But that's not what anybody remembers about this match. The real lasting legacy of this match is the mental image of blood pouring down Stone Cold Steve Austin's face as passed out in pain from the Sharpshooter, refusing to quit. A fixture in nearly every video package involving Stone Cold since, it's really what ingrained his image as the "toughest S.O.B", and cemented his standing as a top guy.

3. Eddie Guerrero vs JBL (Judgment Day 2004) - The amount of blood that Eddie Guerrero bled in this match was ridiculous. It had people invoking the infamous "Muta scale", and to this day, I still have a hard time understanding how Eddie kept performing at the level he did for the rest of the match. Even if he took some aspirin or something else beforehand to thin his blood, it was still a pretty shocking amount of blood loss. But even without the blood that Eddie (and JBL), this would've still been a fantastic match. Eddie was doing his damnedest to get JBL over as a main event guy, and I think this was the match that did it, even though this wasn't the night JBL would actually win the title. But it wasn't all Eddie, either. JBL hung with the champ all the way, and proved he belonged. Not only was this his best match ever in my opinion, but I also think that this is one of the most over-looked matches of the past decade. Do yourself a favor and check this one out again, it really is that good.

2. Terry Funk vs Sabu (ECW Born to be Wired) - Joey Styles summed the match up perfectly within the first five minutes when he said, "This is hard to watch." These days, barbed wire is commonplace in deathmatches and hardcore matches. And even back in 1997, barbed wire matches similar to this one had been going on in places like FMW for many years. But that doesn't make it any less unsettling to go back and watch Born to be Wired. In this match, mere blood almost seems like an afterthought, even though there was plenty of it. Just the sheer insanity of the things they were willing to do their own bodies was jarring. By the time the bell rang, they were wrapped in so much barbed wire that Bill Alfonso literally had to cut them apart. To borrow from Joey one more time, "It is almost unfathomable that two men would voluntarily subject themselves to this sick display of mutilation."

1. The Great Muta vs Hiroshi Hase (NJPW 12/14/1992) - When you're talking about blood, you pretty much have to end up here. While blood was just a part of the larger story in the other matches on my list, in this match it was definitely the focal point. That's not to say it was a bad match; in fact, I think it would've been hard for these two to have a bad match together. But I do think it would be largely forgotten had Muta not shed such ungodly amounts of plasma. It played off their match two years earlier where it was Hase was the one wearing the crimson mask, and the crowd ate it up when Hase gave Muta a taste of his own medicine. The blood covered his face so completely, that if you'd come into the match late, you could have easily mistaken it for his trademark face paint. It will forever be the blade job by which all others are measured.





---


Justin Watry
5. Joey Mercury Gets Annihilated (Armageddon 2006): Before I begin, I just want to say that this list is based off matches I have actually seen. If I never saw it, do not look for it to make the cut. Get it? Get it? Okay, whatever. Now, back to number five. Let me set the stage for everybody quickly. This was a Smackdown exclusive pay-per-view. To be honest, it was about as throwaway as you can possibly imagine. The WWE Tag Team Title were going to be defended between London Kendrick and Paul London (champs) and William Regal and Dave Taylor. It was sure to be a nice "wrestling" match but probably not much else. Well, Teddy Long had other ideas. He made the match a four way...and with LADDERS! The two teams added? The Hardy Boyz and MNM! Oh my. You knew things were going to crazy, and they were. In one of the most under rated ladder matches of all-time, there was ONE spot that stood out. Sadly for Mr. Mercury, his face felt the wrath of a misplaced ladder. After a high risk move, the steel crushed Joey Mercury's nose. Blood spilled out of his face immediately as the mat outside the ring began turning red. His nose was already crushed, but the crimson mask was only becoming worse. Referees rushed to help and pulled him from the match. As the other participants continued the ladder match, he was sent to the hospital. It may have been just one incident, but that move summed up the phrase 'blood bath.'





4. John Cena vs. JBL (Judgement Day 2005) I think fans were still skeptical of John Cena in May 2005. Yeah, he had a great 2004 and was being groomed for a main event spot. Yeah, he won the WWE Championship at WrestleMania 21. Yeah, the company was still solidly behind him. However, there was still doubt. After Judgment Day and his I Quit match with JBL, that doubt was all gone. The man delivered yet again inside (and outside) the ring. He beat JBL, retained his gold, and was NOT going anywhere. Flash in the pan, he was not. Most importantly, he bled all over the arena. JBL (also worse a crimson mask) hit him with a solid chair shot earlier in the match. From there, the blood started flowing! I think Cena needed a performance like this. to be accepted It was almost his way of proving himself. He was not soft or anything like that. Right or wrong, the 'new guy' had to have a blood filled fight with a veteran like JBL. At Judgment Day 2005, the newly crowned WWE Champ fought like he belonged and made no bones about it.

3. James Storm vs. Chris Harris (Sacrifice 2007) This was built as a Texas Death Match. Right then and there, you knew these two were going to try and kill each other. Their past history made for a great story on their own. However. add in the ridiculous stipulation and give these two time on pay-per-view, that is worth seeing! In no surprise, they came through big time. The two beat the ever living 'you know what' out of one another. Both men had to prove that they were better. Both men desperately wanted to move up the ladder in TNA. Both men were doing everything possible to make a name for themselves. Kudos to both. They did it, all the while bleeding like stuck pigs. Is that the correct phrase Jim Ross? I don't know. What I DO know is that Harris and Storm gave a performance of a lifetime. In terms of matches, this is one of TNA's best. In terms of TNA blood baths, this is right at the top.

2. Brock Lesnar vs. The Undertaker (No Mercy 2005) Unreal. That is the word to describe this war. Not only was Lesnar in the middle of this first WWE Title reign, Taker was just months removed from losing his Undisputed title. Inside the demonic 16 foot high cell structure, I don't think anybody was quite ready for what was about to be seen. Lesnar bled a little. To his credit, he was proving critics wrong every month throughout 2002. However, Taker took bloodshed to a whole new level. After some shots with the steel steps, The Dead Man went down. The next thing you know, his face is covered in blood. Paul Heyman was outside the cell screaming. I think he bled too, if fact. Michael Cole and Tazz did their best to keep their composure, but it was clear things were getting out of hand. being the veteran that he is (and likely thinking of his time off that was coming soon), Taker continued on like a warrior and lost clean in the middle of the ring to the rookie. Amazing effort from both men!

1. Eddie Guerrero vs. JBL (Judgment Day 2005) Something about JBL, the month of May, and blood, huh? Make your own joke there. Anyways, this entire scene has much more meaning behind it for me, so I'm going to take a different route here. Instead of recapping what happened to Eddie during the match for the 867,354th time, let me tell everyone my own journey to the main event. Quick story: The week before this PPV, I was in Colorado (on vacation). I got back Sunday night and just wanted to relax. It had been a long few days, and resting for the last day of the weekend seemed nice. Being a big wrestling fan, I went online quickly though to check up on stuff. There was not anything big going on. Then I went to WWE.com. Shocking, right? Who goes there for wrestling news? There it was - JBL promises to silence his critics! I was intrigued and read a little blog he had written. He ripped the 'dirt sheets,' fans, critics, and everybody under the sun who mocked his new main event push. No more Bradshaw - beer drinking tag team wrestler. The man was now JBL - legitimate WWE title challenger. He vowed to shut up everyone who laughed at his new character and thought it would bomb. Wow, it was intense. It was...real. Instantly, I made the quick decision to order Judgment Day 2004 (a Smackdown exclusive event). As expected, the show was good but nothing great. That was what I figured. Then the main event started. From the opening bell to the closing image, JBL was on a mission. With the help of Eddie Guerrero, the former Bradshaw was a credible main event star. All the doubters and cynics were shut up (for one night at least), as the WWE Title match was a great 20 minute battle. I was glad I ordered the show and very happy for JBL. As for the blood? Oh yeah, Eddie cut himself WAY TOO DEEP and bled buckets in one the few times I have ever feared for someone during a match.

---


Francisco Ramirez



5. Raging Bull Manny Fernandez Vs. Invader #3 - I am still not sure if this was a work, regardless it was an intense moment that has never been duplicated, and even if it was a work, allegedly, blood was involved. WWC featured a match between Invader #3 and Manny Fernandez, during the match, Fernandez dropped Invader with a bodyslam, climbed the ropes and dropped a knee on Invaders chest. Invader looked like he was in pain and while Fernandez once again climbed the ropes Invader threw up an intense amount of blood. Two flying knee's later and the locker-room cleared out and numerous wrestlers were attending to Invader #3. They themselves took Invader #3 and loaded him up to a vehicle allegedly taking him to a hospital. As far as being a work or not, various stories are floating around. The first is that Manny Fernandez was a close friend of Bruiser Brody, and he purposely hurt Invader #3 as a receipt for Jose Gonzales, Invader #1 who stabbed and killed Brody, Invader #3 and #1 are known to be extremely close friends. The other story is that Invader #3 drank a mixture of Vodka and pigs blood before the match, thus regurgitating during the match. Whether it was worked or not is still in the air, yet there is no denying that what took place was both bloody and quite disturbing.

4. Bill Alfonso Vs. Beulah - Wow, did Fonsy ever bleed! The match that allegedly saved Bill Alfonso's job in ECW. While Alfonso and Beulah are probably the least hardcore members of the original ECW locker-room, and that's including Joey "Hands of Stone" Styles, they put on one of the bloodiest matches in ECW history and that in itself is quite the statement. It was as far as you can get from a traditional mat classic, yet, not as extreme as New Jack on a bad day. Then again, New Jack on a bad day might lead to death. Still, Beaulah worked her ass off, and Bill Alfonso poured blood like water from the river Nile. Easily one of ECW's most memorable bloodbaths.



3. El Hijo del Santo Vs. El Negro Casas Vs. El Dandy: Hair Vs. Mask - This occurred in the mid 90's during El Hijo del Santo's Rudo run in CMLL. The fans had started cheering el Negro Casas, and his rival el Hijo del Santo returned as a Rudo. A Hair Vs. Mask match was signed and el Dandy was thrown into the mix, making it a 3 way elimination match. 3 men started out, the two to be pinned or submitted would find themselves facing off and the one to lose that match would lose his hair or mask. El Hijo del Santo lost first, due to Casas and el Dandy teaming up on him, el Negro Casas would then make el Dandy submit to a Sharpshooter. Dandy and Santo then faced off in a 2 out of 3 falls match, Santo took the first, and looked like he was going to take the 2nd, beating on el Dandy and biting his forehead until el Dandy donned the crimson mask. If Bret Hart has taught us anything it is "who the fuck are you to doubt el Dandy?" perhaps not in those exact words. Yet, el Dandy caught his second wind and came back, turning the tables, biting Santo's forehead as well, and taking the second fall with La Casita, el Negro Casas finisher. By the third fall, el Dandy's face was covered in blood, and el Hijo del Santo's traditional silver mask was now red. Santo took the third and the win with his finisher, La de a Caballo aka the Camel Clutch, el Dandy losing his hair. Both men, having their faces covered in blood, and el Santo's mask torn and with a new paint-job.

2. Bret Hart Vs. The British Bulldog - I don't recall Bret Hart being one to bleed often, so I was quite surprised when I saw the In Your House WWE Championship match between Bret Hart and Davey Boy Smith. Everyone recalls the classic from Summerslam 92, and while this wasn't their best match, unlike their Summerslam match, this had blood. At one point during the match, Davey drops Bret onto the ring steps, he then picks him up and rams his back onto the ring post. The camera is set on Bret, who at this point is on all floors, Davey goes to pick him up, and there you see it, a puddle of Bret's blood. I'm not sure to this day if this was a blade-job or came about the hard way, blood was extremely rare in that era of WWE television, yet Bret left blood all over the ring, and even all over Davey Boy's tights, the White part of the British flag then become a reddish pinkish hue. Rarely brought up when talking about bloody matches, but if we're measuring by the cup or gallons, this definitely deserves a mention.

1. Eddie Guerrero Vs. JBL - Muta scale? Maybe it should be renamed to the Guerrero scale. Eddie Guerrero overdid it in his match against JBL. It's true, everyone has gone on record to say Eddie bladed too deep and as a result he bled to the point that he required medical attention and felt the effects for a couple of weeks. The surprising thing is the match was not one of brutality, it wasn't a blood feud, it was simply a match for the WWE title between Eddie Guerrero and the newly repackaged JBL. Eddie worked his ass off to get JBL over, and succeeded. Still, I don't know if the amount of blood added anything to getting JBL over, but what it did show was Eddie's dedication and determination to his craft. Did he overdo it, definitely. Regardless, the bloodiest match of all time according to me, actually didn't require blood in the first place.

---
YOUR TURN KNOW IT ALLS

List your Top Five for this week's topic in the comment section using the following format:

5. CHOICE: Explanation
4. CHOICE: Explanation
3. CHOICE: Explanation
2. CHOICE: Explanation
1. CHOICE: Explanation




TWITTER
Follow Michael Benjamin here! What a swell guy!

http://www.twitter.com/411wrestling
http://www.twitter.com/411moviestv
http://www.twitter.com/411music
http://www.twitter.com/411games
http://www.twitter.com/411mma

comments powered by