SPOTLIGHTS
The 411 Wrestling Top 5 08.21.13: Week 231 – The Top 5 Cruiserweights
Posted by Larry Csonka on 08.21.2013

From Rey Mysterio, Jushin Liger and Eddie Guerrero to Dean Malenko, Great Sasuke, Ultimo Dragon and more, the 411 staff counts down the top 5 cruiserweights of all time!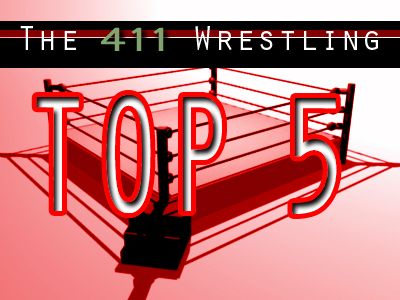 Hello everyone and welcome to 411 Wrestling's Top 5 List. We take a topic each week and all the writers here on 411 wrestling will have the ability to give us their Top 5 on said topic, plus up to three honorable mentions.

So, onto this week's topic…





The Top 5 Cruiserweights/Light Heavyweights




MICHAEL WEYER
5. Billy Kidman Highly underrated by many, Kidman was a good worker in his prime and able to provide fans with surprisingly good matches. He had some decent title runs as Light Heavyweight champ in WCW and four reigns as Cruiserweight champ in WWE and tag champs with Paul London. His run in the company ended in 2005 but he still had a fun legacy as a guy able to liven it up with his hard style and helped push WWE's Cruiserweights well for a new generation of fans.

4. Dean Malenko Along with Mysterio and Guerrero, Malenko was the other side of the heart of the WCW Cruiserweights. The Man of 1000 Holds, he backed that claim up with wicked work in the ring, brutal and efficient, dry on the mic but his attitude in the ring making up for it. His feud with Jericho was a highlight of 1998 and while he never got the main event runs, he was always able to provide a great match to highlight a card. Silent but deadly, Malenko was always someone to watch and prove how you don't have to be flashy to be a star.

3. Eddie Guerrero God, I miss this guy. Wrestling was in his blood but Eddie proved himself able to rise beyond any of his relatives with his amazing frog splash and stunning technical work. From his feuds with Dean Malenko in ECW to his great work in WCW, he was good not just in the ring but also on the mic with his heel act. After seemingly falling apart to drugs, he came back better than ever, fans loving his humor and antics in the ring, taking off as tag team and U.S. champ in WWE and when he won the WWE title in 2004, it was a huge moment for everyone watching. To lose him a year later was heartbreaking but at least we have the great memories of a stunning worker who always entertained with his great work and why he's so special.

2. Rey Mysterio Jr "The Biggest Little Man" has endured a lot from various injuries to WCW forcing him to unmask but has continued to elevate the game for himself and other cruiserweights. His ECW run got him fame and his work in WCW helped forge that company's terrific cruiserweight division. His comeback in WWE was a great one as he instantly helped "SmackDown" with his highflying style and has proven himself able to work in the heavyweight division with his World title runs. He's incredibly popular, his masks a great seller for kids and you can't help but enjoy his wild outfits for big shows. Still a great flyer to watch, Rey proves you don't have to be huge to succeed and able to steal the show at any size.

1. Jushin "Thunder" Liger An innovator of the modern light heavyweight division as we know it, Liger gets points for his fantastic costume with elaborate head mask. But his skills in the ring are stunning as when he broke out in the early '90's, he was doing stuff no one could ever imagine. He and Brian Pillman put on one of the greatest matches in WCW history in 1992 that elevated cruiserweights for fans. But his work in Japan remains something to watch, the man taking to the air with incredible ease and pulling off maneuvers that blew away fans and can still wow today. Not just for his success but also for how he blazed a trail for all the "midgets" who followed him, Thunder rocked you as a wrestling fan and shook up the business nicely.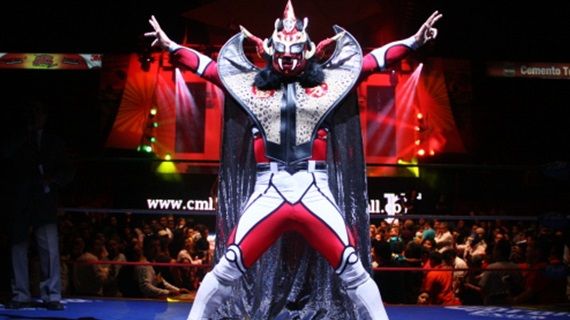 ---



Jesse Nguyen
5. Paul London - If you were a fan of London's work in WWE, you should really go back and check out his early work for Ring of Honor. Some of their best matches for 2003 and 2004 feature him. He had an amazing 2/3 falls match against Daniel Bryan at ROH's Epic Encounter, and another one against AJ Styles at Night of the Grudges. Currently, he still wrestle on the independent scene, including Ring of Honor and Pro Wrestling Guerrilla. He's a light heavyweight who can go with anyone in the ring, and make it a five star affair. He's a former WWE Cruiserweight and WWE Tag Champion (with Billy Kidman and Brian Kendrick). A lot of cruiserweights have come before him to pave the way for the lighter sized competitors, and London has done his best to show the light heavyweights are still a force to be reckoned with.

4. Chris Jericho - Before coming and going with the WWE endlessly, Jericho was tearing it up in the WCW Cruiserweight division. He was fast, aggressive, and never scared to speak his mind. Also he was kind of a dick. One of my favorite things he would do is bring items to the ring that belonged to wrestlers he had defeated in the past. These items included Juventud Guerrera's mask, which he won during a title vs. Mask match. He had a feud with Dean Malenko that really showed just how well a storyline can be in the cruiserweight division. Jericho opened up a path for cruiserweights to be known as competitors in any weight division.

3. Dean Malenko - Malenko has had some amazing battles against some of the greatest light heavyweights in the world. Known as "The Man of 1,000 Holds", Malenko showed his technical skills in WCW, ECW, and New Japan Pro Wrestling. Some of his matches against Rey Mysterio Jr. Are regarded as some of the best in WCW history. Of course I mentioned early his feud against Chris Jericho, which was quite fun to watch. Sadly, Malenko retired from wrestling in 2001. I suggest going back and checking out some of his matches for WCW. You may see how he influenced quite a few of the current generation's roster of wrestlers.

2. Eddie Guerrero - To say the wrestling world still misses Eddie is quite the understatement. His work as a pro wrestler has always been fantastic. From his work in ECW to his WWE days, Eddies showed just how far heart can go for a pro wrestler. He's been not only Cruiserweight Champion, but also the WWE Champion. He recovered from addiction to come back and entertain fans on a nightly basis. His technical work and humor led him to become a fan favorite quite quickly. Eddie was taken from this world way to early, but he will always be remembered for his incredible in ring work.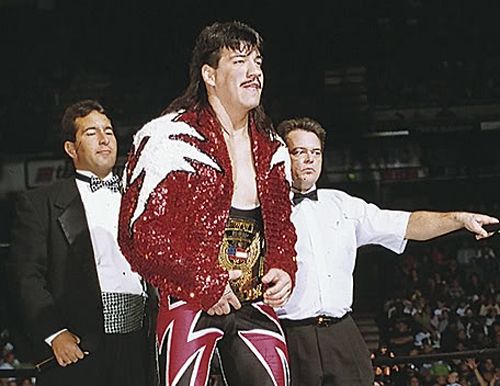 1. Jushin "Thunder" Liger - Ah, the innovator of the Shooting Star Press. Liger has not only been one of the best wrestlers of all time, but he is without a doubt (in my mind) the greatest light heavyweight of all time. His work in the early 90s is what really elevated the light heavyweight division in pro wrestling. Besides having fantastic matches against Brian Pillman, Black Tiger, and Owen Hart, he still puts on amazing performances today. Recently, he's been up against the likes of John Morrison, Jigsaw, and Davey Richards right here in my home country of the US. He's always fun to watch, and everything he's done in his career has set the standard for all of the lighter competitors in the world. He's colorful, skilled, and a blast to watch every time.

---



JUSTIN WATRY
5. Dean Malenko A lot of words could be used to describe this man. More often that not, they end up being positive. I think Dean was gifted and always served his role. Whether it be ECW, WCW, or WWE, he delivered. Many will recall his WCW run as his best time; it probably was. To me, he put together some great performance in the year 2000 that should be remembered. While I never thought he should have been a main event level star, that is no knock on Malenko. In terms of Cruiserweights, he was one of the best.

4. Billy Kidman Everything I just said about Malenko you could translate to Billy Kidman. The only real difference is that I think Billy played a good face and heel character. For Malenko, his persona was a natural 'bad guy.' Maybe it is just me that feels that way? In any event, Kidman was also in more than just WWE and came through. It is no wonder why he and Dean were picked up by WWE well past their retirements inside the squared circle.

3. Chris Jericho I do not even feel right putting Chris Jericho down as a Cruiserweight. It just does not sit well with me. The man main evented WrestleMania, was the first ever Undisputed champion, and yet is a CRUISERWEIGHT?!?! By definition though, he has to make this list. To me, that just speaks volumes on his great career. Working with small guys? No problem. Brawling with Kane or Big Show? Sure. Comedic sketch with Christian backstage? Got it! Serious story line with Shawn Michaels? Perfect. He really could do it all and is way more than just a "Cruiserweight."

2. Eddie Guerrero Same deal. By the outlines of this list, he has to be named. From ECW to WCW to WWE, Eddie is right there near the top. While I could sit here and ramble on for a few more sentences, just read my description on Jericho. The man was a pro's pro and worthy of more than being labeled a Cruiserweight styled wrestler. He proved that time and time again. Of course, when you think of the term 'Cruiserweight,' only one man springs to mind more than Eddie...

1. Rey Mysterio Right or wrong, this is the biggest little man in the history of wrestling. The former WORLD Champion is likely to always go down as the greatest Cruiserweight champ ever. Rey Rey earned that distinction all over the world. WCW? WWE? He dominated the title scene in both companies and is STILL being rumored to lead the charge for a new and improved Cruiserweight division in 2013. That is the true mark of a legend. Without a doubt, Mysterio is my top choice!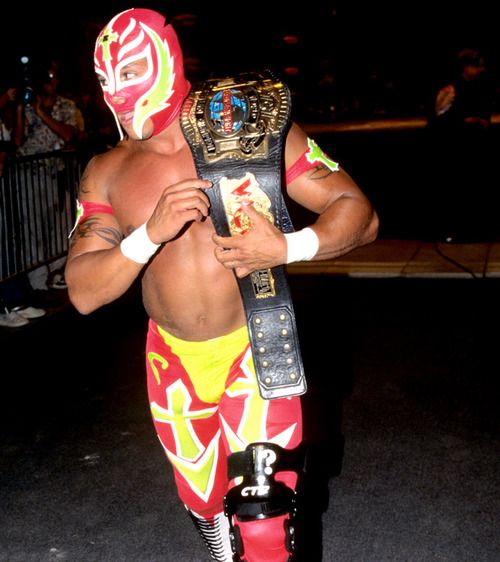 ---



Matt O'Connell
5. Rey Mysterio, jr. - I've never been a huge fan of Rey, but he has been one of the most popular wrestlers in the world for the better part of 20 years, and undoubtedly the most popular in his own weight class. But I'd have to agree with Dr. Nash in diagnosing Mysterio as inoperably vanilla; despite his in-ring talent and his staggering variety of colorful costumes, Rey has never quite managed to establish any kind of lasting character. This, combined with the drastic (if totally understandable) reduction of his workrate over the last decade leads me to rank Rey at number five despite his popularity.

4. Jushin "Thunder" Liger - Jushin Liger ranks in the top five for sheer influence alone; without a Jushin Liger, there may not have been a cruiserweight golden age in the 1990's. Liger's training in Mexico, Japan, and even the Hart Dungeon allowed him to forge a hybrid style that has become a staple of light-heavyweights all over the world. Simply, without an athlete like Liger proving that a light-heavyweight wrestler could wrestler brilliantly, sail through the air AND hit as hard as a heavyweight, CM Punk would not have faced Undertaker at WrestleMania, and Daniel Bryan would not be challenging for the WWE Championship in a few short weeks. And then there's the theme song. LIGAAAAAAAAA!

3. Eddie Guerrero - As much as I agreed with Dr. Nash's assessment of Rey Mysterio's charisma, I'd have to insist that his license be revoked for claiming the same of Eddie Guerrero. Not only was Eddie Guerrero a superb technician who mastered both lucha libre and American cruiserweight wrestling, but he was simply one of the best performers in the world, bar none. The man was a wrestling genius, and his facial expressions wrestled a better match than most guys could manage with their entire bodies.

2. Ultimo Dragon - Ultimo Dragon makes the list for the same reasons that Jushin Liger did, but since it's my list I'm going to rank him higher. Of the two, he has had more success in the North American scene, having won two Cruiserweight and two Television titles in WCW. He also won the WWF Light Heavyweight championship as part of the J-Crown, and even competed, however briefly, at WrestleMania.

1. Dean Malenko - How could Dean Malenko not take the number one spot? He is the perfect representation of what a vanilla midget was supposed to be: a wrestler's wrestler, who didn't rely on size or a flashy gimmick to ply his trade. In fact, not needing a gimmick WAS his gimmick, and he played that gimmick better than anyone has played any gimmick ever. Dean Malenko embodied the supposedly negative stereotype of the vanilla midget, but for him it worked. Malenko was it, man. He was it.





---
Csonka's List For Fun
6. Taka Michinoku
5. Ultimo Dragon
4. Rey Mysterio Jr.
3. Great Sasuke
2. Jushin Thunder Liger
1. Dynamite Kid & Tiger Mask
YOUR TURN KNOW IT ALLS

List your Top Five for this week's topic in the comment section using the following format:

5. CHOICE: Explanation
4. CHOICE: Explanation
3. CHOICE: Explanation
2. CHOICE: Explanation
1. CHOICE: Explanation
Your heart is free. Have the courage to follow it…TO CSONKA'S TWITTER!

http://www.twitter.com/411wrestling
http://www.twitter.com/411moviestv
http://www.twitter.com/411music
http://www.twitter.com/411games
http://www.twitter.com/411mma

Have you checked out the Csonka Podcasting Network? If you haven't, you should We run anywhere from 15-20 shows a month, discussing pro wrestling, the world of MMA, the NBA, general sports, popular TV series of the past, bad movies, battle rap, interviews, MMA & Wrestling conference calls and more! Around 10 different personalities take part in the various shows, which all have a different feel; so you'll likely find something you like. All of the broadcasts are free, so go ahead and give a show a try and share the link with your friends on the Twitter Machine and other social media outlets! Running since May of 2011, there are currently over 320 shows in the archive for you to listen to.



Larry Csonka is a Pisces and enjoys rolling at jiu jitsu class with Hotty McBrownbelt, cooking, long walks on the beach, Slingo and the occasional trip to Jack in the Box. He is married to a soulless ginger and has two beautiful daughters who are thankfully not soulless gingers; and is legally allowed to marry people in 35 states. He has been a wrestling fan since 1982 and has been writing for 411 since May 24th, 2004; contributing over 3,000 columns, TV reports and video reviews to the site.
comments powered by