SPOTLIGHTS
The 411 Wrestling Top 5 8.26.13.13: Week 232 – The Top 5 Super Heavyweights
Posted by Larry Csonka on 08.26.2013

From Andre the Giant and Big Van Vader to Yokozuna, The Big Show and more, the 411 staff counts down their top 5 super heavyweights of all time!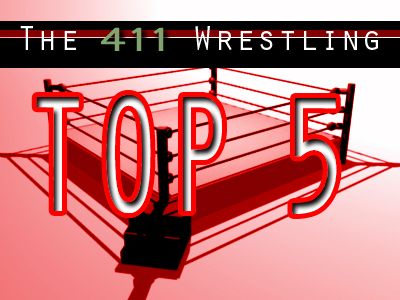 Hello everyone and welcome to 411 Wrestling's Top 5 List. We take a topic each week and all the writers here on 411 wrestling will have the ability to give us their Top 5 on said topic, plus up to three honorable mentions.

So, onto this week's topic…




The Top 5 Super Heavyweights (a.k.a. BIG MOTHER FUCKERS)




MICHAEL WEYER
5. John Tenta He had a lot of names but John Tenta's love for wrestling never changed. He broke out as Earthquake in WWF, a great monster heel to face Hogan, using his girth to his advantage with attacks and his splash finisher along with a nasty edge. He and Typhoon were a great team as the Natural Disasters, holding the tag titles for a bit. His runs in WCW as Avalanche, Shark and his real name were a mess due to the company at the time but he kept going nonetheless and that drive won him many fans. He may have left us but he remains a great entertainer to watch, a big man with a big heart for wrestling that we all miss.

4. Andre the Giant Some might demand he be ranked number one just by his fame but going by skills as well and let's face it, Andre was never what one would call skilled. His early work is notable with him much slimmer and a bit quicker but still famed more for his amazing height than his ring abilities. He could use it well in various battles, including showing a nasty side in his famous feud with Killer Khan. His heel turn against Hogan led to a huge payday although it's clear Andre was barely mobile for the Mania match and his run later was more due to the fame he got from The Princess Bride than his drive for the business. While it was painful to see him in the last few years, you could tell Andre loved this business and that was a reason he remained so popular through his run as the "Eighth Wonder of the World" and remains a legend today.

3. The Big Show It's interesting to see Paul Wight when he first debuted in 1995, rather svelte and even able to throw dropkicks. Sure, we'd seen big guys use a chokeslam before but Show made it really mean a lot with driving a guy down into the mat and selling his size well. He's proven himself as a multiple champion in WWE, coming back from constant injury and battles with nearly every single big star in the company over the last decade and the half. He's done every type of match, great in brawl battles but even doing ladder matches and matching it with good humor as well so he works as a heel or a face effectively, a trait a lot of guys lack. Going into two decades in the business, he's still proving up to his name, always ready to give the fans a great big show.

2. Vader When Vader broke out in WCW in 1992, he was amazing as you'd never seen someone like him before. A guy over 300 pounds who could take to the air like a luchadore with moonsaults and dropkicks, combined with his awesome helmet and costume, he was a true bad-ass. That was backed up by his stiff work, really hurting guys, breaking the back of a jobber with his powerbomb and of course, ripping off Mick Foley's ear in a famous match. His run as WCW champ was a highlight of the company, able to brawl it out but still work a good match without getting blown up early making him a great star. A shame he couldn't match that in WWF later but to this day, "Vader Time" gets you going with a guy who backed his size with demeanor to be a monster heel.

1. Yokozuna He may be mocked by many but I've always felt Yoko was really underrated as a giant heel champion. Yes, he was fat, his girth exploding to 600 pounds at one point but the way he carried in the ring was truly amazing. That a man that huge could move faster than a lot of guys half his size was the key to his success, he wasn't plodding about but could run across the ring to ram a guy or come up with a sudden kick. The Banzai Drop was a great finisher, really selling how it would hurt to be crushed by someone like that and his silent demeanor and harsh attitude added to his ring presence. As champ for most of 1993 and early '94, he faced a lot of challengers and turned them back with good skill, deserves more credit than he gets for a big man who was a lot faster and skilled than one would think.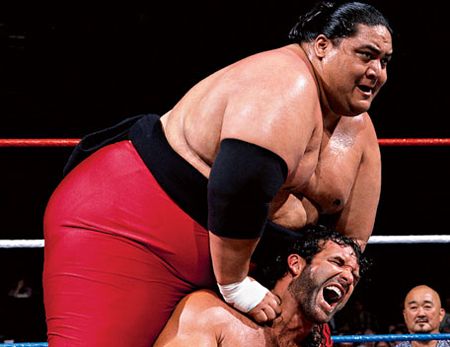 ---



Matt O'Connell
5. Mark Henry - For a long time, the absurdity of Mark Henry's career was that Vince McMahon, the wrestling genius, signed the former powerlifter to an outrageous ten year, $10 million dollar contract, never foreseeing that the guy was a career midcarder. Now, in 2013, the absurdity is that Mark Henry has been with the company nearly twenty years, and the same supposed genius is just now beginning to use Henry to his fullest potential. His work

4. Kane - Since delineating weight classes in a simulated sport in which every single competitor lies about his weight is a lot like listing anatomical differences between species of unicorn, it's hard to know what counts as a super-heavyweight. Given that I seem to have a bit of leeway, I'm going to include Kane, who over the past two decades has quietly built himself a reputation as the ultimate company man, able to have good matches with just about everyone on the roster, and capable of making just about any kind of angle work. And, did you further know that Kane is the longest-tenured full-time wrestler on the WWE roster? That's without any mini-retirements or reduced schedules, and he still leaps off the top rope at least once a week.

3. Vader - If this were pure opinion, if I were being asked to rank these guys according to how much I enjoy their work, then Vader is number one. When I think of the term, "super-heavyweight", I picture Vader standing on the middle rope, pausing briefly, and, as the entire crowd gasps in unison, ascending to the top turnbuckle for the moonsault. That single moment encapsulates the essential appeal of super-heavyweight wrestlers, the awe associated with their mass in motion. He was a human wrecking ball who literally destroyed everything in his path. He was everything a super heavyweight should be. But since I have to be objective, his career simply can't match those of the guys in the top two spots. Sorry, Leon.

2. The Big Show - All things being equal, Big Show should be at the very top of this list. His longevity and his success speaks for itself. However, he will never be able to surpass Andre in the abstract, even if he does in each individual area. He is bigger, if only by half an inch (not counting the afro). He is ten times the athlete Andre was, and he can wrestle matches that are more than an exhibition of his size. He is always around, able to work full programs and not just appear sporadically. He also can cut promos in English, while Andre was limited to bear sounds and a smattering of slurred French. But unfortunately for Big Show, each and every one of those shortcomings on Andre's part served to increase his mystique and separate him further from the concept of the normal professional wrestler. Big Show works like a wrestler, sells like a wrestler, wins and loses like a wrestler. A wrestler who has performed reasonably well over a very long career and been popular the whole time. But Andre was more than a wrestler.

1. Andre the Giant - If you're ranking big dudes, you really have to rank Andre at the top. There may have been guys who were taller, and guys who were heavier, and even guys who were both. But none of them could ever hope to match the size of Andre's pop-cultural monolith, his legacy and his legend. He was the crown jewel of the wrestling world in the territory days, a seldom-seen mythical beast who never stayed around too long; when wrestling went mainstream in the 1980's, Andre was there, too, the insurmountable obstacle that threatened the new paradigm of basic cable Hulkamania. And from there, Andre became a meme, his likeness and all-surpassing size becoming inextricably linked with everything from graffiti art to the Final Fight video games. Anybody want a peanut?


---



DINO ZUCCONI
HM: Mark Henry/Big Show - I don't want to end up in the Hall of Pain, all right?! While the first 10-12 years weren't worth writing home over, he's really been on a roll since about the summer of 2008 when he won the ECW title and hasn't looked back. Show, on the other hand, is just too hard for me to fairly rate. Like Henry, he's had long stretches of ineffective work, or simply being shipped out to indies. I do love the Big Show, though, so I'll at least make sure he's somewhere on my list.

5. Bam Bam Bigelow - In a perfect world, I wouldn't be writing about Bigelow as a top five super heavyweight, but rather, as an all time great. Bigelow had the look, the moves, and the mic skills, but just could never get treated like a big deal on the biggest of stages. Still, great runs in Japan and ECW, along with decent runs in WWF/E and NWA/WCW earn him a spot here. Bam Bam was underutilized in the most criminal of fashions, in my opinion.

4. Earthquake - No one put the fear into my soul the way Earthquake did when I was a kid. He was huge, but he was also very fast, and surprisingly agile. Watching him show up, and immediately wreck the Ultimate Warrior, Ron Garvin, Hacksaw Duggan, Hercules, and then Hulk Hogan left me terrified that no one would be able to stop him. Hell, his feud with Hulk is one of the few times I can't remember Hulk getting a big win at a big event to close out a big feud. Yes, mock the stints as Avalanche/Shark/THE MAN John Tenta, but he remains one of the most amazing super heavyweights I've had the privilege of watching.

3. Yokozuna - Real Talk: throughout his actual run, I thought of Yoko as nothing more than a fat piece of crap that had no skill, just more girth. Sure, that may have been because he defeated Bret Hart and Hulk Hogan to win his first two World Titles, but nonetheless, that was my take on him. He wasn't "good" as much as he was "big". So yeah, that was wrong. Having watched some Yoko matches recently, while you won't get any five asterisk classics, you'll still see a giant man throwing legdrops, suplexes, and uranages like it's nothing. A two-time WWF Champ and tag team champion, Yokozuna's run should not be overlooked.

2. Andre the Giant - He's most likely the biggest star wrestling has ever created. He traveled the world, wrestled everyone, and was booked as a nearly unbeatable specimen. He even managed to (very briefly) hold the WWF Title. He also took place in the Biggest Match in Wrestling History at WrestleMania III. I probably should have him at #1, but I just don't. That's taking nothing away from Andre, though.

1. Vader - He's the best. Vader was one of the hottest things WCW had going for him. He showed up, he wrecked a couple jobbers, then he wrecked Sting. Then Flair. Then Guardian Angel. Then Hacksaw Duggan. Okay, so maybe not Mr. Wonderful, but that was never sanctioned. A champion multiple times in Japan, a dominant WCW Champion, and a force in WWF for a short time, I'll gladly hitch my wagon to the Vader horse as best super heavyweight. It didn't matter if he was hitting you with forearms in the corner, splashing you from the ropes, or powerbombing you through the mat, everything Vader did, he did to hurt you. WHO'S THE MAN? Vader's the man.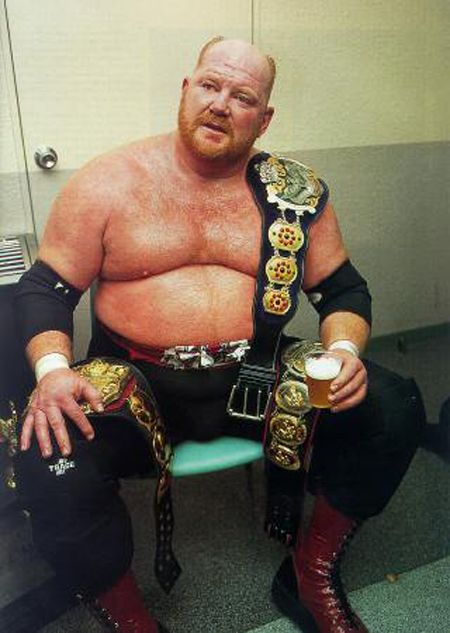 ---



JUSTIN WATRY
5. Great Khali - Before I begin, it should be noted that The Undertaker and Kane are not 'super heavyweights' in my book. Also, a few others big men are left off just based on the fact that I do not view that as 'super heavyweights.' In THIS case, I do count Khali for the list. This man has to be mentioned for a couple of reasons. Right or wrong, he is a former World Champion. Say what you will, but many big men can't claim that distinction. Khali can, like it or not. Also, he is a huge star over in India and a great tool for WWE. Not a ton of wrestlers can say they have an entire country on their side. Plus, Khali pinned Undertaker as clean as can be on pay-per-view back in 2006 after about 10 minutes. Name me wrestlers that have done that in recent memory. Finally, I firmly believe The Great Khali will be entered into the WWE Hall of Fame someday. World Title run? Indian market? Loyal employee with ZERO backstage heat? Yeah, he will get his induction...

4. Mark Henry - Raise your hand if you enjoyed his time in WWE since 1996. Okay, you are all liars. Now, raise your hand if you jumped on the bandwagon back in 2011. Yeah, that is what I thought. For me? The man was always talented and delivered when given the chance. With Mae Young? Good. Dominant heel on ECW? Great. Feuding with anyone on the roster at any given time? Sure! However, two issues hurt him. First, he was never going to live up to his big contract. Everybody should have realized that right away. Secondly, the issue bugs has haunted him from the beginning. Discounting both of those qualms, he is a sure fire WWE Hall of Fame performer.

3. Bam Bam - This is where things get tricky. Bigelow never had many championships in WWE. However, he has had a WrestleMania main event match - something few big men can attest to. That is worthy of a mention. When you add on his great acting experience and in-ring skills to back up the persona, he gets a high ranking. He was used about as correctly as possible during his career, and it showed. Congrats sir!

2. Big Show - I really battled back and forth with the number one and number two spot. If you asked me tomorrow, I could change my mind. If you asked me a week later, my answer may be different again. Either way, Show has tons of accolades to hang his hat on. WrestleMania main event. ECW Champion. WCW Champ. WWE and World Champ. Plus, the man can add many other titles to his name. Moving to the squared circle, he proved himself there as well. Stilling going strong in 2013? Simply amazing.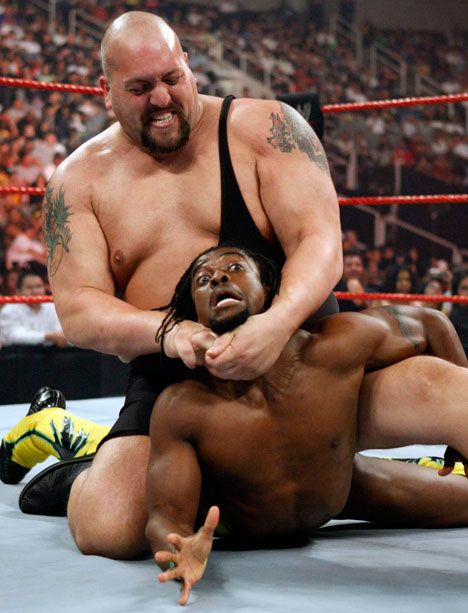 1. Andre The Giant - What is there to say? He had the crossover appeal to the mainstream audiences and die hard wrestling fans alike. Next to Hulk Hogan and a couple of stars, Andre is the most well known wrestler in the history of this business. Decades later, he is remembered by older fans and younger fans who may have just heard of the name. That is the true test of an icon - continuing your legacy well past retirement. For his unreal size and crazy road stories, he will live on forever.

---
Csonka's List For Fun
6. Mark Henry
5. The One Man Gang
4. Big Show
3. Bam Bam Bigelow
2. Big Van Vader
1. Andre the Giant
YOUR TURN KNOW IT ALLS

List your Top Five for this week's topic in the comment section using the following format:

5. CHOICE: Explanation
4. CHOICE: Explanation
3. CHOICE: Explanation
2. CHOICE: Explanation
1. CHOICE: Explanation
Your heart is free. Have the courage to follow it…TO CSONKA'S TWITTER!

http://www.twitter.com/411wrestling
http://www.twitter.com/411moviestv
http://www.twitter.com/411music
http://www.twitter.com/411games
http://www.twitter.com/411mma

Have you checked out the Csonka Podcasting Network? If you haven't, you should We run anywhere from 15-20 shows a month, discussing pro wrestling, the world of MMA, the NBA, general sports, popular TV series of the past, bad movies, battle rap, interviews, MMA & Wrestling conference calls and more! Around 10 different personalities take part in the various shows, which all have a different feel; so you'll likely find something you like. All of the broadcasts are free, so go ahead and give a show a try and share the link with your friends on the Twitter Machine and other social media outlets! Running since May of 2011, there are currently over 350 shows in the archive for you to listen to.



Larry Csonka is a Pisces and enjoys rolling at jiu jitsu class with Hotty McBrownbelt, cooking, long walks on the beach, Slingo and the occasional trip to Jack in the Box. He is married to a soulless ginger and has two beautiful daughters who are thankfully not soulless gingers; and is legally allowed to marry people in 35 states. He has been a wrestling fan since 1982 and has been writing for 411 since May 24th, 2004; contributing over 3,000 columns, TV reports and video reviews to the site.
comments powered by