SPOTLIGHTS
411's Wrestler of the Week 8.20.13: Year Nine, Week 19
Posted by Larry Csonka on 08.20.2013

Daniel Bryan defeated John Cena for the WWE Title, Randy Orton cached in and stole the WWE Title from Daniel Bryan, Brock Lesnar and CM Punk were also awesome and more! But who won 411's Wrestler of the Week? Find out inside!




Welcome to YEAR NINE, WEEK 19 of 411's Wrestler of the Week. A quick overview of the rules to kick things off for us as a reminder…

Each writer chooses FIVE wrestlers from any promotion and each wrestler gets a point total attached to that ranking. It looks a little like this…

1st - 5
2nd - 4
3rd - 3
4th - 2
5th - 1

Then we tally up the votes and the official 411 Wrestler of the Week is crowned. But wait, there's more! Each week the top SIX vote getters get a points value for their ranking which looks something like this…

1st - 15
2nd – 12
3rd - 9
4th - 6
5th - 3
6th - 1

...and they go towards the 411 Wrestler of the Year award to be announced each year around WrestleMania. This will be posted every Tuesday (the voting week runs Monday through Sunday). Let's see who wins this week…

---



Larry Csonka
1) Daniel Bryan and John Cena
I have to go with both Daniel Bryan and John Cena in the top spot this week. Both men were involved in the excellent promo segment on Raw to set the stage for Summerslam, and then both men delivered in an EXCELLENT main event at Summerslam. They owned the week without a doubt.

2) CM Punk and Brock Lesnar: CM Punk and Brock Lesnar trail just behind Cena and Bryan. Punk and Lesnar had a good segment on raw to hype the PPV match, and delivered an equally as great PPV match.
3) Bully Ray: Regained the TNA World Title in a very good match on Impact.
4) Alberto Del Rio
5) Randy Orton


JUSTIN WATRY
1) Daniel Bryan
On Sunday night, Daniel Bryan defeated WWE Champion John Cena clean in the middle of the ring. This was his first ever WWE Title victory and a (potentially) career making moment. We will see what the future holds, but the company went all the way with him. Beat Randy Orton in the main event of Raw. Defeated Sheamus clean. Picked up a win over The Shield, when they rarely lost. Now, he beats John Cena in the middle of the ring during the Summerslam main event. Amazing run.

2) Randy Orton: Of course, Bryan did not walk out of the pay-per-view as WWE Champ. That distinction belonged to Randy Orton. He successfully cashed in his Money in the Bank briefcase and won the gold. This all came at the hands of a Triple H pedigree. Fans have been whining and crying for a HEEL Randy Orton, right? Well, be careful what you wish for folks. You just might get it. The ending was not exactly shocking, as many had been predicting it for weeks now. However, time will tell if it was the right move with Orton and HHH back together...
3) Brock Lesnar: For the record, I am leaving out HHH because of his part-time wrestling schedule. Brock is also a part-time wrestler for WWE BUT did just compete in a match of the year contender with CM Punk. Their fight at Summerslam more than lived up the hype. I am ready for a rematch! How about you? Since Lesnar became victorious, he is slotted above Punk.
4) John Cena
5) CM Punk


Ryan Byers
1) Daniel Bryan
Yes, Bryan had a WWE Title reign that lasted only a matter of minutes. However, I'm not really putting Daniel Bryan on top of this list because he won the WWE Title. I'm putting Daniel Bryan on top of this list because, title on the line or no title on the line, he defeated the undisputed face of WWE, John Cena, clean in the middle of the ring on the second largest professional wrestling event of any calendar year. More than anything else possibly could, this marks the pinnacle of his ascension from independent wrestling star to legitimate WWE headliner. Plus, on Total Divas this week, he helped contribute to Nikki Bella's body image issues.

2) Brock Lesnar: Some people complain about putting a "part-time wrestler" on lists like this, but, when the part-time wrestler is a billion times better than virtually all of the full-time wrestlers on the WWE roster, I think voting for him is a no-brainer. Lesnar has been golden throughout his entire feud with CM Punk, but his greatest attributes are what he brings to the table in the ring, and Summerslam was where he got to display those. Lesnar and Punk put on a helluva match, and, in the end, the right man won as the Beast turned the Chicago native from the "best" into his bitch.
3) Kota Ibushi: Ibushi's home promotion, the indy group DDT, ran its annual event at Sumo Hall this weekend, and this year it was a two-night festival as opposed to one show. Ibushi was the star of the weekend, first defeating Danshoku Dino in the main event of night one before moving on to a stellar match with guest star IWGP Champ Kazuchika Okada of New Japan on night two.
4) HARASHIMA
5) Bray Wyatt


Michael Benjamin
1) Daniel Bryan
It may not have been the longest title reign (it was actually one of the shortest) but defeating John Cena for the WWE Championship in the main event of Summerslam is quite easily the biggest moment of Daniel Bryan's career thus far. His match with John Cena kicked all kinds of ass too in case you haven't heard or noticed. It's a good time to be D-Bry.

2) CM Punk/Brock Lesnar: I had to lump these two men together for putting on one of the best matches I've had the privilege of seeing live. I was sucked into the action and false finishes more than any other match in 2013 without question. Here's hoping for a rematch (perhaps at Mania). I've watched it three times already and I stand by the ***** rating I gave it in Instant Access. Brilliant match.
3) Randy Orton: Your new WWE Champion cashed in his Money in the Bank briefcase to cap off an amazing Summerslam and is now seemingly involved in the biggest angle in the company right now. I'm excited to see how this pans out and what it means for his character moving forward.
4) John Cena
5) Alberto Del Rio


Greg DeMarco
1) Daniel Bryan
Daniel Bryan is the pivotal piece in the McMahon Family Power Struggle, and he had the Los Angeles crowd eating out of the palm of his hand. He & John Cena pulled off an amazing match on Sunday, one that would have been in the match of the night discussion on any other card this year. He beat John Cena clean with a running knee strike, and Cena was left lying flat. He didn't win because of a special guest referee. He didn't win because of Cena's injured elbow. He won because he was the better man--the better wrestler. That was the story they were telling, and they told it with brilliance.

And yes, Daniel Bryan was only WWE Champion for 5-minutes. But his 5-minute reign was better than Chris Sabin's 28-day reign. Just sayin'.

2) Brock Lesnar & CM Punk: This was the best wrestling match I've seen this year. They had a mix of pure wrestling, power vs. speed, MMA-influenced, and sports entertainment. The Los Angeles crowd was fully bought in--something you can't say about last year's Lesnar-Triple H match. I didn't think Lesnar-Punk was going to necessitate a rematch, and I was obviously wrong. I'm glad I was!
3) Randy Orton: Randy Orton cashed in his Money In The Bank briefcase and left SummerSlam as the WWE Champion. The timing behind the entire tease was perfect, and I believe the story has just begun. Is Orton in cahoots with Triple H? Did Orton use Triple H? His actions on Raw could make Randy Orton next week's #1.
4) John Cena
5) Bully Ray


Jack McGee
1) Daniel Bryan and John Cena
These two put on a tremendous match, worthy of a Summerslam main event. Great crowd, great drama and even though the final result may not have been what many wanted, I think that the overall presentation was spectacular.

2) Bully Ray: Bully Ray is once again your TNA World Champion. I appreciated the Chris Sabin experiment, but Bully Ray is a tremendous heel and deserves his place at the top of the company. Do you know who he is? He's easily one of the best heels in the business.
3) CM Punk and Brock Lesnar: CM Punk and Brock Lesnar had an awesome match at Summerslam, one that really helped the event get to the next level. Most thought that these two would deliver, and they more than met expectations.
4) Randy Orton
5) Alberto Del Rio

---
THE WINNERS~!
Special Mention…Alberto Del Rio - 4 Votes


Fifth Place…Bully Ray - 8 Votes


Fourth Place…Randy Orton - 12 Votes


Third Place…CM Punk and John Cena - 16 Votes

Both were involved in awesome segments and matches this past week.


Second Place…Brock Lesnar - 22 Votes

The beast defeated the best at Summerslam.


And 411's Wrestler of the Week is…















Daniel Bryan - 30 Votes

Delivered in an awesome promo segment on Raw and then backed it up with an awesome match with John Cena at Summerslam to win the WWE Title…. for a few minutes.




Year-End Standings~!
And here are the standings after week 19…

Daniel Bryan - 114pts.

Dean Ambrose - 64pts.

Seth Rollins - 60pts
Roman Reigns - 60pts

Brock Lesnar - 42pts

CM Punk - 40pts.

Christian - 39pts.

Chris Sabin - 36pts.

Prince Devitt - 33pts
Curtis Axel - 33pts.

Randy Orton - 31pts

Mark Henry - 27pts.

Bray Wyatt - 21pts.

Ryback - 20pts

Bully Ray - 18pts.

John Cena - 15pts.
Austin Aries - 15pts.
Kurt Angle - 15pts.
Dolph Ziggler - 15pts.
Kofi Kingston - 15pts.
Kenta Kobashi - 15pts.
Ricochet - 15pts
Damien Sandow - 15pts.

Kazuchika Okada - 12pts.
Tetsuya Naito - 12pts.
Manik - 12pts.
Luke Harper - 12pts.
Erick Rowan - 12pts.

Alberto Del Rio - 11pts.

James Raideen - 10pts

Johnny Gargano – 9pts.
Jimmy Uso - 9pts.
Jey Uso - 9pts.
Rampage Jackson - 9pts.
Big E. Langston - 9pts.
Abyss - 9pts.
Wade Barrett - 9pts.
The Undertaker - 9pts
Jun Akiyama - 9pts.
Tamohiro Ishii - 9pts.

Mikey Nicholls- 7pt
Shane Haste - 7pt

Shingo Takagi- 6pts.
AJ Styles - 6pts.
AJ Lee - 6pts.
Fandango - 6pts.
KENTA - 6pts.
Yoshihiro Takayama - 6pts.
Jigsaw – 6pts.
The Shard – 6pts.

Jushin Liger - 4pts.
Mickie James - 4pts.
Rob Van Dam - 4pts.
Cody Rhodes - 4pts.

Hiroshi Tanahashi- 3pts.
Suwama - 3pts.
John Morrison – 3pts.
Drew Gulak – 3pts.
Jack Swagger - 3pts.
Tito Ortiz - 3pts.
Sting - 3pts.
Hernandez - 3pts.
Chavo Guerrero - 3pts.
Seita Sanada - 3pts.

Magnus - 2pts

Paul Heyman - 1pt
Samoa Joe - 1pt
Bobby Roode - 1pt
Tiger Mask IV - 1pt
CIMA - 1pt
Kota Ibushi - 1pt
Alex Shelley - 1pt
Ethan Page - 1pt
Eddie Kingston – 1pt
La Sombra – 1 pt
El Hijo del Perro Aguayo – 1 pt



Voting began 4.16.13
Year-End Rankings Key:

WWE Contracted Wrestlers are represented in BLUE.

TNA Contracted Wrestlers are represented in GREEN.

ROH Contracted Wrestlers are represented in RED.

US Independent Wrestlers are represented in MAROON.

Japanese Contracted Wrestlers are represented in BLACK.

Mexican Contracted Wrestlers are represented in MAGENTA.

Other International Wrestlers are represented in INDIGO.

---
**PREVIOUS WINNERS**
Year One Winner: Ric Flair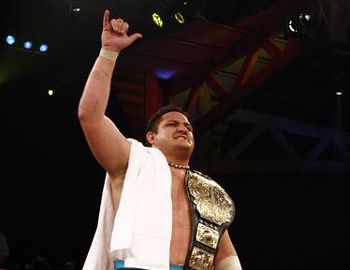 Year Two Winner: Samoa Joe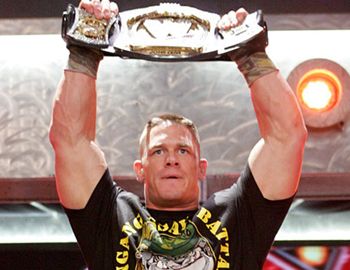 Year Three Winner: John Cena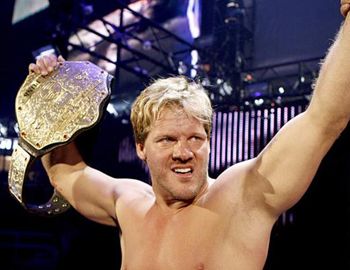 Year Four Winner: Chris Jericho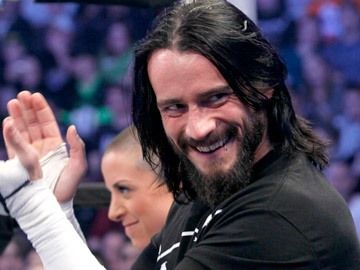 Year Five Winner: CM Punk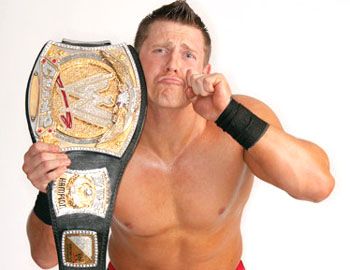 Year Six Winner: The Miz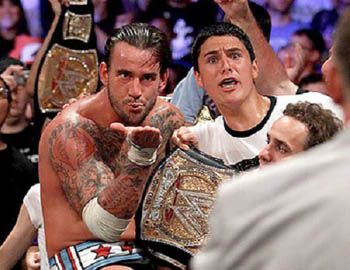 Year Seven Winner: CM Punk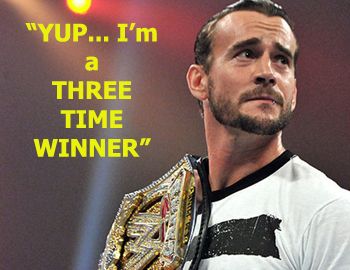 Year Eight Winner: CM Punk
comments powered by