SPOTLIGHTS
The 411 Wrestling Top 5 09.02.13: Week 233 – The Top 5 Mick Foley Matches
Posted by Larry Csonka on 09.02.2013

From his Royal Rumble match in 2000 with Triple H and his battle with Sting at Beach Blast to his war with Randy Orton, playing Mind Games with Shawn Michaels and more, the 411 staff counts down their top 5 Mick Foley matches!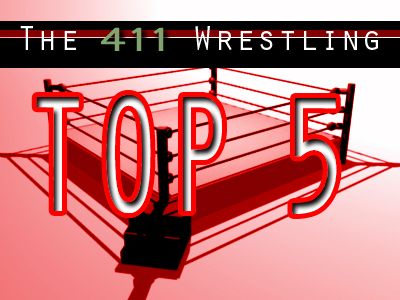 Hello everyone and welcome to 411 Wrestling's Top 5 List. We take a topic each week and all the writers here on 411 wrestling will have the ability to give us their Top 5 on said topic, plus up to three honorable mentions.

So, onto this week's topic…




The Top 5 Mick Foley Matches




DINO ZUCCONI
5. vs. Sting, Beach Blast 1992 - The feud with Sting put Cactus Jack on the map as something more than just a crazy guy. This feud was where fans really got to take notice of what he was capable of, and we realized he was also a very dangerous man as well. This Falls Count Anywhere match is the match that also announced that for all of his crazy falls, Mick Foley could also put on entertaining matches. I hadn't watched this match in so long, it was nice to watch it again in this write up.





4. vs. Shawn Michaels, Mind Games 1996 - Another example of Foley being able to put together a fantastic match when he mixes his dangerous antics with a technician's flair for drama and perfection. This match gets some grief for the ridiculous finish, but before that, this match was balls to the wall action that had people flying through tables, throwing elevated super kicks, and getting tangled up in the ropes. This is a brilliant match... if only they gave it a real finish. Man! It's shown up on more than one DVD collection in recent years, so if you've never seen it, do yourself a favor and track it down.

3. with Maxx Payne vs. Nasty Boys, Spring Stampede 1994 - So, WCW isn't hardcore, huh? Well, these four guys would like to attempt to change your mind. This Chicago Street Fight was such a stark contrast to the wrestling product WCW tried to create, that it immediately became a huge favorite. Others may prefer the Cactus/Kevin Sullivan vs. Nastys match the next month at Slamboree, but I always preferred this one, as it was just a little more crazy, way more unexpected, and the brutality mind blowing. A great match that allowed Foley to be crazy, but also show that he could also create magic in a tag environment, as well.

2. vs. Undertaker, King of the Ring 1998 - It's the classic tale of Boy meets Taker, Boy steals Taker's manager, Boy attempts to bury Taker alive, and then, finally... Boy climbs top of giant cage, only to be thrown off the top by Taker. No, it's not a five-asterisk classic, in the strictest sense. No, it's clearly not a "wrestling match." Still, this is easily one of the most well known matches in wrestling history, and it more than earns its status. While some pretend that this match is "two falls and nothing else," the fact is, once Foley gets back to his feet after being choke slammed through the ceiling, these two STILL manage to have a nice, brutal little outing. But really, we're here for the falls.

1. vs. HHH, Royal Rumble 2000 - As 1999 closed, it appeared that Foley was breaking down, and fast. He was bigger, slower, and noticeably wrestling less frequently. So, when Triple H beat the piss out of Mankind, it appeared that the whispers that Foley was going to retire had some truth. And then, Mankind returned, challenged Triple H, but decided he needed to find that old bloodlust. And so appeared Cactus Jack, ready to make Helmsley pay for his sins. Heading into the 2000 Rumble, I had no big expectations for the match between these two. I trusted Hunter to be able to get a decent outing from Foley, and that Foley would, at the very least, not embarrass himself. Instead, we got one of the classic matches of the last (or any, for that matter) decade, with a level of brutality rarely seen in a WWF ring. It cemented Hunter as a real star, and gave Foley one hell of a final great match to go out on (at the time). This isn't just my favorite Mick Foley match- it's easily in my personal top ten, as well.

---



MICHAEL WEYER
5. vs. Steve Austin, Over the Edge, 1998 Highly underrated, this is one of the most brilliantly laid-out and scripted matches you'll ever see. The deck was stacked against Austin as Vince was the ref with Patterson and Brisco as assistants watching and Dude Love ready to get the belt. The battle was great with the brilliant touch of how Foley uses a hammer and it's announced "This is a reminder, this match is no-DQ" and then a "reminder" on how it was falls-count-anywhere. Austin gave as good as he got with the up and down fighting, having a cover but Vince refusing to count the pin. As they argued, Foley tried to hit Austin with a chair but nailed Vince instead before getting the Mandible Claw on Austin. Patterson tried a three-count and then Brisco only for the Undertaker to choke-slam each through a separate announcer's table as the crowd went insane. Austin finally hit a Stunner and then lifted the unconscious Vince's hand to make the three-count for a fantastic battle that reminded you how, no matter the name, Foley could hang on in a hard match.

4. vs. Shawn Michaels, Mind Games 1996 Mankind had elevated himself huge for fans with his feud against the Undertaker, actually coming up on top of the Phenom in various battles with manager Paul Bearer turning on Taker to join Foley. This set up a title match against Shawn Michaels and what we got was sheer amazing brutality. Foley was great as the monster brutalizing Shawn with power attacks and elbows off the mat, taking punishment and keeping coming back. Each man did his best to make the other look great and it worked with amazing moves that had the crowd on the edge of their seats. The ending was marred a bit with Michaels winning by DQ after Vader attacked and then the Undertaker popping out of a coffin but still a true classic, a highlight of an otherwise rough year for WWF and a major step to Foley's rise to stardom.

3. vs. HHH, 2000 Royal Rumble After feuding for the title and getting beat down, Foley returned to challenge HHH as Cactus Jack and made it a Hell in the Cell battle with his career against the title. What fans got was an absolute war of spots and brutal attacks, with a barbed wire 2X4 and handcuffs, Foley dropped from the roof of the Cell to make a hole in the ring and two Pedigrees on thumbtacks to allow HHH the win. Foley would return but his work here was key in helping sell HHH as a monster heel champion and a spectacle that ranks as one of the most brutal HITC bouts ever.

2. vs. the Rock, January 4th, 1999 RAW Maybe not the best match on the list but always one Foley himself has close to his heart. After being screwed by the McMahons out of the WWF title, Mankind managed to get a rematch against the Rock. We all know the mistake WCW made of giving away the result with the "that'll put butts in the seats" line that caused over half a million viewers to immediately switch from "Nitro" to "RAW" but that makes this even better. The match was a wild fight with DX and the Corporation brawling outside, the glass shattering and the crowd going nuts as Stone Cold Steve Austin came out to hit the Rock with a chair and let Mankind get the pin. Seeing Mick Foley, the man long dismissed as not "main event material" with the big title was wonderful and has to rank as one of the highlights of his career near the top.





1. vs. Undertaker, 1998 King of the Ring I know, some may dismiss this as just the big spots and all that. But if you're ranking the big bouts of Mick's career, this has to be the one as this is the match that turned him from just another star to an absolute legend. Fifteen years later, you still wince seeing that fall off the cage through the table, then through the roof. Throw in smashed into the cage several times and dropped on a bed of tacks and you marvel the man is still able to walk. I still remember the awe of Jim Ross and Jerry Lawler at Foley continuing to fight ("There's a human being in there who's absolutely indestructible!") and the crowd response to it all. Maybe Foley has had better matches but this is the one he'll always be remembered for, making it tops on the list.

---



JUSTIN WATRY
5. His first WWE Championship win - Honestly, there are a ton of matches that will be left out of the top five. Just for historic purposes, his one WrestleMania main event match should earn a mention. His matches with Sting and Vader are well known. Of course, he also delivered the goods against Shawn Michaels and Stone Cold many times in the last 1990's. I even enjoyed his 2006 run with a couple of his pay-per-view matches. Mick has had plenty of great matches. Sadly, this is only the top five. Thus, it is fair to start off with his childhood dream coming true. Defeating The Rock for his first WWE Championship was hardly even a 'match' really. However, the moment still is one of the biggest in all of wrestling and especially during the Monday Night Wars.

4. King of the Ring 1998 - You must have this listed. Must! I don't care about 'star ratings' in wrestling and never will. In my five years of writing for multiple websites, I have NEVER once done that nonsense. It means nothing. Moves, headlocks, and flips add up to a grand total of zero in my book. What counts is entertainment. From bell to bell, Foley and The Undertaker did just about everything in their power to give the fans a show at King of the Ring. While we can all look back with a cynical eye over how far Mick went to damage his body in this one match, it will forever stand the test of time.

3. WrestleMania 22 - To be clear, the next three matches could all be reversed in any order. On this particular day, I feel okay with my rankings. Tomorrow, my mind could change. In any event, you have three amazing bouts to work with, and that is fine by me. In 2006, Mick had a mission to create his own WM moment and give Edge the boost of a lifetime. During one hardcore match, he accomplished both. These two tore the house down and had (arguably) the best match of the year. Add Lita to the bout at ringside, some thumbtacks, a table on fire, and one loud Joey Styles "Oh My God!" call, and you have a classic on your hands.

2. Royal Rumble 2000 - Again, feel free to mix and match these top three matches. Any of them could grab the top spot without any debate. Triple H needed Mick Foley around this time. Stone Cold was hurt. The Undertaker was hurt. The Rock was primed for the WM2000 main event match. Outside of that, there was not much to work with on the face side. Insert Cactus Jack! The build up was legendary, but could the actual match deliver? Not just in terms of match quality, there was some doubt if HHH and/or Mick could draw business like others have. Well, all of those concerns ended real quick. Both men had a lot to prove at the Royal Rumble 2000 and had an amazing showing. Kudos to both Mick and HHH!

1. Backlash 2004 - Notice a trend with Mick Foley and his best matches? He not only usually loses, but he helps out any talent in need of a classic showing. In 2004, that man was Randy Orton. He may have been the IC Champ and on a bit of a roll, but that was not enough for some fans. Even 'killing' some legends in 2003 was not enough. Winning over The Rock and Sock Connection at WWE WrestleMania XX was still not enough. Orton still had to have that one on one match that put him over the top. At Backlash 2004, Mick knew what he had to do...and came through once more. Orton and Foley had an unreal battle with a clear-cut winner and a clear-cut loser. No Evolution. No cheap roll-up. No DQ finish. None of that. Just a devastating RKO on a barbed wire baseball bat. One, two, three...





---



Scott Rutherford
5. vs. Eddie Gilbert Tri-State Wrestling 08/03/1991 - 2/3 Falls Match - While never a true national superstar, second generation wrestler Eddie Gilbert was an experienced performer with over 12 years in the industry by 1991. Highly regarded as a worker and even more highly regarded as a great thinker about wrestling he was only 30 at the time of this match. Mick Foley started out in 1983 and thanks to a less than flattering look took a few years of bouncing around Memphis and Dallas before starting to gain traction as a next level working, albeit one that was more violent. Coming into 1991 the Foley name was growing and Gilbert was looking for that next hook that could take him to WCW or WWF. Joel Goodhart who was running ECW-forbearer Tri-State Wrestling out of Philly and staged a series of every increasingly violent matches between the two that lead to one of the most epic, hardcore encounters most had ever scene. Not just your ordinary 2/3 match, this was the fore-running of the Three Stages of Hell match used in later day WWE with the first fall being falls count anywhere, the second being a stretcher match and last fall being a cage match. What happened next was 40 minutes or unhinged carnage that made the entire industry take note. It rarely gets any nods when it comes to classic matches or even classic Foley matches likely due to the fact the footage of the match is hard to come by for so many years. Thanks to Youtube it has surfaced and manages to live up to the hype 20 years later. This was ground zero for Foley going up in the business and proof that Gilbert still had plenty to give as a worker.





4. IWA King of the Death Match Tournament 08/20/1995 vs. Terry Gordy/Shoji Nakamaki/Terry Funk - So yeah, this is basically a cheat as it's three matches in one but I think even the most cynical of observers would grant that while these aren't classic wrestling matches you could argue this was Foley's greatest overall performance. Three incredibly violent gimmick matches designed for maximum carnage saw Foley take barbed wire, thumbtacks, baseball bats, bed of nails and C4 explosives all for a $300 payday. While we can sit here and debate the merits of garbage wrestling (I personally don't care for it), it's this style of wrestling that brought Mick Foley the most attention after leaving WCW in 1994. I have seen the complete tournament only once (which was more than enough) but I always remember the palpable sense of emotion that overcame me in the final stages of the Funk match. Foley always had the knack of adding realism to even the most absurd of situations and this is no different. Perhaps reading Have a Nice Day colored my perceptions but it was certainly a massive day for Foley pulling out three strong matches of this kind, getting a rare Japanese win off Funk in the main event and forever cementing himself as a name in Japan.

3. vs. Randy Orton - Backlash 2004 - Some people look at Mick Foley and his body of work and often remark how willing he was to take a beating and put his body through hell to make his opponents look like a million bucks but it was not often returned. This match is a rare example of the other. Playing on Mick's reputation as a hardcore legend that cast Randy as the guy that got everywhere through his connections not so much through his work, tinged with a distinct lack of toughness. So the psychology of the match was dead easy, Mick throws Orton around the ring giving him ample punishment with all manner of weapons busting Randy open from ass-to-breakfast. Just when you think Mick is going to get the win, Randy nuts up and gets the victory. Randy becomes a made man. I like this match because it reverses the typical Foley formula and sees him dishing out the punishment for once. This match is also a lot of fun with tremendous amounts of heat that you just don't see these days. Perhaps the greatest compliment I can give it was when I first started going out with my soon to be wife, she asked me to put on a match that explained why I like wrestling so much. She had NEVER watched a match and could give a fuck about wrestling in general. I set the scene by explaining who Foley was and why he is so respected and what this match with Orton meant. She watched and got drawn in and for one fleeting instance Foley was going for the pin and Randy kicked out at 2.9 and for a split second she was sucked in and gasped. Foley had captured her emotions like very few can. It showed that Foley was always a tremendous worker and had a knack for getting guys over.

2. vs. Steve Austin - Over The Edge1998 - this match has come up a couple of times in Top 5's for me and there's a reason why, it's the moment the cemented the reawakening of my fandom. I had been a fan since I was 9 years old watching WrestleMania at nearly midnight on TV but towards my late teens/early 20's I got lost. Like a lot of people the allure of "Stone Cold" started pulling me back in and once this match was done, with its glorious overbooking and tremendous storyline I was back and have never left. Everything about it is perfect, from Vince as special ref, the Stooges manning the timekeeper and ring announcer positions, the ever-changing stips to give the sell-out Dude Love the advantage and the Undertaker being Steve's ring man. It shows that overbooking can work in the right environment and once you add in the molten hot crowd…I'm going to watch it now.

1. vs. HHH – Royal Rumble 2000 - Yup, no KotR 1998 in my list. I'm in the crowd that thinks while the bumps are great the match itself is a mess. This match however is far from a mess, it may be one of the most perfect matches of the last 20 years. We all know the story; Hunter needed that final push into legitimacy and Foley needed that one last moment before riding off into the sunset. Mick gets himself into shape and puts on a barnstorming performance in front of his hometown fans. I liken this to a Foley Greatest Hits match as you get a little bit of everything. Ring action, wild brawling, blood, sick spots, thumbtacks and that feeling the Foley was going to pull this one out of the bag and win. Alas, Foley ended up looking at the lights as he did what he did best, make his opponent look like a superstar, making himself look like the toughest man alive and do what's right for business. Fuck it, I'm going to pull out my copy of Foley's Greatest Hits & Misses Extreme version, drink some beer and enjoy me some wild brawling.





---



Jack Bramma
5. Mick Foley vs. Ric Flair, I Quit Match, Summerslam 2006 - Foley and Flair had a series of bloodthirsty brawls through the middle of 2006 that culminated in this spectacle. Not for the faint of heart.

4. The Rock vs. Mankind, Last Man Standing, Royal Rumble 1999 - Also tough to watch for different reasons, but another hellacious brawl that helped set a modern standard and template for the gimmick. Foley gets a lot of due credit for helping make Triple H, but he also helped make Rock during his first heel title run with great ladder matches, empty arena brawls, and this last man standing match.

3. Mick Foley vs. Randy Orton, Hardcore Match, Backlash 2004 - The build for this included one of my favorite RAW episodes ever where Orton spit in Foley's face and Foley took it like a coward and left. Only after returning at the Rumble and gunning for Orton for months would Foley help bring the best out of himself and Orton.

2. Cactus Jack vs. Big Van Vader - I wrote a retrospective covering the entire rivalry between these two earlier this year – http://www.411mania.com/wrestling/video_reviews/281340. Suffice to say, the heated clashes between these two spread over 1993 and spilled into 1994. They helped Jack transition from a side attraction heel into a bonafide top/near top babyface in WCW and opened a new chapter in his career with his promos.





1. Cactus Jack vs. Triple H, Street Fight, Royal Rumble 2000 - Arguably, the pinnacle of both guys' careers in a match that set the standard for one of the greatest years any promotion has ever had.

---
Csonka's List For Fun
9. w/Kevin Sullivan vs. The Nasty Boys at Slamboree 1994
8. vs. Steve Austin IYH: Over the Edge 199
7. vs. Edge at WM 22 2006
6. vs. Undertaker KOTR 1998
5. vs. Sting at Beach Blast 1992
4. vs. Vader at Halloween Havoc 1993 (Texas Death Match)
3. vs. Randy Orton at Backlash 2004
2. vs. HBK at Mind Games 1996
1. vs. HHH at Royal Rumble 2000
YOUR TURN KNOW IT ALLS

List your Top Five for this week's topic in the comment section using the following format:

5. CHOICE: Explanation
4. CHOICE: Explanation
3. CHOICE: Explanation
2. CHOICE: Explanation
1. CHOICE: Explanation
Your heart is free. Have the courage to follow it…TO CSONKA'S TWITTER!

http://www.twitter.com/411wrestling
http://www.twitter.com/411moviestv
http://www.twitter.com/411music
http://www.twitter.com/411games
http://www.twitter.com/411mma

Have you checked out the Csonka Podcasting Network? If you haven't, you should We run anywhere from 15-20 shows a month, discussing pro wrestling, the world of MMA, the NBA, general sports, popular TV series of the past, bad movies, battle rap, interviews, MMA & Wrestling conference calls and more! Around 10 different personalities take part in the various shows, which all have a different feel; so you'll likely find something you like. All of the broadcasts are free, so go ahead and give a show a try and share the link with your friends on the Twitter Machine and other social media outlets! Running since May of 2011, there are currently over 350 shows in the archive for you to listen to.



Larry Csonka is a Pisces and enjoys rolling at jiu jitsu class with Hotty McBrownbelt, cooking, long walks on the beach, Slingo and the occasional trip to Jack in the Box. He is married to a soulless ginger and has two beautiful daughters who are thankfully not soulless gingers; and is legally allowed to marry people in 35 states. He has been a wrestling fan since 1982 and has been writing for 411 since May 24th, 2004; contributing over 3,000 columns, TV reports and video reviews to the site.
comments powered by