SPOTLIGHTS
411 Fact or Fiction 08.22.13: Bryan, Triple H, Flair, More
Posted by Steve Cook on 08.22.2013

Was CM Punk vs. Brock Lesnar the Match of the Night at SummerSlam? Will Daniel Bryan be successful as a top babyface? Will Triple H be an effective heel authority figure? 411's Ari Berenstein and Michael Ornelas debate these topics and more!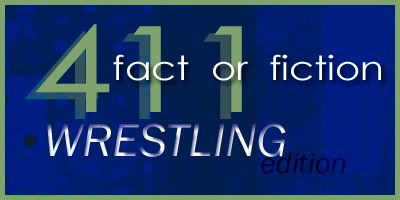 Hi, hello & welcome to 411 Fact or Fiction! I'm Steve Cook, and we're fresh off of SummerSlam! The big news at the show was Daniel Bryan winning the WWE Title clean as a sheet from John Cena. Oh, and then Triple H pedigreed him & Randy Orton became WWE Champion. Monday night's Raw cast D-Bry as the man taking on the WWE Machine run by the McMahon Family that produces champions like Randy Orton that are a certain height & look a certain way. In other SummerSlam news, CM Punk & Brock Lesnar had a barnburner of a match , Ric Flair got drunk the night before, & Darren Young came out of the closet a few days before. Chris Sabin lost the TNA Title to Bully Ray, and people on the Greg DeMarco Show debated whether or not ROH is making a comeback.

I've invited two of 411's finest to discuss these topics. Introducing first, the master of the Special Comment... Ari Berenstein! Speaking of special comments, here's one from Ari now!

"I made an appearance on The Indy Corner Podcast with Stu Rodgers at discussing Ring of Honor's Manhattan Mayhem V results.

Also be sure to be on the lookout at pwponderings.com for a brand-new show as Podcast of Honor presents The ROH Retrocast. Every show a roundtable of ROH experts will head back in time to cover an ROH event from the past, cover what was happening at the time, the matches and compare our thoughts from then to now. First order of business will be Man Up! I hope everyone checks it out when it goes live."

Thanks Ari! His opponent writes the 1-Yun in the Wrestling 6 & 1...give it up for Michael Ornelas! Michael also has a special comment for you guys:

"Welcome to the premiere episode of From Under a Rock, the podcast where we free one another from the rocks under which we've been living. In this episode, Michael kicks us off with the political comedy Bulworth, which Ryan, James, and Steven had not seen. Does Warren Beatty's side project stand up to the rest of his storied career? Do Bulworth's political preachings get in the way of it's humor? Will Steven be pleased with the DVD's aspect ratios? All this and more on this week's FUAR.

Be sure to watch next week's movie, then write into us at fuarock@gmail.com with your thoughts, check out our Tumblr at fuarock.tumblr.com, and be sure to check out Hyperdrive Pictures' Youtube channel."




Questions were sent out Monday.


Participants were told to expect wrestling-related questions.

1. Randy Orton cashing in on Daniel Bryan after his match with John Cena was the perfect move.




Ari Berenstein: FACT. The perfect move in what regard? In terms of storytelling and setting up future programs in WWE for months down the line? Or if we're kayfabing, are we talking about the perfect move for Randy Orton and Triple H, in that Daniel Bryan already had been through a grueling match against John Cena AND the emotional high of a huge post-match title-win celebration? In either case, the answer is "YES! YES! YES!"

Now, I'm going to go all Triple H from Raw here, but there is a bigger picture that many people, in their frustration over seeing Bryan win and then having that taken away, are not seeing clearly. Over the last year, Daniel Bryan has proven himself to be a top tier player. McMahon and company realize that much, otherwise they would not have continued to position him in the upper echelon of their wrestling promotion. Daniel Bryan has actually worked his way into something greater than becoming WWE champion-he has made it into a top position of the WWE. It could be "the" top position for a while, especially in the wake of John Cena's injury forcing him out of action for up to six months. As I wrote on Twitter, not only is what WWE doing with Daniel Bryan their greatest sign of approval for him, but they are now actually writing stories with and ABOUT him, and not just any story, their top story, the story they always go with because that's their paradigm-the corporation versus the anti-hero or underdog. All that put together, hell yes executing the Money in the Bank Cash-in was the perfect call. EVERYONE wins with this move.

Michael Ornelas: FACT. For the long term, at least. And with the assumption that WWE creative doesn't drop the ball with the story (which, I don't think they will). Daniel Bryan's WWE Championship victory was just the end of the second chapter of this story (the first chapter being his "weakest link" claims that concluded with him beating Randy Orton). I like that he doesn't fit the mold of a Superstar, and WWE is playing that up in spades. They know that the audience wants someone like them to be able to achieve their dreams...and he did! But management supposedly doesn't want that, so they screwed him over. That just creates more sympathy for Bryan and throws more obstacles in his way, so when he does emerge triumphant eventually, it'll mean that much more. It really is a new take on McMahon vs. Austin (and for once, actually feels like it might match it in quality, as opposed to all the other rehashes of "top star vs. authority figure."

Score: 1 for 1

2. Daniel Bryan will succeed as a top babyface.



Ari Berenstein: FACT. Daniel Bryan has been super popular with the fans for months now, receiving red-hot reactions and droves of fans chanting "YES. He has the crowd and I think he can keep their support for the foreseeable future. WWE took advantage of the groundswell he received after the 18 second match against Sheamus in 2012. Even better, they have slowly but surely convinced their audience that Bryan is legit and deserving of a top spot (Bryan's effort in creating amazing matches also helps here). It is now his best opportunity to be the top babyface of the promotion, with Cena out of the spotlight and him in the top story against the new top heel and with "the system" out to get him, it is almost a lock that the fans will be behind him and desperately wanting him to get his hands on Orton and the McMahons.. All told, everything is in place right now for Bryan to succeed as a top babyface.

Michael Ornelas: FACT. Daniel Bryan will succeed at pretty much anything that involved the wrestling business. He generates a massive amount of sympathy due to his perpetual underdog factor, but as opposed to Rey Mysterio's speed-based style, Bryan brings aggression and intelligence to the table, which I think makes him seem much more imposing than the other resident little man. I'd believe it if Bryan beat The Big Show. I'd believe it if Bryan beat Brock Lesnar. I'd believe it if Bryan beat The Undertaker (not necessarily at WrestleMania, but you get the point). All of that is because I think he has one of the most believable movesets and in-ring styles in a long time. What this really boils down to is that I don't have to suspend my disbelief when watching Bryan, and I think that's a huge part of being a top star. It's unconventional that a guy like Bryan would be at the top of the card, but not impossible. He and Punk are the only two guys of the past 3 years to really break through in the same way as Orton, Cena, and Edge before them. And with the way the fans have taken to Bryan, there's no reason he can't be the face of the company.

Score: 2 for 2

3. Triple H will be very effective as a heel authority figure.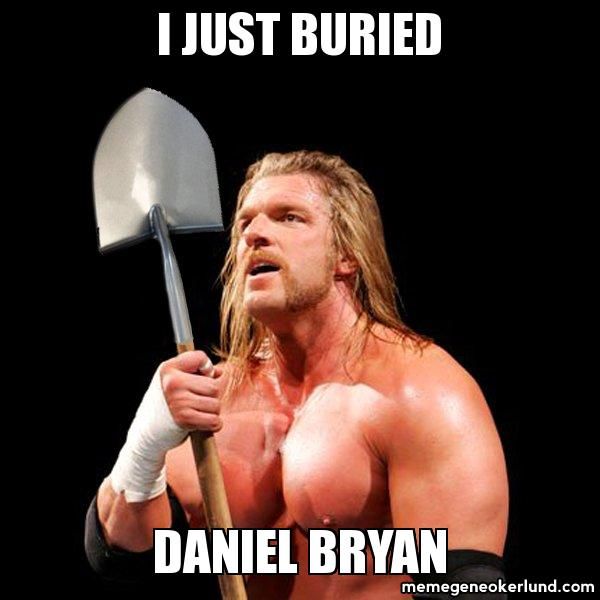 Ari Berenstein: FACT. I wasn't sure how Triple H's newest heel run was going to go considering he had spent the better part of the last five years as a face (whether as a member of D-X or as the counter-point to Mr. McMahon's corporate craziness). However, his promo and behavior at the very end of this past Monday's Raw program alleviated much of my concerns. Triple H cut one of his best promos in years. It was filled with perfect heel justification for his actions in screwing Daniel Bryan out of the WWE championship. I was happy to hear him explain how he swallowed his pride and gave Orton the championship despite his long and bitter past with him (Orton did injure horrifically his wife and father-in-law) and he did it for the betterment of the business and because he thought Orton was the best man for the job of WWE champion. The heel heat he created when talking condescendingly about doing it to ensure everyone's future was second only to Vickie Guerrero (and really, no one is ever going to top the walking heat bomb that is Vickie). Even better was his mocking Daniel Bryan as he attempted to enter the ring-a bullying move given emphasis when Bryan made it into the ring finally, only to be met with an RKO by Randy Orton. This was a fantastic first night out as a heel and indicates that Triple H is going to be a very effective heel authority figure in the future. He has taken a rote and clichéd role and for now has put a fresher twist on the proceedings.

Michael Ornelas: FACT. Of course he will. He's a very effective heel, period. And he legitimately is an authority figure, so there's no reason not to believe that the combination will work well. He is better than pretty much anyone at screwing guys over and doing what he wants (and reportedly, off-screen as well), so the built-in hatred is already there. But to every great heel authority figure, there's a sympathetic babyface who's on the receiving end of the abuse of power, and with Daniel Bryan, it's hard to go wrong. And with Stephanie at his side, Triple H's unlikability skyrockets. I think this whole situation has "quality TV" written all over it, as long as Triple H doesn't return to actively wrestle and bury guys.

Score: 3 for 3

4. CM Punk & Brock Lesnar had the best match on the SummerSlam card.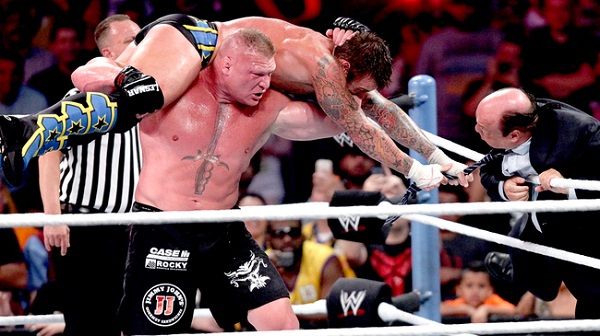 Ari Berenstein: FICTION. I mean, can we call it essentially a tie between Punk / Lesnar and Cena / Bryan? Both matches were both soooooooooooooo good. It is very difficult to judge either match significantly better than the other. Punk and Lesnar may have been slightly cleaner in that it Cena did have one botch when dropping Bryan from off the top turnbuckle, but both matches had the crowd going banana. Bryan-Cena could end up being the more historically significant of the two when all is said and done because of its role in setting up the McMahon top angle that carries the company forward heading to the rest of 2013 and Wrestlemania XXX next year. Both matches strategically used MMA moves and submissions to set up suspense. Punk / Lesnar were the more brutally violent of the two matches, but Cena / Bryan was action-packed and physical in its own right. From a personal standing, I loved watching both matches equally for all those reasons above and the obvious joy and pride of seeing two of my long-standing favorites contribute in the marquee matches of one of WWE's biggest shows of the year. So no, I can't say Punk and Lesnar had the best match on the card, but I can say that they tied for the best match on the card.

Michael Ornelas: FACT. Punk, while not necessarily a "small" guy, is much smaller than Brock, and did a great job representing his stature. He paved the way for smaller guys to hold their own against Lesnar (Daniel Bryan comes to mind). This match/story was incredible. The build brought an air of "big" to the match, Heyman's involvement was perfect, and Punk didn't hold anything back. Brock fought like a monster, and at the end of the day, not all monsters can be slain, especially when managed by Paul Heyman. I had this match at ****1/2, the same as the main event, actually, but the execution here was much better. I'll remember this match more than any of the others (although there are obviously a couple moments I'll associate with the PPV more so than this match).

Score: 3 for 4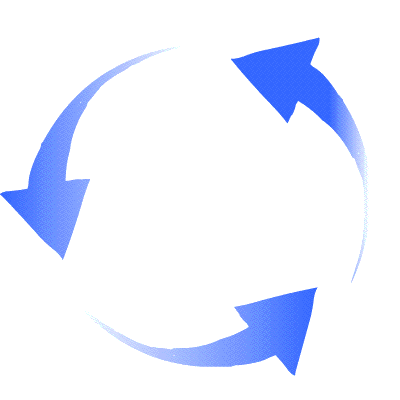 SWITCH!
5. Ric Flair should not be hired by WWE after his actions at Saturday night's WWE 2K14 symposium.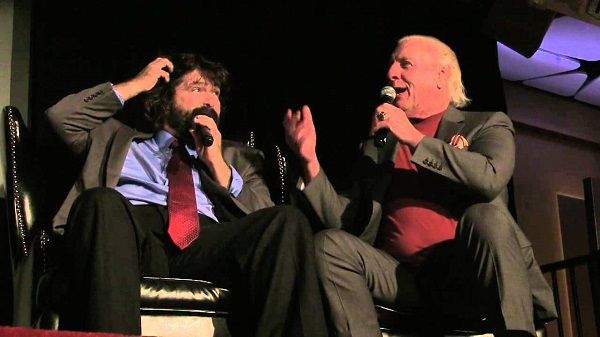 Michael Ornelas: FACT At least immediately. I haven't watched the video though, so I'm just going off of the news stories I've read on the incident. He should not be hired if he showed up drunk. Any other job in the world would see to that, so sports entertainment should be no different. If he wasn't drunk, then sure, hire him, but keep him in check. But since I've heard he was drunk, I have to just say Fact and move on, because it's a pretty simple answer for me personally.

Ari Berenstein: FICTION. It all depends on what Flair would be hired for and where he would be used. Yes, WWE should be very hesitant to hire Flair for any kind of PR position judging by his actions at the 2K14 press conference (where Flair went very, very off-script and some accounts stated he was drunk-Jim Ross even had a "Grey Goose" reference). That doesn't mean WWE needs to cut off all ties to Flair right now. At the least, WWE could and probably still should (if he's not already) sign him to an extensive Legends contract so they can merchandise him and include him in future video games (where his digitized form can be programmed to be sober and straight-laced). Maybe WWE wouldn't want him in front of any live cameras for right now, but ideas for him on WWE TV shouldn't be kept off the table just because of Flair's tendency for loose lips and extended stays at the bar, which, really, has been the case for years now.

Score: 3 for 5

6. Darren Young & Titus O'Neil deserve to be featured performers on WWE television regardless of the PR created by Young coming out last week.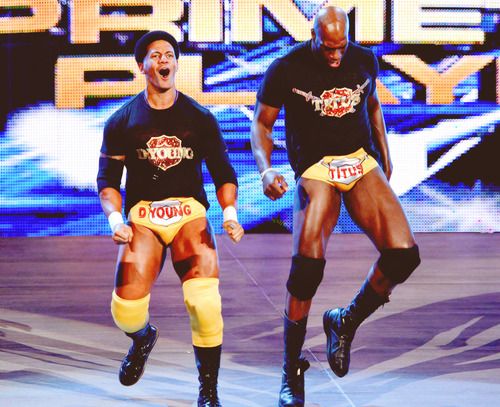 Michael Ornelas: FACT. I'm actually surprised that they don't have a Tag Team Championship reign to their names yet. They had a lot of momentum at first, but then got lost in the shuffle in favor of Team Hell No (not complaining about that), and just haven't been treated as a serious threat yet. I think that the momentum they have from Young's positive PR should be used to push them as credible contenders to The Shield, but I get the feeling that WWE will be going with Big Show & Mark Henry as the team who takes the straps away from Rollins & Reigns. Regardless, The PrimeTime Players deserve their spot and have come a long way since they were both awful performers on NXT.

Ari Berenstein: FICTION. The key word here is "featured", because that indicates extra attention should be paid to them in the form of more TV time, angles, feuds and / or the tag team championships. At this point it should not and here's why. There is a word for both Darren Young and Titus O'Neil's current in-ring abilities and screen presence and that is "average". They are average in the ring (O'Neil has improved since his dreadful NXT Season 2 past, but not enough), and slightly above-average with their promos, easy catchphrases aside (although it is true that many a wrestler has gotten over with a simple yet fun catchphrase). Young and O'Neil are good enough to be performers on the television show, but not "featured performers". WWE cannot build an entire tag division around them right now (but they can with The Shield or Big Show & Mark Henry as champions) and they should not win the tag straps any time soon, but as a mid-card act? No problems there.

Score: 3 for 6

7. Chris Sabin gained nothing from his TNA World Title run.



Michael Ornelas: FICTION. That's not true at all! He gained a TNA World Title run from his TNA World Title run! And I'm not necessarily in the camp of "zero successful defenses means it was a waste." It's happened to Dolph Ziggler twice, and I don't think he didn't gain anything from his World Heavyweight Championship runs. It cemented Sabin as a serious contender, as well as his place in history. And I'm not even convinced that he won't get it back at some point. Not all losses are bad things in professional wrestling (although I don't necessarily hold a high amount of trust for TNA creative).

Ari Berenstein: FICTION. Sabin's comeback story has been an interesting one-winning both of TNA's major singles titles in the span of about two months. Obviously Sabin was never meant to be a long term TNA world champion and the title change felt like the Lex Luger win against "Hollywood" Hulk Hogan during the WCW versus nWo feud. However, Sabin is in a far better place compared to where he was while injured, and being the champion of a company for even a month helps to elevate him. Now that he has been pushed into the upper card of TNA's roster and solidified a presence on the TV show, I expect he'll have a decent spot there for the foreseeable future, which is something more than nothing.

Score: 4 for 7

8. ROH is on their way back to the level of Internet acceptance they had when Gabe Sapolsky was booking.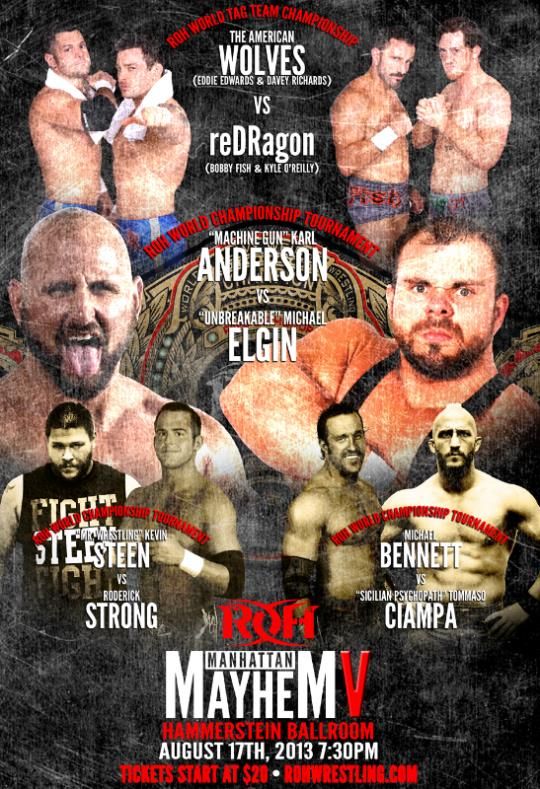 Michael Ornelas: /FICTION. More people's comments are about their failures to put up an iPPV stream than about the product itself. And people were raving about ROH in the Sapolsky days because it felt fresh. The stuff they're doing now doesn't feel fresh. It's not bad, but it's not revolutionary. Cornette did a lot of damage to the company's product (in my personal opinion), and it's going to take quite a bit of time to get that taste out of people's mouths. I think they can get there again, but they're certainly not there right now.

Ari Berenstein: FACT. Although, let's not create a utopian picture of the internet's thoughts about ROH during the Sapolsky run. There were plenty of complaints and criticism about Sapolsky's booking even during the best of times. However, ROH's internet reputation had taken some serious hits over the last two years, some over booking complaints but mostly due to the iPPV debacles and PR response. Amazingly, ROH rebounded after its latest iPPV failure and has garnered much praise due to the decision to book more "internet popular" guest star talent and coming through with great show after great show. The ROH Title tournament turned out to be a very effective idea, has created intrigue and will carry a large portion of their DVDs and TV show for the next month or two. The overall sense I get from reading other people's reviews and my own relatively positive outlook on the promotion in 2013 is that ROH is back on their way to better internet acceptance. How that can help them to do better business in the long run remains to be seen, but for now, things are looking up.

Final Score: 4 for 8

Michael & Ari agree that the Daniel Bryan angle is awesome. They disagree on most other things, but D-Bry always brings people together! I thank them for participating and invite you to chime in with your thoughts in the comment section & come back next week for more Fact or Fiction!


Remember to go to TigerFlashGames.com and play addictive, free flash games when you're bored at work, school, or whenever!


comments powered by