SPOTLIGHTS
The 411 Wrestling Top 5 09.09.13: Week 234 – The Top 5 Desert Island Tag Teams
Posted by Larry Csonka on 09.09.2013

From the Dudley Boyz, the Road Warriors and the Rockers to the Rock and Roll Express, the Fabulous Freebirds and more, the 411 staff counts down their top 5 "desert island" tag teams!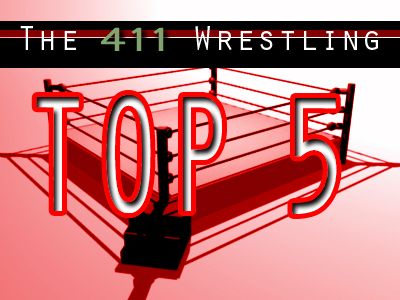 Hello everyone and welcome to 411 Wrestling's Top 5 List. We take a topic each week and all the writers here on 411 wrestling will have the ability to give us their Top 5 on said topic, plus up to three honorable mentions.

So, onto this week's topic…



The Top 5 Desert Island Tag Teams




You are on a desert island, and can only take the catalogues of FIVE tag teams with you. Name them…




MICHAEL WEYER
5. The Steiner Brothers Rick Steiner had gotten over in the late '80's on a goofball persona while brother Scott was a respectable college athlete. But no one expected that when they worked together, they would form a team that would stun even veteran fans. In the late '80's/early '90's, you did not see stuff like the Frankensteiner or the amazing mix of high-flying and brawling with technical work the brothers were capable of. Scott's clothesline is still cited as one of the stiffest ever while Rick could bring a good style to his fighting. Their work in WCW was great, holding the world and US tag titles and their reigns in WWF weren't bad either before a return to WCW. It ended with Scott turning heel but they still shone as arguably the best brother tandem ever and one that broke new ground in how wild wrestling in the '90's could get.

4. The Rockers In my humble opinion, Shawn Michaels and Marty Jannetty were the best team to never hold the WWF tag titles (the plans for a reign in 1990 were ruined by a bad match and backstage politics). They broke out well in the AWA as champs, their feud with Doug Sommers and Buddy Rose highlighted by a bloody cage match. They'd bounce around for a bit before settling in the WWF and Shawn has been up front over the fact he and Marty should have been fired a dozen times over for their drug use and partying. What saved them was the massive respect of their co-workers as every night, these guys would blow away fans with amazing work in the ring. It wasn't just the high-flying or such, they truly worked as a unit, double-team moves and stuff in perfect unison to help them rise high. Their battle with the Orient Express at the 1991 Royal Rumble remains one of the best opening bouts to a PPV ever and feuds with the Hart Foundation showed their stuff. It's why their breakup was so stunning for fans, to see a team that was so put together end like that hurt but it did launch Shawn's career. Nothing speaks to their team abilities more than when they reunited on a RAW show in 2005 and were right back to their old moves like the last 13 years hadn't happened. They may never had held the big belts but the Rockers always had the fans on their side and respect of workers, a combo hard to beat.

3. Arn Anderson and Tully Blanchard Yes, they'd been working together for a while as members of the Four Horsemen, including the first few War Games battles. But when Blanchard and Anderson were formally teamed in 1987, they clicked as if they'd been working together for a decade. Blanchard's speed and skill was well partnered with Arn's power and brute attacks, a perfect pairing that soon led them to the tag team titles. Both men were natural heels, killer on the mic with promos and so close that when Blanchard decided to leave Crockett in 1988, Arn shocked everyone by joining him. Their work in WWF as the Brainbusters was a standout for the time as they would earn the tag titles while feuding with every face team in the company. It ended too soon as they quit WWF, intending to return to WCW together only for Blanchard to be held back because of his drug uses. But for a couple of golden years, these two were the best heel team out there and still worth watching to see two masters mixing together well.

2. The Fabulous Feebirds I wrestled with this choice but decided if any two of them could defend a title, they could be on this list together. The Freebirds broke ground as they were the first cool heels, the first bad guys fans loved to root for and want to be like. Michael Hayes was a brilliant promo man with a rock style, Terry Gordy was one of the best workers of his time and Buddy Roberts could take a beating but kept coming back for more. Together, they ruled the roost in Mid-South and then Texas, their war with the Von Erichs still one of the greatest feuds of all time. In any match, they'd bring skill as well as pain, eating up the camera and having you in the palm of their hand with their work. You can also throw in Hayes teaming with Jimmy Garvin under the name in NWA/WCW, winning the World and US tag titles a few times together with a wild rock edge that set them apart so well. This wasn't a gimmick, they truly were rebels who played by their own rules, their party antics still talked about with reverence and why fans flocked to see them no matter what. They partied hard and played harder but the Freebirds always lived up to their name as truly fabulous.

1. The Road Warriors Fans today don't understand just how much the Warriors changed things. They smashed down barriers with their style, the face-paint, mohawks and no-selling setting a bar for so many to rise up to, shocking for 1982 and kept making them special despite the slews of copycats. Jobbers were honestly terrified to be put against Hawk and Animal as they really could tear you apart without trying with their brutal style and their promo work set new standards with their wicked threats ("When we're done with you, we're going for family members, boys!") Throw in Paul Ellering as their brilliant manger (who truly was behind the scenes) and you had a team that remains legendary, their style rough but it suited them as it worked. They take the top spot because of the huge amount of material they provided. From Georgia to the AWA, Japan, NWA/WCW and WWF, they faced off against nearly every major team of that era in battles ranging from standard tag to scaffolds to War Games and showed their brilliance as a well-polished unit. They held many titles but their status is more than just those belts. They snacked on danger and dined on death and we fans could never get enough of seeing those glorious meals.


---



MATT O'CONNELL
5. Nick Bockwinkel and Ray Stevens People forget, I think, what an amazing team Bockwinkel and Stevens really were. By the time they began teaming, both men were already 20-year veterans, though at this point Stevens had just passed his prime and Bockwinkel was just about to hit his at the improbably age of 40. Ray Stevens is often called the best worker of the 1960's, and similar things have been said of Bockwinkel in the following decade. Imagine if you can the impact and the polish of an equivalent modern-day team, say Shawn Michaels and Daniel Bryan, or CM Punk and Steve Austin; that's the kind of star power and wrestling ability that these two brought to the table.

4. The Acolytes/APA I am sure that a lot of my colleagues will report the feeling of excitement that accompanied the opening notes of the Road Warriors' theme song, and what that meant for the suckers waiting in the ring. For me, with my most vivid wrestling memories hailing from the late 1990's, the sound of satisfying squash is the riff that ushered Bradshaw and Faarooq into the ring. Literally all these guys did was beat people up, and they were so good at it that they began to offer the service freelance to other wrestlers. This angle was so entertaining that a pair of vicious brutes for hire were among the most over babyfaces on the roster. For my money, there is no more entertaining squash match than an APA squash match.

3. The Motor City Machine Guns Gentle reader, do you know what Sturgeon's Law is? It is an observation that states that 90% of everything is crap. Now, I don't know much about Theodore Sturgeon, but I do know that he was not watching TNA when he formulated his famous law, because 90% is WAY low for that particular promotion. That's why the MCMG are a perennial bright spot in the history of TNA: they are a rare example of something that worked, for a good long while, and they were relatively homegrown, and they were something that fans wanted to see. And they were an amazing team blessed with breathtaking athleticism and truly uncanny chemistry.

2. The Brain Busters Arn Anderson and Tully Blanchard, to me, are the epitome of tag team wrestling in the classical sense. They were 100% chemistry, class, and communication; the phrase "well-oiled machine" would not be inappropriate here. It really says something that a consummate tag team performer such as Arn Anderson could form excellent teams with Bobby Eaton, Larry Zbyzsko, Ole Anderson and even Matt Borne and still surpass himself when paired with Blanchard. They also had excellent runs in both the NWA and WWF, defeating top teams in both promotions at the height of the late 80's tag team boom, and the WWF run included Bobby Heenan as a manager. The Brain Busters are simply top shelf when it comes to tag work.

1. Edge and Christian For sheer entertainment value, you can't beat Edge and Christian, who are incidentally also off-the-charts when it comes to internal chemistry, opponent quality, and match variety ( it also doesn't hurt that Edge and Christian's match catalogue includes the TLC trilogy). Like Arn Anderson, Edge is something of a tag team savant, able to form great tag teams with just about anyone he chooses, including such varied names and styles as Rey Mysterio, Randy Orton, Chris Jericho and Hulk Hogan. Christian, incidentally, is no slouch here either, having formed great teams with an equally eclectic array of partners, including Rhyno, Lance Storm, AJ Styles, a completely different kind of Chris Jericho and Sting. But when Edge and Christian teamed together, the result was a total far outweighing the sum of its parts, and the team that I would feel comfortable rating the best of all time.


---



JUSTIN WATRY
5. Rock and Sock Connection - Do they count as a tag team? Who cares? I am including them. Truth be told, their run as a pair was so short that it seems ridiculous to add The Rock and Sock Connection. What did they have - 5, 10, 15 matches? However, for the very reason is why I would want to watch their matches over and over. Their bouts were very rare and still have that special feeling over a decade later. It was just pure fun and entertainment. Isn't that why we all watch WWE? The Rock and Sock Connection may have only had a handful of matches, but they are more than enough to keep me watching over and over and over.

4. Dudleyz - This is for their ECW tape library. Their WWE tape library is covered below. If I am stuck on an island, I will want to watch a variety of matches - not the same style on repeat. The Dudleyz can provide the hardcore brawls that other teams may not be able to deliver on. Also, Devon and Bubba Ray had such lengthy careers. In the opposite of Rock and Sock, that plays into their advantage. You get to see generations and generations of other teams battling it out. All the while, you get to see plenty of tables, Stacy Kiebler at ringside, and even some fire once in awhile.

3. Hardyz - This is specifically for the four way ladder match at Armageddon 2006. Their other big matches (like the Dudleyz) is covered below. Just thinking about it, I want to go back and watch that classic ladder match from December 2006. One of the hidden gems in wrestling history. Yes, wrestling history. To top it off, JBL added a ton to that entire contest on commentary. Even discounting that match, Jeff and Matt had plenty of great tag matches in their early run that may be forgotten about...as well as their 2007 reunion on Raw. Most remember all the high-risk stuff, but these two could deliver inside the ring.

2. Edge and Christian - Now, THIS tag team is for all the ladder, tables, and TLC matches! I suppose you could even throw in their odd and random matches from recent years. Before Edge had to retire, fans were STILL hoping for one more five-second pose. Sadly, we got that as the Rated R Superstar said goodbye. In any event, what can you really say? The entire 1999-2001 string of excellent matches is just amazing to look back on. I am not sure tag team wrestling will ever reach the heights that Edge/Christian, Hardyz, and Dudleyz set just over ten years ago.

1. Trish Stratus and Lita - These two wrestled together in late 2003. Thus, I am counting them as a team. Stuck on an island forever? Yeah, easy choice.


---



DINO ZUCCONI
5. Edge and Christian - The ability to own most some of the most chaotic tag team matches in recent history is just too good to pass up. I am a huge, huge, HUGE Edge fan, and this team is where I really started to realize how good he could be. From the moment they won the titles at WrestleMania 2000, this team was on fire. Plus, there's plenty of older matches to be watched as well. They weren't around the longest, but the catalog of brutal, brutal matches that they took part in is more than enough for me.

4. The Dudley Boys - Honestly, I wanted to make this pick be The Eliminators. I want ECW action. The Eliminators were the team I first fell in love with there. It feels wrong, but... I don't know how I'd ever manage to argue that they deserve the slot over the Dudleys. While they'll definitely mix in with the Edge and Christian collection, there are still so many matches, across so many areas, against so many teams... there's just no rationalizing leaving them off the list. Violent hardcore action, to interesting hybrid matches against the likes of the Machine Guns. I'm in.

3. Arn and Ole Anderson - Was the team of Arn and Tully superior? Probably. However, I always dug the feel of an Andersons match. They went in there, mauled an arm/shoulder, and continued to do so until it was time to put the chumps away. Not the prettiest, but I'll definitely take some gritty NWA action along the way. While Arn and Tully had a little more flair, the Andersons were simply there to hurt you. I'll accept that.

2. Midnight Express - I'm going to cheat slightly here, and count both versions (Condrey and Eaton, Eaton and Lane) for this one. However, I will *not* count Paul E. Dangerously's "Original" Midnight Express. Look, the Midnights are my all time favorite non-WWF/E tag team. Period. I want their matches. I'll even sit through the scaffold ones. I want Sweet Stan throwing sick Savate kicks, and I want to see the Alabama Jam. All. Day. Long. This is definitely more of a "favorite" pick than it is to see any specific match type, but the fact that you'll find no Demolition or Hart Foundation on my list shows that I didn't just go favorites on this.

1. Steiners - They were the baddest team of the day. Suplexes, throws, hard clotheslines, Frankensteiners, top rope DDTs... I'll watch them in the NWA, in the WWF, in ECW, in Japan... it doesn't matter where I'm watching them, they're still going to give me matches that make ME hurt. For giggles, let's include their TNA "reunion" matches as well. Just so I can get Scott Steiner calling Bully Ray a "faaaaaaaaaat ass" over and over again.


---
CSONKA's LIST FOR FUN
7. The Miracle Violence Connection
6. The Hart Foundation
5. The Holy Demon Army
4. The Rock and Roll Express
3. The Steiner Brothers
2. The Fabulous Freebirds
1. The Dudley Boyz/Team 3D


YOUR TURN KNOW IT ALLS

List your Top Five for this week's topic in the comment section using the following format:

5. CHOICE: Explanation
4. CHOICE: Explanation
3. CHOICE: Explanation
2. CHOICE: Explanation
1. CHOICE: Explanation
Your heart is free. Have the courage to follow it…TO CSONKA'S TWITTER!

http://www.twitter.com/411wrestling
http://www.twitter.com/411moviestv
http://www.twitter.com/411music
http://www.twitter.com/411games
http://www.twitter.com/411mma

Have you checked out the Csonka Podcasting Network? If you haven't, you should We run anywhere from 15-20 shows a month, discussing pro wrestling, the world of MMA, the NBA, general sports, popular TV series of the past, bad movies, battle rap, interviews, MMA & Wrestling conference calls and more! Around 10 different personalities take part in the various shows, which all have a different feel; so you'll likely find something you like. All of the broadcasts are free, so go ahead and give a show a try and share the link with your friends on the Twitter Machine and other social media outlets! Running since May of 2011, there are currently over 350 shows in the archive for you to listen to.



Larry Csonka is a Pisces and enjoys rolling at jiu jitsu class with Hotty McBrownbelt, cooking, long walks on the beach, Slingo and the occasional trip to Jack in the Box. He is married to a soulless ginger and has two beautiful daughters who are thankfully not soulless gingers; and is legally allowed to marry people in 35 states. He has been a wrestling fan since 1982 and has been writing for 411 since May 24th, 2004; contributing over 3,000 columns, TV reports and video reviews to the site.
comments powered by