SPOTLIGHTS
Smart Marks 8.31.03: Fixing the Leaks
Posted by Dino Zucconi on 08.31.2013

Is Bully Ray's Aces and 8s stable the weakest in recent memory? 411's Dino Zuko takes a look! Plus thoughts on WWE's tag team problem and more!

Hello again, and welcome to the final August edition of Smart Marks. I'm Dino, and this is your stop to talk about anything and everything wrestling related. And if you disagree with me, I'm going to personally hate you and think you're an idiot. No, wait... that would be foolish, wouldn't it? If you disagree with me, let's talk about it! Because face it- no one that hates wrestling wants to talk about it, so I'm basically all you've got, all right?

Just wanted to touch on last week, specifically the creation of new stars (or lack thereof) in the current state of wrestling. I was a little bummed to see that most commenters seemed to take the stance of "Looking 'not bad' is the same as looking good." The argument mainly focused on Bray Wyatt, and how he didn't "look that bad" against Kane at SummerSlam. That's fine, but that's not my point. My point was that he didn't look good. Hey, if "not looking bad" is all you want from wrestling, then more power to you. I'd prefer they went out of their way to make guys look GOOD. Bray Wyatt did NOT look good at SummerSlam.

I was also a bit more active in the comments section, which may have ruffled some feathers. I know we all go into instant defense mode or instant "how much of a smartass can I be?" mode in the comments, but rest assured that I simply was trying to cultivate more conversation. I haven't really been an active participant in the comments of my columns, so I just wanted to keep the talk going. I certainly wasn't "over analyzing" anything by simply answering comments, as reader ego accused. And no harm, Mr. Ego- I hope you keep reading as well. Just- and I can't stress this enough- this column isn't me lecturing, or talking at you guys. It's me giving my thoughts. And, much like if all us dorks were in one room talking about wrestling, we'd probably kill 25 minutes talking about the stupidest things in our beloved show. I just want that kind of environment overall. Now, maybe I'll back off again in the comments, but if I see a point I really agree/disagree with, you might see me pop up and speak on it.

We ALL have voices here. I'm not the boss. I'm not "right." I just have my own takes on wrestling, as I'm sure the rest of you do. So, let's talk about them, eh?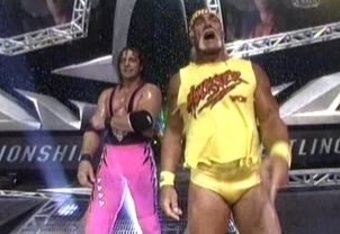 Hot Tag



Since deciding at some point last year to refocus on the tag team division, WWE has basically stuck with a simple formula: have one super team beat up all the other tag teams in the division. Sure, we had Air Boom, the Colons, and R-Truth and Kofi Kingston as champs, but I'd almost consider Air Boom and Truth/Kofi as a mild version of a "super team" anyways. So, Truth/Kofi lose the belts to Team Hell No, who go along crushing every other team in its path. The Prime Time Players, the Usos, Team Rhodes Scholars, even a combination of 3MB- all treated as simple appetizers for the super champs to feed on.

Then, Kane and Bryan lose the belts to the Shield, and again, the other tag teams are used to basically kill each other off, while the champs swoop in every so often and destroy the challengers. The Usos were half heartedly built up for a title shot against the Shield by having them each paint half their face, which meant they were "ready to go to war" or something. Then they promptly lost their match, and are again back to wrestling on Main Event nearly every week, spinning their wheels against the previously named heel teams, along with the newer team of Jack Swagger and Antonio Cesaro.

Meanwhile, the Shield has a new challenge to their belts- Mark Henry and Big Show. This legendary tag team of many years has always dominated the tag ranks, and now want a chance to reclaim- oh, right. They're not a real team at all, and simply get to skip in front of the other teams, more or less, "just because."

Spare me the rationale as to why Big Show and Mark Henry are getting this title shot. I get it, and that doesn't excuse the absolute crapulence of it all. Prime Time Players, the Usos, the soon to debut Matadores, the Real Americans, 3MB... these guys actually compete in the division, and have actually earned wins against each other. However, the way it's been handled, not one of those teams is currently seen as a threat. Sure, the PTP are getting a little bit of a push because Darren Young came out, but how long is this half assed push gonna last? They can't even explain why the PTP are suddenly fan favorites. It was just "oh, you know he came out, right? Well now he's a good guy!"

This also goes back to making everyone look good. The fact that WWE does not go out of their way to make everyone look good is proven by the fact that every real team- save for the champs- in the tag division is looked at like a joke, and not capable of beating the champs. So, we have to put frickin Big Show and Mark Henry together to make you believe the Shield is in trouble. Maybe it's just me, but I'd prefer to see a team made up of two guys who are on the same page and work well together win the belts, and not just two big guys.

I personally champion the cause of Swagger and Cesaro, as I had called for them to team up when Swagger first returned last winter. With Swagger as the All American American, and Cesaro as the US Champ, they seemed like a natural pairing, and one that could run all over the tag division. Instead, these guys lose to the Usos on Main Event like it's going out of style. They lose to the PTP on RAW in singles and tag matches. But since the PTP spent the last year jobbing to everyone on the roster as well, all it does is show us that Swagger and Cesaro are worse than the guys who couldn't beat anyone for the last year.

But hey- Big Show and Mark Henry, right? Right?? What do you guys think of the way "real" tag teams are treated, both today and historically, by WWE?





Aces Ain't Great



Bully Ray needs some help. He's running in one of the weakest supergroups I've ever seen in my life. His two most legitimate teammates are the former Mike Knox, and Mr. Anderson, the two time TNA champ for a grand total of like a month and a half. Then he runs with Wes Brisco- who, to be fair, may in fact end up being good. However, currently, he's just some shlub that screws up a bunch- and Garett Bischoff.

Just last night on Impact, Bully Ray decided to get in Mr. Anderson's face when he objected to Tito Ortiz being granted instant status as a member of Aces and 8's. If this is going to eventually lead to the inevitable split of the group, then cool. I like storyline progression. I'm hip! However, if this is only to lead to Mr. Anderson being removed from the group, then I really have to wonder what I should perceive to be Bully Ray's mindset.

Like I said, Aces and 8's is one of the least intimidating supergroups in recent memory. They lost nearly every single match they were a part of until Bully Ray was revealed. They include Tazz, the guy so tough that you can't touch him, because he might die if he takes a back bump. But at least they have a super mean sounding guy at the announce table, right? They brought in D'Lo Brown, a guy who hadn't mattered even to the most diehard of D'Lo fans in like ten years. They couldn't even prevent Chris Sabin from beating Bully Ray. So he wants to threaten the best guy in his group? He wants to push around the one guy that may actually be of service? Because he doesn't like Tito Ortiz joining the group?

Which brings me to the main question - does Bully Ray show too much ass? Not literally, mind you, but rather, does Bully Ray make himself look too weak at times? Does it make sense that he makes horrible decisions regarding his personnel, if only because he's DA BULLY, and thus thinks he can win no matter the odds? I just couldn't imagine looking across at Kurt Angle, Sting, Joe, even Magnus and thinking "Oh I'm good, I've got Wes and Garett with me!"

To be fair, TNA isn't exactly loaded with guys on the roster who stand as imposing menaces. They can't just make the type of guy I'd prefer to see in Aces and 8's appear out of thin air. However... what about a guy like Jay Bradley? The guy who got his first BFG win during an Xplosion match? The guy who could very well be a force in this company, but is instead the glorified job guy for the entire BFG series? What if he came in, angry at the "chances" he's received so far in his run, and looking to make a statement. What if he dropped the boom stick on Garett, and told Bully that he had some actual help now. A real enforcer. Not some old guy. Not some unproven, skinny kids. An honest to goodness physical specimen who enjoys putting the hurt on someone. Even someone like a Hernandez, another guy who appears to have all the tools, but who gets little love from TNA. I'd like to think adding one- or both- of these guys to Aces and 8's changes the group from anemic, to actually looking like it's packing some firepower.

Agree on Aces and 8's being one of the historically weak factions? Agree on them needing new blood? Should it all just go away? Spout your words down in the comments!





Autumn Approaches



How can we make the time between when SummerSlam ends, and the Royal Rumble approaches more entertaining? Much like the post-WrestleMania lull, after SummerSlam we usually hit a somewhat dead period in the programming. It feels very much like a holding pattern, and while we may get a bone thrown our way with a title change at Night of Champions, there's usually not much going on.

My first thought would be to simply go back to making Survivor Series an important show. However, there's trouble with that, as Survivor Series, even way back in the day, was meant to be a specialty show. You're getting team matches. Giant feuds are merged into one giant tag match. We were almost trained from the start to know to wait until the Royal Rumble was around the corner for anything meaningful- Survivor Series is for fun matches where feuds can be progressed without being completely blown off. As always, this isn't 100% true for all Survivor Series cards, as we definitely got Hogan/Taker, HBK/Hart, Yoko/Taker, and Angle/Taker in big matches. Lot of Taker. You'd think he debuted at the show or something!

The other problem with "let's make Survivor Series important again!" that I can see is simply how the fans want that show to be treated. Take away the focus on the giant tag matches, as they've done numerous times in the past, and you anger the fans. Older fans like the tag matches. Younger fans who may not have seen the "traditional" Survivor Series would like to see it done at the show. But keeping the show "traditional" also directly hampers it from being able to deliver a show on the level of a Mania, Rumble, or SummerSlam.

So, if we simply maintain the Survivor Series as the "oddball of the old Big Four" and allow it to host the old tag matches while at times playing host to bigger things, is there another show we could give that type of love/attention to? Would taking Hell in a Cell and changing it to a major show help? Instead of just taking the TNA Lockdown approach of "Hey, you guys are in a match at this pay per view, and it's kinda high on the card, so we'll put you in Hell in a Cell!" Perhaps consciously building feuds through the summer that come to a head for Hell in a Cell would allow the card to finally have multiple Hell in a Cell matches that don't feel quite as forced. Maybe shenanigans from SummerSlam bleeds into it. Surely, we could do Daniel Bryan against Orton in Hell in a Cell in a couple months, and most fans would be stoked for that, right? Much better than just "it's a title match at the show, so it's a Hell in a Cell match, too" line of thought, I'd wager.

Or am I making something out of nothing? Does the SummerSlam-Rumble period bore you as much as it bores me? Does Hell in a Cell, Survivor Series, and even TLC keep you happy? Don't get me wrong- I love these shows, and I love the matches they contain. It's just that usually, the results feel like they're not going to change the overall landscape at all. Like, say, when Dolph Ziggler beat John Cena with AJ's help at last year's TLC. He kept his Money in the Bank, sure, but Cena then beat him on RAW in front of everyone just in case we didn't forget who was better than who in the long run. Again, the standard 50-50 bullshit booking to keep everyone at the same perpetual level (below their handpicked stars) just seems to be a bit stronger during the "down period." So, what is the answer? Strengthen Survivor Series? Cut the "specialty" pay per views to allow those matches to be used when needed? I really don't know. I just wish that the same excitement I feel heading into the other Big Four shows came about at any point after SummerSlam, and before the Rumble.

As always, let me know what your thoughts are down below.

Thank you again for giving me a bit of your time, and I hope you all have a great weekend.

Enjoy your WWE, your TNA, your Lucha, your Puro, and your Indies.







It's All Wrestling. It's All Stupid. We All Love It
comments powered by