SPOTLIGHTS
The Brain Buster 8.31.13: Why the Hell am I Watching Total Divas?
Posted by Phil Hiotis on 08.31.2013

An internalized investigation at why a wrestling fan would watch Total Divas



"Why am I watching this?" "Why am I doing this to myself?" "Why?" These are the questions that frequently flow through my mind as I'm watching "Total Divas." With this reality show's off kilter depiction of several WWE Divas comes my questions of self worth – "What does it all mean? Why am I here? God, I should really work out." I have these lapses in will to exist while watching this particular show. I neither relate nor favor any of the featured characters on the show; in fact, I find them almost detestable in every facet. Yet, I have watched all episodes, and will most likely continue to. Why?

Are you like me? Do you ask yourself these questions? I thought about what could possibly allow me to continue torturing myself with these insufferable people. These are the possible options:

I am a boring, content person with nothing better to do. It's possible. During my workday in the office, I'm often left with glaring holes of time management. Ahead of me lies hours that could be used to read, improve my intellect, learn a craft, etc. Yet, I find myself using this precious time to watch programs like "Total Divas." It could be because I am not interesting enough to strike up a conversation with a stranger, or brave enough to start something new. "Total Divas" provides a calming glow of comfort reminding me that I'm financially secure, and there is no need to improve myself any longer. It's a trap, basically, to get really fat.

I am interested in seeing aspects of WWE's backstage. This is a sentiment that I feel most of the Internet community will relate to. That's what makes the Internet wrestling community what it is – a thirst for knowledge of what is really behind the curtain. The backstage and politics that go into professional wrestling are much like a magician. Sure, we can find out how to do the tricks, but half the fun is in the chase to find out the truth. It's in the moment of disbelief where you try to figure out how the trick exactly occurred. "Total Divas" gives us what is believed to be a glimpse into the magician's hat. We see wrestlers called by their real names, we see what they do outside of the office, we can confirm that John Cena really is the nicest person and possibly too cool for his own good. It provides a voyeuristic pleasure into seeing whom these performers may truly be and how close their representation on this reality show is to how we imagined them. I'll admit, I was very pleased when Fandango was portrayed on "Total Divas" as a flirtatious, chauvinistic, asshole. It pleased me because, not only does it bring clarity to how the Fandango character started, but also because I WANT him to be a sexist, self absorbed, asshole.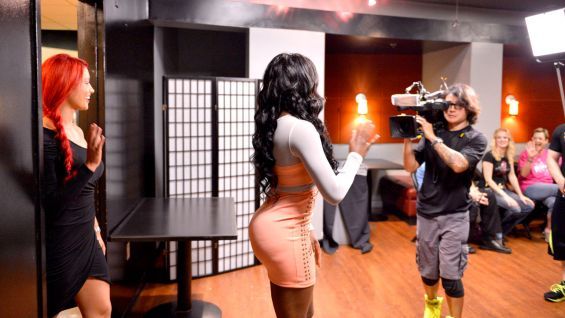 I love to hate the featured Divas.This is a fact. Based solely on their personalities, for me, there is not a relatable Diva on this show who a viewer can empathize or feel sympathy for. Here's a taste of my thinking process. Compare it to your own. "Ok, who's this Eva Marie girl? Well, she's marrying a guy she's known for two months. She's obviously an idiot." "I wonder if Natalya could full body press Tyson Kidd?" "Every time Ariane speaks, I don't know what happens. I see red, black out, and find more dead bodies around me." I can't deny that this hate brings a certain amount of pleasure, not a pleasure of feeling superior to anyone, simply a pleasure that comes from truly despising someone. Call me a heel lover, but I just love hating some people.

Hamlet's "play within a play." In Shakespeare's classic – revered as the best drama of all time – we see an interesting literary tool used. In order for Hamlet to expose his uncle Claudius as a murderer, Hamlet stages a play where the murder is reenacted, in order to studies his uncle's demeanor when it is presented to him. It is a play, which is of course happening in an actual play. It's a brilliant device used by Shakespeare, not just for the fact that he staged a play that involves a scene where the audience is watching literally another play, but also to provide a bit of parody to play writing. I have previously written on how professional wrestling uses the "play within the play" all the time, through the storyline between the wrestlers, as well as the match itself. "Total Divas" provides another version of the "play within the play," but legitimately being a show about another show. I find that humorous and will admit that it plays a part into me watching it weekly.




Admittedly, there may be some flaws with that concept. "Total Divas" is a reality show; therefore, would not the WWE programming itself be the play within Hamlet, as apposed to the other way around? In theory, yes. But that is only if you truly believe that what is on "Total Divas" is reality. Because it's not. I would believe it's as scripted, if not more, than any episodes of Monday Night Raw. How would I know? Well for one, Triple H may have alluded to it in a recent interview. When asked about "Total Divas," he referred to it as "creative reality." That means about the same as "sports entertainment."

Even without Triple H's reference, it is pretty clear to see that the show is scripted. Look at the acting. I'll use the Bellas as my unfortunate test subject. I have a bit of stage acting experience, and while acting, there is something known as your "stage voice." Depending on your play you maximize your voice to fill the eccentric or idiosyncratic nature of your character. If you were playing Velma Kelly in "Chicago," you would extend your words, showing off your lavishness and sexuality with each influx in syllable. This is done all the time in wrestling as well. The Bellas do it too. When they speak, they try to find a style that encompasses how cold and apathetic they are. The narration in the show, which if you're a naysayer of the theory that the show is scripted, we can agree is scripted, is also presented in the Bellas' stage voice. Their dialogue on the show is also used in the same voice. Now, I would not rule out the possibility that the Bellas are so talented in their acting prous, that they have turned the Bella characters into a symbiotic form of themselves. Much like Heath Ledger did with The Joker, they threw away their old selves, and became The Bellas. Or it could be that, much like Raw, "Total Divas" is scripted and their stage voice is present because they are acting.




I'm not saying this is a bad thing. "Total Divas" serves under the guise of a reality show, but what its true purpose is to expand on these Divas' personalities. Even with Monday Night Raw being 3 hours, there is only so much time, and the Divas division has been quite neglected the last few years. So a separate show based solely on the Divas that can build the personalities of the Divas and give them identity to the fans. That identity will lead the fans to feel invested in the characters and consequently, be invested in their matches. The show is a part of kayfabe. Even with heel and babyface Divas being shown having relationships in the back, the order of wrestling reality is not broken. I can't say that any of the Divas truly are friends with their on screen opponents. We see the Bellas prank and act cold towards the Funkadactyls all the time. That seems within their on screen character. The new Divas are fraternizing with both heels and faces. I don't see that as breaking kayfabe either. They don't have an identity yet. They're deciding whom they want to align themselves with. It all helps build their character so that the audience will have a preconceived notion of who these characters are.

There is a giant flaw with this system though. Even with this show, I can't say I know anything about these characters that I didn't already know from the regular WWE programming. For instance, the Bellas are constantly being shown as being opposites. Nikki Bella is shown to be a spoiled woman who prefers life in mansions while Brie Bella is a "feet on the ground" hippie who shops at farmer's markets. Except not really, because this is the same Brie who convinces her lover (some guy named Bryan Danielson) to move out of his modest home, into Phoenix in order to benefit her more. In fact, when questioned by her sister if she could live this modest lifestyle with Bryan forever, Brie explicably says she cannot. So, through five episodes, I can say that I don't really know anything about the Bellas, except that they're "bad bitches." I could of gathered that because, after being on WWE for 3 years, that is legitimately all I know about them. There is no discernable characteristic for them. Just that they're bad, and they want to rule the Divas division.

As noted earlier, I can't get through a Funkadactyls portion without killing someone, so I would be a bit amiss to pass judgment on them. I will say that it is hard to build anyone's character when they never speak on WWE programming. I researched them, and have come to find out that they have never cut a live mic promo on the flagship show. In fact, I had a hard time finding the last time the Bellas cut a live mic promo, and they're supposedly veterans. Come to think of it, why are these groups even feuding to begin with? They're male counterparts at the time, which the Bellas are not even affiliated with any longer, had a feud that they were brought into.

Even with the resources provided by "Total Divas" management and creative are still missing the mark in developing these divas, and giving the audience a reason to hate or empathize with the characters. It's true, I doubt anyone empathizes with the Kardashians; however, the WWE needs to build more than one dimensional heel Divas. They need someone to be more than just a "self admitted bitch who's looking to be top Diva." They need to develop more personalities and give the audience a reason to care, instead of simply numbing them with images of a lifestyle that is far from reality.

By the way, the answer to the question of why the hell I'm watching "Total Divas" is, of course, all of the above.

comments powered by