SPOTLIGHTS
The Wrestling News Experience: 09.02.13
Posted by Stephen Randle on 09.02.2013

News and thoughts on reactions within TNA to Hulk Hogan's comments about the company, Chris Jericho's future in wrestling, a preview for tonight's Rawa hacking attack on WWE.com and more!

Monday, September 2nd, 2013

From 411Mania's Canadian offices in Kitchener, Ontario, Canada, this is The Wrestling News Experience, with Stephen Randle!



Lives In Interesting Times

Good morning, everyone, and welcome to the Experience. I am Stephen Randle, and I hope you're all enjoying the last holiday weekend of the summer, assuming you get one. I don't, because, as always, the one thing that is open on holiday weekends is restaurants, and thanks to a series of poor career decisions, that's where I work! So, if you decide to go out to eat this weekend, remember, the people cooking your food might be someone exactly like me. Yeah, I'd probably be worried, too.

I'm kidding, no one has ever died from eating anything I cooked. Well, there's never been conclusive proof, anyway.

Moving on.




Last week, things didn't get any better for Daniel Bryan, as he spent his second straight week getting laid out by the combined forces of Randy Orton and The Shield. Unfortunately, it doesn't look like there's any cavalry coming, either, as Triple H has managed to effectively muzzle the rest of the roster with various threats, including singling out sympathetic figures like Big Show, Dolph Ziggler, and…sigh…The Miz and detailing punishments for them on Smackdown. The odds have never been more stacked against Bryan, and the question is no longer can he win the WWE Title at Night of Champions, but can he survive until then?

Meanwhile, another man fighting for survival may just be CM Punk, who was blindsided and beaten within an inch of his life last week by Paul Heyman and Curtis Axel. You have to know that Punk won't be stopped by something like being beaten bloody with a kendo stick, but the weeks of getting destroyed have to be wearing on him, and the fires of hatred for Heyman might be all that are keeping him standing at this point. With nothing to lose, Punk could be a very dangerous man.

Plus, AJ Lee made a strong statement against the cast of Total Divas, one which many people might have agreed with just a little bit. But on the other hand, Total Divas is bringing in ratings because these are the end times and that show is one of the signs, so I bet I know who the faces are really supposed to be.

And Alberto Del Rio continues to fend off RVD, Cody Rhodes looks to annoy Damien Sandow, and the Wyatts remain lurking in the wings, tonight on Raw!




- Chris Jericho is officially done as a full time wrestler, as his availability to wrestle is now based around his tour schedule with Fozzy instead of the other way round. I mean, he has basically been part time for a while, but now he's the one saying it. More importantly, what will become of the LiteBrite jacket? I say he should bequeath it to either Ziggler or Fandango. And when he does it, he has to actually use the word "bequeath", and pronounce it correctly.

- AJ Styles has reportedly signed a short-term contract that runs through Bound For Glory. Which is entirely appropriate for Styles. Because he's really short. They can't all be winners, people.

- Shockingly, word out of backstage at TNA is that people are less than thrilled at Hulk Hogan's comments last week about wanting Eric Bischoff given full control of the promotion with no limitations, because that would be the only way to save TNA. You know, going off all the other things that Hogan and Bischoff have tried to do in order to save TNA, all to declining ratings and revenues, at some point, wouldn't it be worth a shot to ask for their ideas and then do exactly the opposite of what they want?

- A whole bunch of new NXT talent has been assigned their new gimmick names this week, as the roster restocks following the call-ups of wrestlers like The Wyatts and Big E Langston (as well as a round of releases a few weeks back). I was going to talk about the new names until someone pointed out that an incumbent NXT talent, CJ Parker, has the same name as Pamela Anderson's character on Baywatch. And now that's all I can think about.

- General annoyances Anonymous took credit for taking down WWE.com briefly last week, allegedly in order to raise awareness of the situation in Syria. Because if there's one thing wrestling fans are in the dark about, it's what's going on in Syria. Of course, it's pretty far down on the list of things wrestling fans are in the dark about. Personally, I only just found out what "twerking" is yesterday. Did I really want to know? Not particularly, but the point is, I learned something yesterday, no matter how ridiculous it was. And it was very ridiculous. I can't stress that enough.

- UFC fighter Stephan Bonnar is apparently looking to potentially become a pro wrestler, but he's only interested in being in WWE, not anywhere else. Yeah, you can just hear the dedication to the craft in that statement, can't you?

- Jerry Lawler will be wrestling his first singles match since surviving his heart attack on September 7th at an indie show in Tennessee. Hopefully this will be the only time he wrestles his first match since a heart attack.

- WWE 2K14 has officially received a Teen rating from the ESRB. Well, that's a good thing for WWE, because you never see the headline "Police investigate murder connected to T-rated video game", so they dodged that PR bullet.

- WWE has recently been promoting the DVD release of their film No One Lives, a documentary about poor lost souls who tried to watch the entire WWE Films catalogue in order. Most are found dead somewhere around The Chaperone, but apparently a few hardy souls have survived as far as Legendary.

- Stacy Kiebler is dating someone new after breaking up with George Clooney. Yeah, I'd want to be the guy to have to follow that. Sorry, wrestling fans, the window is once again closed.

- And finally, the city of Detroit has learned that it has lost the bidding to host WrestleMania 32. Man, I thought that city had hit rock bottom long ago, but now…




This week, TWNE went behind the scenes to uncover the real (well, the real kayfabe) power rankings in WWE!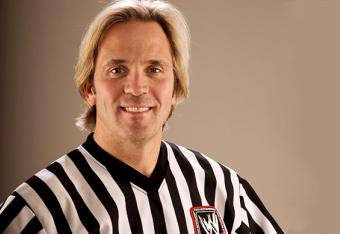 1. Referees

If you're looking for the ultimate holders of all the power, look no further. Many times, referees have made bad, misinformed, or just plain wrong decisions, and no matter the authority figure appealed to, one thing has always been true, no matter how little it might make sense: the referee's decision is final.


2. WWE Board
Of Directors

We have no idea who any of these people are, but apparently they're the only power on the planet that can overrule any decision, even forcing the people who ostensibly own the company to kowtow to their often bizarre and random judgements.


3. John Cena

Some of the people below Cena on this list might be able to put him in horribly dangerous matches where the odds are stacked against him to unbelievable levels, but he never gives up and keeps overcoming those odds to an admittedly insane degree. Plus he gets to choose his own challengers and get WWE Title shots just by asking for them. That's where the power lies, brother.


4. The McMahon
Family

This would include Vince, Stephanie, and Triple H, plus any other random McMahons who might show up. Actually, Vince and Triple H lost their ability to make day-to-day decisions over the show way back when, so technically, Stephanie is the most powerful of the three. They don't want you to remember that, of course.


5. Raw GM

Sure, the post may be held by a spineless, charismatic black hole with a terrible goatee, but at least he's not Michael Cole. Plus, he's in charge of Raw, so he actually gets to make decisions on the show that matters.


6. Smackdown GM

Well, she can still make matches, but almost none of them will matter or even be mentioned on Raw, but at least she gets to make tag team main events and technically, it's the GM position that tends to have better job security, if only because the position is largely irrelevant.


7. Paul Heyman

Somehow he manages to have personal service contracts with some of the biggest names in wrestling, and when he gets dropped by one, he always manages to be back on TV by the next week, with a new purpose (usually, screwing over the guy who just dropped him). Plus, his guys all seem to be able to get away with anything they want to do. Sure, it's usually because they're not guys you'd be able to stop in the first place, but that's just good decision-making by Heyman in the first place.


8. WWE App

Well, you do have the power to make match stipulations and pick opponents, if from a limited pool every time. It must be powerful, they only mention it sixteen dozen times a show.


9. The Shield

Somehow they've managed to spend the entirety of their existence entering from the crowd, attacking random Superstars, and never getting punished. I guess their employment with the McMahons makes sense in retrospect.


10. NXT GM

Sure, nobody in real power cares what Dusty's doing, but he is putting on the best WWE show on television (well, on Hulu in the States, but I get to watch in on TV), so there is that.




Inactive List as of 08.26.13

WWE

- Evan Bourne, out indefinitely as of March 19th, 2012 (foot)
- Hunico, out indefinitely as of November 1st, 2012 (ACL)
- John Cena, out 4-6 months as of August 19th (torn triceps)
- Sheamus, out 4-6 months as of August 5th (torn labrum)
- Tyson Kidd, out indefinitely as of January 10th (knee)

TNA

- Kurt Angle, out indefinitely as of August 8th (rehab)
- Zema Ion, out indefinitely as of May 17th (appendectomy)

Transactions

- Mark Henry, WWE, day-to-day as of September 1st (hamstring)

- Rosa Mendes, WWE, returned to television on August 26th Raw

- Ted DiBiase, WWE, contract expired, will not re-sign



WWE Champion: Randy Orton
- 15 day reign, defeated Daniel Bryan on August 18th (SummerSlam PPV)
- Next title defense: vs Daniel Bryan, Night of Champions PPV



World Heavyweight Champion: Alberto Del Rio
- 78 day reign, defeated Dolph Ziggler on June 17th (Payback PPV)



WWE Intercontinental Champion: Curtis Axel
- 78 day reign, defeated former champion Wade Barrett and The Miz in a Triple Threat Match on June 16th (Payback PPV)



WWE United States Champion: Dean Ambrose
- 106 day reign, defeated Kofi Kingston on May 19th (Extreme Rules PPV)



WWE Tag Team Champions: Seth Rollins and Roman Reigns
- 106 day reign, defeated Kane and Daniel Bryan on May 19th (Extreme Rules PPV)



WWE Divas' Champion: AJ Lee
- 71 day reign, defeated Kaitlyn on June 16th (Payback PPV)



WWE NXT Champion: Bo Dallas
- 82 day reign, defeated Big E Langston on June 5th (NXT)



WWE NXT Tag Team Champions: Adrian Neville and Corey Graves
- 47 day reign, defeated The Wyatt Family on July 17th NXT



WWE NXT Women's Champion: Paige
- 40 day reign, defeated Emma on July 24th NXT to become inaugural Champion

NOTE: NXT Title reigns only count what has aired on TV, not when changes occur at tapings.




TNA Heavyweight Champion: Bully Ray
- 18 day reign, defeated Chris Sabin in a Steel Cage Match on August 15th Hardcore Justice Impact



TNA World Tag Team Champions: James Storm and Gunner
- 99 day reign, defeated former champions Chavo & Hernandez, Aries & Roode, and Bad Influence in a Fatal Four-Way Match on June 2nd (Slammiversary PPV)




TNA X-Division Champion: Manik
- 39 day reign, defeated Sonjay Dutt and Greg Marasciulo in an Ultimate X Match on July 25th (Impact) to claim vacant title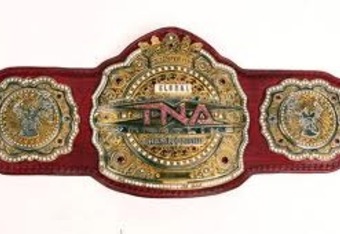 TNA Television Champion: Abyss
- 92 day reign, defeated Devon on June 2nd (Slammiversary PPV)



TNA Knockouts Champion: Mickie James
- 102 day reign, defeated Velvet Sky on May 23rd Impact




De Marco has The Wrestling 6&1.

O'Connell has Buy or Sell.

Schroeder has WWE RPI Rankings.

Harder has The Professional 3.

Dino has Smart Marks.

Hiotis has The Brain Buster.

Nguyen has The Ten Count.





This week on After Dark, I take TNA to task for screwing up the Bound For Glory Series, plus whether CM Punk would have fit better in the role being played by Daniel Bryan, and the future potential of AJ Lee's big promo!






And this week's Co-operative Multiplayer featured the return of Mathew Sforcina, and the panelists discuss issues like GameStop employees getting free next-gen consoles, violent video games in the headlines for another murder investigation, EA games all having online components, and the many varied problems with trying to review games! Don't forget, our panelists are playing for points in addition to discussing issues, so tune in to see who comes out on top of the heap!







Stealth, Inc. **COMING SOON**
The Last of Us
Call of Juarez: Gunslinger
Marvel Heroes
Hakuoki: Warriors of the Shinsengumi
Far Cry 3: Blood Dragon
Dragon Fantasy: Book One
Guacamelee!
BioShock Infinite
Dead or Alive 5 Plus
Generation of Chaos 6: Pandora's Reflection
Rocketbirds: Hardboiled Chicken
Ni No Kuni: Wrath of the White Witch
Earth Defense Force 2017 Portable




411 will have live coverage of Raw tonight starting at 8 pm EDT.

From our promotional department, I've been informed that if you really do like 411Mania and all it provides, or even just me (and really, who doesn't like me), don't forget to bookmark the site in your browser or make 411 your homepage, and tell all your friends about how awesome 411 is.

And don't forget, you can follow all of the everyday goings on in 411 on Twitter.

Stephen's Twitter
http://www.twitter.com/411mania
http://www.twitter.com/411wrestling
http://www.twitter.com/411moviestv
http://www.twitter.com/411music
http://www.twitter.com/411games
http://www.twitter.com/411mma

That's our show, I will be back next week. Also, don't forget Co-op Multiplayer this Tuesday at midnight EDT on Spreaker.com, 4PC in the Games Zone on Wednesday, and the TWNE After Dark podcast on Wednesday, airing live at around 11 pm EDT on Spreaker.com, posted on 411 shortly thereafter.

Here it is, your Moment of Buddy.






We've Still Got A Few Weeks
Before I Need To Pack My Stuff, Right?




Have a good one, and always be a fan.





comments powered by