SPOTLIGHTS
411's Wrestler of the Week 9.03.13: Year Nine, Week 21
Posted by Larry Csonka on 09.03.2013

Randy Orton continued to make Daniel Bryan's life hell, Kyle O'Reilly won the 2013 Battle of Los Angeles and more! But who won 411's Wrestler of the Week? Find out inside!




Welcome to YEAR NINE, WEEK 21 of 411's Wrestler of the Week. A quick overview of the rules to kick things off for us as a reminder…

Each writer chooses FIVE wrestlers (although ties and tag teams are allowed) from any promotion and each wrestler gets a point total attached to that ranking. It looks a little like this…

1st - 5
2nd - 4
3rd - 3
4th - 2
5th - 1

Then we tally up the votes and the official 411 Wrestler of the Week is crowned. But wait, there's more! Each week the top SIX vote getters get a points value for their ranking which looks something like this…

1st - 15
2nd – 12
3rd - 9
4th - 6
5th - 3
6th - 1

...and they go towards the 411 Wrestler of the Year award to be announced each year around WrestleMania. This will be posted every Tuesday (the voting week runs Monday through Sunday). Let's see who wins this week…

---



Larry Csonka
1) Kyle O'Reilly
Kyle O'Reilly won the 2013 PWG BOLA tournament. To do so, he defeated Trent Baretta with an arm bar submission on night one, and then on night two defeated ACH via triangle choke, Drake Younger via guillotine choke and then Michael Elgin via triangle choke to win the tournament. O'Reilly now joins the honored list of BOLA winners; and Joey Ryan.

2) Randy Orton: The centerpiece as WWE Champion on TV, and had a very good match with Christian last week and another strong victory over Miz on Smackdown.
3) Karl Anderson and Adam Cole: Karl Anderson and Adam Cole both won excellent (in different ways) title tournament matches on ROH TV.
4) Paul Heyman
5) RVD


James Wright
1) Daniel Bryan
Technically Bryan had a clean sweep this week, he pinned Seth Rollins after an awesome outing and then got two DQ wins over Ambrose and Reigns, add to that his DQ victory over Ryback and that is four victories in a week. Sure he didn't win clean, but Bryan is a 'believable' underdog, where he can pull out a win despite unrealistic circumstances, but unlike say Cena or Rey Mysterio they way he does it, so far at least, is something that is a lot easier to buy into and to me that can only be a good thing. Let's hope that he continues to at least not lose many, or any, matches while he continues feuding with the Corporation 2.0 since while wins aren't all that important, enough losses can start to hurt, especially if that person is potentially being built up as a main event babyface.

2) Randy Orton: While Bryan has been getting technical wins, Orton has been picking up real ones, add to that he has left Bryan laying several times and already he looks like a much more dominant, if dastardly, champion. There is no question that Orton is now the number one, in-ring, heel in the WWE right now and that is a pretty big achievement considering that a couple of weeks ago Damien Sandow was pretty much the closest thing to that, and he was a long way off at that.
3) HHH: As for the top non-in-ring heel I am giving the Game his due. While Paul Heyman came damn close this week with his great performance against CM Punk I think HHH deserves credit for embracing his role and blurring the lines between reality and fiction in his promos to make his character way more believable. Just look at the words he said to Miz or Ziggler on Smackdown, those were some stinging bards that had grains of truth in them and came from a man who legitimately could have an impact on their careers, more so as time goes on. Give him more time in this role and HHH could even eclipse Vince McMahon as the ultimate bastard of the WWE.
4) Paul Heyman
5) The Shield


Michael Ornelas
1) Kyle O'Reilly
Battle of Los Angeles 2013 winner. And that means a lot considering how great of a show it was. I was there and while I was rooting for Gargano to win the whole thing, I was in no way disappointed in the choice of O'Reilly as he delivered some killer matches to get there.

2) Candice LaRae: Looked like a total star at BOLA's second night.
3) Michael Elgin: BOLA runner-up who gave some awesome matches.
4) Daniel Bryan
5) Johnny Gargano


Jesse Nguyen
1) Kyle O'Reilly
O'Reilly managed what could be the biggest win of his career by taking home Battle of Los Angeles 2013 after defeating Trent Baretta, Drake Younger, ACH, and Michael Elgin. Reports are saying his matches were very good. BOLA is always one of PWG's most anticipated events, and the winner definitely deserves props.

2) Michael Elgin: Second place at Battle of Los Angeles isn't bad, but I'm sure Elgin felt the sting of it as he made it to the finals to lose to Kyle O'Reilly. He defeated Roderick Strong and Johnny Gargano on the second night. Elgin wanted it bad, but O'Reilly came out on top.
3) Daniel Bryan: Technically, Bryan had four victories this week if you combine his matches on RAW and Smackdown. Unfortunately, Randy Orton and HHH still managed to establish dominance. Still, the crowd believes in Bryan and his quest to regain the WWE Championship.
4) Randy Orton
5) AJ Lee


Ryan Byers
1) AJ Lee
This was a pretty quiet week overall, so I'm going to give the nod to the person who, even though it won't advance her career at all, probably generated the most buzz of anybody in wrestling with her performance. AJ Lee's big promo on Monday Night Raw, ripping into the Total Divas reality show and saying a lot of things that many fans have been saying themselves for a while now is the first interesting thing to happen in the WWE's women's division in literally years. Plus, she finally proved to me that she's a good promo, which is something a lot of people have been saying about her for some time, with me never seeing it.

2) Daniel Bryan: Bryan winning main events is no longer surprising and Bryan having great matches hasn't been surprising for over a decade, but, again, the week has been slow enough that I'm voting for things that normally wouldn't appear on my radar. Plus, as an added bonus, this week on Total Divas he was put into fuzzy pink handcuffs.
3) Randy Orton: Orton was successful in a very good TV match against Christian on Raw and defeated the Miz on Smackdown. Glad to see the champion being built up as a killer leading into his match with D-Bry.
4) James Raideen
5) Daisuke Sekimoto


Matt O'Connell
1) Randy Orton
We're still in the phase of the Orton/Bryan feud where Randy will establish himself as a dastardly heel champion and Bryan will prove an indefatigable underdog. So, Randy has been plowing through current and former world champions with SLIGHTLY greater frequency than while he was treading water as an upper midcard babyface. Anyway, he beat Christian and Miz, which were pretty much the biggest victories on television this week.

2) Daniel Bryan: You'd think that WWE would remember from the "Ric Flair undefeated streak" fiasco that the fans generally consider DQ wins to be a cop-out and not generally something they want to see their babyface heroes doing, but, well, here we are. Bryan did have a convincing win over Seth Rollins, though, and at least he refuses to submit to Triple H's regime.
3) Rob Van Dam: RVD's comeback is progressing nicely, with big wins this week against Alberto Del Rio and Damien Sandow. Incidentally, I'd like to see Ricardo Rodriguez either grow some stubble and pick up some Birkenstocks or start wearing a whistle to the ring if he's going to manage Van Dam from here on out.
4) AJ Lee
5) The Shield


Jack McGee
1) Randy Orton
Randy Orton is simply the man right now. He has a great match with Christian on Raw and followed that up with a victory over the Miz on Smackdown. Orton was booked as a dominant champion, and I appreciate that.

2) AJ Lee: Cut a good promo on Monday, and is making the Divas Division interesting.
3) Kyle O'Reilly: Won the big 2013 PWG Battle of Los Angeles Tournament.
4) RVD
5) The Shield

---
THE WINNERS~!
Special Mention… Candice LaRae & Paul Heyman - 4 Votes


Fifth Place…Rob Van Dam - 6 Votes


Fourth Place…Michael Elgin - 7 Votes


Third Place…AJ Lee - 12 Votes

Cut a "Pipe Bombshell" promo on Raw!


Second Place…Daniel Bryan and Kyle O'Reilly - 18 Votes

Daniel Bryan continues to battle the new corporation while Kyle O'Reilly won the PWG BOLA.


And 411's Wrestler of the Week is…















Randy Orton - 23 Votes

Your reigning and defending WWE Champion.




Year-End Standings~!
And here are the standings after week 21…

Daniel Bryan - 141pts.

Dean Ambrose - 67pts.

Seth Rollins - 63pts
Roman Reigns - 63pts

Randy Orton - 46pts

Brock Lesnar - 42pts

CM Punk - 41pts.

Christian - 39pts.

Chris Sabin - 36pts.

Prince Devitt - 33pts
Curtis Axel - 33pts.

Mark Henry - 27pts.

Bray Wyatt - 21pts.

Ryback - 20pts

AJ Styles - 18pts.
Bully Ray - 18pts.

AJ Lee - 15pts.
John Cena - 15pts.
Austin Aries - 15pts.
Kurt Angle - 15pts.
Dolph Ziggler - 15pts.
Kofi Kingston - 15pts.
Kenta Kobashi - 15pts.
Ricochet - 15pts
Damien Sandow - 15pts.

Kyle O'Reilly – 12pts.
Kazuchika Okada - 12pts.
Tetsuya Naito - 12pts.
Manik - 12pts.
Luke Harper - 12pts.
Erick Rowan - 12pts.

Alberto Del Rio - 11pts.

James Raideen - 10pts

Johnny Gargano – 9pts.
Jimmy Uso - 9pts.
Jey Uso - 9pts.
Rampage Jackson - 9pts.
Big E. Langston - 9pts.
Abyss - 9pts.
Wade Barrett - 9pts.
The Undertaker - 9pts
YAMATO - 9pts.
Jun Akiyama - 9pts.
Tamohiro Ishii - 9pts.

Mikey Nicholls- 7pt
Shane Haste - 7pt
Rob Van Dam - 7pts.

Shingo Takagi- 6pts.
Antonio Cesaro - 6pts.
Sami Zayne - 6pts.
Fandango - 6pts.
KENTA - 6pts.
Yoshihiro Takayama - 6pts.
Jigsaw – 6pts.
The Shard – 6pts.
Michael Elgin – 6pts.

Jushin Liger - 4pts.
Mickie James - 4pts.
Cody Rhodes - 4pts.

Hiroshi Tanahashi- 3pts.
Suwama - 3pts.
John Morrison – 3pts.
Drew Gulak – 3pts.
Jack Swagger - 3pts.
Tito Ortiz - 3pts.
Sting - 3pts.
Hernandez - 3pts.
Chavo Guerrero - 3pts.
Seita Sanada - 3pts.

Magnus - 2pts
Paul Heyman - 2pts

Samoa Joe - 1pt
Bobby Roode - 1pt
Tiger Mask IV - 1pt
CIMA - 1pt
Kota Ibushi - 1pt
Alex Shelley - 1pt
Candice LaRae - 1pt
Ethan Page - 1pt
Eddie Kingston – 1pt
La Sombra – 1 pt
El Hijo del Perro Aguayo – 1 pt



Voting began 4.16.13
Year-End Rankings Key:

WWE Contracted Wrestlers are represented in BLUE.

TNA Contracted Wrestlers are represented in GREEN.

ROH Contracted Wrestlers are represented in RED.

US Independent Wrestlers are represented in MAROON.

Japanese Contracted Wrestlers are represented in BLACK.

Mexican Contracted Wrestlers are represented in MAGENTA.

Other International Wrestlers are represented in INDIGO.

---
**PREVIOUS WINNERS**
Year One Winner: Ric Flair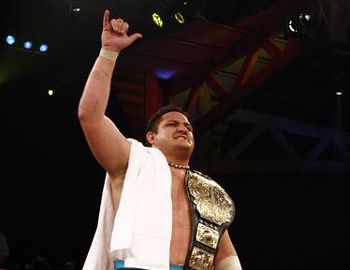 Year Two Winner: Samoa Joe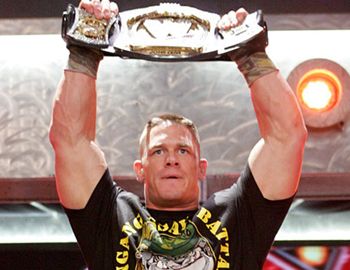 Year Three Winner: John Cena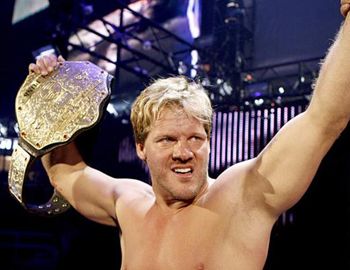 Year Four Winner: Chris Jericho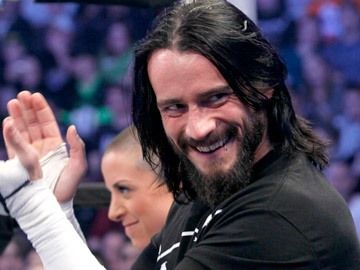 Year Five Winner: CM Punk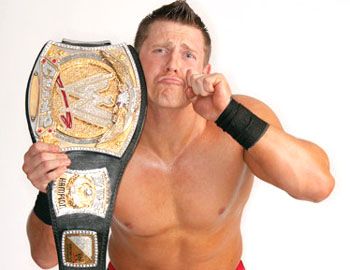 Year Six Winner: The Miz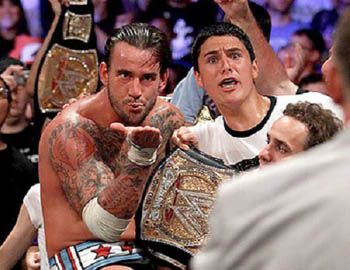 Year Seven Winner: CM Punk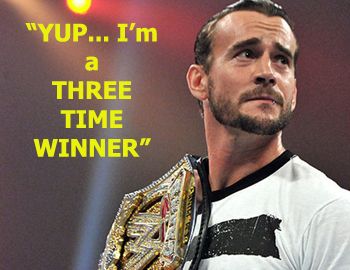 Year Eight Winner: CM Punk
comments powered by