SPOTLIGHTS
The Tuesday Communique 09.3.13: Same Old Ain't Always Bad
Posted by Nick Marsico on 09.03.2013

News and thoughts on Monday's episode of Raw, WWE having tried to buy AAA in 2007, the latest WrestleMania 32 location rumors, Hulk Hogan's comments about TNA and more!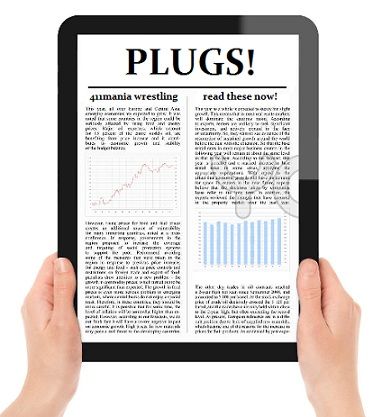 The Wrestling News Experience with Stephen Randle
The Wrestling 6&1: Katie Lea/Winter vs. Gail Kim with Greg De Marco
The Professional 3: Top 3 Baseball Playing Wrestlers with Jon Harder
Smart Marks: Fixing The Leaks with Dino Zuko
The Brain Buster: Why The Hell Am I Watching Total Divas? with Phil Hiotis
The Ten Count: Top Ten Fictional Wrestlers with Jesse Nguyen
The Heel Report: Double Stuffed Goodness with James Wright
The 8 Ball: Top 8 RAW Moments with David McGregor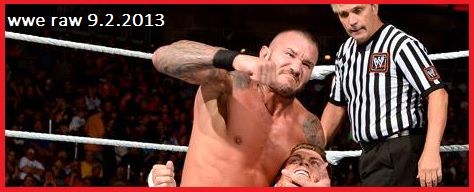 WWE Monday Night RAW from Des Moines, IA || TV Review



20 Minute Promos Have Returned!
- It feels weird that I've been so open to the 20 minute promos to begin RAW. It's like some odd type of 2002 Stockholm Syndrome.
- Thus far this is the same as usual with Daniel Bryan not being "best for business", etc, but the Cruiserweight and European title lines were funny.
- JBL: "Here comes the Cruiserweight Champion!"
- I am so in love with the crowd reactions Daniel Bryan is getting every week. Seeing the throngs of people waving their hands and shouting "YES" or "NO" is just unbelievable.
- Bryan: "Is Stephanie McMahon more masculine than Randy Orton? YES!" HA! Awesome.
- Triple H brings up the ironclad contract! I wonder if that was planned or if somebody brought it up in a meeting last week and Triple H said "oh shit... people remember that?" So they went with it.
- Big Show versus Bryan tonight. I hope they acknowledge that DB spent most of his World Title reign wrestling Show and Henry.


- Cody Rhodes runs into Triple H and Randy Orton and says that he thinks Orton v. Bryan is what is best for business. That obviously doesn't sit well with them, so tonight it's Orton v. Cody, and Rhodes is fired if he loses. I hope Big Show interferes to save Cody's career. That way Cody stays and Bryan gets more pissed at Show.


Fandango v. The Miz
- I like Miz' slide-under sunset flip pin. What would that be called?
- Miz added foot stomps before the big running kick. Makes the move better. Good on him.
- Apparently Miz broke his nose with the move. I've always said that adding a taunt before any maneuver makes it at least 10.43% more effective.
- SWEET slingshot legdrop by Fandango! This is a good little match!
- And then it's over almost immediately with the Figure Four. Why have Fandango begin to take advantage with a big high spot just to tap seconds later? Still a pretty good match.


- Booker T tries to convince Daniel Bryan to give up his title match. I hope Booker somehow ends up as part of the New Corporation only to be blindsided with a superkick and tossed out of the group.


Dolph Ziggler v. Dean Ambrose
- Ambrose attacks from behind, but the match never starts.
- Ryback's music hits and the crowd pops as if he's coming for the save, but it turns out Ryback was the opponent all along. The crowd therefore unleashes a huge "Goldberg" chant instead, because fuck that guy for being a heel. Fair enough.


Fandango v. Ryback
- Have these two had a real one-on-one match yet?
- Total beatdown until Ziggler stops the Meathook with a dropkick. Crowd erupts and goes nuts when he gets the corner punches, but it's over in a heartbeat.
- That should have been WAY longer with far more hope spots from Ziggler.


Ironclad Not So Ironclad?
- How can an ironclad contract be broken via breach of said contract? Isn't the entire point of it being "ironclad" that it allows him to do whatever he wants without having to fear losing his job?
- I think they're just treating the fans like idiots here. At least say that it never was a true ironclad contract and that Show was duped by Big Johnny, a fact that he learned when he got his head back on straight after last summer.


- Edge is back next week on RAW! Must be in Canada. That's random. I wonder how he's going to figure in to the Daniel Bryan storyline.


- Big Show destroys catering, which is probably a stupid idea if you are poor, on thin ice with management and your ironclad contract isn't ironclad.


3MB v. The Prime Time Players
- I am a big fan of the whistleblowing corner stomp.
- SWEET rolling elbow from D-Young!
- After a too-long heat segment, Titus gets the hot tag and almost gets a pin from one of the worst big boots ever.
- Crowd's digging the PTP though. So is the push based on Young coming out or part of the "tag team revival"?
- Either way it will be short lived. If it's because he's gay and they don't want people to yell discrimination, they'll get a little run with TV time and wins. If has nothing to do with it, then they'll get a little run with TV time and wins. Both scenarios end with them right back down to where they were 6 months ago, because nobody believes there will be a tag team revival. The upcoming debut of Los Matadores confirms that.


- Bray Wyatt updates us on Kane with a spectacular pre-taped promo. He even won over my wife by using the story of Icarus in a wrestling promo, and having it make sense!


Rhodes' Career On The Line: Cody Rhodes v. Randy Orton
- Cody's doing a good job selling the desperation (TM Michael Cole) of his situation.
- Orton gets a thumb to the eye and the commentators completely ignore it. Come on guys!
- I dig Orton's second-rope version of the 3.0 backbreaker.
- Why is the crowd chanting for Randy Savage?
- They did bite on both the springboard dropkick and Disaster Kick, though. And now the HUGE "Cody Rhodes" chant! There we go!
- Rhodes whiffs on the moonsault press but hits the CrossRhodes to block the RKO! Crowd bought the finish and so did I! Wow!
- On no! He hurt his knee missing the Disaster Kick! RKO! It's over! No!
- Good match with an amazing sequence of near falls down the stretch made even better by the incredible crowd investment.
- Cody gets fired after the match with a very understated promo from Triple H. Man, this facetious "it's not personal, because I really like you, but it's best for business" gimmick is really great. They lay it on so thick that they are so much the anti-Vince that it makes them almost more evil than the openly evil Vince McMahon himself.
- Not surprisingly, Cody receives the reaction after his match that Triple H was hoping for but didn't get after losing to Brock at SummerSlam 2012.


CM Punk Promises To Murder Paul Heyman
- Not much to say. Punk had the crowd in the palm of his hands and sold the shit out of the PPV. Loved it.


#1 Contendership, Divas Title: Naomi v. Natalya v. Brie Bella
- Match was actually fairly competent before AJ interered.
- The Total Divas beat her up and I'm not quite sure who I'm supposed to like in this situation.
- Stephanie McMahon later made the match a fatal four way, which was to be expected. I assume the Total Divas will end up fighting each other and allow AJ to hold on to the belt because they're too dumb to take her out of the equation first.


Damien Sandow v. RVD
- Sandow counters a huracanrana with a nice powerbomb.
- Odds on Mr. MITB losing squeaky clean?
- Del Rio comes out to the stage for the distraction, though.
- RVD is super duper over. They really should give him the title next Sunday.
- Pretty good back and forth match here, and I really thought Sandow might have it with the rollup off the split-legged moonsault.
- RVD wins with the 5-star right away, though.
- Seriously, give him the belt and have him hold it for a while defending it in every match and winning quick matches filled with nothing but high spots. Carefree and just always celebrating until he gets a really serious challenger after a few months of what are little more than matches that look like workouts for Van Dam.


- Cody Rhodes cuts a great promo upon exiting the arena, eliciting the past with the McMahons disrespecting the Rhodes family for years and years. This could lead to something BIG for Cody, and I am really excited to find out where they go with it.


Daniel Bryan v. The Big Show
- Big Show doesn't want to fight, but Bryan forces him to. This match could turn out being REALLY good.
- NICE spear from Big Show off the dive from Bryan!
- Triple H's music hits almost before Show tries to leave the ring. It's like he booked the show or something!
- He demands Show to finish the match, but the Shield beat down Bryan. Show tries to help, but Triple H calls him by his real first name and makes him watch the triple powerbomb! Their "not so ironclad" ironclad contract explanation still sucks, by the way.
- Show refuses to punch Bryan and walks away to a big pop, but Stephanie brings him back to the ring. I've been smelling heel turn all night... let's see.
- There's the punch, but Show is reduced to tears by it.


Overall RAW Thoughts: The show was good. It wasn't last week by any stretch of the imagination but there was some pretty good wrestling and the two main angles were done well again. I really am a huge fan of the characters Trips and Steph are playing right now. It just feels like there is no hope left in the world with them in charge, and that's an amazing emotion card to play. I got nervous that Punk was going to be dragged into the angle when Triple H had a run-in with Heyman backstage, but it looks like that was a simple quick one-off. Maddox will be the only authority figure that will have any sort of involvement with the Punk/Heyman storyline. While the show wasn't amazing, I was thoroughly entertained throughout most of it and the most important thing continues. I'm already anxiously anticipating next week's show because I want to see what happens next.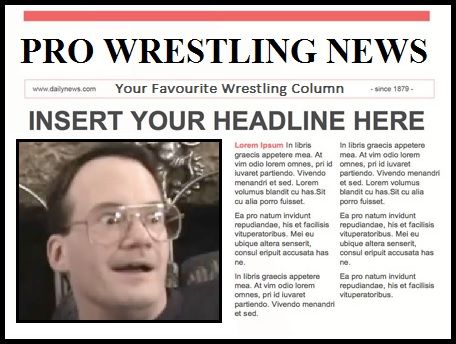 - According to Konnan, WWE tried to buy AAA (51% of the company) in 2007. Konnan and the boss' son declined the offer, because fuck if they were going to trust Vince not to just run the place into the ground and just create a WWE-lite in Mexico that would crumble because he had no idea what he was doing.

- Mark Henry hurt his hamstring. It's not yet known how bad it will be. It is known how odd the lack of transition was between his fake retirement megaheel moment to his smiling happy big fat face turn. That was worse than a random Big Show turn.

- R-Truth is featured on the poster for Hell in a Cell. Shit, speak about random.

- William Regal was at this year's PWG BOLA event over the weekend scouting talent for WWE develomental. How awesome would it be to go to a PWG show (or even moreso, be wrestling on a PWG show) and see William Regal in the crowd? I hope he doesn't suggest the Young Bucks! Vince Russo thinks they suck!

- Detroit isn't getting WrestleMania 32 in 2016. Orlando and Dallas are the current frontrunners. I have a feeling they'll end up in Dallas, which stinks because I'd like to finally get to a WrestleMania and Orlando ain't far.

- In shocking news, Hulk Hogan said something stupid and the control he and Bischoff have over TNA have turned out to do absolutely nothing good for the company. I hope somebody gets in Dixie's ear and tells her that Hogan is taking advantage of her and has been for years. I so badly want TNA to succeed, but Dixie has no idea what she's doing, so she's letting two guys who have a history of having no idea what they're doing (for anybody other than themselves) run her company. Of course her daddy doesn't have the kind of money Uncle Ted was supplying to Bischoff, so the stupid decisions they are making, which are more than likely based on antiquated views on the world of professional wrestling instead of actual market research and competent discussion and discourse about the positives and negatives of their decisions.

- Seems that Kassius Ohno's reluctance/refusal to improve his body image has cost him a spot on NXT's TV show. He's been removed from the opening video and is relegated to house shows only. While it does suck, the dude is incredibly doughy and even at 6'4'' looks very unimposing. A little bit of toning won't kill the guy.

- Amazing Kong lost some weight but has a very awkward and weird new look.

- Stacy Keibler is dating some new rich guy and apparently it's already "pretty serious"! What scandal and intrigue! I hope she comes back to WWE just to take another RKO from Orton. She took the bump perfectly.




Hoodslam
The Brian Kendrick v. Dark Sheik || Hoodslam Fanarchy Rules 2012 - September 7, 2012
From TJ Hawke:
"If you've never seen Dark Sheik before, he's pretty fun to watch. This was a fun match. There was a good environment, and both guys worked hard to tell a logical match. Easy thumbs up."
For more, please visit FreeProWrestling.com

El Generico is a BIG BOY, Chris Hero!
- Nicholas A. Marsico


comments powered by