SPOTLIGHTS
411 Fact or Fiction 09.05.13: Bryan, Big Show, AJs, More
Posted by Steve Cook on 09.05.2013

Does it hurt Daniel Bryan's main event push to be laid out every week? Is Big Show being made to look weak as a stooge for the McMahons? Will Cody Rhodes become a big star? 411's Matt O'Connell & Tim Livingston debate these topics and more!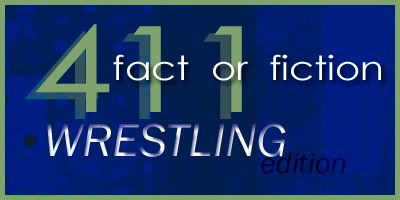 Hi, hello & welcome to 411 Fact or Fiction! I'm Seve Cook and it's been another crazy week in the world of professional wrestling! I've invited two of 411's finest to discuss these topics, so let's get right to it.

Introducing first, the author of 411 Wrestling Buy of Sell, Matt O'Connell!

His opponent is former 411 writer extraordinaire & current radio star, Tim Livingston!


Questions were sent out Monday.


Participants were told to expect wrestling-related questions.

1. Daniel Bryan getting laid out every week doesn't help his cause as top babyface.




Matt O'Connell: FICTION. It's not so much the laying out itself that's deleterious to Bryan's credibility. It wouldn't be so bad if he were fairly beating his opponents and then getting trounced post-match, even ending the show under Randy Orton's heel. But DQ wins do not a credible babyface challenger make, and every time that Big Show (a guy who lost clean to top babyfaces approximately 429 times last year) refuses to fight Bryan FOR BRYAN'S OWN SAFETY a little more of the fans' goodwill gets chipped away. Steve Austin, John Cena, Hulk Hogan, and Bret Hart got beaten up all the time by their foes, but those foes never wept from pity.

Tim Livingston: FICTION. Right now, he's trying to overcome odds he just can't fight by himself. Over time, something will break against HHH and Stephanie's Power Trip and Bryan (along with guys like Big Show and Cody) will have something to vault off towards fighting back. It's going to be a big deal when it happens and Daniel being front and center is going to make him an even bigger babyface than before.

Score: 1 for 1

2. Big Show looks weak for siding with the McMahons against Daniel Bryan.




Matt O'Connell: FICTION. I'm saying fiction if only because it can't realistically last much longer. Big Show has been blubbering all over my television for weeks now, and the "Quarter-Ton Crybaby" doesn't seem like a license to print money. He's going to snap and turn against Triple H well before Survivor Series, where he might turn yet again because he's the Big Show. If anything makes Big Show look weak it's his schizophrenic booking in general, which includes both his alarmingly frequent switching between heel and face and his indecision about whether he can actually win a wrestling match or not.

Tim Livingston: FICTION. In order for Big Show to come out the other side of this smelling like roses, it has to play out like this. The only thing that could go wrong is if he turns, but it would make no sense the way the storyline is right now. When the giant finally loses his cool and is able to fight back, it's going to be a big deal. He won't look weak at all.

Score: 2 for 2

3. Cody Rhodes will become a big star when he returns to WWE.



Matt O'Connell: FACT. All WWE needs to do is constantly remind fans that they want to see Cody Rhodes; have Randy Orton or Triple H constantly gloat about Cody's loss of livelihood, and the reaction for his return will be huge. Is it too early to call Cody Rhodes as a surprise return to round out Daniel Bryan's Survivor Series team?This is the moment that his babyface run has so far lacked, and Cody can pull it off, especially if he defeats Orton or HHH in decisive fashion. If he can finally turn that moment into a feud of equals with Randy Orton, all the better.

Tim Livingston: FACT. Cody hasn't really been allowed to talk yet and having him pin his former partner is a great way for him to get across that he's not just a stepping stone to someone else's success. Plus, even though he lost, he did stand toe-to-toe with the champion. Now, when he comes back, he's gonna have even more to stand behind and it'll make him a bigger star in the eyes of the fans.

Score: 3 for 3

4. Eddie Edwards & Davey Richards will get signed by WWE.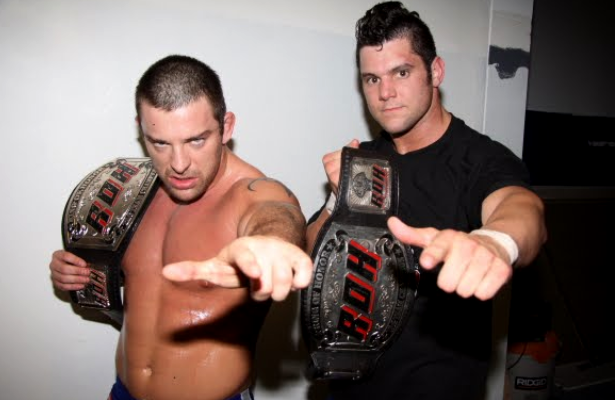 Matt O'Connell: FACT. Ever since CM Punk and Daniel Bryan turned out to be phenomenal successes, WWE seems committed to picking up all of the high-profile stars that they can. If and when Triple H's tag team revival picks up again, the American Wolves would be an excellent choice to round out the division. The only factor working against them is size, but if Bryan got signed why not them? They're all former ROH champs of roughly the same size, and as far as WWE can tell that means they're identical. I will cover my ass by pointing out that I'm saying they'll get signed, not necessarily that they'll be used properly or even get called up from developmental, however.

Tim Livingston: FACT. I'm leaning this way because at this point, they wouldn't be able to do anything with them quite yet, but will keep them in developmental before making them NXT material. I think they have to come in as a tag team, but the question will be if they will be able to tone down the style for WWE a bit. There's also some personality questions here. I think WWE will sign them with the hopes that they can create a better personality here, and there looks to be a tag team resurgence of sorts.

Score: 4 for 4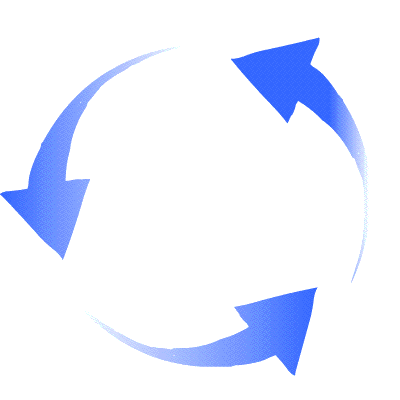 SWITCH!



5. AJ Lee's "shoot promo" was better than AJ Styles' "shoot promo".





Tim Livingston: FACT. Is this even a question? AJ bringing up the banality of "Total Divas" and actually making sense is way better than AJ Styles doing random TNA shoot promo #565.

Matt O'Connell: FACT. Probably because it was shorter. If Styles' promo time had been cut in half, he probably could have eliminated a lot of useless exposition and awkward pauses, and then his would have been better because the Bellas were not standing too close to a live mic and mooing at him to bring it on. As it was, Lee started her promo as a heel and was getting a face reaction by the end, while Styles actually lost a bit of fan support by the time he wrapped things up. Also: anyone else feel a bit bad for Natalya during all this?

Score: 5 for 5

6. Aces & Eights is one of the weakest supergroups in wrestling history.




Tim Livingston: FACT. With it starting to become award season on the Interwebs, Aces & Eights is looking like a shoe-in for worst act/stable/use of "talent" in a landslide. In history, they definitely have their hat in the ring. I don't even understand how they're all still together. It baffles me.

Matt O'Connell: FACT. I was ready to dispute the very desgination "supergroup" until I realized that Bully Ray, Mr. Anderson and Taz are all former world champions. That said, man, do these guys ever suck. TNA's top babyfaces have been spending more than a year trying to beat a group whose muscle consists of Wes Brisco, Garrett Bischoff and the former Mike Knox. Sting's partnership with RoboCop is more believable than the idea that it's taken him this long to defeat these slobs. It's like the nWo b-team all over again, with the same amount of in-fighting drama and a slightly higher count of leather vests.

Score: 6 for 6

7. Eric Bischoff should be given complete control of TNA.




Tim Livingston: FICTION. From a business standpoint, I think Eric has lost what magic he did have. The end of WCW should have killed off any idea that Eric could lead anything anymore, and while he's good on-screen as an authority figure, I don't see him doing anything that would be considered worthwhile behind the scenes.

Matt O'Connell: FICTION. Unless you mean in a euthanistic capacity. I mean, if we look at Eric Bischoff's creative life, he has had exactly four ideas: book cruiserweights; feature Hulk Hogan prominently; create an all-powerful heel stable; compete in primetime with WWE (keep in mind that this first of these can easily be jettisoned in favor of the latter three). TNA has tried all of the above in the past few years to approximately zero success, and Bischoff's response to these ideas not working is normally to change the shirts the heel stable is wearing. I'm going to have to say that Eric, denied access to the accounts of a billionaire personally invested in defeating Vince McMahon, is not the man for the job.

Score: 7 for 7

8. Kyle O'Reilly was the right choice to win PWG's Battle of Los Angeles.




Tim Livingston: FACT. The indies are hurting for one of those guys who can light up the scene across the country and even though he's not personally my favorite guy, O'Reilly at least has recognition throughout the indies as someone who could be a "top guy." Plus, the angle after his victory will make him an even bigger name and could put him on the map for WWE developmental down the line. If Edwards and Richards could get signed, O'Reilly can't be too far behind them.

Matt O'Connell: FACT. O'Reilly is a great worker and this is as good a way as any to transition him into world title convention against his former partner, Adam Cole. It's how Cole found himself number one contender to Kevin Steen's PWG title at last year's BOLA, one year to the day before joining with Steen and the Young Bucks. If nothing else, O'Reilly was the poetic choice.

Final Score: 8 for 8

Tim & Matt run the table! Do you agree with all of their takes? Let us know down in the comment section! Thanks for reading, and we'll be back next week with more Fact or Fiction!


Remember to go to TigerFlashGames.com and play addictive, free flash games when you're bored at work, school, or whenever!


comments powered by