SPOTLIGHTS
Smart Marks 09.07.13: Building Up the Competition
Posted by Dino Zucconi on 09.07.2013

Is Jay Bradley becoming a "force" in TNA really so laughable? Why ODB/Mickie James is a good feud, and Breaking down the Bound For Glory Series.

And we're off with another edition of Smart Marks, the place where we sit back and discuss things in our beloved world of wrestling. Usually focusing on WWE and TNA, I've got the historical chops to discuss some older wrestling, some older indies, and I do my best to at least be somewhat up to date on the goings on in lucha, Ring of Honor, and some Puro, too. But yeah, mostly the American feds.

Good outing last week, with a lot of good talk on the weak supergroups. Some were with me that Aces and Eights is just sad in that sense, while others named groups like The Corre, New Nexus, and many more. There are PLENTY of weak ass supergroups in wrestling history, on that I think we can all agree. Who you happen to think was the worst is up to you. I go with the one that prominently features Garett Bischoff.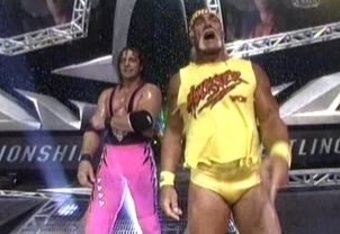 A New Hope



So last week, while ragging on Aces and Eights for being one of the weakest supergroups I can recall, I made mention of Jay Bradley and said something to the effect of him possibly being a force in TNA. This led reader markysmarky to ask me if I was high.

First things first- I clearly think a lot of Jay Bradley at this point in time, and I'm not afraid to admit it. I'm not afraid to admit that my ideas for him probably don't mesh well with the ideas of other fans, and that I could see them thinking I'm a little crazy for championing this guy. Especially when a Hernandez or a Knux is around, who could probably accomplish the same things as I'd have Bradley accomplish.

That said, this idea that I must need drugs to see Jay Bradley becoming a force in TNA is silly to me. This is the same company that JUST had Chris Sabin as their World Champion, right? The one where AJ Styles and Christopher Daniels are top stars capable of beating anyone? Where Austin Aries beat Bully Ray clean in the middle of the ring before defeating Bobby Roode for a title?

Basically, if any of those juggernauts are capable of being a force in TNA, then why can't someone like Jay Bradley? Again, keep it in perspective here- I wasn't asking that he suddenly go on a months-long undefeated streak that culminates in winning the TNA World Title, which he then holds for another 15 months. My point was more that instead of having him lose all the time, perhaps having someone with his build used as intimidating muscle in Aces and Eights, or even picking up a win here or there since he's not 5'7, 145 pounds wouldn't be the worst thing in the world.

I know- this is where I tread that line between mark and smart mark. AJ Styles has skills that Jay Bradley doesn't. Daniels and Aries have offensive moves that Bradley couldn't even dream of. That's fine, and really, that's why those guys who would normally be considered "too small" to be a top guy actually get the chance. In TNA, the smaller guys absolutely get the chance to shine, almost as if TNA just likes to show off the fact that if you're tiny, well don't worry, we'll get you a belt soon enough! It sometimes feels a bit silly, especially when they constantly let big guys come through and get treated like weak garbage the entire time. Still, props where due to TNA, at least they let their skilled guys seem important.

However, this goes back to the Vision Test that I referenced in defending what I felt Brock Lesnar beating CM Punk was the correct choice at SummerSlam. Yes, this is a scripted show with predetermined outcomes. Yes, I like watching underdogs win. Yes, I appreciate the athleticism of the smaller wrestlers. No, I am not willing to suspend my disbelief so completely that I can see a guy like Jay Bradley in the ring with a Jeff Hardy and think "Oh yeah, this Bradley kid has no chance against Jeff Hardy. No chance!" It's not Jeff Hardy CAN'T beat Jay Bradley (much like it was never about CM Punk NEVER being able to beat Brock Lesnar)- it's that when you look at the two, your mind (before you developed a wrestling fan brain that likes other things like workrate, mic skills, etc) pretty much goes "Hmm, that skinny painted freak might be in trouble here against this big dude." And, most likely, he will. When I give Jay Bradley the Vision Test in TNA, he looks like a guy that should be much more of a force than he currently is. And again, to be real here- he's not 6'10" 330 pounds. I know this. I don't expect him to destroy everyone. But, in TNA, where much smaller guys are treated as untouchable elites, I don't think expecting an ECW Big Brawler to be able to do more than just show up to get pinned is the worst idea ever.

At the very least, it was nice to see him on Impact last night actually do just that, as he attempted to form a little team with Hernandez. Hey- a character! And was that him NOT being eliminated first in the Bound For Glory Gauntlet? Baby steps, Bradley… baby steps.

I'll keep tuning in, and keep on hoping to see Bradley's development continue. What do you guys think? Just hate Bradley? What do you think of the Vision Test? What about how TNA keeps the smaller guys at an almost even level as the bigger guys? Let me know, down there. Down where? In the comments section!





Technical Knockouts



The recent feud with ODB and Mickie James has been a surprisingly bright spot in TNA programming for me. I've never been a diehard women's wrestling fan, but I've always enjoyed a good match with two women as the participants when it's provided. I still recall with a smile the Bull Nakano / Alundra Blayze matches, or when Aja Kong showed up and spinning backfisted all the women on Raw into oblivion. More recently, Gail Kim and Awesome Kong had a good little feud, with Kong remaining a wrestler to keep your eyes on- male or female- until leaving WWE.

ODB is the one TNA Knockout I've made sure to pay attention to since she first showed up. While the name of the exact show slips me, I remember seeing TNA's newly hired crop of women wrestlers all forced into an awkward backstage segment where they'd each say their name and something catty to each other. Not Yet Velvet Sky and Not Yet Angelina Love were there, Shelly Martinez, Roxxi… and then this big old broad walks in, talking all sorts of junk, slapping her ass, and basically owning the entire moment. In that instant, a new ODB fan was born, and we've never looked back.

While ODB is a three time Knockout's Champion, the fact is, she was never really that impressive as champ. Cody Deaner won her first title for her in a mixed tag match. Then she beat Cody Deaner for the belt later. Those two reigns lasted a total of about 3 months and a couple weeks. She later beat Tara for another 2 week title reign. The point is, ODB, despite being one of the consistently most over (in the sense that she actually elicits real responses from fans) Knockouts on the roster, has never been treated that seriously. Yeah, she's big and strong, but she's also usually pretty dumb and easy to trick.

ODB has usually played the role of the second to last face for the heel champion to deal with. She'll give that champ a rough outing, and may even come close to winning the title, but usually she'll fall short, and then enter into a different feud while some other Knockout ends up winning the belt instead. So far in this feud, however, ODB has been nothing but focused, and has looked like a very dangerous challenger to Mickie James' championship.

Let's not forget Mickie in this, either. Another Knockout who floundered around in TNA for the last couple years, she's really rediscovered her footing again playing the out and out bitch. Of course, the fact that she's a long time veteran with championship reigns wherever she's gone probably helps us believe that she may have indeed gotten a bit too big for her britches. And while her skills make it absolutely believable that she could dominate a Velvet, or even get past a Gail… her just running roughshod over ODB isn't gonna be happening.

For the first time in a long time, we have a Knockouts feud between two of the very top women in TNA, built on a desire to prove that one is better than the other, and, most importantly, deserving of being called Champion. Sure, there's some juvenile barbs thrown at each other (and most likely written by a man), but for the most part, this has been a very nice, straight up feud of anger, hatred, and wanting to beat the other for bragging rights, and the gold. This is something I can get behind, and something I'll absolutely commend TNA on.

Thank you.

Thoughts on this feud? Knockouts in general? What if we could put on our Dreamcaps and do AJ Lee vs Mickie James? Would that be awesome? Okay, we'll cut the fantasy booking at that. Let me know down in the comments!





Final Four



So as the cameras faded to black last night, and Impact came to a close, we were left with our Final Four in the Bound For Glory Series 2013 Standings. AJ Styles was unsurprisingly there. Magnus was somewhat surprisingly there (at least, at the start. He's crushed it this whole time). Austin Aries was not quite as surprisingly there. And Bobby Roode, the proper scumbag that he is, managed to sneak in there as well. All in all, a good final group, and one that I feel does an excellent job of showing what TNA is all about. Bobby Roode and Magnus are the "big" guys at 6'0 and 6'3 respectively, and both at 240 pounds. AJ Styles and Austin Aries are the smaller athletic guys who can do amazing things in the ring. All of them are more than capable of delivering a good-great match nearly every time they enter the ring.

Before I break down where I see this heading, let's first have a celebration that the Final Four has NO JEFF HARDY! I'm sorry, I don't like Jeff Hardy very much. Respect him for doing what he does, love that he lvoes his fan, but I don't root for him, and I don't like how TNA treats *him* like he's 6'8, 325 against everyone else on the roster. Was really worried that Magnus was basically holding Hardy's spot for him, and I'm very happy to be wrong. Now, what does Hardy do for Bound For Glory? That could actually be fun to see as well. I'd put money on him going after either Kaz or Daniels, but who knows, really? What do you guys think Jeff Hardy does now that he's out of the Bound For Glory Series?

Now, as for the participants themselves… I know the smart money has been on AJ Styles since, oh, he lost to Christopher Daniels last year. I know it is. But… wasn't the smart money on Bobby Roode beating Kurt Angle? Or even on James Storm getting back to the top of the mountain last year? Neither of those happened, either.

It's starting to feel like the Bound For Glory Series is where TNA shines a big shiny light in our faces, and we all go "oh yeah, I can see the light!" And as we all stare at the light, waiting for it to come closer, we get hit from the blindside with their plans all along. "Angle's beating Roode so he can drop it to Storm on Impact!" "Storm's not even making it to the Finals- it's gonna be Jeff Hardy and Bully Ray!" This year, I feel like AJ Styles' story is too easy. Maybe too sensical, even. However, there's something about his story that makes it seem like we'll end up with Magnus winning this all- AJ's banned from competing for the TNA title "until Bound For Glory 2013" per his loss at Turning Point last year. He's not banned forever, just until the PPV. So, as far as I can tell, him winning the Bound For Glory Series is not the only way to ever earn another title shot. The night after BFG, he can basically call out the World Champion, and point to the incredible run he's been on these last few months as the reason he deserves a title shot.

I'm not saying AJ Styles winning the BFG Series and celebrating with the belt as Bound For Glory ends is impossible. I'm not even pretending that it's not the most likely ending. I just… I'm not buying it. I don't think Bobby Roode (or his buddies Daniels and Kaz) are done meddling around. There's still the manner of getting past Aries, as well.

The way I see it, we have a World Champion who runs Aces and Eights. We have a group that was built specifically to take that group out. To take the title off Bully Ray. That would be the Main Event Mafia. The Mafia has one guy in the Final Four- Magnus. Magnus, while being at or near the top of the standings the entire time, has somewhat floated by silently the whole time. Are we missing it? Is AJ the red herring to Magnus' big moment? Will Magnus be the one to topple Bully Ray? And will he immediately lose the title to someone like AJ in the same way James Storm did?

I'll stick with my Magnus pick for now, and will gladly take the verbal beating all the "Duh it's gonna be AJ Styles" peeps want to give me. Just, you know, make sure to share your thoughts in the comments!
That will do it for this week. As always, thanks for taking the time to give me a click, a read, and/or a comment. Enjoy your weekend, and as always, enjoy your WWE, TNA, Lucha, Puro, and indies.







It's All Wrestling. It's All Stupid. We All Love It



comments powered by