SPOTLIGHTS
The 411 Wrestling Top 5 10.02.13: Week 236 – Top 5 Babyface Workers
Posted by Larry Csonka on 10.02.2013

From Hulk Hogan, Ricky Steamboat and The Junkyard Dog to Rey Mysterio, John Cena, Shawn Michaels and more, the 411 staff counts down their top 5 babyface workers!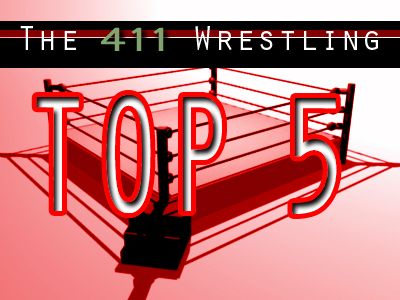 Hello everyone and welcome to 411 Wrestling's Top 5 List. We take a topic each week and all the writers here on 411 wrestling will have the ability to give us their Top 5 on said topic, plus up to three honorable mentions.

So, onto this week's topic…



THE TOP 5 BABY FACE WORKERS




Who do you feel are the best workers when they are a babyface?




MICHAEL WEYER
5. Bruno Sammartino As the man who helped create WWF as we know it, Bruno's fame can never be discounted. For seven years, he ruled the Northeast as WWF champion and the backbone to that fame was how he got the working class crowds behind him. They responded to this Italian immigrant who would fight hard but clean, making sure to tangle with every heel out there but coming out on top. It's thanks to Bruno that Madison Square Garden became a major power arena and constant sellouts roared for him. His second reign got folks back in after a slump in business and his feud with Larry Zybsko proved how much fans backed him. His recent settling of scores with Vince was nice as it's long past time a new generation was reminded just why Bruno truly remains wrestling's Living Legend.

4. The Junkyard Dog Greg Klein's book, The King of New Orleans is a brilliant look at how Sylvester Ritter transformed himself into a hero for the people of New Orleans. He may have been a bad worker but covered that with his great promos and his dancing in the ring with young fans won him more acclaim. The Dog had a way to win you over with his rough style and fighting against all odds, especially when "blinded" by the Freebirds. The booking helped but JYD was the key to get white and black fans alike cheering together when he hit the ring and helped elevate Mid-South to huge success. Throw in his run in WWF where he fit well with its cartoon atmosphere and you had a man whose in-ring accolades were far outshined by how beloved he was by all his fans.

3. Sting One of the best comments ever on Sting came from Magnum T.A. on a DVD of '90's stars: When he broke out, this guy was bursting with so much charisma and talent that promoters didn't know what to do with him. Watch him as he exploded onto the scene in 1988, his energy was infectious with his howling and firing up crowds. Kids loved to paint their faces and spike their hair like their hero and he became the standout star WCW needed, his loyalty to the company so high he refused big paydays to go to WWF. Even his transformation to the "Crow" look kept it up with his skill at winning over fans and today he can still get them howling for him, a trick very few have mastered but the Stinger still manages so very well.

2. Hulk Hogan Fans today simply don't understand the shock wave of Hogan turning heel in 1996. It was huge because for the previous decade, Hogan was the patron saint of fan favorites. Make no mistake, in his prime of the mid-to-late 1980's, no one could get a crowd exploding like Hogan did. In promos, he was wild but fun as he talked of doing so much for the people and you believed he meant it. You could overlook his poor ring work as he'd use his strength on heels, taking their offense so fans would cheer and chant him on and thus when he "Hulked up," it was astounding to watch the crowd roar for him and he seemed to truly draw in their cheers. Even today, Hogan can get fans roaring like few others and cements his place as a true icon of the entire business.

1. Ricky Steamboat Yes, I'm one of the biggest Dragon marks on the planet. But Steamboat tops this list as he's one of the very few big stars who never worked as a heel. True, by his own admission, he might not have been that good at it but still pretty impressive. Steamboat could win you over with his amazing beatings by heels, making you feel every blow and thus cheer him on as he fought back. His amazing ring skills made him fantastic to watch but Steamboat's never-say-die attitude was also key to it all as you always wanted to cheer for him and he built off that to provide a true babyface in every way that makes him so popular with so many still.


---



JUSTIN WATRY
5. Eddie Guerrero This is mainly for his work in 2004 and 2005. WWE needed a star like Eddie Guerrero to step up and deliver for the Blue Brand at the time. No surprise, he came through like a million bucks. Just for this topic, I would point to No Way Out 2004 facing off against the bigger and stronger Brock Lesnar. In the fight of his life, Eddie sold it like a true pro and winning the WWE Title was the icing on the cake. Whenever you want to see a match come off as a 'real contest' loon no further than Brock/Eddie. Also, there were other main events with Eddie (Judgment Day 2004) that jump out. In any event, he was a great baby face for fans to rally around during matches.

4. John Cena The heel dominates the match. When all hope looks to be lost, the baby face hits his trademark moves and wins the match. Some call that "Super Cena." I call it Pro Wrestling 101. That has been the formula for decades now and will forever be the route to go. If you think it is just Cena, you are either very young or have never watched WWE before. That exact finishing sequence has been done since Vince McMahon took over. For some reason though, Cena gets the usual 'hate' from folks. In my mind, it is handled perfectly. His title matches from 2005-2007 were some of the best match 'endings' ever done. Every time you see him losing, he pulls out the inevitable victory. Fans go wild, his music plays, and the pay-per-view ends. Classic story telling! No wonder Cena is still the top star years later.

3. Rey Mysterio Seems kind of obvious, huh? The biggest little man? He almost has to be mentioned. Easy examples are from 2006. Can you believe this guy won the Royal Rumble in 2006? Just unreal. With the fans cheering for him the whole way, it was the definition of a baby face wrestler. In no coincidence, he went up against Triple H and Randy Orton towards the end. How could you not root for Rey in that spot? Even if you hated him and never enjoyed his character, that was great. Ultimately, Mysterio has spent his entire WWE run as a face (good move). Therefore, by definition, he gets a spot on my list.

2. Hulk Hogan I went back and forth on the final two names. Back and forth. In the end, Hulk Hogan gets the second spot even though he probably should be at number one. As I noted with John Cena, the entire 'script' of a match has been the same for decades. Mean guy taunts. Mean guy works over the face. Fans cheer for the good guy. Bad guy hits his finisher. Good guy kicks out, comes back and win. There! That is the story of nearly every main event for the past 30 years. Nobody did it better than Hogan during the 80's and 90's. Just the connection he had with the audience was enough for him to 'hulk up' and get a sold out building on his side. Just amazing to watch.

1. Shawn Michaels I went with HBK as the number one. Yes, he is, in my opinion, the greatest Superstar of all-time. Thus, do not consider this to be very fair. I admit bias 100 percent. My best example for Shawn Michaels was at the Survivor Series 2003. Against all odds, he just kept on fighting. Three on one. Who cares? Two on one. Big deal! One on one? Bring it on! HBK, with blood all over his face, kept on fighting back. Even though he lost in the end, his entire persona of a baby face wrestler was safe and secure. He did this same bit for years, all the way up to his final match against The Undertaker. Just scratching and clawing to get up...as The Dead man yelled for him to stay down. He just would not accept losing no matter what. You have to love watching that.


---



MATT O'CONNELL
5. Mick Foley Mick Foley has that special kind of babyface charm that makes heel turns after a certain point impossible. Mick spent much of his early career as a monster heel, menacing more traditionally athletic men with his signature psychotic violence. He rode that horse to relative success in WCW, ECW, and the WWF. But as soon as it became apparent what a genuinely sweet guy Mick Foley was under all of that blood and guts, it became really challenging to boo the guy. He was so nice, so dedicated, and so funny that Edge's muppet comparison is not unfounded. WWE tried to turn him heel in 2006, but it just didn't work. TNA also tried it to no real effect. It's just a no-go after all these years of best-selling children's books, charity donations, Daily Show appearances and chicken suit skits.

4. Dusty Rhodes Nobody, and I mean nobody, cuts a better fiery babyface promo than the American Dream, daddy. In his brilliant "Hard Times" interview, Dusty, while keeping a straight face, explained to a massive television audience that Ric Flair injuring his leg was exactly as tragic as millions of Americans being out of work and hungry, even implying at one point that this economic downturn was Flair's fault -- he had, after all, injured the American Dream -- AND THEY BOUGHT IT. His promo ability elevated him from one half of an albeit-great heel tag team with Dick Murdoch to the hottest babyface on the planet any time he opened his mouth. And he stayed a babyface for the rest of his career, with the brief exception of a SmackDown angle that saw him double-cross Rey Mysterio for the sake of his son, and even then he just sort of edged himself out of frame so as not to accidentally inspire all Americans to reach out and touch him through their television screens.

3. Sting To me, Sting ranks pretty high on the list of all-time great babyface workers because he's changed his babyface work so much over the years and never lost fan support. He's been a top babyface worker as a surfer, a Brandon Lee character, a jolly, hip-hop flavored Brandon Lee character, a distinguished veteran, and a Heath Ledger character. Over all that time, he's never seemed really heelish; Hulk Hogan, even as a babyface, cried and whined when lost, and he wasn't afraid to rake eyes or use foreign objects when the opportunities arose. Sting was always as pure as driven snow, and when he did turn heel (probably a total of maybe eight months of a 30 year career), the fans just seemed confused. Remember when he was the godfather of the Main Event Mafia and he just seemed sort of sad and uncomfortable while his charges did dastardly deeds? Well, he might have well been drawing inspiration from the audience, who reacted pretty much the same way.

2. Rey Mysterio Though I'm not a fan of Mysterio, I have to rank him pretty high since he's been a huge babyface hero for decades, and it's literally impossible for him to work as a heel. I mean, who's he going to be brutal to? Hornswoggle? The closest he ever came to working heel was in late-period WCW when he was in the Filthy Animals and beating up Ric Flair. But this was the late 90's, and Steve Austin was getting babyface pops for rectally assaulting Vince McMahon while the latter was laid up in a hospital bed, so Rey might as well have been dressed as a giant teddy bear. Oh, and there was also that storyline from SmackDown vs. Raw 2011 in which Rey gets brained in a car wreck and decides to turn evil and hang out with Jack Swagger (which remains my favorite storyline for both men, by the way).




1. Ricky Steamboat I'm certain that everyone will quote Double A along with me, but here it is (and I'll paraphrase): Ricky Steamboat could walk down to the ring and cut Hulk Hogan's arms off with a chainsaw and not get booed. It's a testament to his wrestling skill and sheer likeability; you could tell that he was just a super nice guy. And because of that likeability, entire stadiums full of people felt it when Ric Flair gouged his eyes, or Randy Savage brought the ring bell down on his larynx. But that also meant that all of those people felt the adrenaline and the exhilaration when Steamboat began his comeback, when he defied the odds and came out on top. Steamboat, in every match he was in, was somehow able to channel the last ten minutes of a Rocky film and translate that species of righteous desperation into pro wrestling gold.

---



DINO ZUCCONI
5. Jeff Hardy - He was the last guy that came to me, and when it hit me, it was so right that it hurt. I do not consider myself a Jeff Hardy fan. I proclaimed in 2003 that he'd "never" win any type of a World Championship (oops). I've always doubted him. Still, this is a given. Almost immediately upon getting a minor push in the WWF, Jeff Hardy has been an enormous fan favorite. Girls, teens, even the crusty jerk male adults cheer this guy. He flies off any ladder, staging, or van you can keep handy. He's always the underdog. He's been doing this at the highest level for nearly 15 years. Even failed heel turns and showing up out of his mind couldn't shake their love. Trust me, this hurts. But it's the right thing to do.

4. Sting - If you read me, at some point you might piece together that I love Sting. He'll make most of my "Top ___" lists, because I consider him one of the absolute true all time greats. It goes no different here. WCW's solid soldier for roughly 99% of his time there, Sting has always had a charisma that fans couldn't deny. Much like Jeff Hardy, the second he arrived on the scene, the fans took to him, and knew there wasn't anything else like him anywhere else. Again, even an ill-advised heel turn in the late 90's couldn't slow Sting down. He's never set foot in WWE. He's still talked about in reverent tones by nearly anyone that mentions his name, and he's still beloved by all of his Stingers around the world.

3. Bruno Sammartino - A bit before my time, but I don't buy the theory that unless you actually saw it, you can't really judge it. I've never walked on lava, but I'm sure I can get an idea for how hot it is. Bruno Sammartino was the WWWF Champion for 8 years and 4 years, separately. That alone should make him #1. However, keeping it in context, he was also a regional act that drew very well where he went, but he didn't go all over the place. Watching his Hall of Fame induction this past WrestleMania was another testament to the man's popularity. The hardworking champion was given a King's Welcome upon his return, and justly so. His years of dominance, his sellouts of Madison Square Garden, and the love of his fans make him an easy #3 for me.

2. Ricky "The Dragon" Steamboat - As usual, it was a tough decision for spots 2 and 1. I consider Ricky Steamboat to be the greatest babyface in wrestling history, for the simple fact that he was a face for basically the entirety of his wrestling career. Yes, he started heel. Yes, he went as an authority figure. For most of his fans, he was always the good guy. The man you didn't mess with. Ricky Steamboat had it all. Multiple championships. Great matches. Incredible ability. He really is what every babyface should hope to be. Except for one thing. He's not...

1. Hulk Hogan - ...and that means he wasn't the catalyst for a gigantic wrestling boom, he didn't have a "mania" named after him, and he's not considered one of the biggest stars wrestling has ever produced. Hogan's babyface run from 1984-1996 is enough for me to put him at #1, even though he spent time as a heel before. Add in his Hollywood run and give me his 2002 Return, however, and you have all the proof you need that Hulk Hogan is the greatest babyface worker. He marched into the WWF in 2002 and called out the Rock- and got the crowd on HIS side! Even in TNA, where they like to pretend to be an ECW Crowd, Hogan usually gets enough respect to get the crowd to pay attention. For a group dying to chant "Let's go Shark Boy! / ROB-BIE-T!" at all times, that's pretty impressive, too.


---
CSONKA's LIST FOR FUN
5. Brad Armstrong
4. Ricky Morton
3. Hulk Hogan
2. Ricky Steamboat
1. Dusty Rhodes
YOUR TURN KNOW IT ALLS

List your Top Five for this week's topic in the comment section using the following format:

5. CHOICE: Explanation
4. CHOICE: Explanation
3. CHOICE: Explanation
2. CHOICE: Explanation
1. CHOICE: Explanation
Your heart is free. Have the courage to follow it…TO CSONKA'S TWITTER!

http://www.twitter.com/411wrestling
http://www.twitter.com/411moviestv
http://www.twitter.com/411music
http://www.twitter.com/411games
http://www.twitter.com/411mma

Have you checked out the Csonka Podcasting Network? If you haven't, you should We run anywhere from 15-20 shows a month, discussing pro wrestling, the world of MMA, the NBA, general sports, popular TV series of the past, bad movies, battle rap, interviews, MMA & Wrestling conference calls and more! Around 10 different personalities take part in the various shows, which all have a different feel; so you'll likely find something you like. All of the broadcasts are free, so go ahead and give a show a try and share the link with your friends on the Twitter Machine and other social media outlets! Running since May of 2011, there are currently over 350 shows in the archive for you to listen to.



Larry Csonka is a Pisces and enjoys rolling at jiu jitsu class with Hotty McBrownbelt, cooking, long walks on the beach, Slingo and the occasional trip to Jack in the Box. He is married to a soulless ginger and has two beautiful daughters who are thankfully not soulless gingers; and is legally allowed to marry people in 35 states. He has been a wrestling fan since 1982 and has been writing for 411 since May 24th, 2004; contributing over 3,000 columns, TV reports and video reviews to the site.
comments powered by