SPOTLIGHTS
411 Fact or Fiction 09.12.13: Edge, Cesaro, Olympics, More
Posted by Steve Cook on 09.12.2013

Is Edge one of the greatest WWE Superstars of all time? Should Goldust be on TV more often? Does Big E Langston have the potential to be a top babyface? 411's Michael Uphoff and Paul LaPointe debate these topics and more!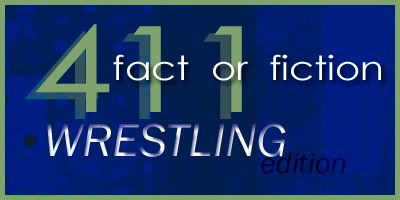 Hi, hello & welcome to 411 Fact or Fiction! I'm Steve Cook, and it's been a week of comebacks in the world of professional wrestling. Edge returned to WWE for a week to hang out. Santino Marella came back to beat Antonio Cesaro. Goldust fell short against Randy Orton in his quest to get Cody Rhodes his job back. Tyson Kidd should be back in September, even though he yelled at Dave Meltzer for reporting it. Big E Langston may be returning to the face ranks he left behind in NXT. Chris Jericho is returning to the literary world. Mr. Anderson is returning to a world without Aces & Eights, and wrestling is returning to the Olympics.

Coming back to Fact or Fiction to discuss these topics is Michael Uphoff, and making his debut is future MMA columnist Paul LaPointe!


Questions were sent out Monday.


Participants were told to expect wrestling-related questions.

1. Edge is one of the greatest WWE superstars of all time.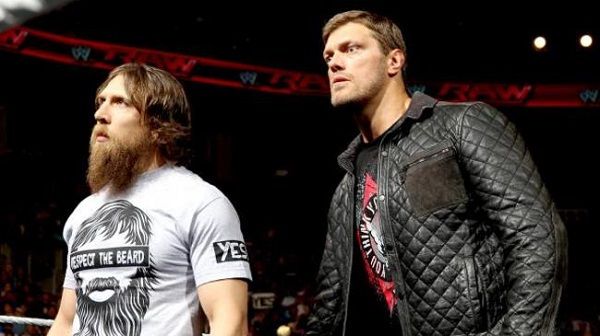 Michael Uphoff: FACT. One of the greatest of all time? Absolutely. Whatever your personal feelings are towards the man, you cannot deny the impact that he has had on the business since he broke into the WWE in 1999. From his tag matches with Christian against the Hardys, to his TLC wars with Christian against the Hardys and the Dudleys and his days as a part of the SmackDown Six, to his singles career where it seemed like he wouldn't become a main eventer, to when he cashed on Cena and would go on to become an 11-time world champion, not to mention being the superstar with the most tag title reigns in WWE history. Edge certainly deserves to be mentioned as one of the greatest WWE superstars of all time. His accomplishments and what he has done for the business cannot be ignored.

Paul LaPointe: FACT.Edge for all intents and purposes as a HOF thru and thru. Heck he is an 11 time champion, now in todays day and age that is not as big as say the Era of Flair but it is impressive nonetheless. His yearbook even declared that he and his mullet were destined to become WWE champion one day and so the cookie crumbled as such...just like his neck (ouch...too soon?). Anyhow, though his career maybe surmised as a slight failure to some because it was cut short you still cannot argue the stats. He won 11 World titles, revitalized tag team wrestling with The Dudleyz and Hardy Boyz with his "Brother" Christian, supplanted himself with mid card belts here and there, Won both the RR and the KOTR and banged Lita on live TV. Also let us not forget the Awesome Mick Foley put me over match that select few get at Wrestlemania and he is the proud owner of being Numero Uno for the biggest craze in town now...that being the original Mr. Money in the Bank. The Rated R Superstar was the most watched WWE champion before Miz coined that term even if he broke the record, Edge set the standard. Now if you were unaware of all of these accomplishments then on paper he is one of the greatest...Superstars of all time. The question said Superstars, not wrestlers, so with matter of opinion being what it is and forever will be, Edge may not be the best wrestler by any stretch but he was by all accounts and purposes a tremendous superstar. Wrestlers, do not need justification and though Edge does have things that could sway people one way or another, when it comes to wrestlers people just like them for what they can do in the ring and what they do for the fan. I like Edge but he is not in my top 5, but I hella respect the guy.

Score: 1 for 1

2. Antonio Cesaro was the wrong person to have lose to Santino Marella in Santino's comeback match.





Michael Uphoff: FACT. Of course he was the wrong person to lose! I don't care if it was Santino's comeback match, you don't have a guy who has a PPV match coming up lose. Anyone who knows anything about booking knows that you book the guy who has the PPV match to win, and you book him to win convincingly. Why? Because if he can't win a match on RAW, who the hell is going to buy him winning on PPV? It's simple logic, people.

Paul LaPointe: FICTION. Stop the presses I got off the Fact train. Cesaro losing could upset some but its not the most blasphemous thing that could be done to the man. Sure he is well above Santino in every facet in the ring but for his placement, currently, on the card its not really that bad. I mean a few weeks ago on Smackdown he lost to Darren Young, clean in just under two and half minutes. Plus ever since losing the U.S title he has been treading water because of the Swagger stole my gimmick fiasco. Now though it has been rectified and he and Swagger are now basically one and same I am happy to see some sort of direction for him as a chance to make a run for the tag titles is at least something to strive for at this juncture. He is a heel and all the midcard talent champions are heels so the tag ranks is the only real place at the moment to make a splash. Plus if he keeps making others look good, the brass look at him as good and they will find something for him if and when things can play out later on. On the flip side Santino and Antonio have history with Marella getting jankied up by him last year over and over again for the U.S title so Santino could use the rub. And the Cobra was not the culprit in putting Cesaro down for the count, as a man that imposing and strong feigning hurt over that would have made it terrible but this was not the case. And finally, who else was going to be able to pull off that freaking Big Swing for 45 seconds in that match. That alone made the match worth it.

Score: 1 for 2

3. You'd like to see Goldust on WWE television more often.



Michael Uphoff: FICTION. . It was nice to see Goldust back on WWE television, but I really didn't miss him all that much. He and Orton put on a good match that furthered the overall storyline, and that is all WWE wanted from him and what I wanted from him. Goldust has always been one of the superstars that I liked to watch from when he was a face teaming with Booker T in 2002, and it was nice to see that he still could go in the ring. If he could be used somehow in the storyline again, I would love to see Goldust back on WWE television. I don't dislike the guy; I'd just rather see the current superstars that they have right now and need the time on TV to get that time, like Cesaro, Swagger, Shield, etc.

Paul LaPointe: FACT. Sure why not. I always mark out when Goldust shows up as he is an awesome character and has a long pedigree in the promotion. It does not hurt at all that he is a damn fine wrestler even in his waning professional years. True in his interview he has stated that he has burned many bridges in the WWE, time and time again but like most if there is a cause, they will always come back to calling. That is not to say I think they should call him up full time and take over a roster spot that could be used to introduce fans to other people as over the last few years the WWE has relied WAY TOO MUCH on bringing in short order solutions to serious problems. The Rock, Chris Jericho, Brock Lesnar, RVD are all just band aids for their inability to create, legitimate new main eventers. These guys have brought some positives along for the ride as well but in the end other guys need to be able to shine too, an obvious example being Daniel Bryan currently...and pretty much only Daniel Bryan currently. So with that said, Goldust could come in on a short term angle where maybe he and Cody reconcile there differences and form a union to dispose of the Shield over the tag straps, which puts Cody over, gives Goldie one last run and then eventually they crumble and Dustin and Dusty give him the go ahead to be the last Rhodes standing. Short, effective and could be a really good story if booked right in the long run. So if they go this route or another one, focusing on one offs about or over the Rhodes Legacy I see no problem seeing Goldie pop up from time to time.

Score: 1 for 3

4. Tyson Kidd will never receive a sustained push while in WWE.




Michael Uphoff: FACT. Tyson Kidd will more than likely receive a push while in WWE at some point. Whether it be for the United States Championship or the Intercontinental Championship or the Tag Team Championship again, my gut feeling is that he will receive a push from WWE. However, I just don't think that it will be a sustained push. Tyson Kidd has the pedigree and the talent to be a top star, but due to his size, he may be overlooked by the powers that be in the WWE. Not only that, but whenever he comes back, he has to compete against other wrestlers for TV time that are most likely going to be in already established storylines. I really want to say Fiction on this one, but I just have this sinking feeling that WWE will never realize what they have in Tyson Kidd, just like they never fully realized what they had in Shelton Benjamin. I really hope I'm wrong on this one.

Paul LaPointe: FACT. That fact really hurts my feelings too. I mean it really does. Tyson is as CM Punk quoted a work horse. He is technically sound, agile, has great heritage and heart for the business but it just does not have "It". At least according to WWE stardards. To put it in perspective he is like a new era Lance Storm- Canadian, amazing in the ring, can make anybody look good but just does not have "It". I mean with the success of Total Diva's and him coming off injury I can see them inserting him into some at least partially meaningful program where he will come up short. Maybe a US title run down the line and another run with the tag belts but then I see Tyson just putting people over or becoming a trainer in Florida for NXT. Alot of vanilla midgets from the indies are big WWE stars now, Daniel Bryan, Dean Ambrose and I wish I could add Tyson to that list-maybe during rehab he got great on the MIC. One can dream.

Score: 2 for 4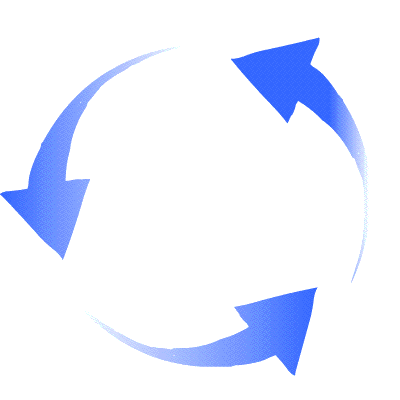 SWITCH!
5. Big E Langston has the potential to be a top babyface.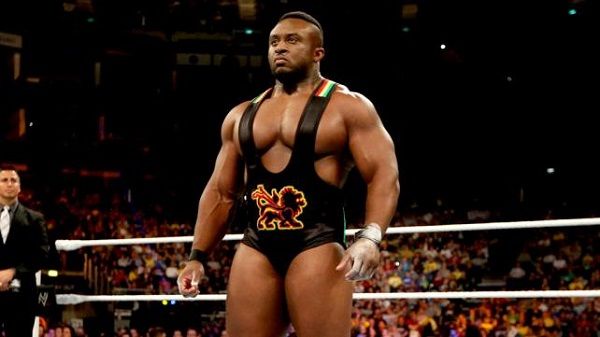 Paul LaPointe: FACT. With the way the NXT crowd was bonkers for this kid, heck yes. The way this kid tweets up a storm of hilarious tidbits, heck yes. The fact that as a heel he is just so damn boring, heck yes. This boy is just oozing personality and its waiting to come out from all the hand clapping, snarling and snorting he is left with as the monster heel...how many on roster of those does WWE have? The only other ones of face value are a Dancing Dinosaur and a White Japanese HOSS named don't call me (Fat) Albert, so there is a void to be filled. Plus with AJ getting all less crazy more factzy with her plotpoints in the Diva's division Big E needs a big ending, or at least a starting point. I mean the man has been in neutral since the word go, I think now is as good a time as ever.

Michael Uphoff: FACT. I think that Big E Langston has the potential to be a top babyface, but we must recognize that becoming a top babyface requires other things than just talent and a look. It requires the backing of the front office, a coherent storyline, and a massively over character that has to be developed over time to truly cement a top babyface. Daniel Bryan did not become a potential top babyface without being respected in the office and the back and having a great storyline that so far is doing well (fingers crossed), and CM Punk in 2011 did not become a top babyface until his promo in July and his great storyline with Cena at MITB and SummerSlam. I think that maybe someday Big E. Langston could be a top babyface. He needs to improve in the ring some more and on the mic and develop his character, but he has the presence and the work ethic to become one. I would say not in the next year or so, but in five years? Who knows?

Score: 3 for 5

6. Chris Jericho should write another autobiography.




Paul LaPointe: FACT. And I say this because 1. The first and 2nd book were great 2. Chris Jericho is Awesome and 3. He has already announced he is currently writing a third one anyhow...so yeah. There is nothing we can do to stop it!!! No seriously though, anything Jericho thinks he can contribute to wrestling now that he is a "RockStar" I welcome the notion. This applies to books, DVD's, WWE Stints, Figurines...you know whatevers.

Michael Uphoff: FACT. He is already writing his third autobiography, and I own the first two. I will buy that autobiography when it is released, and I really hope that Jericho writes a fourth one. I would love to see him write one about when he is inducted into the WWE Hall of Fame, and maybe include in the book some thoughts on his retirement at some point. I've enjoyed both of his books immensely, and would love to see him write more. His stories are always funny (especially the time where he got Jim Cornette so pissed off at a drive thru while at Smoky Mountain Wrestling), and his books provide a great introspective into the world of wrestling. He should write another autobiography, and if he does, I will own it.

Score: 4 for 6

7. Mr. Anderson turning against Bully Ray was the right move.



Paul LaPointe: FACT. With Son's of Anarchy premiering this week (Eeek) it seems only fitting that the Aces and 8's crumble like the weekend warriors they are. With BFG coming to a head the card players are going to bust out finally anyhow, so the implosion just makes sense. DVON is coasting out of the company, as did DOC and Anderson only got in this business in the first place because of the promise of Booze and Broads, everything an asshole like himself needs to keep happy. His quota of this things seems to have taken a hit recently and who could blame a man so easily persuaded to become a lackey to revolt. I mean his drink habit and his prick habit has dwindled so it was inevitable that he would just lash out at his master. Do I think the match will be something to write home about? Probably not, but I like Anderson more when he is given a mic and allowed to just rant, so a tweener run makes sense now heading into BFG. Goodbye Aces and 8's we hardly knew ye.

Michael Uphoff: FACT. If you mean it was the right move for Mr. Anderson, then yes, it is a FACT without question. Mr. Anderson had been languishing in that god-awful pathetic excuse for a stable in TNA. I'm not a Mr. Anderson fan, and I hate Aces and Eights, but he really needed to get out of there. Aces and Eights started off with a lot of momentum, but it felt like someone let all the air out of the balloon at once. They've done absolutely nothing noteworthy, and the only person that has redeemed that storyline at all is Bully Ray. Ray has done an incredible job trying, but Anderson really needed to turn face because being in Aces and Eights was doing nothing for him. Whether or not it was the right move for TNA, I cannot answer that question because every time that TNA takes a step forward, it seems like they take two steps back. I would say that Anderson turning was the right move for him, but he will lose his title match and Bully Ray will face AJ Styles at Bound for Glory, where AJ becomes TNA World Heavyweight Champion.

Score: 5 for 7

8. You're excited about wrestling being reinstated as an Olympic sport.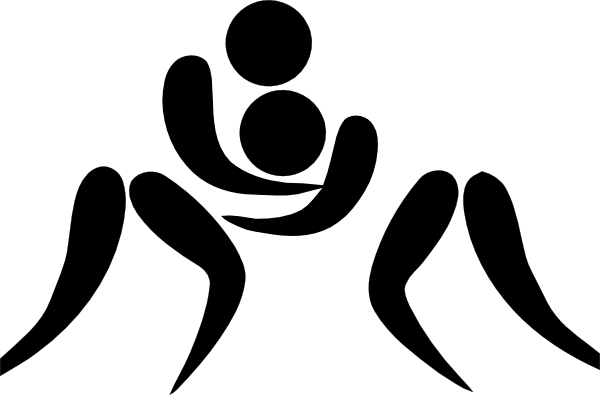 Paul LaPointe: FACT. As excitied as a kid who is still guffawed that it was even subjected to all this baloney to begin with. The Olympics is a world wide event that solicits athletes of all creed, class, colour and sex to compete against one another for the right to be called the best in there chosen field of sport. This is a known fact. What else is a known fact? The Olympics themselves were founded on the principal sport of WRESTLING. Frack, Wrestling is the Olympics, without each other they could cease to exist or create a paradox or time rift or a blackhole or something but I digress. Also kind of mind boggling is that it only passed with a 49 vote majority out of 95 cast. Yup by the skin of their teeth wrestling has climbed back out of the coliseum basement to say- "We Back Bitches, and we here to STAY...ALL DAY...EVERYDAY!". Of course the Olympic committee is still upset with themselves for not being able to live up to the promise of inserting Squash as a newly minted event and as such the protests and marches will soon commence. A sidenote though, its been said Wrestling itself may need an image upheaval/facelift before the next games and I say wrestling is not maybe as boring to watch as maybe, powerlifting. Mark Henry what is your opinion -"World's Strongest Man...My House!" You know that's true, those World's Strongest Man competitions are pretty cool, comment retracted.

Michael Uphoff: FACT. I want to first off apologize for the following language. With that out of the way, you bet your ass I'm excited about wrestling being reinstated as an Olympic sport. It was a fucking disgrace that it was removed from the Olympics in the first place. The Olympics have always been grounded in tradition, from their creation during the time of Athens to honor Zeus, and their rebirth in Athens in 1896. One of those time-honored traditions is wrestling. Wrestling has lost some of its followers in the past few decades, but it is still an important part of the Olympics. You disagree? RULON FUCKING GARDNER. He was the first American to win the gold medal in wrestling, and he defeated Aleksandr Karelin, a Russian heavyweight who had not lost a match in thirteen years and a point in six years. That's why wrestling is important; it gives people like Gardner a chance to prove themselves on the grandest stage, in front of over a hundred countries. You're goddamn right I'm excited about wrestling being reinstated. It should never have been removed.

Final Score: 6 for 8

Good stuff from Paul & Michael this week, we thank them for participating and invite you to comment down in the comment section! Thanks for reading, and we will come back next week with more Fact or Fiction.


Remember to go to TigerFlashGames.com and play addictive, free flash games when you're bored at work, school, or whenever!


comments powered by