SPOTLIGHTS
The 411 Wrestling Top 5 10.14.13: Week 238 – Top 5 Tag Team Finishers
Posted by Larry Csonka on 10.14.2013

From the Dudley Death Drop and the Doomsday Device to the Demolition Decapitation, the spike piledriver, the powerplex and more, the 411 staff breaks down their top 5 tag team finishers!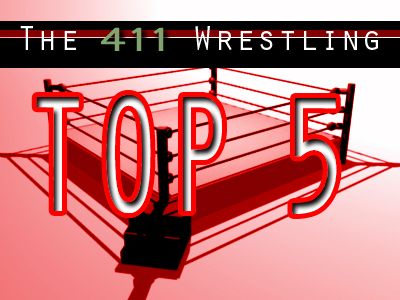 Hello everyone and welcome to 411 Wrestling's Top 5 List. We take a topic each week and all the writers here on 411 wrestling will have the ability to give us their Top 5 on said topic, plus up to three honorable mentions.

So, onto this week's topic…



The Top 5 TAG TEAM FINISHERS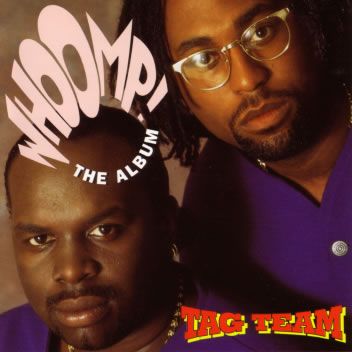 What do you think are the top 5 tag team finishers?




MICHAEL WEYER
5. Demolition Decapitation I was always a huge Demolition mark, even in their early days when most sniffed at them as cheap Road Warriors rip-offs. What made them stand out was that they actually had a bit more ring skills than the Warriors and the fact they're the longest-reigning tag champs ever show their power. What helped was that they had their own awesome looking finisher as Smash would drape an opponent over his knee like a backbreaker and Ax would leap off the second rope for an elbow that looked like the poor guy was getting crushed in various places and always ended with a pin. Even when Crush joined, it was still a powerful move and showed the nice skills that helped the Demos be their own team rather than just knock-offs.

4. The Rocker-Plex The Rockers were arguably the best team never to hold the WWF tag team titles, a great pairing as Shawn Michaels and Marty Jannetty were always in synch in the ring with amazing moves and clicking as a finely-tuned machine. The Rocker-Plex showcased that as one member would lift their opponent up into a suplex as the other took off from the top rope to hit the guy with a bodypress. That they could switch it up so either one could do the flying and the other the lifting shows just how wonderfully the Rockers worked together and the energy that made them favorites of not just the fans but other workers in one of WWF's biggest tag team periods.

3. Top Rope DDT Buff Bagwell can attest to just how dangerous this move can be if done wrong and the fact more guys didn't get injured speaks volumes to how good the Steiner Brothers were in the ring. Keep in mind, in 1990, you did not see crazy high-flying moves like they did, a key reason they took off so well. When Scott would hoist up a guy and let Rick fly off the top rope for a DDT, it was stunning to watch, awe-inspiring and a great showcase for how much the brothers changed the tag team game nicely in the '90's.

2. The 3D A great move fitting the Dudley Boyz/Team 3D, what made this great was that it could come out of nowhere, slapped on fast and always an effective shot, especially if used in their constant table battles. A whip off the ropes would have D-Von picking up the guy and lifting him high as Bubba Ray would take a running start before leaping to grab him in a reverse DDT that would slam the guy down hard on the mat. It always got the crowd going and looked like it hurt like hell, just what a good finisher should be.

1. Doomsday Device Placed on tops because of its impact. As with so much else, the Road Warriors really changed the mood of tag teams by coming up with a finisher that used them both to their utmost and was truly devastating to watch. Animal would hoist the poor opponent up on his shoulders as Hawk would take to the top rope and then fly out with a nasty clothesline, the guy sent flying, sometimes a full 360 before landing hard on the mat for the pin. It was always amazing to watch, especially in their early days and helped inspire numerous other teams to come up with a finisher of their own to spark love of tag team wrestling but few with the brutality of the Legion of Doom.





---


Matt O'Connell
HM: Steiner Brothers: Steinerline/German Suplex - This is an honorable mention because it wasn't one of their regular finishers, which says a lot about the power and innovation the Steiners brought to the table. So even though it was really only a signature maneuver, it was still my favorite of their tandem moves, and for my money the most gimmick-compatible move they had.

5. Edge and Christian: Con-Chair-To- Yes, these two had an actual wrestling maneuver that they would perform (some kind of sidewalk slam/reverse DDT combo) but this was a perfect encapsulation of what made Edge and Christian work as a team: a combination of malice, cowardice, unthinking ultra violence, and cornball humor. The fact that they would sometimes use this convoluted and incredibly illegal maneuver to win standard matches (and later introduced one-man and ladder-centric variations) make this one a particular favorite.

4. Dudley Boyz/Team 3-D: Dudley Death Drop- I was never a big fan of the 3-D, but it's been a viable tag finisher for 15 years now and one of the most over and protected. If TNA is to be believed, no one kicked out of this move, ever, until Chris Sabin did it in Team 3-D's supposedly final match in 2010. This move was always over huge with the audience, it usually looked good, and it had the advantage of being easily done through a table.

3. Brain Busters: Spike Piledriver- Never mind why a team called the Brain Busters used a piledriver as a finisher; this move killed folks dead. Like all things Arn and Tully, though, it was the team's chemistry that really made this move work. It was rare that you'd see them call for the move, or even visually communicate with each other that it was coming. Instead, Arn would hoist their victim, and instantly, like clockwork, Tully was sailing through the air to drive the guy into the mat like a railroad spike.





2. World's Greatest Tag Team: Superkick-Plex- Shelton Benjamin and Charlie Haas were a lot like a modern-day variation on the Steiner Brothers, with a greater emphasis on high-flying and tandem maneuvers. They were also not as good as Rick and Scott, but I still love their finishing move unconditionally. I've always been a mark for a properly executed superkick, and Shelton's is the best you'll find this side of Shawn Michaels. There's just something about the extension of his leg and the way his torso winds up parallel to the mat that I always got the feeling that his opponent's head was going sail clear into the t-shirt booths. Combine that impact with a competently-executed Haas suplex and a bridging pin and you've got a world-class tag finisher.

1. The Road Warriors/Doomsday Device- I feel like such a predictable goof for picking the Doomsday Device at my number one spot, but the thing is that after all these years I've still never seen a finisher that looked like it legitimately killed opponents like this one did. One caveat, though: this has to be the move from the team's prime, when Animal merely shrugged the dead heap of flesh off his shoulders while they crumpled to the mat, not the latter-day bastardization when he'd fall backward with them. It was the sight of watching some poor jobber collapse into a broken heap that really sold this move.

---



JUSTIN WATRY
5. Snapshot From the modern era, there were not a lot of teams better than MNM. John Morrison has proven to be what he is as a single's wrestler. Joey Mercury was more than capable out there and is still with WWE to this day. Then you had Melina who was great as an annoying heel at ringside to rile up the fans. Add all that together, and you have a nice group. Now, throw in a perfectly looking Snapshot to end each match! Good stuff there.

4. Double People's Elbow Yes, for one night. For one night, this was the greatest thing I'd ever seen on Raw. The entire Rock and Sock Connection run is more exaggerated as time goes on. However, some of all the magic discussed is very real. One of those times is delivering a Double People's Elbow on The Big Show to win the tag straps. Mankind and Rocky? Together? With the gold? What a true Attitude Era moment. No chair shots to the head. No bloody brawls. No half naked women in mud. No cuss words. Just pure fun...

3. DX Combo Yes, I am cheating a little bit here. I admit it. Shawn Michaels and Triple H have had amazing solo careers. Yet, nothing looked much better than a Sweet Chin Music turned right into a Pedigree. Immediately Kenny(!) from the Spirit Squad comes to mind. How many times did that poor guy take this combo-move all in one fell swoop? Oh well, he was with Mickie James at the time. Kenny is a winner in my book!

2. Doomsday Device Just for the sake of history, this move has to be included. I am not going to pretend I am 50 years old and have followed these guys' careers from day one. I won't even waste time acting like that. However, I do know a cool move when I see one. The devastation caused by this was just ridiculous. Every time you watch it, the wrestler in danger looks to be...in legitimate danger. That is pro wrestling at its core. Make you suspend your disbelief to believe that is happening in the ring.

1. 3-D Easy choice. Just hearing the crowd get amped up for it moments before gives you chills. This was just so great to see every single week. The best part is it could be delivered anywhere. Outside the ring? Good. In the middle of the ring? Good. Off the top of a ladder? Good. Through a table? Good. To top it all off, this move actually won gold multiple times. Unlike some of the moves listed, it only won matches. That is fine and dandy, but wrestling should be about titles, right? Well, these two knew that better than any other tandem. All thanks to a 3-D!





---



DINO ZUCCONI
HM: The Eliminators: Total Elimination - I've said it before, and I'll say it again: I love the Eliminators. They were the first thing I saw in ECW, and it was their take on the "High and Low" that got me instantly hooked and wanting to see the move over and over again. I love this move so much, but I'm trying to be a bit partial, so we'll give this an HM.

5. Tully and Arn: Spike Piledriver - I just really wanted to make sure the spike piledriver made it onto my list, as it's my personal favorite of the tag team finisher moves. However, outside of the Brain Busters using it, I can't seem to recall any other big team that used it as a regular finisher, so I can't put it much higher. Still, the spike piledriver rules!

4. Power and Glory: Powerplex - Another all time personal favorite. Who'd think that Hercules and Paul Roma would create something so rad? Well, with Herc superplexing the foe across the ring while Roma soared through the air with a big splash to immediately follow it up, this finisher provided two big impact moves to the opponent before the three. Such a great move!

3. Road Warriors: Doomsday Device - One of the rare times that I'll side with the Road Warriors over Demolition. While I think Demolition's Decapitation looked more brutal with more chance of crushing the opponent, the Doomsday Device just always looked cooler. The second Animal picked the chump up on his shoulders, and Hawk laid in wait on the turnbuckle, you knew someone's world was going to end. A big flying lariat later, and it was over. Add in that some guys like Henry Godwinn broke their neck during this move, and yeah, you've got yourself another fantastic tag team finisher.

2. Dudley Boys: 3D - Such a simple tweak on a move that was gaining popularity at the time (the 'cutter' if we can just keep it simple), the former Dudley Boys created one of the absolute greatest tag team finishers I've ever seen. Able to be hit while in control of the match, or even out of nowhere (a remarkable task for a tag team finisher), just about nobody gets up once they've been hit with 3D. It can be done on the floor, through a table, through chairs, through fire... it's just so awesome. With an opponent running at D-Von, D-Von would then lift the opponent up in a flapjack style move, only for Bubba Ray to come running across and catching him in a cutter. I went nuts the first time I saw this move.

1. Steiner Brothers: Top Rope DDT - Oh, what a surprise, the Steiners coming in at #1 on another tag team related list that I make. Look, I could have selected their Flying Bulldog, but this less-used move always made my jaw drop whenever I saw it. A freaking DDT off the top rope? Yeah, I'm in. A sublime maneuver, if you will. With Rick holding the opponent on the shoulders, and Scott facing the crowd on the turnbuckle, Rick would walk over, feed the opponent to Scott, and Scott would DDT the ever-loving bejeebus out of the poor guy. Freakin' LOVE this move.





---
CSONKA's LIST FOR FUN
HM. Total Elimination
HM. More Bang For Your Buck
5. Power Plex
4. Spike Piledriver
3. Veg-o-Matic/Death Sentence
2. 3D
1. Doomsday Device
YOUR TURN KNOW IT ALLS

List your Top Five for this week's topic in the comment section using the following format:

5. CHOICE: Explanation
4. CHOICE: Explanation
3. CHOICE: Explanation
2. CHOICE: Explanation
1. CHOICE: Explanation
Your heart is free. Have the courage to follow it…TO CSONKA'S TWITTER!

http://www.twitter.com/411wrestling
http://www.twitter.com/411moviestv
http://www.twitter.com/411music
http://www.twitter.com/411games
http://www.twitter.com/411mma

Have you checked out the Csonka Podcasting Network? If you haven't, you should We run anywhere from 15-20 shows a month, discussing pro wrestling, the world of MMA, the NBA, general sports, popular TV series of the past, bad movies, battle rap, interviews, MMA & Wrestling conference calls and more! Around 10 different personalities take part in the various shows, which all have a different feel; so you'll likely find something you like. All of the broadcasts are free, so go ahead and give a show a try and share the link with your friends on the Twitter Machine and other social media outlets! Running since May of 2011, there are currently over 400 shows in the archive for you to listen to.



Larry Csonka is a Pisces and enjoys rolling at jiu jitsu class with Hotty McBrownbelt, cooking, long walks on the beach, Slingo and the occasional trip to Jack in the Box. He is married to a soulless ginger and has two beautiful daughters who are thankfully not soulless gingers; and is legally allowed to marry people in 35 states. He has been a wrestling fan since 1982 and has been writing for 411 since May 24th, 2004; contributing over 3,000 columns, TV reports and video reviews to the site.
comments powered by