SPOTLIGHTS
The Tuesday Communique 09.24.13: Handicapable
Posted by Nick Marsico on 09.24.2013

RAW thoughts, Night of Champions review, Sunny's sad demise and Starman's glitch! Plus thoughts on Ring of Honor's latest iPPV bungle and more!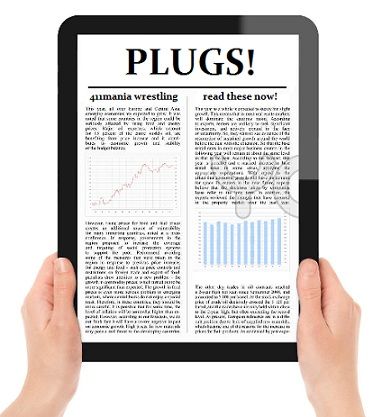 The Wrestling News Experience with Stephen Randle
The Wrestling 5&1: Gail Kim vs. JoJo with Tony Acero
The Professional 3: Top 3 Shady Crownings of New WWF European Champions with Jon Harder
Smart Marks: Space Flying Tiger Dropping Bombs on Y'All with Dino Zuko
The Ten Count Top 10 Jim Ross Memories with Evan Daniels
The Heel Report: Bed, Bath and Beyond with James Wright






WWE Monday Night RAW from Chicago, IL || TV Review



Triple H Addresses The Civil Unrest!
- Triple H is trying to split the locker room up; divide and conquer, if you will.
- "R-Truth, when was the last time you had a WWE Title match? I can't remember." God, what a bitch.
- They throw The Shield under the bus? Ha! Shield is like "what the fuck?"
- It's a 74-on-3 handicap match tonight against The Shield. Okay then.
- Truth, Ziggler or RVD? There's no chance Truth loses this poll.
- My wife thinks WWE created the app solely because they were caught multiple times fudging the Twitter poll results.
- Odd way to begin the show. Not bad, but it felt... unfulfilling.


Non-Title: Alberto Del Rio v. Kofi Kingston
- Wow! Nice headscissors from Kofi from the top! Then a flip dive that ended with a CLOTHESLINE!
- I wonder if the clothesline was intentional or just really lucky placement.
- Del Rio controls in fairly boring fashion, so the crowd chants "Colt Cabana"!
- No reason to say this, but I think Kofi should turn heel and join the new Corporation.
- SWEET German suplex to counter to Trouble in Paradise! HOLY CRAP counter by Kofi out of the tilt-a-whirl!
- After the boring heat segment coming off the commercial break, this match got darn good.


Renee Young interviews The Miz about being attacked last week by Orton. Before he can answer, Triple H creepily appears stage left. Miz gets booed. It's Miz TV with Big Show as the guest tonight. I wonder if that means Miz gets his face knocked off.


Harper & Rowan v. Prime Time Players
- Was the removal of the mask supposed to be some dramatic moment?
- The Wyatt Family beat up Young so boringly that the crowd actually chants to get Titus in there.
- BIG POP when he gets the tag! He runs over everybody! Kill them Titus!
- Young takes Rowan out with the Cactus Clothesline but O'Neil runs into a HUGE discus lariat from Harper. Wow!
- Lights went out for a brief moment, which would make sense, but it was probably just some former employee's mistake.


Miz TV With The Big Show!
- Miz is all business tonight! Which is why he's wearing a suit jacket with a ridiculous collar!
- Miz calls Stephanie a witch and tells Big Show to stand up to her, so here she comes.
- JBL calling her "Mrs. McMahon" is kinda creepy. It's like implying she's married to Vince. Who once wanted to do an incest angle with her. Just got a shiver.
- Stephanie dresses down Miz in a magnificent way, making his media appearances and trips all over the world to represent WWE seem like insignificant errands. He's their small-time media job guy. The one they send out when Cena needs some time to take a nap.
- And there it is. Show knocks out Miz.


Randy Orton v. Rob Van Dam
- RVD shockingly wins by a large margin (tell 'em she sent ya), taking almost 60% of the vote.
- Remember that awesome IC Title match these guys had on RAW? I think it was in December of 2003.
- JBL has been saying "Vintage Orton" before Cole has had a chance for weeks now. What's with that?
- RVD is going through the motions here and hitting his stuff incredibly nonchalantly (is that a word?) but the crowd is going nuts for everything he does.
- Fine match with a good post-match beatdown. Orton's laugh before hitting the top rope Hangman's DDT was awesome.


Los Matadores will debut next week! The tag team division will be revolutionized!


Fandango v. Santino Marella
- Santino misses a cross body in epic fashion!
- His failed kip-up spot is great.
- These two need to have a feud that lasts for the next few years.
- HYOOOOOOGE leg drop from Fandango! Thus far this is the loudest the crowd has been outside of cheering for RVD tonight. It's Chicago for fuck's sake!
- Of course making them wait 2 hours to see Punk and even longer to see Bryan surely doesn't help.


CM Punk Speaks in Chicago!
- The match graphics for Battleground are FUCKING AWESOME.
- Punk compares his situation to the Blackhawks coming back and winning the Stanley Cup and the whole promo is GOD DAMNED AMAZING.
- Here comes Heyman... in a motorized scooter! Oh he is so wonderful.
- The scooter's not working! Here comes Punk! Heyman's guys are waiting in the wings!
- Punk dives off the stage onto Ryback! Huge headkick to Axel!
- Ryback comes from behind! Punk gets thrown through a table! Heyman has recovered again!
- Fantastic segment, thanks to great performances by all as well as the incredible crowd.


10-Diva Tag Match
- No need to type out all of the names. It's all of them.
- Only 4 of them officially entered the match and Brie Bella pinned AJ. Cool!


Daniel Bryan cuts a basic promo about his title match at Battleground and of course gets a humongous ovation. The Shield interfere to come out for the match, but Cody Rhodes and Goldust storm in from the crowd and attack them! It's BEDLAM IN CHICAGO! Security is all over them and pulls them out. That was spectacular.


11-on-3 Handicap Elimination Match
- No need to type out all of them names. Just too many of them.
- Zack Ryder in the main event, though! YES!
- RVD, taped up with an injured arm, stupidly decides to backflip for no reason, so Ambrose plants him on his head and pins him. Dope. Pun intended, I guess.
- Kofi suffers the same fate, but Roman Reigns comes in to deal with Titus O'Neil.
- Reigns kills him with a spear. That was quick. Another spear takes out Gabriel even quicker.
- Reigns blocks the Broski Boot with a SPEAR!
- It's Daniel Bryan! The crowd goes batshit! He kicks Reigns until he can't see straight, then Jimmy Uso superkicks him! Jey gets a splash off the top! Reigns takes his first pin in WWE! It's 6-on-2!
- D-Young rolls up Ambrose but he made the blind tag to Rollins who comes off the top with the flying knee! 5-on-2!
- Ziggler is in now! Ambrose is in! Zig-Zag! Ziggler pins the US Champ again! 5-on-1!
- R-Truth gets the tag but takes the curb stomp and gets pinned! The Shield remains strong! It's 4-on-1!
- Both Usos, Bryan and Ziggler ambush Rollins! Crowd goes nuts! Ambrose is back but Ziggler takes him out! Reigns jumps up onto the apron and immediately eats a double superkick from the Usos!
- Usos double dive onto Reigns and Ambrose! It's Bryan and Rollins!
- Flying headbutt! Running Knee! It's over!
- Holy shit that was awesome!


Overall RAW Thoughts: The opening promo was underwhelming but set up what ended up becoming a fucking amazing main event, so that more than makes up for it. ADR and Kofi had a pretty good match, as did Orton and RVD (though the post match beating was the real meat). The Miz/Show/Steph segment was effective but fairly lifeless. Spice that segment up a bit, cut the Divas stuff and the Wyatt squash out and the show was damn good. Crowd didn't really wake up for the most part until Punk came out, but it was all gravy from there. It felt more like a holding pattern show rather than one building to stuff, even though there was build for a number of different PPV matches. Battleground is in a couple of weeks and I have a feeling that the night after that show things are going to REALLY start picking up leading into Survivor Series.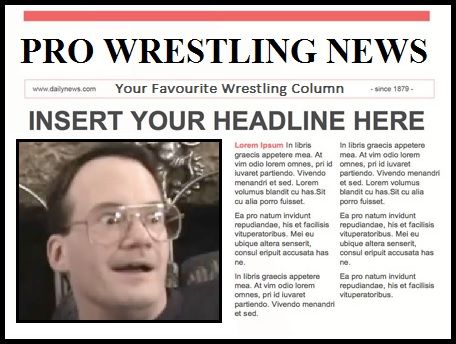 - NXT announcer Tony Dawson has been released from WWE. It's a shame, because after a long time floundering it sounded like he was finally beginning to get it. He had the nerdy-but-not-too-nerdy look of a good WWE commentator and a good voice. I don't think he was a wrestling fan before joining the company but he seemed dedicated to learn. I wonder why they got rid of him.

- Jerry Lawler wrestled Matt Striker over the weekend and the story of the match was that Striker was trying to hit Jerry with the heart punch so he could take him out and take back the RAW commentary spot. That's awesome.

- Ring of Honor accepted a last-minute offer from Go Fight Live (their original iPPV partner) to air their Death Before Dishonor XI show on Friday, which featured the semis and finals of the tournament for the vacant ROH World Title. The idea was that GFL wanted to show how much their streaming technology and capabilities have improved. The show was free, so I checked it out. The first half before intermission went off with pretty much nary a hitch, but then it all fell apart. Most people only saw bits and pieces of everything else that happened after intermission, and some people saw even less. It's a shame, since it was a big show for them, and even though the stream was solely handled by GFL.tv it is going to also cast a bad shadow on ROH, who AGAIN have aired a live show on iPPV that the people couldn't see. Yeah, it was free and ROH had nothing to do with the production outside of providing the content, but their poor track record in this category renders that fact essentially null and void. The company is owned by a big TV corporation. They need to do some big events on free TV during weeknight primetime hours. The sale to Sinclair was a good idea if ROH was absolutely desperate to not die (which may have been the case) but if they sold to SBG in order to grow they were very, very sadly mistaken. Sinclair has them to fill time and has no intention of making ROH any bigger than they already are.

- The first half of the show was good, by the way, with a really strong Ciampa v. Cole match and a heavy-handed brawl between two beasts in Elgin and Steen. There was no doubt in my mind that Cole and Elgin were going to win their respective matches and it seemed natural that Cole was going to turn heel and win the belt, and it did indeed go that way. ROH has to be disappointed by the lackluster crowd and failed one-time return to iPPV for what they wanted to be one of their most important shows in a long time.

- Starman got injured at a recent show in Rahway, New Jersey. I hear that he shook a few pixels loose but the doctors blew in his ear and he is set to make a full recovery.

- Sunny went online and claimed she was mugged but nobody cared. When the wrestling media didn't make a big deal out of it she came out and said it was just a lie, so people cared less. Her life story really is such a shame. I really thought she had a shot there for a while.

- I still have to check out See No Evil, especially since the sequel sounds freakin' historically epic: The film revives the nightmare of the first film when Jacob Goodnight rises from the dead in the city morgue after his killing spree at the Blackwell hotel. In this ominous, underground locker for the dead, a group of medical students fight to survive as this deranged psychopath once again starts to pick them apart one by one. MANY BUYS~! Too bad it's straight-to-DVD, because I'd force my wife to come see this with me in the theatre.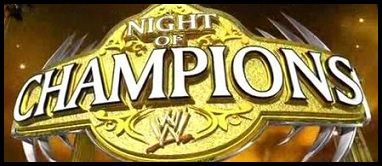 WWE Night of Champions 2013 || PPV Review

- I actually forgot about this show until about 10:15 or so last Sunday, so I only ended up tuning in live for the main event, which was fine since it was the only result I really gave any hoots about. I ended up getting something I didn't expect and the match wasn't as good as I had build it up to be in my head (I was expecting a lot of shenanigans in a longer, more drawn out match) but it was still a good main event. The result made me want to see what they would do the next night and how it would move forward, so they got my attention exactly as they intended, so kudos for that.

- Axel v. Kofi was far better than people gave it credit for being. It wasn't a classic by any means and neither man has the ability to carry a 15 minute match without being in there with somebody to lead them through it, but that was the only place the match suffered. It was good but could have stood to have 3-4 minutes shaved off.

- The Divas Four Way was actually way better than expected, and by a large margin. I initially indended to skip it and save some time, but it was 5-6 minutes full of action and nobody really fucked anything up. I approve. Now if only they would get a storyline that didn't revolve around the cast of the E! show...

- RVD v. Del Rio was a lot of fun. The crowd have been HOT for Van Dam since his return and this show was no different. The match wasn't spectacular by any means, but I loved the fast pace and it turned into a very entertaining contest. I really thought RVD was going to take the belt, but c'est la vie. Or something. I like ADR more than most people do, but I think it's time for an extended break and maybe even a repackaging. Maybe he shouldn't have been a big deal fairly quick. Plus, RVD could have held the belt for a month and lost it to Sandow. It would be a perfect feud to have once RVD comes back from his break. It's not like it's a real World Title, so it wouldn't be anywhere close to being too soon for Sandow to get it.

- I think I watched Miz v. Fandango but I truthfully can't remember. They need to put Awesome Truth back together, this time as a face team, and have them challenge The Shield for the titles. They'd be the only credible threat available.

- Turning Punk v. Axel & Heyman into a No-DQ match was a good idea. Ryback is a fine choice for the new Heyman guy, but I was really hoping for somebody less... Ryback. Match was fine, but it was too obvious that Heyman wasn't going to get his just desserts yet from Punk so the only draw of this one was the reveal of the new Heyman guy, so why bother getting excited for it?

- Didn't see Ambrose v. Ziggler but the rematch the following night on RAW was good. I'm fine with Ziggler feuding over the US Title if it means he gets to be closely involved with the new Corporation storyline.

- PTP v. The Shield and the kickoff show tag team turmoil that preceeded it were of no interest to me. Eh. All of the teams just feel like losers and wrestling each other over and over again isn't going to make them any more believable as challengers. They need to feud Cesaro & Swagger with Miz & Truth (have Zeb sing the praises of Triple H, calling him the leader America needs) and let the Usos step up by getting some real promo time and an actual storyline outside of "we're refocusing and want the belts". They're close, but not close enough to be important. Pair the PTP in a feud with Harper and Rowan, then suddenly you have a shot to have a legitimate tag division. Not that I expect it to happen, but there's always a small glimmer of hope you gotta keep alive through speculation and dreaming.

- Overall it was a fine show. Nothing was actively bad, but it was indeed a largely inconsequential and forgettable show. As filler as a filler PPV gets, with the one exception being the furthering of the company's main angle.




World Wrestling Entertainment
The Undertaker v. Batista || WWE WrestleMania 23 - May , 2013
From TJ Hawke:
"While Batista had to prove that he could still 'go' after 6 months of crappy matches, Undertaker needed a match like this because, up until this point, never had that classic Wrestlemania match where the crowd is going wild. While the Undertaker had never lost a match at Wrestlemania, a lot of those matches were complete DUDs. Starting with this match, Undertaker began a series of Wrestlemania matches that could ultimately define his career."
For more, please visit FreeProWrestling.com

Wait... Dixie Carter turned heel?!?!?
- Nicholas A. Marsico

comments powered by