SPOTLIGHTS
The 411 Wrestling Top 5 10.23.13: Week 239 – Top 5 Heel Workers
Posted by Larry Csonka on 10.23.2013

From Ric Flair, Buddy Rogers and Vince McMahon to Terry Funk, Roddy Piper, Jake "The Snake" Roberts and more, the 411 staff breaks down their top 5 heel workers of all time!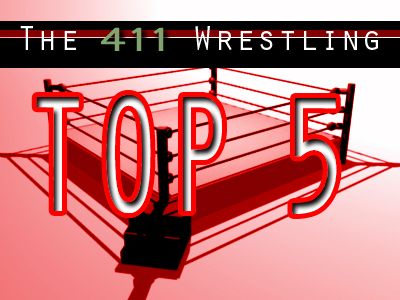 Hello everyone and welcome to 411 Wrestling's Top 5 List. We take a topic each week and all the writers here on 411 wrestling will have the ability to give us their Top 5 on said topic, plus up to three honorable mentions.

So, onto this week's topic…



The Top 5 HEEL WORKERS




Who do you feel are the best workers when they are a heel?




MICHAEL WEYER
5. Ted DiBiase The recent terrific Mid-South Blu-Ray set is a great showcase for all the good-guy DiBiase turned into a fantastic heel. Already amazingly skilled in the ring, he matched it with pride, boasting of his greatness and able to back it up in the ring. His tenure as the Million-Dollar Man was much better, however as he truly carried himself as a rich jerk, boasting of his money meaning all, great powering an opponent but also running off at times, showing how cowardly some rich folks can be. He had great runs as tag team champion with IRS, selling the arrogant greatness and fans paying to see him lose if he could. It was a truly great heel act, one of the best WWF has ever offered and DiBiase sold it like no one else could, truly worth a million as a performer.

4. The Sheik Long before ECW, this was the man who introduced wrestling to hardcore. For fifty years, Edward Farhat cut a bloody trail across territories with an insanity that blew fans away. From chairs to fireballs to stabbing guys with a variety of weapons, he brought a savagery to the ring no one had seen before. Fans didn't just hate him, they were literally in fear of him as even promoters didn't know what he would do. He bled buckets across the country so by the later part of his life, his forehead resembled the Grand Canyon. He set the standard for the wild brawler taken by Sabu and many others and yet few others could ever truly match the Sheik when it came to being a true savage that could give you a hell of a match.

3. Gorgeous George The pioneer of the transformation of wrestling to sports entertainment. The first true wrestling TV star. This "Liberace in tights" elevated the business with his appearance, curly locks, robes and having himself bathed in perfume. You'd never seen anything like it before and made him stand out. It helped that he was a great worker with the brilliance of dropping the act to become a savage brawler against opponents, balancing his skills with a cowardly streak yet still showmanship that won you over. If nothing else, he set a standard for so many to follow, to show how some showmanship could elevate wrestling for the masses.

2. Rick Rude There's nothing more aggravating than an egomaniac who can back up his words. That's what made Rick Rude so special at what he did. He was chiseled, no doubt about it and he knew it, always flaunting his body and smugly proclaiming himself God's gift to women. Which made it more annoying that he was also a terrific worker, able to brawl but go technical with the best of them. His tenure in WCCW had him as champ before he jumped to WWF, winning the IC title and giving some great battles. His WCW tenure is famous for multiple championship runs and clashes with many, including his classic feud with Ricky Steamboat. He was smug, arrogant and obnoxious and God, I miss this guy as he was one of the people you truly loved to hate every week and he knew it.

1. Buddy Rogers He set the bar for every person who would follow him. The attitude, the strut, the great look and backed up by a brilliant skill that made him the best in the world and everyone knew it. The original "Nature Boy," Rogers dominated as NWA World Champion in a tough time and as television came to prominence, so did he, cutting the first promos of a champ running down everyone around him. He set the standard for pretty much every heel to follow him, an amazing figure that stands as the trailblazer in every respect. He was a natural at what he did and you still see him today in every heel swagger and jibe that makes Rogers a legend for the business.


---



JUSTIN WATRY
5. CM Punk I almost hesitate to put CM Punk in the top five. That is lofty praise for somebody still active. Without running the risk of living in the moment, barely squeaking into this list will do. Since the criteria is simply "Guys that did their best work as heels," Punk fits perfectly. While his face run makes sense for now, it does not change the fact he is even BETTER as a heel. You can use any examples you wish. For the past couple of years, I am not sure if there is anybody better. Who can forget his legendary work with Mason Ryan in the New Nexus?

4. Triple H Truth be told, this spot was originally set to be Vickie Guerrero. However, I am not sure if the term 'worker' fit or not, since she is not a full-time (or part-time) wrestler. Either way, it was a close call. HHH got the nod because his heel work is so much better than when he acts like a good guy. Randy Orton and Edge also barely missed the top five for that very reason. The Game just knew how to get under the fan's skin, and like Rick Rude mentioned already - he could back it up in the ring. How annoying and just downright aggravating for people to accept that! Of course, there is also the fact he married the boss's daughter, but I don't put much stock into that. others do though, which can only add to their anger.

3. Vince McMahon Now, Vince has wrestled a good amount of matches. Thus, he counts. Like Vickie, very few can capture an audience and absolutely convince you they are pure evil. From screwing over Bret Hart in 1997 to WINNING the Royal Rumble in 1999 to consistently costing The Rock the WWE Championship to burying The Undertaker alive in 2003 to even grabbing the ECW Championship, who is more hated than the boss?

2. Roddy Piper So close to the number one slot...so close. Instead that was reserved for Stone Cold. Oh wait, just kidding! That 2001 run for the Texas Rattlesnake was doomed from the start. Back to Piper, the old stories do more justice than I even could to sum up his work as a heel. Fans trying to hurt him? Needing security? Going years without getting pinned? How could you not hate that guy every time he opened his mouth? It is nice to see him get cheered every now and then, but at heart - he is a classic wrestling heel.

1. Ric Flair He gets the top spot for one reason and one reason alone. Every single time I say the words "Ric Flair" to a certain casual wrestling fan here in Wisconsin, the response is always "Ugh, I hate Ric Flair!" I laugh every time. Just out of the blue, I will say his name, and it is instantly met with disgust. On top of that, my uncle (lives in North Carolina) says he is a total jerk around town. While that stuff may be OUT of the ring, it still means heel heat, right? Now, consider his actual stuff in character, and you have one of the best. Ever!






---



DINO ZUCCONI
5. Bully Ray - My modern entry, Bully Ray has been picking fights with fans using only a microphone since his days in ECW. While he does just fine as a babyface, when he's allowed to cut loose there is no one today who can get anyone riled up in attendance. Rude, obscene, and in your face, he's the perfect modern day piece of crap heel.

4. Kevin Sullivan - In my early childhood, this man personified evil. Dusty Rhodes routinely refers to him as 'The Devil.' He beat up Precious at the conclusion of the Tower of Doom match! Always an evil man, his average build only helped to accentuate how bad he was, as the carnage he'd leave would have had to have been done by a monster. Sullivan always had you convinced he was for real.

3. Roddy Piper - We all know the Hogan Formula to be 'Monster Heel crushes Hulk, Hulk comes back and gets revenge.' Well, here's the heel who didn't stick to the formula. Smaller than every other Hogan nemesis, he's also the one who avoided his comeuppance. Brash, aggressive, and always with backup muscle, Piper managed to seem not out of place while picking fights with faces much larger than he, while attracting quite the fan base of his own.

2. Vince McMahon - I'm not gonna give you a history lesson on Vince, but consider this: when Vince did something overtly evil, people didn't like it. The Higher Power, bullying Trish, drugging his wife... all unnecessary. And that's because Vince just being himself was all the heel we needed. Just being a rich asshole who treated the WWF like his personal playground was enough to make everyone hate the man we'd grown up with as just a commentator. To just be yourself and generate insane levels of hatred is just incredible. I love Vince McMahon.





1. Ric Flair - He's The Dirtiest Player in the Game. Brass knucks. Cheating managers. Fistfuls of trunks. Thumbs to eyes. Horsemen run ins. Feet on the ropes. Holding the ropes during a figure four. Begging for mercy before a low blow. Ric Flair is the cheatingest cheater of my lifetime. His WrestleMania 8 match with Randy Savage remains the most irritatingly entertaining match I've ever watched. He robbed Luger, conned Sting, assaulted Dusty, and cheated brilliantly all the way through. The best heel, for my money, ever.

---



Ryan Byers
5. Jake "The Snake" Roberts - The stereotype of a professional wrestling heel is a large, boorish man bellowing at a television camera at the top of his lungs; a man whose vocabulary is limited to generic threats of physical violence. Jake Roberts is a guy who broke out of that mold, and the result was a heel character far more effective than most others of his era. Jake was cerebral and articulate as a heel, employing apt metaphors and even Biblical parables to make his points. More importantly, rather than being loud and monstrous, the Snake was quiet, to the point that you would have to exert effort to focus on his speech. That almost made him seem more dangerous in a way, as you were always left wondering when he was going to snap and do something truly diabolical. Plus, when it came time for Jake to commit that diabolical act, he almost always did it in style, whether it was DDT'ing Ricky Steamboat on the floor or setting his cobra loose on Randy Savage. Speaking of Randy Savage . . .

4. Randy Savage - Most of Savage's time in the national spotlight was actually as a babyface, so I'm guessing that there won't be too many people who would think of him for a list like this one. However, I submit that Savage is actually a better performer as a heel than he is as a face, and I further submit that, when he was a heel, he was one of the greatest in history. Like Jake Roberts, he created a unique persona, though Savage's was one of a crazed madman, one who paced back and forth like a caged animal when he wasn't in the ring and was pure frenetic energy when he was inside the ropes. Plus, even more noteworthy was the fact that Savage's heel characters always had motivations that you could understand, the hallmark of a great villain. Don't believe me? Just look back at his three greatest heel feuds: Against Jerry Lawler in Memphis, Savage was angry because his family had been put out of business. Against Hulk Hogan in the WWF, Savage was angry because he perceived Hogan as moving in on his woman. Against DDP in WCW, he was again standing up for what he perceived as a slight on the honor of Elizabeth. Great performances. Great stories. Great heel.

3. Chris Jericho - I have to give Jericho a lot of credit for developing two heel personae that are completely different from each other but still wound up being two of my favorite heel personae of the last twenty years. In the mid-1990s in WCW, happy-go-lucky babyface Jericho wasn't working, so he turned and became an obnoxious brat of a heel who ran out on matches whenever he could, cut promos in which he would make fun of men's dead fathers, and couldn't be bothered to pronounce his opponents' names correctly. Then, more than a decade later in WWE, Jericho began feuding with Shawn Michaels over the forced retirement of Ric Flair and turned into yet another of the greatest heels of all time. Rather than revering back to the petulant man child of a heel that he was in WCW, the older, wiser Jericho became a malevolent egomaniac who was essentially a cross between a Bond villain and Nick Bockwinkel. In fact, he was so good as a heel in that run and matured so much from his past schtick that babyface Chris Jericho just hasn't felt "right" ever since.

2. Terry Funk - I've been giving Terry Funk a lot of love in columns like this recently, and there's a reason for it . . . Terry Funk is flipping awesome. Funk has had a half-century long career, and the majority of it (in the United States, anyway) has portrayed him as a bad guy, so it's difficult to encapsulate everything here. As a result, I'll just direct you to the two feuds that I think best display Terry Funk as a heel. The first is his Memphis work against Jerry "The King" Lawler, during which he cut some killer promos and had an empty arena match with a supremely memorable finish in which Funk managed to gain sympathy from fans despite the fact that he remained a heel. If you can make fans feel sorry for you in a moment but still remain a villain, that shows you have an aptitude for being a bad guy. The second feud that I would direct you to is the Funker's late 1980s rivalry with Ric Flair, during which Terry played a bitter old man who couldn't believe he was being slighted by the current generation's top star. He played it remarkably believably and, as in the case of all of his feuds, he played things in such a way that he came off as one of the most dangerous men in professional wrestling.





1. Ric Flair - I have to admit, I almost didn't put Ric Flair on this list. Why? It's because, even though I think some of them are still entertaining, I have a hard time putting the "cool heel" onto a list of "best heels." If you're a "cool heel," there is still a portion of the fanbase that likes you and cheers you, which is antithetical to what a heel is supposed to be in my book. Arguably, Flair was one of the first of those "cool heels" during his late 1980s Jim Crockett Promotions run. However, the more I thought about it, the more that I realized that Flair belonged on the list, for all of the reasons that others are going to list. Yes, he had that run when some people got behind him, but 1) his "fans" were in a relatively limited market (the Carolinas) while people in other parts of the territory still booed him and 2) that shouldn't negate the prior decade or so of his career, during which he was one of the greatest touring heel champions of all time, on both a national and international basis. All in all, Flair earned his nickname of the dirtiest player in the game, and he earned his spot atop this list.

---
YOUR TURN KNOW IT ALLS

List your Top Five for this week's topic in the comment section using the following format:

5. CHOICE: Explanation
4. CHOICE: Explanation
3. CHOICE: Explanation
2. CHOICE: Explanation
1. CHOICE: Explanation
Your heart is free. Have the courage to follow it…TO CSONKA'S TWITTER!

http://www.twitter.com/411wrestling
http://www.twitter.com/411moviestv
http://www.twitter.com/411music
http://www.twitter.com/411games
http://www.twitter.com/411mma

Have you checked out the Csonka Podcasting Network? If you haven't, you should We run anywhere from 15-20 shows a month, discussing pro wrestling, the world of MMA, the NBA, general sports, popular TV series of the past, bad movies, battle rap, interviews, MMA & Wrestling conference calls and more! Around 10 different personalities take part in the various shows, which all have a different feel; so you'll likely find something you like. All of the broadcasts are free, so go ahead and give a show a try and share the link with your friends on the Twitter Machine and other social media outlets! Running since May of 2011, there are currently over 400 shows in the archive for you to listen to.



Larry Csonka is a Pisces and enjoys rolling at jiu jitsu class with Hotty McBrownbelt, cooking, long walks on the beach, Slingo and the occasional trip to Jack in the Box. He is married to a soulless ginger and has two beautiful daughters who are thankfully not soulless gingers; and is legally allowed to marry people in 35 states. He has been a wrestling fan since 1982 and has been writing for 411 since May 24th, 2004; contributing over 3,000 columns, TV reports and video reviews to the site.
comments powered by