SPOTLIGHTS
411's Wrestler of the Week 10.15.13: Year Nine, Week 27
Posted by Larry Csonka on 10.15.2013

The Big Show knocked out Triple H, Masato Yoshino won the Open the Dream Gate Title, Austin Aries defeated Jeff Hardy on Impact and more! But who won 411's Wrestler of the Week? Find out inside!




Welcome to YEAR NINE, WEEK 27 of 411's Wrestler of the Week. A quick overview of the rules to kick things off for us as a reminder…

Each writer chooses FIVE wrestlers (although ties and tag teams are allowed) from any promotion and each wrestler gets a point total attached to that ranking. It looks a little like this…

1st - 5
2nd - 4
3rd - 3
4th - 2
5th - 1

Then we tally up the votes and the official 411 Wrestler of the Week is crowned. But wait, there's more! Each week the top SIX vote getters get a points value for their ranking which looks something like this…

1st - 15
2nd – 12
3rd - 9
4th - 6
5th - 3
6th - 1

...and they go towards the 411 Wrestler of the Year award to be announced each year around WrestleMania. This will be posted every Tuesday (the voting week runs Monday through Sunday). Let's see who wins this week…

---



Larry Csonka
1) Masato Yoshino
In what was easily (for me) the biggest event of the week, Masato Yoshino defeated YAMATO to become Dragon Gate's new Open the Dream Gate Champion. This is Yoshino's second run with the title, which he held back in 2010.

2) Austin Aries: Austin Aries defeated Jeff Hardy, clean as a sheet on Impact this week. It was a damn fine TV match, with both guys working hard and the crowd fully involved. Aries won with a second rope brain buster to gain a ton of momentum heading into Bound for Glory.
3) John Cena: Well that escalated quickly…
4) Cody Rhodes and Goldust
5) Big Show


Ryan Byers
1) John Cena
This guy tore his tricep which, in years past, could potentially have been a career-ending injury. Even in the modern era, it was predicted to keep him on the shelf for almost six months, with most folks predicting a return around the time of the Royal Rumble. This week, it was announced that he would be returning TWO FREAKING MONTHS after his surgery to reattach the muscle. That's the most impressive thing that I saw in wrestling this week, and it's a testament to the man's impeccable work ethic.

2) The Big Show: After weeks of blubbering like a small child, Big Show changed things up. HE . . . WAS A MAN! (Punch.)
3) Masato Yoshino: Yoshino defeated YAMATO for the Open the Dream Gate Title in Dragon Gate this week, holding the championship for the second time overall and the first time in three years.
4) Dem Dere Rhodes Boys
5) James Raideen


James Wright
1) Big Show
This has to be one of the first times that getting fired actually manages to land you as the biggest mover and shaker of the week, but it turns out that being freed from his 'Iron-clad' contract was the very thing that Big Show needed to finally lay out HHH. I am very open to a program between the Game and the Show as it will stop either man from being inserted into the title picture any time soon, now we just have to worry about the returning John Cena, or heaven forbid; Shawn Michaels.

2) Bully Ray: Despite the terrible state that the company is in, the TNA champion managed to look pretty in control this week, pulling together the remaining scraps of his group just long enough to go to town on his challenger for the World Title. Will Bully still hold the title after Bound For Glory? Well it doesn't matter too much anymore since the whole point of the angle was that taking the title away from him would break the grip of terror that the Aces & 8s had on TNA, but he already lost the belt and not that much actually happened, and the group has pretty much imploded at this point so really who cares who wins when all is said and done, just have a great match when all is said and done and try to salvage something from this ram-shackle storyline.
3) Curtis Axel: Despite his presence generally not meaning all that much and still not having gotten over despite the managerial skills of Paul Heyman, Axel did defend his title this week on Smackdown, and that is something. My theory now is that the WWE will keep the title on Axel for a good while to come so that despite his not getting over, they can retroactively claim that being a 'Paul Heyman Guy' leads to "significant" title runs.
4) The Rhodes Brothers
5) Austin Aries


Justin Watry
1) Big Show
Sure, why not? There is no WWE Champion. Therefore, the main story moved to Big Show knocking out Triple H. It took awhile, but the live crowd was right there with him. He has been humiliated, embarrassed, insulted, mocked, and even fired. Yet, Show punched The Game in the mouth on Raw. I'll take it.

2) John Cena: Shocked by his "early" return? You shouldn't be...at least not if you have been paying attention. First, you could just look at his elbow back in August. That specific injury did not require 4-6 months to heal, more like 4-6 weeks at a minimum. Secondly, there is WWE always exaggerating injuries with medical terms that most do not even understand anyways. Then there was recent shows advertising John Cena. On top of that, we knew the Fall season would bring in a slump for business just begging for star power to return (Shawn Michaels, Cena, and likely Vince McMahon soon). All of that adds up to Cena 'surprising' the audience by coming back before a laughable 4-6 month time table the company threw out there. As usual, the bait was taken hook, line, and sinker. It works every time. Every single time. Royal Rumble 2014? Hilarious. Another quality "report" there! Try late October to face Alberto Del Rio for the World Title. Also, for those wondering, I wrote about ALL of this stuff already in late August...on another website.
3) Randy Orton: Good stuff from The Viper this past week. He is not carrying the top title but still acts like it. For me, that counts for something. Oh yeah, he also had a solid Raw match.
4) Cody Rhodes
5) Goldust


Paul Lapointe
1) EGO (Daniels, Kazarian & Bobby Roode
Though some people, myself included, have surmised is that TNA is floundering creatively. That pointed out, EGO again proves there is hope in hilarity. If you guys have not seen this segment it was drop dead hilarious and the most memorable thing, I think, on any wrestling show.

2) Big Show: Boom! Down goes HHH! Let that hammer drop and the gavel with it. Big Show bursts out the big emotions and I am not talking tears here people, I am talking fists.
3) The Rhodes Clan: Dem dere boys have yet to drop the ball when it comes to booking with main event slots on Raw and Smackdown. A quasi win on Raw and a quality win over another stable and one yet to lose on TV in the Wyatt Family peaks my interests that them here boys are due for a run with dem belts.
4) Ricardo Rodriguez
5) Yoshino


Jeremy Thomas
1) John Cena
The Champ is coming back! Okay, so John Cena didn't actually do anything this week, and Cena coming back from injury is hardly new. But you have to remember that this is Cena coming back from injury three months before the Royal Rumble, which was already considered an early return since initial reports were "We hope he can be back by WrestleMania." I'm really starting to suspect he's a cyborg.

2) The Big Show: Triple H went down like [insert derogatory female stereotype here] to one of Show's punches after he'd finally had all he could and couldn't have any more from the bosses. Obviously, this can only be a good thing for Show.
3) The Rhodes Brothers: Dusty's boys are delivering big time at the moment and they continued to look good this past week. Can't argue with that.
4) Bully Ray
5) Masato Yoshino


Jack McGee
1) Cody Rhodes and Goldust
I was really worried on how the WWE would follow up with the Rhodes boys following their big win, but this week they did a damn fine job as they were featured in the main events of both Raw and Smackdown. So far so good as the brothers are delivering, the crowd loves them and they feel important. I hope that they can keep this up.

2) Bully Ray and AJ Styles: Featured as the main players as the company heads into the Bound for Glory PPV.
3) Austin Aries: Defeated Jeff Hardy in an awesome match on Impact
4) John Cena
5) Masato Yoshino

---
THE WINNERS~!
Special Mention…Austin Aries - 7 Votes


Fifth Place…Bully Ray - 10 Votes


Fourth Place…Masato Yoshino - 12 Votes


Third Place…John Cena and Goldust - 18 Votes

John Cena makes a miraculous return from injury and gets a world title shot, while Goldust was in the main event of both Raw and Smackdown last week.



Second Place…Cody Rhodes - 19 Votes

Cody Rhodes, fresh off earning a new WWE contract, was in the main event of both Raw and Smackdown last week.



And 411's Wrestler of the Week is…















The Big Show - 23 Votes

KO Triple H, win first place. Its almost as good as beating up Miz…




Year-End Standings~!
And here are the standings after week 27…

Daniel Bryan - 174pts.

Randy Orton - 81pts

Dean Ambrose - 67pts.

Seth Rollins - 63pts
Roman Reigns - 63pts

Cody Rhodes - 46pts.

CM Punk - 45pts.
AJ Styles - 45pts.

Brock Lesnar - 42pts

Christian - 39pts.

Chris Sabin - 36pts.

Prince Devitt - 33pts
Curtis Axel - 33pts.

Ryback - 30pts

Mark Henry - 27pts.
Kazuchika Okada – 27pts.

Bully Ray - 24pts.
John Cena - 24pts.

Goldust - 22pts

Manik - 21pts.
Bray Wyatt - 21pts.

Tetsuya Naito - 18pts.

Alberto Del Rio - 17pts.

Austin Aries - 16pts.
AJ Lee - 16pts.

Adam Cole – 15pts.
Hiroshi Tanahashi- 15pts.
Kurt Angle - 15pts.
Big Show - 15pts.
Dolph Ziggler - 15pts.
Kofi Kingston - 15pts.
Kenta Kobashi - 15pts.
Ricochet - 15pts
Damien Sandow - 15pts.
KENTA - 15pts.


Michael Elgin – 12pts.
Kyle O'Reilly – 12pts.
Luke Harper - 12pts.
Erick Rowan - 12pts.

James Raideen - 10pts

Johnny Gargano – 9pts.
Jimmy Uso - 9pts.
Jey Uso - 9pts.
Rampage Jackson - 9pts.
Big E. Langston - 9pts.
Abyss - 9pts.
Wade Barrett - 9pts.
The Undertaker - 9pts
YAMATO - 9pts.
Jun Akiyama - 9pts.
Tamohiro Ishii - 9pts.

Mikey Nicholls- 7pt
Shane Haste - 7pt
Rob Van Dam - 7pts.
La Sombra – 7 pts.

Shingo Takagi - 6pts.
Masato Yoshino - 6pts.
Sami Zayne - 6pts.
Fandango - 6pts.
Yoshihiro Takayama - 6pts.
Shelton Benjamin – 6pts.
Jigsaw – 6pts.
The Shard – 6pts.

Drew Gulak – 4pts.
Jushin Liger - 4pts.
Mickie James - 4pts.

EITA- 3pts.
T-Hawk - 3pts.
Suwama - 3pts.
John Morrison – 3pts.
Dusty Rhodes - 3pts.
Jack Swagger - 3pts.
Tito Ortiz - 3pts.
Sting - 3pts.
Hernandez - 3pts.
Chavo Guerrero - 3pts.
Seita Sanada - 3pts.

Magnus - 2pts
Paul Heyman - 2pts

Samoa Joe - 1pt
Bobby Roode - 1pt
ODB - 1pt
Tiger Mask IV - 1pt
CIMA - 1pt
Kota Ibushi - 1pt
Katsuhiko Nakajima - 1pt
Alex Shelley - 1pt
Candice LaRae - 1pt
Ethan Page - 1pt
Eddie Kingston – 1pt
El Hijo del Perro Aguayo – 1 pt



Voting began 4.16.13
Year-End Rankings Key:

WWE Contracted Wrestlers are represented in BLUE.

TNA Contracted Wrestlers are represented in GREEN.

ROH Contracted Wrestlers are represented in RED.

US Independent Wrestlers are represented in MAROON.

Japanese Contracted Wrestlers are represented in BLACK.

Mexican Contracted Wrestlers are represented in MAGENTA.

Other International Wrestlers are represented in INDIGO.

---
**PREVIOUS WINNERS**
Year One Winner: Ric Flair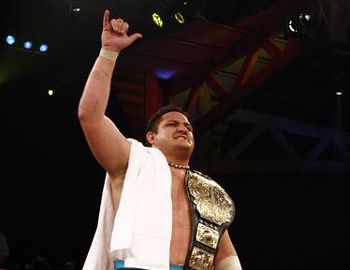 Year Two Winner: Samoa Joe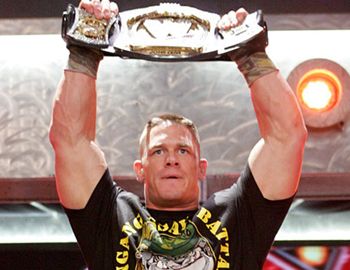 Year Three Winner: John Cena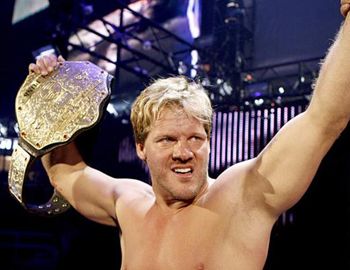 Year Four Winner: Chris Jericho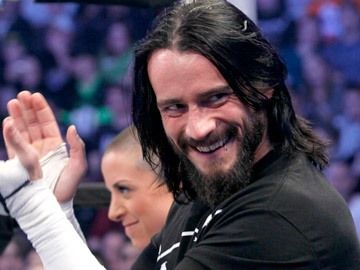 Year Five Winner: CM Punk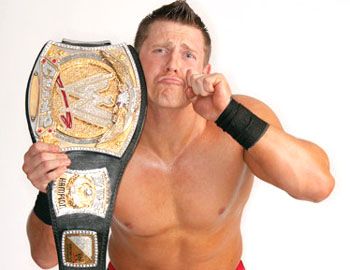 Year Six Winner: The Miz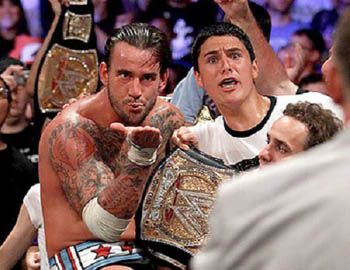 Year Seven Winner: CM Punk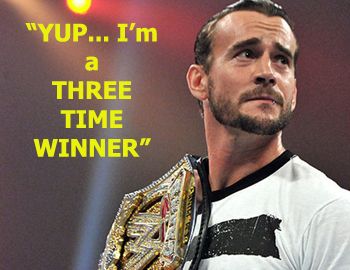 Year Eight Winner: CM Punk
comments powered by