SPOTLIGHTS
411's Wrestler of the Week 10.22.13: Year Nine, Week 28
Posted by Larry Csonka on 10.22.2013

AJ Styles won the TNA World Title, Kazuchika Okada retained the IWGP Title, Chris Sabin won the TNA X-Division Title, Cody Rhodes and Goldust won the WWE Tag Team Titles and more! But who won 411's Wrestler of the Week? Find out inside!




Welcome to YEAR NINE, WEEK 28 of 411's Wrestler of the Week. A quick overview of the rules to kick things off for us as a reminder…

Each writer chooses FIVE wrestlers (although ties and tag teams are allowed) from any promotion and each wrestler gets a point total attached to that ranking. It looks a little like this…

1st - 5
2nd - 4
3rd - 3
4th - 2
5th - 1

Then we tally up the votes and the official 411 Wrestler of the Week is crowned. But wait, there's more! Each week the top SIX vote getters get a points value for their ranking which looks something like this…

1st - 15
2nd – 12
3rd - 9
4th - 6
5th - 3
6th - 1

...and they go towards the 411 Wrestler of the Year award to be announced each year around WrestleMania. This will be posted every Tuesday (the voting week runs Monday through Sunday). Let's see who wins this week…

---



Larry Csonka
1) AJ Styles
At the Bound for Glory PPV, AJ Styles defeated Bully ray in the main event to win the TNA World Title. This was what most felt was the plan way back when AJ lost his chance to wrestle for the title for a year, and it was a bumpy road to get there, but Styles is the new champion. Where they go from here is anyone's guess.

2) Kazuchika Okada: Kazuchika Okada defeated Hiroshi Tanahashi on NJPW iPPV in what may end up being the MOTY when all is said and done. There were tons of rumors that New Japan was going to change the title because they wanted to have Tanahashi in the main event of the dome show. But they went with Okada, they continued the course they set in making Okada a big time player, and they didn't change their mind. Okada is THE guy for New Japan right now, and still your current, reigning and defending NJPW IWGP Champion.
3) Jessie Godderz and Robbie E: While not my pick, Jessie Godderz and Robbie E won the gauntlet match and then the tag title match at Bound for Glory to become the new champions. They put in a good performance overall and it certainly was the best weekend of their careers.
4) Chris Sabin
5) Goldust & Cody Rhodes


Ryan Byers
1) Kazuchika Okada
Okada and rival Hiroshi Tanahashi locked it up again on the main event of New Japan's latest pay per view this week, and, this time around, it was Okada who emerged victorious, retaining his IWGP Championship in a match in which the stipulation going in was that Tanahashi would never challenge for the title again if he lost. Storyline-wise, this is Okada succeeding Tanahashi in his "ace" position, and, match quality-wise, this was the sixth major match the two have had in their epic feud, all coming close to or hitting the vaunted ***** mark. This also means Okada will be in all likelihood headed to the main event of the January 4 Tokyo Dome show, the biggest of the year, marking the first time he has done so without Tanahashi being his partner for the dance.

2) Hiroshi Tanahashi: Tanahashi deserves some credit as well for this latest in a series of excellent matches with Okada, even it doesn't necessarily represent career progression for him. Tanahashi also traveled to the United Kingdom after the NJPW PPV, where he wrestled for Revolution Pro Wrestling and defeated Marty Scurll in the main event and was thereafter endorsed by guest star Bret Hart. Success on two different continents is always impressive.
3) Kellie Skater & Tomoka Nakagawa: All-female promotion SHIMMER ran four shows over the course of this past weekend, and perhaps nobody was more dominant than the Aussie/Japanese team of Skater and Nakagawa, who successfully retained their SHIMMER Tag Team Titles on all four of those cards, including one defense against the very tough team of Kana and LuFisto.
4) Goldust & Cody Rhodes
5) Cheerleader Melissa


Jack McGee
1) AJ Styles
AJ Styles defeated Bully ray at the TNA Bound for Glory PPV to win the TNA World Title. This has been the gameplan seemingly since day one, and it was nice to se TNA stay the course instead of changing their minds as they have all too often in the past.

2) Chris Sabin: Won the all star Ultimate X match to become the new TNA X-Division Champion.
3) Jessie Godderz and Robbie E: Won the pre-show gauntlet match, and then went onto the Bound for Glory PPV and defeated Gunner and Storm to win the TNA Tag Team Titles.
4) Goldust & Cody Rhodes
5) Gail Kim


Matt O'Connell
1) AJ Styles
In just about the easiest PPV main event to call since Hulk Hogan/Sgt. Slaughter from WrestleMania VII, AJ Styles dethroned Bully Ray to capture the TNA World Heavyweight Championship. It remains to be seen if the company is willing to do right by the closest thing they have to a Tommy Dreamer-style "Heart and Soul", or if AJ is still capable of the kind of work that would have made this arrangement a no-brainer half a decade ago. But uncertain seas aside, AJ Styles won the world title of a nationally televised promotion in the main event of their biggest show of the year, so he gets the nod here.

2) The Rhodes Dynasty: Cody Rhodes and Goldust defeated the Shield in a white-hot Raw main event to capture the WWE Tag Team Championships. For a long time it looked like no one would be unable to unseat the Shield, who were made to look dominant but not obnoxiously so; that the banished Rhodes brothers, the first casualties of Triple H's reign of unreason, were the ones who were finally able to slay that dragon is particularly poetic. It was a lovely moment, and also a heartening reminder that WWE does remember how to do things right when they really put their minds to it.
3) The Bro-Mans: These guys also won a world tag team championship this week, and despite their win being on PPV it still paled in comparison to the Rhodes' victory. Though I can't sanely hold the new champs accountable for this, the Placeholderz (James Storm and Gunner) were nowhere near the Shield's league, and the fact that this match happened meant that EGO was nowhere to be seen on the BFG card.
4) Big E Langston
5) Ethan Carter III


Justin Watry
1) Cody Rhodes
What a Raw moment! I truly believe the tag team title match we saw last week will be replayed for years and years to come. The one man who benefited the most was Cody Rhodes. Through all the ups and downs of this entire authority figure mess, fans are rallying around Cody. He won the tag straps off The Shield and finally ended their lengthy reign. Speaking of...

2) Goldust: Nobody is expecting much from Goldust in 2013. I doubt anybody is thinking about a main event run or some sort of miracle. However, Goldy is holding up on his end of the bargain. So far, so good. He won the tag straps with Cody and continues his 'short term' WWE return. I still expect him to turn on Cody before WrestleMania XXX, but for now - the two are tag team champs!
3) AJ Styles: You know what? I could rant and rave about Bound for Glory here, but what would be the point? No more than 10,000 people actually bought the pay-per-view. The build for the event was downright laughable for having four months. Plus, having a bunch of heels win on your 'biggest' show of the year is just mind-boggling. Thus, we go back to the actual PPV, which featured a bunch of title changes. Gail Kim? Been there, done that. Oh, she has a bodyguard too? Great, what a novel concept. Bro Mans? This has to be a joke. Chris Sabin? Yep, right back in the X-Division as I predicted months ago when he won the TNA Title from Bully Ray. That leaves AJ Styles. Oh look, he wins the belt without a contract and exits through the crowd while the boss looks on from the entrance ramp...never seen that before! Either way, he DID win the main event of BFG 2013. I suppose that counts...barely.
4) CM Punk
5) Alberto Del Rio


Steve "The Living Legend" Cook
1) The Rhodes Dynasty
This week featured lots of big performances with quite a few people that would have been deserving of the top spot on any given week. I give Cody Rhodes & Goldust the slight edge because their triumph was the least expected of the bunch. While Okada & Styles have been top performers in their companies for quite sometime, Cody Rhodes has been waiting for a chance to break out while Goldust has been waiting for a chance to prove he deserves long-term job. Their performance against the Shield on Monday night in one of the best Raw matches in quite awhile is a sign that both men have reached their goal.

2) Kazuchika Okada: I'm not big on star ratings so I can't tell you if Okada vs. Tanahashi was 5 snowflakes or not. I can tell you they both went balls to the wall & Okada cemented himself as a true RainMaker for New Japan in a fantastic bout that rates among the best of the year.
3) AJ Styles: The Phenomenal One once again sacrificed his body for TNA in his match with Bully Ray, and I hope the people running the company appreciate it as much as the fans do.
4) Hiroshi Tanahashi
5) The Bro-Mans


James Wright
1) AJ Styles
Say what you will about the current state of TNA, and even the state of Bound For Glory, but in the end a world title win is a world title win, and eventually when people look back on the career of AJ Styles this could be one of his biggest wins, or else at least another number up on his world title runs.

2) The Rhodes Brothers: Since there were several big title wins this week the only real way to rate them is in impact, and out of all the title wins outside of the World title, Cody and Dustin Rhodes dethroning the Shield has to be the biggest. On top of that the match and win itself had more emotion than pretty much anything on the Bound For Glory card.
3) Chris Sabin: I might not be too thrilled about the use of ladders in the match since to me it destroys the point of the gimmick, but Sabin winning the X-Division title in an Ultimate X match, against the likes of Jeff Hardy, Austin Aries and Samoa Joe.
4) The BroMans
5) Gail Kim


TJ Hawke
1) Kazuchika Okada
In what was considered one of the top MOTYCs, Okada finally successfully defended the IWGP Heavyweight Championship against Hiroshi Tanahashi. This solidified Okada's status as the top star of the best wrestling promotion in the world.

2) Rhodes Brothers: They defeated the Shield to win the WWE Tag Team Championships in what was widely considered a great match.
3) Robbie E & Jesse G: Our heroes managed to successfully defeat The Homophobes to finally become the TNA World Tag Champions. This was the feel-good moment of Bound For Glory.
4) Cheerleader Melissa: The SHIMMER Champion successful defended the belt three times over the weekend.
5) AJ Styles

---
THE WINNERS~!
Special Mention…Hiroshi Tanahashi - 6 Votes


Fifth Place…Chris Sabin - 9 Votes


Fourth Place…Jessie Godderz and Robbie E - 18 Votes


Third Place… Kazuchika Okada - 26 Votes

Still your reigning and defending IWGP Champion!



Second Place…Goldust - Votes

One half of the new WWE Tag Team Champions!



And 411's Wrestler of the Week is…















AJ Styles & Cody Rhodes - 27 Votes

Your NEW TNA World Champion and half of the new WWE Tag Team Champions!




Year-End Standings~!
And here are the standings after week 28…

Daniel Bryan - 174pts.

Randy Orton - 81pts

Dean Ambrose - 67pts.

Seth Rollins - 63pts
Roman Reigns - 63pts

Cody Rhodes - 61pts.

AJ Styles - 60pts.

CM Punk - 45pts.

Brock Lesnar - 42pts

Christian - 39pts.
Chris Sabin - 39pts.

Kazuchika Okada – 36pts.

Goldust - 34pts

Prince Devitt - 33pts
Curtis Axel - 33pts.

Ryback - 30pts

Mark Henry - 27pts.

Bully Ray - 24pts.
John Cena - 24pts.

Manik - 21pts.
Bray Wyatt - 21pts.

Tetsuya Naito - 18pts.

Alberto Del Rio - 17pts.

Hiroshi Tanahashi- 16pts.
Austin Aries - 16pts.
AJ Lee - 16pts.

Adam Cole – 15pts.
Kurt Angle - 15pts.
Big Show - 15pts.
Dolph Ziggler - 15pts.
Kofi Kingston - 15pts.
Kenta Kobashi - 15pts.
Ricochet - 15pts
Damien Sandow - 15pts.
KENTA - 15pts.


Michael Elgin – 12pts.
Kyle O'Reilly – 12pts.
Luke Harper - 12pts.
Erick Rowan - 12pts.

James Raideen - 10pts

Johnny Gargano – 9pts.
Jimmy Uso - 9pts.
Jey Uso - 9pts.
Rampage Jackson - 9pts.
Big E. Langston - 9pts.
Abyss - 9pts.
Wade Barrett - 9pts.
The Undertaker - 9pts
YAMATO - 9pts.
Jun Akiyama - 9pts.
Tamohiro Ishii - 9pts.

Mikey Nicholls- 7pt
Shane Haste - 7pt
Rob Van Dam - 7pts.
La Sombra – 7 pts.

Shingo Takagi - 6pts.
Masato Yoshino - 6pts.
Sami Zayne - 6pts.
Fandango - 6pts.
Yoshihiro Takayama - 6pts.
Shelton Benjamin – 6pts.
Jigsaw – 6pts.
The Shard – 6pts.
Robbie E - 6pts
Jessie Godderz - 6pts

Drew Gulak – 4pts.
Jushin Liger - 4pts.
Mickie James - 4pts.

EITA- 3pts.
T-Hawk - 3pts.
Suwama - 3pts.
John Morrison – 3pts.
Dusty Rhodes - 3pts.
Jack Swagger - 3pts.
Tito Ortiz - 3pts.
Sting - 3pts.
Hernandez - 3pts.
Chavo Guerrero - 3pts.
Seita Sanada - 3pts.

Magnus - 2pts
Paul Heyman - 2pts

Samoa Joe - 1pt
Bobby Roode - 1pt
ODB - 1pt
Tiger Mask IV - 1pt
CIMA - 1pt
Kota Ibushi - 1pt
Katsuhiko Nakajima - 1pt
Alex Shelley - 1pt
Candice LaRae - 1pt
Ethan Page - 1pt
Eddie Kingston – 1pt
El Hijo del Perro Aguayo – 1 pt



Voting began 4.16.13
Year-End Rankings Key:

WWE Contracted Wrestlers are represented in BLUE.

TNA Contracted Wrestlers are represented in GREEN.

ROH Contracted Wrestlers are represented in RED.

US Independent Wrestlers are represented in MAROON.

Japanese Contracted Wrestlers are represented in BLACK.

Mexican Contracted Wrestlers are represented in MAGENTA.

Other International Wrestlers are represented in INDIGO.

---
**PREVIOUS WINNERS**
Year One Winner: Ric Flair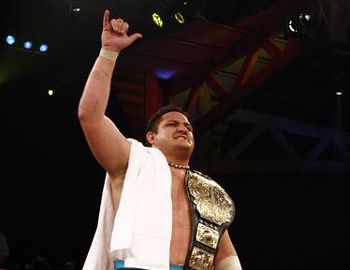 Year Two Winner: Samoa Joe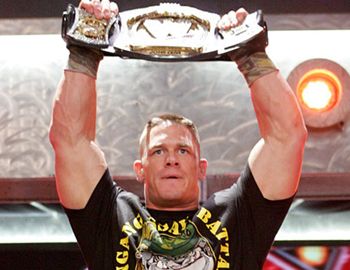 Year Three Winner: John Cena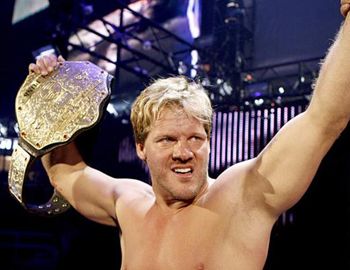 Year Four Winner: Chris Jericho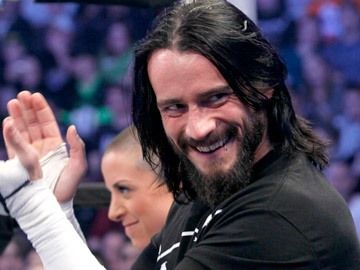 Year Five Winner: CM Punk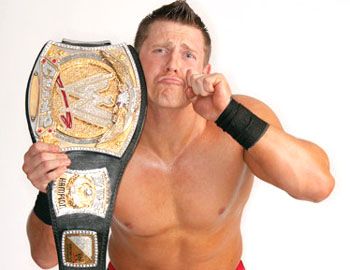 Year Six Winner: The Miz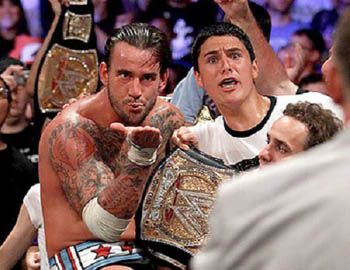 Year Seven Winner: CM Punk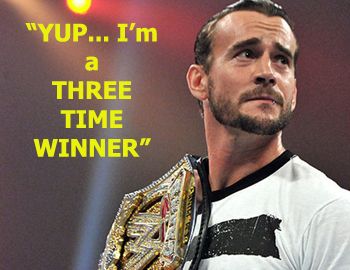 Year Eight Winner: CM Punk
comments powered by