SPOTLIGHTS
Tremendous Tirades 10.21.13: Monday Night Raw
Posted by Steve Cook on 10.21.2013

An entertaining contract signing and some solid matches make this a good lead-in for Sunday's PPV.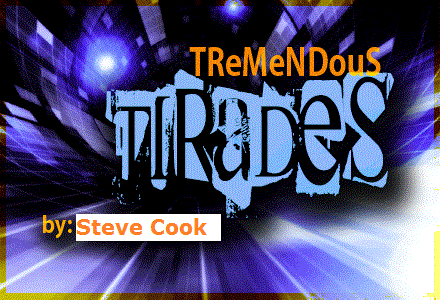 Introduction

Hi kids, it's Uncle Steve filling in for the Bossman this week. Y'all know the drill, the Tirade is not a traditional recap, but more of a free-flowing analysis of the show. Kind of like the Raw Thoughts I used to do in News From Cook's Corner or stuff I'd post on Twitter but with ratings & whatnot. Completely uncensored, so put the women & children to bed before reading this one. This is a review, and Larry has entrusted me with reviewing the show all fair & balanced-like. Obviously I'm a fan or why in the blue hell would I have wasted the last nine years of my life writing about pro wrestling? I like the stuff, but when stuff ain't right I'm gonna complain about it. It is what it is. I encourage discussion & even disagreement, in fact the more I get the more likely it is that Larry will continue posting my columns & podcasts.
---
WWE MONDAY NIGHT RAW - WHERE CM PUNK & AJ LEE DATING QUALIFIES AS NEWS
We're in Memphis, Tennessee, which would have guaranteed a Jerry Lawler match once upon a time. Now it guarantees contract signings.

Everybody Talks Too Much: Triple H & Stephanie McMahon came out to tell people what they'd be paying money to see on Sunday's Hell in a Cell PPV. Big Show is bringing it via satellite. Looks like he's at a comedy club. He runs down Triple H & Stephanie for awhile before Stephanie figures out they can cut the satellite feed. Triple H then introduces Dean Ambrose, which leads to Daniel Bryan making his entrance. Pretty generic opening promo, nothing to see here. I will say that Angry Big Show is a nice change of pace from Sad Big Show.

Rating (1-10): 5.0

Daniel Bryan vs. WWE US Champion Dean Ambrose : This is the part of the show where indy wrestling fans (and indy wrestlers) get all excited and talk about how these two guys are the only guys that matter on the WWE roster. I saw somebody on Twitter putting over a botched spot as how awesome Daniel Bryan is. I love the guy, but he puts his tights on one leg at a time like the rest of us, you know? This is also the part of the show where Larry Csonka would point out that they jobbed out the secondary singles champion and it's just another example of how the secondary singles titles don't matter. Crowd was slow to get into it, but Bryan & Ambrose took their time and by the finish the fans were chanting YES like they do in most other WWE arenas. I don't think this was the best they could do, but that's smart because they can save that for down the road and this was enough to leave people wanting more.

As for the whole thing where the US Champion lost…eh, having this kind of match with Bryan does more for Dean Ambrose than pinning some schmuck in a three minute title defense. So in this instance it's ok. Usually I'd be right with Larry on the topic, but this is an exception.

Rating (1-10): 8.0


Some noted last week that my grading scale for matches appears a bit harsh. It probably is, and looking back on it I think I would have rated the Rhodes Dynasty vs. Shield match from last week higher if I wasn't burned out from 2.45 hours of exceptionally mediocre sports entertainment. Mood often plays into match ratings, at least from my experience.


CM Punk explained what he was going to do to Paul Heyman & Ryback like he was a super villain explaining his master plan. Except he's the good guy and we want to see him punish Paul Heyman & Ryback. Good way to build the PPV.


Vickie Guerrero is here because Brad Maddox showed up on SmackDown and got knocked out by Big Show. I think that's why a lot of top talent doesn't want to work SmackDown.


Shawn Michaels enlightens the Authority on Daniel Bryan & fun hijnks like the Big Show pulled earlier. He hasn't grown up like they have, so he's gonna go have some fun!

Santino Presley (w/Elvis Khali & Hornswoggle) vs. Heath Slater: And now for something completely different…Santino bringing back fond memories of the Flying Elvises, when people thought Sonny Siaki was going to be a star. We thought some wild & crazy things in 2002. I believe Heath Slater was in kindergarten in 2002. Santino is going full bore with the Elvis gimmick here, even having an Elvis wig on his cobra sock puppet. Santino wins. At the very least, Michael Cole & Jerry Lawler really loved this match. Me…not so much.

Rating (1-10): 2.0


Santino goes over to the announce table and puts Lawler over as the only King of Memphis. They dance on the announce table. Way too many people on my Twitter timeline went with a heart attack joke so I won't go there.


The people wanted to see WWE 2K14 simulate the CM Punk vs. Undertaker match from WM XXIX. Well, video game nerds are big fans of CM Punk these days.

Dolph Ziggler vs. Randy Orton : I had a bad feeling about Dolph's chances tonight. They needed to make Orton look good, Ziggler's good at making big moves look good…it don't take an Internet rasslin expert to figure this one out. Sure enough, Randy got the win in a solid little wrestling match. I am a bit surprised that Ziggler didn't get massacred after the match. This is the part where we're supposed to complain about Ziggler being underutilized, but this is the right way to use him this week. Randy Orton has a match at the PPV. To the best of my knowledge Ziggler doesn't, and he got way more offense than I expected here.

Rating (1-10): 6.5


John Cena has a DIARY OF PERSAVERENCE according to Michael Cole.


It's weird. I like Stone Temple Pilots. I like Chester from Linkin Park. Them together…not really doing it for me.

AJ Lee & Tamina Snuka vs. The Bella Twins : Did Nikki get medically cleared to wrestle, or will Brie be doing all the work? Well, Nikki did tag in and do some things, so good for her! Lawler talking about Jimmy Snuka being a nice, easy going guy was something else. Nikki has never been the in-ring star of the twins, but she was perfectly serviceable here. Brie with the hot tag, goes into Brie Mode and hits the Brie Factor on AJ for the win. Well, she is the one with the title shot. I enjoyed it, but I am one of the biggest Bella Twins fans out there and I won't apologize for it. The Divas division needs some depth and reasons for people to care, but putting AJ & Tamina in the top heel category helps things along pretty well since they can wrestle. Get some of the NXT Divas up here and then you'll have something interesting.

Rating (1-10): 6.0


YouTube has a video about Alberto Del Rio's cross arm breaker.


Renee Young interviews Paul Heyman about his match on Sunday. He raves like a lunatic and then claims he is in control. It works because Paul Heyman is believable as a lunatic. Big E Langston interrupts & Curtis Axel decides to have a match with him later.


Nice video package showing some clips from when Daniel Bryan was working in Shawn Michaels' Texas promotion and Shawn talking about how he's grown as a performer. This is when WWE owning almost all the footage in American wrestling history comes in handy.

The Wyatt Family (w/Bray Wyatt) vs. The Miz & Kofi Kingston : I imagine being a fan of Miz or Kofi is like being a fan of the Jacksonville Jaguars at this point…except Miz & Kofi had some success at one point. I would say it's like being a New York Giants fan, but Miz & Kofi never had that much success. This analogy needs some work, and frankly I don't care enough to spend too much time on it. Kofi does a nice flip on a Luke Harper clothesline & the Wyatts win. OK, that part was cool. When did Miz & Kofi become friends anyway? I wish they'd explain these newfound friendships. Rowan & Harper tie Miz in the ropes & stretch his face while Bray cuts a creepy promo. This was a match and it was there.

Rating (1-10): 5.0

WWE Intercontinental Champion Curtis Axel vs. Big E Langston : Call me crazy, but Langston as IC champ might actually do something for the belt. Dude showed nice charisma on NXT as a face, and him dominating people would be a good time. Unfortunately for Big E, he's not dominating anybody here as Ryback insists on involving himself in pre-match shenanigans. Langston actually does very well against the Heyman guys, and CM Punk eventually comes down with a kendo stick and cleans house, which means Vickie Guerrero needs to come out and make this a TAG TEAM MATCH PLAYA HOLLA HOLLA HOLLA. It's not the same when Teddy Long isn't the one doing it.

Rating (1-10): n/a

Ryback & Curtis Axel vs. CM Punk & Big E Langston : Punk's wearing some nice Bret Hart/breast cancer trunks this evening. The main idea behind this match is to establish Big E as a good guy, and a good way to do that is having CM Punk get beat up and making the hot tag. Big E gets the big win with the Big Ending on Axel. I'd keep an eye on Big E, he could be a big money ballplayer sooner rather than later. Punk chases Heyman into the audience. At least Punk stops running, because it'd look kind of silly if he could never catch Paul Heyman in a footrace. Pretty solid action here.

Rating (1-10): 6.5


R-Truth is hyping WWE merchandise. This is easily the most entertaining he's been since his heel run when he was talking about the C-O-N-SPIRACY.


If El Torito goring Zeb Colter doesn't make people want to watch SmackDown, I don't know what will.

Tons of Funk vs. The Real Americans (w/Zeb Colter) : I'm pretty sure this match exists so Antonio Cesaro can do the Cesaro Swing properly this time. EL TORITO CUTS A PROMO! Zeb is on commentary, which leads to mild right-wing propaganda and horrible jokes. It's good times. CESARO SWING ON BRODUS! Swagger makes Brodus tap to the Patriot Lock. I can't tell whether or not Cesaro shoving Swagger is a celebration or if he's hot because he didn't get to win the match. I decided this match was a point better than the Wyatt Family tag because of the Cesaro Swing & Zeb on commentary. Other than that it was basically the same kinda thing.

Rating (1-10): 6.0


Zeb Colter has a bullwhip! I used to see this hairy guy on Memphis wrestling back in the day that always had a bullwhip with him. Wonder what happened to him.


Jerry Lawler swats at Michael Cole with a John Cena doll.


Kurt Angle's voice appears on WWE television for the first time in years as part of a John Cena video.


They've combined Cody & Goldust's themes. It needs some work, but mashup themes are usually a pretty good time. Rated RKO's mashup theme was so good you couldn't really tell it was one.

Seth Rollins & Roman Reigns vs. The Usos : Winners get a title shot at the PPV, which means the Shield forgot to make sure the rematch clause was in the match contract last week. They need to keep a better eye on these things. JBL & the Rhodes brothers on commentary is definitely something. I do enjoy Cody taking the opportunity to troll Gerald Brisco by claiming he & Goldust are better than the Brisco brothers were. It was also entertaining listening to all of the announcers trying to figure out how people get title shots in the tag team division. The match itself was fine, but it took way too long to get to a non-finish. This has been a trend on Raw recently…a match will drag on for a long period of time and eventually it gets pretty good, but then you get a lame finish that doesn't put anybody over and usually serves to make everybody involved look silly. The point here I suppose is to build to a triple threat match at the PPV, but they could have accomplished that in half the time and had the same effect and not made the audience feel like they wasted 15 minutes or so of their life.

Rating (1-10): 5.5

CONTRACT SIGNING EXTRAVAGANZA : I usually mock contract signings, but the last match just proved how important it is to look over a match contract. Didn't Shawn Michaels say he was going to go have fun a couple of hours ago? We haven't heard from him during that time, so he must have really been having some fun. Randy talks about how he's survived against the Undertaker & beat Cena & Sheamus, so D-Bry will be no problem. D-Bry says he will smash in the face of WWE, and thanks him for pushing him, exposing himself as a corporate pet & exposing the Authority as all sorts of bad things. Bryan challenges Triple H to put on his wrestling gear. H runs him down as not being worthy, and says Shawn shouldn't have wasted his time training him. Shawn disagrees, and wonders what happened to the old school degenerate Triple H. He promises to give the people a new WWE Champion at Hell in a Cell. Orton says Shawn has an agenda, H says Shawn will do what's right. Shawn wonders what H's problem is with Bryan and concludes it must be because Bryan proved him wrong. Bryan & Orton stare each other down, but are interrupted by Big Show driving a semi truck backstage. He drives it into the arena & distracts Orton so Bryan can hit the flying knee! Bryan goes back to the semi and leads a Yes chant while Big Show looks on approvingly.

I don't know why we keep having Shawn Michaels/Diesel comparisons in wrestling these days, but it kind of popped into my head just then with Big Show driving a big truck into the building and being Daniel Bryan's big buddy. Anyway, that actually wasn't a bad contract signing ceremony, which is shocking to me since 95% of contract signings in recorded history have been a complete waste of time. All the characters involved got to lay out their agendas heading into Sunday, Big Show got to show up and continue his storyline, and the fans get some hope heading into Hell in a Cell. That hope may be vanquished on Sunday, but for now we've got hope.

Rating (1-10): 8.0


End scene.


Thanks for reading.



The Tirade



There were plenty of things to like about this week's Raw. Some solid matches thanks to guys like Bryan, Ambrose, Orton & Ziggler. Some good entertainment with a contract signing that didn't suck. The Punk/Heyman parallel universe is now being used to get Big E Langston over, which I approve of. Nikki Bella can wrestle again, which is nice. The tag team division is the largest it's been since the early 2000s, and the teams are getting a chance to do stuff & stay together for extended periods of time. Yes, there are warts, the booking isn't perfect and there are way too many PPVs, but if WWE stays the course and doesn't get over excited over annual ratings dips they could have a very good show on their hands most weeks. Of course, that's a very huge "if".

Show Rating: 7.5

As a reminder, I will be going by the 411 scale…

0 - 0.9: Torture
1 - 1.9: Extremely Horrendous
2 - 2.9: Very Bad
3 - 3.9: Bad
4 - 4.9: Poor
5 - 5.9: Not So Good
6 - 6.9: Average
7 - 7.9: Good
8 - 8.9:Very Good
9 - 9.9: Amazing
10: Virtually Perfect

The final rating is not simply an average of the rated segments above. The rating takes them into account as well as the segments that are small but not scored, the flow of the show, the overall booking, build to PPV, crowd reactions, and so on and so forth.




---
Have you checked out the Csonka Podcasting Network? If you haven't, you should We run anywhere from 15-20 shows a month, discussing pro wrestling, the world of MMA, the NBA, general sports, popular TV series of the past, bad movies, battle rap, interviews, MMA & Wrestling conference calls and more! Around 10 different personalities take part in the various shows, which all have a different feel; so you'll likely find something you like. All of the broadcasts are free, so go ahead and give a show a try and share the link with your friends on the Twitter Machine and other social media outlets! Running since May of 2011, there are currently over 400 shows in the archive for you to listen to.



Steve Cook is a Gemini and enjoys drinking the occasional alcoholic beverage or nine, long walks on the beach, objectifying women and winning fantasy football championships. He graduated from the University of Louisville in 2006 & has a B.S. in Political Science with a concentration in Law & Public Policy. He has been a wrestling fan since 1990 and has been writing for 411 since August 14th, 2004; contributing nothing but headaches & utter frickin' chaos to the site. He is a living legend & the last of a dying breed.

Your heart is free. Have the courage to follow it…TO CSONKA'S TWITTER!
Follow Cook as well.

http://www.twitter.com/411wrestling
http://www.twitter.com/411moviestv
http://www.twitter.com/411music
http://www.twitter.com/411games
http://www.twitter.com/411mma
comments powered by