SPOTLIGHTS
The 411 Wrestling Top 5 12.04.13: Week 245 - The Top 5 Wrestling Entrances
Posted by Larry Csonka on 12.04.2013

From Undertaker's entrance at WrestleMania 25 and the Sandman's ECW entrance to Goldberg's fireworks, Hulk Hogan's WrestleMania 18 entrance and more, the 411 staff counts down their top 5 wrestling entrances of all time!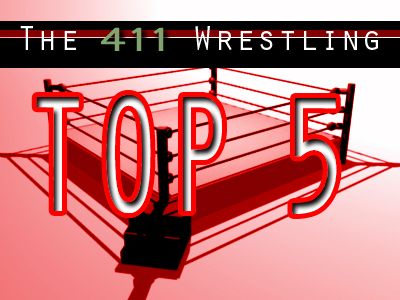 Hello everyone and welcome to 411 Wrestling's Top 5 List. We take a topic each week and all the writers here on 411 wrestling will have the ability to give us their Top 5 on said topic, plus up to three honorable mentions.

So, onto this week's topic…



The Top 5 Wrestling Entrances




This is not just theme music, but more a specific entrance at a specific event that delivered the whole package.




Dino Zucconi
Some of these may be a bit more general, and others might just be one-time entrances someone did. Pointing this out here so there's no confusion

5. Gangrel - I mean, right? We're all basically in agreement (so long as we were watching when Gangrel was around, or have seen his entrance at least once) that Gangrel's entrance was awesome? Rising from below the stage through a ring of fire with some amazing music, and drinking his viscous red liquid from a chalice, which he then spit into the air? Yeah, it's safe to say that Gangrel's spot is secure with me.

4. Ric Flair, All the Ladies - When it was a big time match, you could count on Ric Flair coming out with a bevy of beauties, his music blaring, his fireworks flowing, and his robe shining as bright as always. It's probably the most simple of the entrances on my list, but when I was a kid, a Ric Flair entrance was always a thing of beauty.



3. Edge, Rated R Superstar - Once he switched to the Alter Bridge song, and had roughly fifteen metric tons of pyro, I always looked forward to his entrance. Then he added the awesome Edge trot, and I don't know, an Edge entrance always felt like a rock star was about to arrive. Yes, I love Edge a lot. So here he is.

2. Sandman, ECW - I'm not even one of those ECW Acolytes who'll try to tell you that Shane Douglas was one of the all time greatest wrestlers or anything like that, but the Sandman had one of the most entertaining entrances in my lifetime. That's kind of impressive when you're doing it in the same arena time after time after time. But once Enter Sandman started playing, you knew the next 8 to 15 minutes were going to be really chaotic. I'd also like to sneak in Sabu's "Lights Off, Lights On" entrance here, if I may. It's not as rad as Sandman's, but I always dug it. ECW really had some cool entrances, and Sandman's was the best.

1. Undertaker, WrestleMania - It's just my favorite entrance of the year, really. Whether he's decked out in a robe and walking beneath the firesticks of druids, or riding his motorcycle down to the ring (sue me, I liked Bikertaker), or floating over a sea of fog, the Undertaker at Wrestlemania is the best entrance, and has been for the last 20 years.





---



MICHAEL WEYER
5. John Cena, Judgment Day, 2005 Cena is known for some wild entrances at WrestleMania and such. But one of his first standouts was early in his tenure as WWE champion with this rematch with JBL. JBL had mocked Cena as not worthy of the championship with his style so it made sense that Cena would show that up as his entrance music hit, followed by a loud horn. Into the arena drove a massive open-bed truck with a DJ playing Cena's music and Cena himself yelling to fans. He then held the belt up as fireworks ripped around him, a kick-ass entrance for a man who knows how to mix the entertainment with the wrestling right.





4. Goldberg Once WCW realized what they had with Goldberg, they knew they had to make him stand out more. He already had the great music of pounding drums and such but they made it really great once he won the World title. In the back, a guy would knock on the dressing room door and Goldberg would come out, walking down the hallways surrounded by security guards. He would stand-alone at the stage area before slowly walking out to cheers, standing still as pyro and smoke sprayed around him. Then, literally breathing smoke from his nostrils, he would bellow like an unleashed beast, flexing as he marched down the aisle to destroy whoever was in his way. It always got you going and shows how, for a time, WCW was able to sell him as their biggest star right.





3. The Ultimate Warrior Say what you will about the Warrior but no denying his entrance always kicked ass. That pounding rock beat would get the crowds revved up from the very start, on their feet and cheering. Then the Warrior would burst out of the back at high speed, charging down the aisle, hair and tassles flying and the place would go nuts. He'd run around the ring before entering to shake the ropes, often blown up before a match started but it added to his amazing ferocity and a key reason fans flocked to him so well so fast.





2. The Undertaker, WrestleMania 25 Mania has given Taker tons of cool entrances, from monks carrying torches in his path to seeming to float over fog. But this one stands out as for his battle with HBK, the bell tolls, lightning flashes about and Undertaker rises up to the stage as if rising from the underworld. After a pause, he raises his hands to unleash fire across the huge stage and then begin marching amid smoke and flames shooting about. Awesome as hell to set up what would be a classic battle.





1. Macho King's Throne Bearer This is an entrance someone today really should steal. While the entire "Macho King" gimmick sounded dumb, Savage did such a brilliant job with it, you were sucked in, aided by how Sensational Sherri would be every inch the Queen in wild outfits and makeup. The best entrances by them would be for big PPVs or TV bouts as they would be sitting on top of thrones side by side on a platform carried out to the ring on the shoulders of a pack of jobbers. With the music playing, it was a truly regal thing to watch, selling Savage perfectly as the egotistical heel and glorious to watch set up a match by a man who always gave his all to entertain fans.





---



Jarrod Atkinson
5. Hulk Hogan, Wrestlemania 18 - Hulk Hogan made his return to Wrestlemania after a 9 year absence to face The Rock in what should've been the main event. Although clearly established as the heel for the match, Hogan received a hero's welcome from the crowd in Toronto.





4. Brock Lesnar's return - Everyone had heard the rumors that Lesnar was in town during Wrestlemania weekend. When John Cena came out for the final segment of Raw, the fans didn't want to hear about his match the night before with The Rock, they wanted Lesnar. This was the one time that the person cutting the promo didn't try to ignore the crowd's chants. (Rock's Ira Goldberg quip, anybody?)Cena simply stopped talking and let Lesnar make his entrance. Lesnar did not disappoint.





3. The Wyatt Family debuts - The Wyatt Family debuted with an intense promo as Kane watched in the ring. For weeks Wyatt had been seen only in cryptic videos and the moment Wyatt lit the lantern we knew we were in for something special. Who knew that a simple lantern and some creepy ass music would be so cool? And just to be real, this probably would've scared the shit out of me as a kid.





2. Edge, Survivor Series '08 - Vickie Guerrero's declaration that "He's here!" was a nice swerve on the fans who were expecting Jeff Hardy to show up for the WWE Championship match that night. It was suppose to be Jeff Hardy's night to finally win the WWE Championship. But this was not Jeff's night. Many were pleasantly surprised when Edge returned with the Rated R beard and another championship victory.





1. CM Punk, Money In The Bank 2011 - The ultimate home field advantage. Punk was on fire after his vow to leave the company after winning the WWE Championship in his hometown, and the crowd was behind him 100%. John Cena had dealt with some partisan crowds before, but never to this magnitude. This was also a farewell to Punk's Killswitch Engage theme music, which originally was used by Randy Orton.





---



JUSTIN WATRY
NOTE: Since I do not like 'honorable mentions' for these lists, a couple did miss my cut: The Miz at WM27, Hulk Hogan at WM-X8, Shawn Michaels at WM25, Diesel at Royal Rumble 2011, Kane at WMXX, Edge anytime, Gangrel with The Brood, etc. So many fun choices had to be left off...sorry.

5. John Cena at WrestleMania 28 - Okay, we are off to a controversial start already. I get that. Truth be told, John Cena had to make this list somewhere. From all his wacky Mania entrances to Judgment Day 2005, he has had some memorable moments coming down the ramp. For argument's sake, you could have picked any of those. Why did I choose WrestleMania 28 then? No clue - it was just so great. With a year of build and so much hype surrounding one match, you knew the entrances would be so over the top ridiculous. Well, with MGK getting booed out of the building and taking a shot at The Rock (in Miami), the stage was set for Cena. Just him walking out, with everybody knowing what was at stake, it was special.

4. CM Punk at Money in the Bank 2011 - Honestly, we all know about the story line. Yes folks, it was all just a story line. We all know about the WWE Championship match. We all know about facing John Cena. We all know the event was in Chicago (CM Punk's hometown). We all know about the rumors and speculation around this match. What put this over the top? The commentators made this thing feel like a NBA Championship, Super Bowl, World Series, PGA Title, US Open, Stanley Cup, and WM main event all rolled into one. There was no joking. There was no odd ball comments from anybody. Michael Cole sold this beautifully. Jerry Lawler was gold here. Even Booker T added to the scene with some of his remarks. They were all on point and made this every bit as special as it should have been. Obviously, props to CM Punk and the rabid crowd. Obviously. However, without the commentators setting the stage and not goofing off, it would not have been so memorable to this day.

3. The Ultimate Warrior anytime - Do I never to explain this? To this day, my 'casual wrestling fans' here in Wisconsin will hum the theme music and act out his rope shaking movement. To this day! That is amazing. Just picturing Warrior running down the ramp and go wild has to include him in the top five...or top three in my case. The funny part is that most fans remember his entrance and/or music than anything he ever did inside the ring.

2. Bill Goldberg anytime - Same as Ultimate Warrior. This guy was MADE from his entrance. Whoever thought of the bit backstage where he had security escorting him to the ring was a genius. Pure genius. The sparklers and music added to the effect, no doubt. However, it was all done once he got that knock on the door. Then he comes out ready to destroy his opponent in 30 seconds and walk right back to his dressing room. Great stuff. I don't believe Shawn Michaels will wrestle again. I don't believe Stone Cold will wrestle again. I don't believe Edge will wrestle again...BUT I do think Goldberg will make his classic entrance just one more time. The only question is: Who's next?





1. Undertaker at WrestleMania each year - No explanation needed.

---



Greg DeMarco
5. Hulk Hogan saves Eugene at WrestleMania 21 - A Hulk Hogan return done right? You don't say! When Muhammad Hassan and Shawn Davairi attacked Eugene at WrestleMania 21, no one saw Hogan coming. And when he did, the reaction was insane. What a great way to involve Hogan at 'Mania.





4. The Undertaker's American Bad Ass Reboot - The Undertaker is an iconic character in the world of professional wrestling. No, he's THE iconic CHARACTER in professional wrestling. The Deadman. The Phenom. The Streak. There is no one like him. But when he decided to take his character in a different direction, the man behind the character became iconic. Because it worked. The American Bad Ass was a
great gimmick for The Undertaker, one that I'd love to see him do one more time.





3. CM Punk returns to confront John Cena, uses new song - The modern times have turned out a few surreal moments, and one was his CM Punk's return to the WWE after Money In The Bank. Punk wasn't cone long enough, and this return lead to him losing some of his edge, but this night saw the debut of his new song and kicked off a new era for Punk.





2. The Rock's Return on RAW - This was Rock's return to serve as the guest host for WrestleMania 27. I don't think I've ever heard a crowd pop like that. It was a legitimate surprise (much like the Cena entrance I already referenced), and got people genuinely excited to see John Cena vs. The Miz. We all know where it went from there ("Never Before, Never Again" and the rematch), but this was a great way to bring him back into the company.





1. Chris Jericho makes his WWF debut - This will always and forever by me favorite entrance of all time. Yes, I know I over spoke right there (always and forever of all time). Jericho was long viewed as one of WCW's biggest failures—not in how he performed, but in how he was used—and hardcore fans were all pining to see what he could do on in the (then) WWF. He didn't disappoint, giving us an amazing Hall of Fame worthy career of matches, angles and (of course) promos.

---



Ryan Byers
NOTE: I've seen/participated in tons of "best entrance" columns that involved ranking wrestlers' entrances generally so, to put a different spin on things, today I've decided to include only specific entrances from specific dates.

5. The Great Muta: April 26, 1996 - On the April 26, 1996 New Japan Pro Wrestling show from the Tokyo Dome, the Great Muta took on Jinsei Shinzaki, who American fans may know better as WWF historical footnote Hakushi. For those not familiar with Shinzaki, his character in Japan is essentially a Buddhist monk with a pure spirit and calm demeanor. Muta, meanwhile, is essentially Satan. So, as a precursor to the match between these polar opposite characters, you first have Shinzaki heading out in his traditional solid white gear under a white light, representing his purity. After he makes it to the ring, the Great Muta's music hits and THIS appears . . .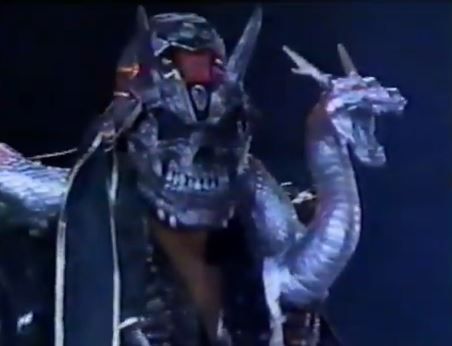 Yikes. Muta has always been a character that has called for some pretty impressive ring gear, but this nightmare fuel outfit, with its skull mask and dragon shoulder pads took things to the next level. As far as the actual walk to the ring is concerned, Muto didn't do anything all that different from his norm, but the visual of that ring gear appearing and the contrast that it had with Shinzaki's character and entrance made it a memorable one for me.

4. Ric Flair: Starrcade 1983 - Most of the time, remarkably elaborate entrances are the ones that stick in people's minds and therefore wind up on lists like this. Yet, there are some entrances that have an inherent beauty even though they don't have fancy light shows, dancers, and guest cameos. Do you want an example? Of course you do. My favorite entrance of this genre is Ric Flair hitting the ring for his NWA World Heavyweight Title match against Harley Race at the very first Starrcade. There obviously wasn't a lot of money put into the entrance by today's standards but, with what they had, they did just about everything perfectly to set the tone for Flair's role in the encounter. First, they completely killed the lights, and the only thing that cut through the darkness were fans' and photographers' flashbulbs. The flashes going off highlighted Flair's star power. Next, before the cameras even attempted to focus on the Nature Boy, we had at least thirty seconds of his entrance music playing, which worked well because that song encompassed all of the elegance and grandeur of Flair's character. Finally, a perfectly lit Flair stepped out of the darkness, with the "wings" on his robe and the reflections off its rhinestones making him look godlike as he emerged from the emissions of a well-placed smoke machine. If you're as big of a Flair fan as I was at one point in my life, it's the sort of thing that can give you goosebumps, and it operated as an excellent precursor to perhaps his most memorable championship victory.

3. Sting: March 16, 1998 - Given that he has toiled in relative obscurity for the past decade, a lot of people have forgotten that, for most of 1998, Sting was literally the biggest babyface star in the entire pro wrestling industry. Impressively, he and the WCW creative team made him into the biggest babyface star in wrestling through nothing more than a series of vignettes in which he stood around and did nothing, occasional run-ins, and, most importantly, ring entrances. The Stinger did all sorts of interesting things with his entrances during this period. Everybody remembers that he would rappel from the ceiling regularly during his "Crow" phase, but he would also incorporate unique elements like clones of himself to confuse adversaries, live birds, and spoken word poetry allegedly written by his wife. The cherry on top of it all was the evening at Club La Vela in Panama City when Sting rappelled into the ring from a helicopter. Let me repeat that: STING RAPPELLED INTO THE RING FROM A HELICOPTER. Short of skydiving into the ring, I defy you to come up with a more badass entrance for an outdoor venue. The only negative here is that, unfortunately, the entrance was used as a one-off in a relatively unimportant segment as opposed to preceding a significant match or angle, which is why it's probably not remembered nearly as well as it should be given its originality and over the top nature.

2. The Rock: Wrestlemania XXVIII - I'm not a huge hip hop fan, so, when there is a crossover between rap and wrestling, I'm usually not that into it because either I don't like the song, don't recognize the personality, or both. However, a major, major, major exception to this general rule came when I was getting ready for the main event of last year's Wrestlemania and, all of a sudden, a huge black man who I didn't recognize shot out through the entrance way and started rapping. It wasn't long before I realized that this was probably the "Flow Rider" fellow who I heard would be appearing on the show. He launched into his bit and, despite the fact that it doesn't come from my musical genre of choice, IT. WAS. AWESOME. Mr. Rider proved to be a remarkably charismatic, energetic performer who got myself and the live crowd absolutely hyped, and having an a-list music star paired up with the Rock for the biggest show of the year went a long way in reminding us that we were seeing an appearance by a wrestler whose star power greatly transcends that of the typical WWE performer. There have been many musical performances on wrestling shows - especially pay per views - that have been heavily panned, but this was the perfect way to incorporate a musician into your wrestling program.

1. Chris Jericho: August 9, 1999 - These days, Chris Jericho's standard entrance might not seem like anything special, mainly because, even though the graphics have been updated and the music slightly remixed over the years, it has followed largely the same template for over a decade. That doesn't change the fact, however, that Chris Jericho's very first WWF entrance blew my mind and is the one individual entrance that I remember more than any other in history. What did it? There are several factors. I admit that a large part of it had to do with the hype, as, during that period, every wrestling fan with a pulse was following the millennium countdown clock and speculating as to who could be behind it and why it was being referred to as a millennium countdown even though it was obviously going to end several months before the new millennium. Thus, the payoff was going to be memorable almost no matter what, even if it was a disappointment. In reality, it was anything but a disappointment. First, the clock returned to count off its last several seconds, meaning that we had a final few moments where we were focused on doing nothing but waiting and doing an eleventh hour run through of all of our theories and speculation. Once the countdown ended, we had the most unequivocal confirmation possible of who the mystery man was, as the name "JERICHO" popped up on the Titantron and therefore our television screens in several foot tall letters. The second the name popped up, we also got the music which, again, though it seems blase now, was seen by many as the apex of Jim Johnston-composed themes at the time, fitting the era and the character like a glove. Finally, we had Jericho himself, already a smark-beloved wrestler who many were excited to see cast off the shackles of WCW, finally on WWF TV and looking like a huge star. There were so many things to love about this entrances that, frankly, I think I could devote a full-length column to going on and on about how awesome it was.





---
YOUR TURN KNOW IT ALLS

List your Top Five for this week's topic in the comment section using the following format:

5. CHOICE: Explanation
4. CHOICE: Explanation
3. CHOICE: Explanation
2. CHOICE: Explanation
1. CHOICE: Explanation
Your heart is free. Have the courage to follow it…TO CSONKA'S TWITTER!

http://www.twitter.com/411wrestling
http://www.twitter.com/411moviestv
http://www.twitter.com/411music
http://www.twitter.com/411games
http://www.twitter.com/411mma

Have you checked out the Csonka Podcasting Network? If you haven't, you should We run anywhere from 15-20 shows a month, discussing pro wrestling, the world of MMA, the NBA, general sports, popular TV series of the past, bad movies, battle rap, interviews, MMA & Wrestling conference calls and more! Around 10 different personalities take part in the various shows, which all have a different feel; so you'll likely find something you like. All of the broadcasts are free, so go ahead and give a show a try and share the link with your friends on the Twitter Machine and other social media outlets! Running since May of 2011, there are currently over 400 shows in the archive for you to listen to.



Larry Csonka is a Pisces and enjoys rolling at jiu jitsu class with Hotty McBrownbelt, cooking, long walks on the beach, Slingo and the occasional trip to Jack in the Box. He is married to a soulless ginger and has two beautiful daughters who are thankfully not soulless gingers; and is legally allowed to marry people in 35 states. He has been a wrestling fan since 1982 and has been writing for 411 since May 24th, 2004; contributing over 3,000 columns, TV reports and video reviews to the site.
comments powered by