SPOTLIGHTS
411's Wrestler of the Week 11.05.13: Year Nine, Week 30
Posted by Larry Csonka on 11.05.2013

John Cena successfully defended the world title on Raw, the Wyatt Clan took out Daniel Bryan and CM Punk, AJ Styles defended the TNA Title in Mexico and more! But who won 411's Wrestler of the Week? Find out inside!




Welcome to YEAR NINE, WEEK 30 of 411's Wrestler of the Week. A quick overview of the rules to kick things off for us as a reminder…

Each writer chooses FIVE wrestlers (although ties and tag teams are allowed) from any promotion and each wrestler gets a point total attached to that ranking. It looks a little like this…

1st - 5
2nd - 4
3rd - 3
4th - 2
5th - 1

Then we tally up the votes and the official 411 Wrestler of the Week is crowned. But wait, there's more! Each week the top SIX vote getters get a points value for their ranking which looks something like this…

1st - 15
2nd – 12
3rd - 9
4th - 6
5th - 3
6th - 1

...and they go towards the 411 Wrestler of the Year award to be announced each year around WrestleMania. This will be posted every Tuesday (the voting week runs Monday through Sunday). Let's see who wins this week…

---



Larry Csonka
1) Bobby Roode
Scored another victory over Kurt Angle this week on Impact, but even more than that, Roode won the Tournament of Champions on the most recent One Night Only PPV. In one night, Roode defeated Sting, James Storm and Samoa Joe. That's a hell of a week for Mr. Roode.

2) The Millennials (T-Hawk & EITA): The Millennials defeated Dragon Kid & K-Ness to be come the official Open the Twin Gate Champions. They were the "interim champions," and their victory of the proper champions gave them the legit titles. These guys are awesome.
3) Magnus: Won a gauntlet match on Impact to secure a spot in the eight man TNA World Title Tournament.
4) AJ Styles
5) The Wyatt Family


JUSTIN WATRY
1) John Cena
He is back and once again World Champion. Not only that, but he became the first man to successfully defend his title against a SURPRISE Money in the Bank cash-in. Like it or not, that is impressive. Of course, the man also appeared on Smackdown and won a very lengthy main event tag match. Instead of wasting more time, let me just plug this week's edition of Ask 411 Wrestling. Outside of the usual fun, there will be a MAJOR announcement made. Only a select few know the news already, so be patient folks. Everybody else will find out this Tuesday night/early Wednesday morning.

2) Randy Orton: The WWE Champion got his own celebration (ruined by Big Show) on Raw. Better yet, he got to RKO The Miz on Smackdown. Not too shabby.
3) CM Punk: Defeated Ryback in a gimmick match about as clean as can be. He seems to be teaming up with Daniel Bryan to battle The Wyatt Family. I would say this should entice some extra buys for Survivor Series, but let's be honest, those fans targeted aren't going to shell out the money regardless. Oh well, WWE tries. One last time:
4) Bray Wyatt
5) Big Show


James Wright
1) John Cena
While I question the WWE's need to reassert how much of a 'superman' John Cena is, that is clearly what they were trying to do this week. He successfully defended his title on Raw against the former Mr. MitB Damien Sandow, and then won a six-man tag match in his usual fashion. At least in all this he might actually manage to restore some credibility to the world title.

2) Robert Roode: Came out on top on the latest TNA one night only PPV and managed to once again take out Kurt Angle on Impact, which even now is a pretty big deal.
3) The Bro-Mans: Defended their tag titles on Impact and surprisingly actually look like a decent tag team while doing so, even if they aren't the most deserving team holding the gold right now.
4) Gail Kim
5) Damien Sandow


Jarrod Atkinson
1) John Cena
Cena survived Damien Sandow's Money In The Bank cash in attempt on Monday night and got the pinfall in the main event of Smackdown.

2) Damien Sandow: Sandow looked good in a losing effort against John Cena on Monday night. Despite the loss, Sandow's stock seems to be rising as he vows to end Cena's title reign.
3) Bobby Roode: Roode defeated Kurt Angle on Impact and was also victorious in TNA's One Night Only-Tournament of Champions PPV.
4) Bray Wyatt
5) Magnus


Ryan Byers
1) The Millennials (Eita & T-Hawk)
Dragon Gate's hot young stable of the Millennials got its biggest win to date on this weekend's pay per view, when Eita and T-Hawk defeated veteran army members Dragon Kid and K-ness to win the Open the Twin Gate Titles. The young duo had previously been the interim champions, but, upon beating the former champs, they are now the real deal.

2) Damien Sandow: Yes, he now has the distinction of being only the second guy to cash in Money in the Bank and lose. (And, really, he's the first to cash in and lose cleanly.) However, Sandow way over-performed in his match and showed he could hang at a main event level, which he had not done before. We'll see if this bumps him up the card.
3) The Wyatt Family: After a lot of pre-debut hype, the Wyatts were starting to flounder without a real direction, but now it appears that the ship has righted and they're headed into a feud with main eventers Daniel Bryan and CM Punk. That's a huge step up from the Miz, and it's even a step up from Kane.
4) Masato Yoshino
5) Eddie Edwards


Paul Lapointe
1) John Cena
Superman has risen again and no kryptonite can hurt him. He negated a MITB cash in, won the World Title and got the pinfall in a hot 6 man tag all in the span of one week, yeah pretty super. I still say he is no Mario but hey, beggers cannot be choosers and the icing on the cake, he was Jabba the Hut for Halloween.

2) Bobby Roode: The "IT" factor of professional wrestling bumped off 4 MAIN players in TNA in one week, impressive as always from the former Team Canada MVP.
3) AJ Styles: Successfully defended the "TNA" world title in Mexico over the weekend by defeating former TNA talent Judas Mesias. I am hoping this trend and angle plays out.
4) The Wyatt Family Bumped into a major feud going into one of the big 4 PPV's.
5) The Millenials


Greg DeMarco
1) John Cena
In reality, no one had a bigger week than John Cena. He's the first man in history to successfully defend his championship against a surprise cash-in, and did so after a monumental beat down. Superman is in full effect, people.

2) The Wyatt Family: Bray and company took a huge step up this week, with attacks on both Daniel Bryan and CM Punk. I'm not sure if it's The Wyatt's versus The IWC Favorites or not, since the Wyatt's are quite popular around these parts as well. But their stock is rising.
3) The Big Show: He still has his own theme music, themed merchandise and access to every building used by the company that no longer employs him. That's impressive.
4) Randy Orton
5) AJ Styles


Chris Pilkington
1) Randy Orton
After months of chasing the title, plucky underdog Randy Orton finally, convincingly won the championship and claimed the moniker of the face of WWE. Despite having Scott Armstrong in his back pocket and a certified giant as his backup, the conniving Daniel Bryan failed in his attempts to better the Viper. His celebration on Raw might have been lacking in the live sex department, but the verbal blowjob he received from the McMahon-Helmsley Fac-gime was a thing of beauty. Also beat up The Miz. Undoubtedly the feel good story of the year so far.

2) John Cena: After a few days of no selling a serious injury, plucky underdog John Cena finally, convincingly won the World Heavyweight championship and claimed the moniker of the superman of WWE. Despite having a really big Mexican flag in his pocket and a very nice scarf, Alberto Del Rio failed in his attempts to better Cena. Also beat up Damien Sandow. Undoubtedly the feel good story of the year so far
3) AJ Styles:After months of looking like a homeless man and trying his best not to qualify through the Bound For Glory series, plucky underdog AJ Styles finally, convincingly won the TNA title and claimed the moniker of the phenomenal car jacker. Despite having a really loud voice and Garett Bischoff as backup, Bully Ray failed in his attempts to better the sulky hobo. AJ fled the border and beat up a monster in Mexico. Undoubtedly the feel good story of the year so far
4) Bobby Roode
5) Summer Rae


Jack McGee
1) Bobby Roode
It was a pretty quiet week overall in the world of wrestling, so Bobby Roode was an easy choice for #1. Besides defeating Kurt Angle, again on Impact, Roode kicked ass on the One Night only PPV that aired on Friday. I know a lot of people don't watch the shows, and want to joke, but Roode was booked very well; defeating Sting, James Storm and Samoa Joe to win the whole tournament. That makes it an easy win (in my eyes) for Roode this week.

2) The Real Americans: The Real Americans have been getting over, despite their booking, for a few weeks now. But this past week they really were booked strong with a victory over the tag team champions, and another good performance in the six-man tag on Smackdown. These guys are on a roll and have been fun to watch.
3) AJ Styles: AJ Styles defeated Judas Mesias to retain the "TNA title" at the AAA show Sunday in Jalisco, Mexico. I really like the angle thus far, and the one advantage that TNA has over WWE is the ability (and desire) to work with other companies to make an angle like this work.
4) The Millennials (T-Hawk & EITA)
5) Magnus

---
THE WINNERS~!
Special Mention…Damien Sandow, Luke Harper and Erick Rowan - 9 Votes


Fifth Place…Randy Orton - 11 Votes


Fourth Place…The Millennials (T-Hawk & EITA) & AJ Styles - 12 Votes


Third Place…Bray Wyatt - 13 Votes

He and the rest of the Wyatt clan took out Daniel Bryan and CM Punk on Raw…



Second Place…Bobby Roode - 23 Votes

Was crowned the champion of champions at the recent TNA One Night Only PPV!



And 411's Wrestler of the Week is…















John Cena - 29 Votes

Still your reigning and defending World Champion!




Year-End Standings~!
And here are the standings after week 30…

1. Daniel Bryan - 175pts.

2. Randy Orton - 96pts

3. AJ Styles - 75pts.

4. Dean Ambrose - 67pts.

5. Cody Rhodes - 64pts.

6. Seth Rollins - 63pts
6. Roman Reigns - 63pts

8. John Cena - 54pts.

9. CM Punk - 46pts.

10. Brock Lesnar - 42pts


Christian - 39pts.
Chris Sabin - 39pts.

Goldust - 37pts

Kazuchika Okada – 36pts.

Prince Devitt - 33pts
Curtis Axel - 33pts.

Bray Wyatt - 30pts.
Ryback - 30pts

Mark Henry - 27pts.

Bully Ray - 24pts.

Manik - 21pts.

Tetsuya Naito - 18pts.

Alberto Del Rio - 17pts.

Hiroshi Tanahashi- 16pts.
Austin Aries - 16pts.
AJ Lee - 16pts.
Damien Sandow - 16pts.

Adam Cole – 15pts.
Kurt Angle - 15pts.
Big Show - 15pts.
Dolph Ziggler - 15pts.
Kofi Kingston - 15pts.
Kenta Kobashi - 15pts.
Ricochet - 15pts
KENTA - 15pts.

Bobby Roode - 13pts
Luke Harper - 13pts.
Erick Rowan - 13pts.

Michael Elgin – 12pts.
Kyle O'Reilly – 12pts.

James Raideen - 10pts

Johnny Gargano – 9pts.
Jimmy Uso - 9pts.
Jey Uso - 9pts.
Rampage Jackson - 9pts.
Big E. Langston - 9pts.
Abyss - 9pts.
Wade Barrett - 9pts.
The Undertaker - 9pts
YAMATO - 9pts.
Jun Akiyama - 9pts.
Tamohiro Ishii - 9pts.
EITA- 9pts.
T-Hawk - 9pts.

Mikey Nicholls- 7pt
Shane Haste - 7pt
Rob Van Dam - 7pts.
La Sombra – 7 pts.

Akebono - 6pts.
Shingo Takagi - 6pts.
Masato Yoshino - 6pts.
Sami Zayne - 6pts.
Fandango - 6pts.
Yoshihiro Takayama - 6pts.
Shelton Benjamin – 6pts.
Jigsaw – 6pts.
The Shard – 6pts.
Robbie E - 6pts
Jessie Godderz - 6pts

Drew Gulak – 4pts.
Jushin Liger - 4pts.
Mickie James - 4pts.

Suwama - 3pts.
John Morrison – 3pts.
Dusty Rhodes - 3pts.
Jack Swagger - 3pts.
Tito Ortiz - 3pts.
Sting - 3pts.
Hernandez - 3pts.
Chavo Guerrero - 3pts.
Seita Sanada - 3pts.

Magnus - 2pts
Paul Heyman - 2pts

Samoa Joe - 1pt
ODB - 1pt
Tiger Mask IV - 1pt
CIMA - 1pt
Kota Ibushi - 1pt
Katsuhiko Nakajima - 1pt
Alex Shelley - 1pt
Candice LaRae - 1pt
Ethan Page - 1pt
Eddie Kingston – 1pt
El Hijo del Perro Aguayo – 1 pt



Voting began 4.16.13
Year-End Rankings Key:

WWE Contracted Wrestlers are represented in BLUE.

TNA Contracted Wrestlers are represented in GREEN.

ROH Contracted Wrestlers are represented in RED.

US Independent Wrestlers are represented in MAROON.

Japanese Contracted Wrestlers are represented in BLACK.

Mexican Contracted Wrestlers are represented in MAGENTA.

Other International Wrestlers are represented in INDIGO.

---
**PREVIOUS WINNERS**
Year One Winner: Ric Flair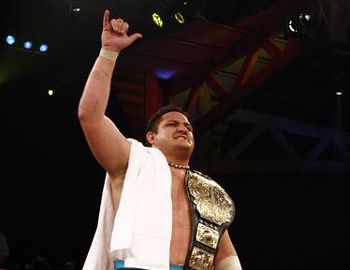 Year Two Winner: Samoa Joe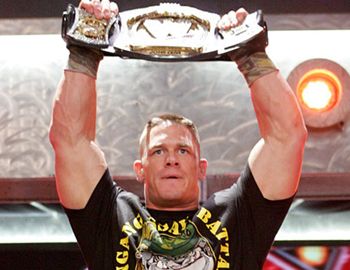 Year Three Winner: John Cena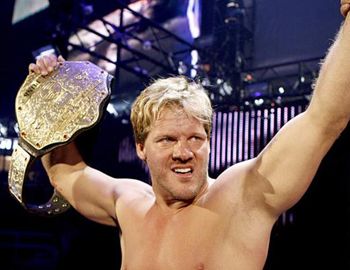 Year Four Winner: Chris Jericho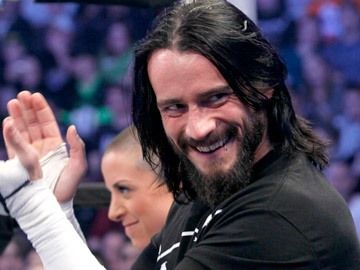 Year Five Winner: CM Punk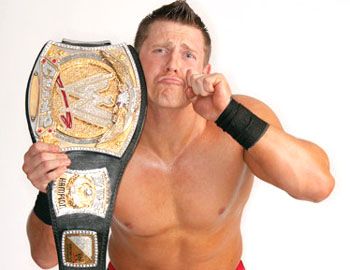 Year Six Winner: The Miz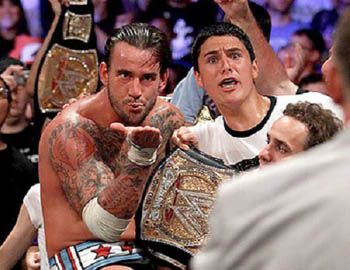 Year Seven Winner: CM Punk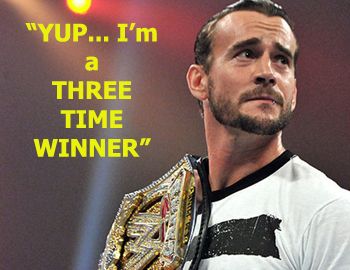 Year Eight Winner: CM Punk
comments powered by