SPOTLIGHTS
The 411 Wrestling Top 5 12.11.13: Week 246 - The Top 5 John Cena Matches
Posted by Larry Csonka on 12.11.2013

From his Money in the Bank match with CM Punk and his last man standing match with Umaga to his 2007 Raw classic with Shawn Michaels, his One Night Stand match with RVD and more, the 411 staff counts down the top 5 John Cena matches!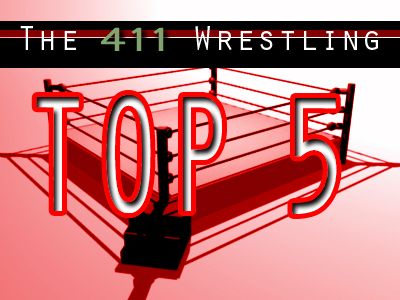 Hello everyone and welcome to 411 Wrestling's Top 5 List. We take a topic each week and all the writers here on 411 wrestling will have the ability to give us their Top 5 on said topic, plus up to three honorable mentions.

So, onto this week's topic…



The Top 5 John Cena Matches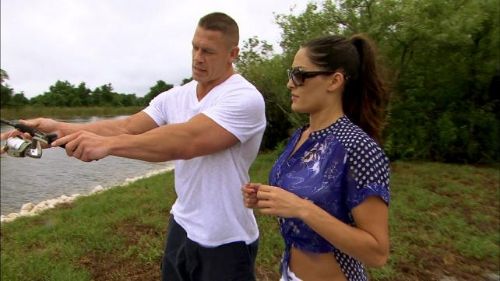 List John Cena's best matches… GO!




MICHAEL WEYER
5. vs. Edge, Unforgiven, 2006 The culmination of their fantastic feud of that year, Edge defended the WWE title against Cena in his hometown of Toronto in a TLC match. Most thought Edge would have the advantage but Cena proved he could hang in these matches just as well, both men taking sick bumps and hits but never giving up, willing themselves on with the fans almost feeling their pain at such blows. It culminated in the great sight of Cena hitting an FU off the ladder that sent Edge crashing through two tables, allowing Cena to grab the belt. It's telling how even the Toronto fans had to give Cena props with cheers as he proved himself to them all and to many watching as a true champion of the modern era in so many ways.

4. vs. Batista, WrestleMania XXVI This match turned into a very pleasant surprise for those watching the card, even jaded critics like Scott Keith giving it high ratings. The fact Cena and Batista hadn't gone against each other that much gave it a dimension, fans wondering how a one-on-one battle would be. The match was a great hard-hitting affair, Batista using his strength but Cena countering with his fast moves and cool stuff like a five-knuckle shuffle off the top rope. It was a classic clash of the monster versus the babyface, both guys pushing it to the best of their ability with Cena finally getting an STFU to force Batista to submit, a good match that fit well for the big show of the year.

3. vs. Rob Van Dam, One Night Stand 2006 It's the atmosphere that makes this one so very notable. When Cena went into the Hammerstein Ballroom, it's safe to say not a single person in the audience was cheering for him. It wasn't so much Cena himself as how he represented the WWE ECW fans hate so much with one fan holding the sign "Cena wins, we riot" and they probably would have. It's amazing to watch on a sociological level as it showcases some of the hypocrisy of the ECW smarks, chanting "same old shit" at Cena while cheering a guy who hasn't changed his move set since 1999. The match was still good as Cena did a better job than one would expect against this massive hate, holding his own for a good battle with RVD and played up the boos to keep himself going strong. It ended with Edge interfering to allow RVD to win the title but Cena still showed his star power, good and bad, by handling such a unique situation but clearly the star in it all.

2. vs. CM Punk, Money in the Bank, 2011 Playing the perfect foe to Punk's weeks of build against WWE, Cena once again was against a hostile crowd in Punk's hometown of Chicago. But once more, Cena managed to hold against it as he and Punk put on a fantastic battle, brawling it out all over the place, putting in their trademark moves but also egging on the crowd with great fighting and dirty moves too. The ending may have been a bit overbooked with Vince's interference but in the end, Punk managed to get the victory, allowing him to win the title and he and Cena capping off a great PPV and angle with Cena showing himself willing to put someone over well, the true merit of a superstar.

1. vs. Shawn Michaels, April 23, 2007 RAW Some will cite their Mania match of that year as the best but this one really stands out as no one was really expecting it. What seemed a quick TV battle instead turned into a 53-minute war with both guys blowing away fans with their amazing work, trading moves, blows, flying attacks and more, neither giving ground to the point where you didn't even care about the time. Indeed, this showcases Cena's amazing physical abilities as he still looked fresh as hell at the 40 minute mark and more than holding his own against the veteran HBK. Michaels got the win in the end but both men got an ovation from the crowd for an incredible show that proves that in the big battles, Cena brings the A game like few others.





---



Chris Pilkington
5. John Cena and B-2 vs. Los Guerreros Smackdown 01/16/03> - I expect that we will see a lot of similar answers here and I'm sure my fellow writers will be waxing lyrical about them far better than I. For that reason I'm going for a few left field picks here. That's not to say I consider any of my choices lesser than anyone else's and I stand by my list 100%. I love this match for several reasons. Firstly, Cena's villainous rapper phase is almost forgotten at this point. It's cool to look back at a period before he was the finished article and still trying to find his feet in WWE. Secondly, seeing Cena reliant on another human being in B-2 (and by the end of this match Red Dogg) is a rare sight indeed.

This is a Los Guerreros match, which immediately makes it amazing. This is from back when Smackdown was must see television and the smooth, crisp, exciting Guerreros were a large part of the appeal. Cena matches these days tend to feature large stretches where Cena is getting his ass handed to him and this match is no different. The only difference is that Cena is a lot more vulnerable here and so the beating actually means something. I'm sure people will question why this match is here. It's a pretty throwaway television tag match that almost nobody remembers. To me though, this match marks a significant change in Cena's career. This was the turning point where his midcard white boy rapper gimmick started to metamorphosize into something more substantial that stood him in good stead for the following decade.

4. John Cena vs. Eddie Guerrero Latino Heat Parking Lot Brawl 9/11/03 - How can you not include a match in which bad guy John Cena does a delayed vertical suplex on the roof of a car while wearing a Brian Urlacher jersey? There is an intensity to Cena in this match that is rarely replicated today. The unique visual of Guerrero and Cena smashing each other into a circle of cars while various Smackdown wrestlers cheer them on deserves to be seen. It also holds the distinction of being the only John Cena match you will ever see in which he uses a lawn mower as a weapon. Yes, it's an incredibly gimmicked match, but it's just so much fun. Wrestling is still supposed to be fun, right? I mean, where else are you going to see a grown man burn another grown man with a car cigarette lighter then blind him with wiper fluid?

3. John Cena, HBK and Hulk Hogan vs. Christian, Tomko and Y2J 6/27/2005 - Dream teams don't get much dreamier than this. The three leaders of their respective generations teamed up for a moment that only increases in its magnitude with every passing year. This was only three years into Cena's WWE career yet he was already a mega star. At one point, Hogan even mimics the "you can't see me" pose. If Hogan's stealing your shit then you know you've made it.

2. John Cena vs. Sabu 6/7/2006 - Talk about a clash of styles. Say what you will about Cena but he always brings the goods when he's going against an unorthodox opponent. He seems to thrive on being put outside of his comfort zone as his matches with the likes of RVD, CM Punk and Daniel Bryan attest to. This fast paced brawl of a match happened one week before the Van Dam match at One Night Stand and this is an excellent precursor to that. The recklessness of Sabu in this match works really well against the safer WWE style that Cena portrays. It's the dream match we didn't know we wanted, but I'm damn glad we got.

1. John Cena vs. Umaga Last Man Standing 1/28/07 - As soon as I saw this topic come up, this was the very first match to pop into my head. Cena vs. Umaga isn't just my favorite Cena match, it's one of my favorite matches PERIOD. They tore the house down and tore the ring up all at the same time. The ending, with Cena STFU'ing Umaga with the ring ropes, is such a cool visual. JR was on fire in the commentary booth, uttering the words "even a monster has to breath" as Cena wrenched the hold with blood dripping down his face. Sadly, Umaga was taken from us far too early, but in my mind he could have become one of the best big men ever. We will never know what would have become of Umaga but at least we have this absolute classic to remember him by.





---



Paul Lapointe
HM John Cena Vs RVD ECW One Night Stand- Heyman's moment to bask in his glory days and RVD getting a well deserved MOMENT (one he would screw up but still) was a nice pat on the back to wrestling history and us wrestling nerds love moments like those. I am no exception to this rule by any stretch. Plus Edge's shit eating grin after his spear was mercifully devilish and equal parts hilarious.

5. John Cena Vs Kurt Angle Smackdown Debut - John Cena's debut is still something that I can recall almost instantly when people speak of his matches. With that in mind I have to place it in his top 5 as with any good match its something that sticks with you. Now is it the greatest bout in the world? The Longest? No of course not but sometimes that is not important as the impact of it all. Granted when one makes his debut against Kurt Angle and gives him a brief run for his money then yes it will be a good match no matter how you want to spin it. This match also shows that the E had faith in Cena and from this moment to now he has remained somebody the E has depended on ever since, for better or worse.

4. John Cena Vs HBK 53 Minute Raw Match - This match is something that just came out of left field on Raw one night as they just let them go at it. Again somebody, really anybody getting to work with HBK at length is bound to have a good if not great showing and this match is no exception. As a bonus anytime Raw can surprise a cynical or jaded fan that "Anything can happen in the WWE" then it's worth noting. And lastly with as much times as the WWE has each week and its roster longer bouts like this is something I would love to see more often rather then all the filler the "WRITERS" come up with to chew out time on Mondays.

3. John Cena Vs Daniel Bryan Summerslam 2013 - This is placed here moreso probably for Daniel Bryan then John Cena but considering he has to be part of the match to make it good to begin with he lucks out, haha. Seriously though, I love this match more for The American Dragon finally getting HIS moment over a genuine main eventer and getting HIS shot and it being Super Cena made it sweeter. That is probably why I like this match so much- because not only did Cena lose, he lost clean as a whistle to an unproven top guy and it was for the WWE title to boot at a big 4 PPV as well. Cena doing something like this whether it was to injury or any other reason for that matter is pretty big as its something that does not happen often.

2. John Cena Vs UMAGA (R.I.P) Last Man Standing Royal Rumble - Now this is a match that defied expectations more then some people were expecting at the time and even since. I say this mainly because as Hogan or Cena can and have proven its that the mega baby face meets the monstrous giant beast is a marquee match and usually can go the way of routine as Cena sometimes is prone to doing in matches such as this. But with the big stage of the RR and gimmick to back it up the match went up, down, in the middle and back again en route to a crazy ending sequence that both elevated UMAGA and made Cena look fallible.

1. John Cena Vs CM Punk MITB - Wow! This takes number 1 easily as not only was this a crazily well put together, booked, performed and executed match I got to experience it live from Chicago! Sure the end result following the match booking wise left a lot to be desired for some including myself but up to and including this match it was damn near perfection. Being in the arena in Chicago for a moment like this was stupid crazy fun and not shying away from the fact that Chicago crowds are infamous for being boisterous and brazen with there opinions and the like to say the atmosphere was nuts is an understatement. Run on sentence, yipee!. CM Punk also finally got his limelight thanks to this angle and match and for the best in the world that is something to be hanging your hat on for sure, so thank you John Cena for that, thank you very much.

Finally as some may have noticed my list of moments and Cena matches for the most part did something for somebody ELSE other then Cena and generally his best efforts at least to me have been when he LOSES. Now I am not as much as a Cena hater as some people out there as he has his place no matter how bored I get with him or complacent I sometimes get as well with his booking and place on the card when he is champion or not. John Cena is the Hogan of today and the WWE always needs somebody like that and will long after Cena is done and retired. I say this because like Hulk Hogan who as a worker was pretty weak compared to other workers when it comes to the science of wrestling he was the top guy as Cena is today. Most people tend to crap all over these guys in hindsight because for a lack of a better thought that is what is meant to happen for us fans when it comes to these guys. Whether it's when Hogan hit his 3 moves of doom or Cena hits his 5 moves of doom or even Bret with his said 5 moves people sometimes groan. Us fans need somebody to be in this kind of position so after all is said and done at the end of the day that when a guy like this loses it becomes something that really matters. Plus the company has the decency to think it has somebody they can depend on in slow times and hits just the right amount of demographic outside of us fantasy bookers or internet wrestling trolls that it can function from one end of the booking year to the next if need be. Love em' or hate em wrestling needs em in the end and though I personally never truly relish his wrestling ability for the most part I do appreciate when what he brings to the table affects me as a wrestling fan. Now if more guys on the roster could locate Kryptonite then maybe Super Cena would less rivaled but hey the world needs Superman.





---



JUSTIN WATRY

5. Debut vs. Kurt Angle - This has to be included just for the sake of being included. Now, I am not going to lie and say "I knew he would be a huge star! I knew it right away. I just knew it. Blah, blah, blah." However, right after his match with Kurt Angle ended (before his moment with The Undertaker backstage), I checked with my brother to see if he was recording the episode. Luckily, he was. The next day, I watched the match over and thought he COULD be something in the future to look out for. It captured me that much. True story. As they say, the rest is history...

4. WrestleMania 22 - I loved this event. While WrestleMania X-7 is a tad over rated (first hour was nothing), this show is extremely under rated. All of it was capped off with a main event that I still remember very well to this day. Move for move. Jim Ross line after Jim Ross line. Crowd reaction after crowd reaction. I may know this match by memory more than any other match. My Mania party (couple of friends/family over) was just bonkers for this back and forth battle. The fad of 'hating' Cena was alive and well in Chicago that night. In my house, nobody knew the outcome. We couldn't call it one way or another. That made everything a million times better. When Triple H tapped out to lose, it was just pure shock. Great match, great moment.

3. Unforgiven 2006 - This was another excellent performance from John Cena in 2006. That year was filled with great matches and feuds for him. Now that I mention it, let's all agree that a Top 5 list for Cena is nearly impossible. Just in 2006, he had five very good bouts, just on pay-per-view alone. There was his Elimination Chamber battle, match with HHH listed above, good triple threat at Backlash, AMAZING title defense versus Rob Van Dam that should likely make my rankings but won't, then the Edge clashes during the Fall. That is just one year. Now, bring up his match against The Rock at WrestleMania 28, first WWE Title win over JBL, their I Quit match, the Eddie Guerrero fight, Umaga battles, Randy Orton classics, Money in the Bank 2011 which could easily top ANY list, and everything from Raw not mentioned yet. Nearly impossible to name them. I am sure I just forgot about another 20 matches or so in that moment.

2. Raw 2013 vs. CM Punk - Right now, this is my match of the year for 2013. Just above CM Punk/Brock Lesnar from Summerslam. Just above Daniel Bryan vs. John Cena from Summerslam. From there, it is anybody's contest. Unless something changes in the next few weeks, Cena vs. Punk for the #1 Contenders spot in late February gets my vote. While many knew that Cena/Rock for the WWE Title was the plan for WM29 dating back to July 2012, it did NOW alter my excitement for this main event of Raw. Of course, Cena was going to beat Punk. Anybody with a sane mind knew that going in. As usual though, these two took the spotlight and delivered a compelling bout that left the sold out arena and myself speechless. Bravo guys, bravo!

1. Royal Rumble 2008 - Yes, I am cheating a little bit. Cry me a river. The 2008 edition is my favorite Rumble of all-time. Better than the 2004 version. Better than the 1992 version. Better than the 2000 version...oh wait, that was one of the worst. Long live the Attitude Era! John Cena returning at the #30 spot still gives me goosebumps. I just love it when we all KNOW everything and KNOW what WWE is doing and KNOW the outcomes and KNOW how smart us clowns are...yet we KNOW nothing. Well, I do, but that is beside the point. Cena coming out, shocking the "smart" Madison Square Garden and winning the Rumble was this era's most shocking moment. Nothing has topped it since and likely will not for another decade or two. Absolutely amazing moment, and Cena facing off against HHH before dumping him over the top rope made it all that much sweeter.





---
YOUR TURN KNOW IT ALLS

List your Top Five for this week's topic in the comment section using the following format:

5. CHOICE: Explanation
4. CHOICE: Explanation
3. CHOICE: Explanation
2. CHOICE: Explanation
1. CHOICE: Explanation
Your heart is free. Have the courage to follow it…TO CSONKA'S TWITTER!

http://www.twitter.com/411wrestling
http://www.twitter.com/411moviestv
http://www.twitter.com/411music
http://www.twitter.com/411games
http://www.twitter.com/411mma

Have you checked out the Csonka Podcasting Network? If you haven't, you should We run anywhere from 15-20 shows a month, discussing pro wrestling, the world of MMA, the NBA, general sports, popular TV series of the past, bad movies, battle rap, interviews, MMA & Wrestling conference calls and more! Around 10 different personalities take part in the various shows, which all have a different feel; so you'll likely find something you like. All of the broadcasts are free, so go ahead and give a show a try and share the link with your friends on the Twitter Machine and other social media outlets! Running since May of 2011, there are currently over 400 shows in the archive for you to listen to.



Larry Csonka is a Pisces and enjoys rolling at jiu jitsu class with Hotty McBrownbelt, cooking, long walks on the beach, Slingo and the occasional trip to Jack in the Box. He is married to a soulless ginger and has two beautiful daughters who are thankfully not soulless gingers; and is legally allowed to marry people in 35 states. He has been a wrestling fan since 1982 and has been writing for 411 since May 24th, 2004; contributing over 3,000 columns, TV reports and video reviews to the site.
comments powered by