SPOTLIGHTS
411's Wrestler of the Week 12.03.13: Year Nine, Week 34
Posted by Larry Csonka on 12.03.2013

John Cena challenged Randy Orton for the title vs. title mach at TLC, Bobby Roode led his team to victory on Impact, Roman Reigns continued to impress and more! But who won 411's Wrestler of the Week? Find out inside!




Welcome to YEAR NINE, WEEK 34 of 411's Wrestler of the Week. A quick overview of the rules to kick things off for us as a reminder…

Each writer chooses FIVE wrestlers (although ties and tag teams are allowed) from any promotion and each wrestler gets a point total attached to that ranking. It looks a little like this…

1st - 5
2nd - 4
3rd - 3
4th - 2
5th - 1

Then we tally up the votes and the official 411 Wrestler of the Week is crowned. But wait, there's more! Each week the top SIX vote getters get a points value for their ranking which looks something like this…

1st - 15
2nd – 12
3rd - 9
4th - 6
5th - 3
6th - 1

...and they go towards the 411 Wrestler of the Year award to be announced each year around WrestleMania. This will be posted every Tuesday (the voting week runs Monday through Sunday). Let's see who wins this week…

---



Larry Csonka
1) Kurt Angle and Bobby Roode
In a slow holiday week for wrestling, Kurt Angle and Bobby Roode are doing their best to make TNA feel important. They are still part of the TNA Title Tournament, but were also the captains of the Survivor Series style teams that went to war on Impact this week. Angle and Roode hasn't been perfect, but you get the feeling that they (as characters) hate each other and at this time, they are the most interesting feud TNA.

2) BxB Hulk: Speaking of Survivor Series style teams going to war, BxB Hulk came away as the sole survivor in Dragon Gate's Nagoya Elimination Match. He outlasted such names as YAMATO, Shingo Takagi and Akira Tozawa, all in an effort to build him up for his Open the Dream Gate Title match at the upcoming Final Gate show.
3) Roman Reigns: Continued to be featured on Raw, using the spear to take out opponents and later in the night, CM Punk.
4) Kevin Steen
5) CIBA


JUSTIN WATRY
1) John Cena
Set forth the movement to unify the WWE and World Titles. Plus, the man teamed with Big Show during the Raw main event (making Alberto Del Rio tap out). In a fairly slow week for big moments in the world of wrestling, it is only fair that the top two champs remain supreme.

2) Randy Orton: Stood tall over John Cena to close Monday night Raw. Had a good opening segment on Smackdown. Also, he seems set to unify the WWE and World Titles in a few weeks. Victorious or not, this could go down in history as a huge era defining match.
3) The Miz: Featured in a segment with Michael Strahan, defeated Kofi Kingston and co-starred in Christmas Bounty. Sounds like a good week to me!
4) Roman Reigns
5) CM Punk


Ryan Byers
1) BxB Hulk
God, what a boring, nothing happening week. I guess the closest thing to an actually accomplishment anywhere in the wrestling world was BxB Hulk being the final survivor in Dragon Gate's Nagoya Elimination Match, outlasting YAMATO, Shingo Takagi, Akira Tozawa, and many more. This helps set up his Open the Dream Gate Title match at the upcoming Final Gate show, where he will seek to wrest the title away from Masato Yoshino.

2) CM Punk: Punk is so established as a main event guy that I'm a bit over voting for him for just winning run of the mill WWE TV matches, but, again, this is an exceedingly slow week. Punk and Daniel Bryan first teamed to get a win over the Wyatt Family in a handicap match on Raw, and the Punk was the big winner in the Smackdown main event.
3) CIBA: Became the number one contender to the Open the Brave Gate Title thanks to a win on Dragon Gate's December 1 card.
4) La Sombra
5) Isami Kodaka & Yuko Miyamoto


Nick Sellers
1) Roman Reigns
Following on from his Survivor Series heroics, he played an important part on Raw and Smackdown this week in the Shield's respective endeavours. Nice moment on Raw in particular, as he speared Punk on the outside and actually "directed traffic" afterwards, instructing his cohorts to drag Punk into the ring for a customary 3-man Powerbomb. A subtle, yet clear sign they are positioning him as the one guy who's really going to come out of his shell. The Smackdown tag shenanigans were really messy, but that's through no fault of his own. 2014 is going to be a massive year for him.

2) John Cena: There weren't many standout individual moments from WWE folk this week, but Cena brought the goods in his opening promo and in the main event on Raw. He's WWE's postman: Always delivering. And long may it continue.
3) Alberto Del Rio: Probably not most obvious choice, but I really enjoyed his part in the Raw main event and he had a belter with Dolph Ziggler on Main Event. I hope in future we see less talking from Del Rio and more of his vicious streak, because he's a fantastic in-ring worker and the nasty streak he has only accentuates that.
4) Daniel Bryan
5) Damien Sandow


Jack McGee
1) Kurt Angle and Bobby Roode
While the TNA Title Tournament was on pause for the holidays, Kurt Angle and Bobby Roode continued their feud in a big time elimination tag match. TNA can be hit or miss at times, but I love the Angle vs. Roode feud and not only has it added to the title tournament, quite frankly it is carrying the Impact show.

2) Roman Reigns: The big man continues to destroy all with the spear, which is getting over big time.
3) John Cena: Set up the big title vs. title maybe a unification coming soon match with Randy Orton. That's one way to make the world title seem important.
4) Randy Orton
5) CM Punk


Paul Lapointe
1) Randy Orton and John Cena The Faces of the WWE are set for a title Vs Title...err...Swap...Unification match? Who knows.

2) Bobby Roode: His Heel TNA team survived the holidays over Kurt Angle in dominant fashion even with the chair as a threat.
3) CM Punk: Pedestrian week in the WWE for the most part but part was a bright spot as usual.
4) Roman Reigns
5) B X B Hulk


Chris Pilkington
1) John Cena
Another week of overcoming the odds for Cena, who managed to defeat Randy Orton and Alberto Del Rio despite his tag partner Big Show being a non factor towards the end.

2) Bobby Roode: His team managed to defeat Team Angle in the best Survivor Series match of the week.
3) Roman Reigns: Continued to look like the dominant member of The Shield in his post Survivor Series coming out party.
4) La Sombra
5) BxB Hulk


Steve "The Living Legend" Cook
1) Goldust & Cody Rhodes
The SmackDown writing staff apparently didn't feel like doing a lot of writing this week, as they had the second hour of their program dominated by the Tag Team Champions. The Rhodes boys won a tag team match against the Shield, then a 6-man with CM Punk against the Shield, then a 12-man with Punk, Rey & the Usos against the Shield & the Wyatt Family. That's a lot of winning.

2) Kevin Steen: Added another indy heavyweight title to his resume by defeating Shane Hollister for the AAW Championship. The Chicagoland-based AAW has to be happy, as Steen holding their belt increases their profile and will make more people take notice of their product.
3) Bobby Roode: Led his team of Christopher Daniels, Kazarian & Chris Sabin to a dominant victory in an elimination match over a team led by Kurt Angle.
4) Mark Henry
5) Ring Crew Express


Jarrod Atkinson
1) Adam Cole
In a week where a tag team match in WWE turned into a six man tag, which turned into a 12 man tag, Cole's defense of the ROH Championship against Jimmy Jacobs earns my #1 vote.

2) Roderick Strong: Sent Davey "John Cahill" Richards packing in a great match on ROH TV this week. Strong has been on a roll lately with consistently....strong matches.
3) Bobby Roode: Led his team to victory in the totally not Survivor Series 8 man elimination tag team match.
4) Kevin Steen
5) BxB Hulk


---
THE WINNERS~!
Special Mention…Kurt Angle - 10 Votes


Fifth Place…Randy Orton - 11 Votes


Fourth Place…BxB Hulk - 13 Votes


Third Place…Roman Reigns - 19 Votes

Continues to impress, and looking to make his case for breakout star of the Shield…



Second Place…John Cena - 22 Votes

Made the challenge to Randy Orton for the title vs. Title possible unification match at TLC…



And 411's Wrestler of the Week is…















Bobby Roode - 24 Votes

Led Team Roode to a Thanksgiving night victory over Team Angle, and continues to be one of the best parts of the Impact Wrestling program!




Year-End Standings~!
And here are the standings after week 34…

1. Daniel Bryan - 178pts.

2. Randy Orton - 99pts

3. AJ Styles - 90pts.

4. Roman Reigns - 87pts

5. John Cena - 73pts.

6. Dean Ambrose - 67pts.

7. Cody Rhodes - 64pts.

8. Seth Rollins - 63pts

9. CM Punk - 47pts.

10. Brock Lesnar - 42pts


Kazuchika Okada – 39pts.
Christian - 39pts.
Chris Sabin - 39pts.

Goldust - 37pts

Prince Devitt - 33pts
Curtis Axel - 33pts.

Bray Wyatt - 36pts.

Bobby Roode - 34pts

Ryback - 30pts

Kurt Angle - 28pts.

Mark Henry - 27pts.

Bully Ray - 24pts.

Big E. Langston - 21pts.
Manik - 21pts.

Tetsuya Naito - 18pts.

Luke Harper - 17pts.
Alberto Del Rio - 17pts.

Hiroshi Tanahashi- 16pts.
Austin Aries - 16pts.
AJ Lee - 16pts.
Damien Sandow - 16pts.

Adam Cole – 15pts.
Big Show - 15pts.
Dolph Ziggler - 15pts.
Kofi Kingston - 15pts.
Kenta Kobashi - 15pts.
Ricochet - 15pts
KENTA - 15pts.
Matt Jackson – 15pts.
Nick Jackson – 15pts.

Erick Rowan - 14pts.

Jeff Hardy - 12pts.
Michael Elgin – 12pts.
Kyle O'Reilly – 12pts.

James Raideen - 10pts

Johnny Gargano – 9pts.
Rob Conway – 9pts.
Jimmy Uso - 9pts.
Jey Uso - 9pts.
Rampage Jackson - 9pts.
Mr. Anderson - 9pts.
Abyss - 9pts.
Wade Barrett - 9pts.
The Undertaker - 9pts
YAMATO - 9pts.
Jun Akiyama - 9pts.
Tamohiro Ishii - 9pts.
EITA- 9pts.
T-Hawk - 9pts.
Harlem Bravado – 9pts.
Lancelot Bravado – 9pts.

Mikey Nicholls- 7pt
Shane Haste - 7pt
Rob Van Dam - 7pts.
La Sombra – 7 pts.

Akebono - 6pts.
BxB Hulk - 6pts.
Shingo Takagi - 6pts.
Masato Yoshino - 6pts.
Sami Zayne - 6pts.
Fandango - 6pts.
Yoshihiro Takayama - 6pts.
Shelton Benjamin – 6pts.
Jigsaw – 6pts.
The Shard – 6pts.
Robbie E - 6pts
Jessie Godderz - 6pts

Magnus - 5pts

Drew Gulak – 4pts.
Jushin Liger - 4pts.
Mickie James - 4pts.

Suwama - 3pts.
John Morrison – 3pts.
Dusty Rhodes - 3pts.
Jack Swagger - 3pts.
Tito Ortiz - 3pts.
Sting - 3pts.
Hernandez - 3pts.
Chavo Guerrero - 3pts.
Seita Sanada - 3pts.

Paul Heyman - 2pts

Samoa Joe - 1pt
ODB - 1pt
Tiger Mask IV - 1pt
CIMA - 1pt
Kota Ibushi - 1pt
Katsuhiko Nakajima - 1pt
Alex Shelley - 1pt
Candice LaRae - 1pt
Ethan Page - 1pt
Eddie Kingston – 1pt
El Hijo del Perro Aguayo – 1 pt



Voting began 4.16.13
Year-End Rankings Key:

WWE Contracted Wrestlers are represented in BLUE.

TNA Contracted Wrestlers are represented in GREEN.

ROH Contracted Wrestlers are represented in RED.

US Independent Wrestlers are represented in MAROON.

Japanese Contracted Wrestlers are represented in BLACK.

Mexican Contracted Wrestlers are represented in MAGENTA.

Other International Wrestlers are represented in INDIGO.

---
**PREVIOUS WINNERS**
Year One Winner: Ric Flair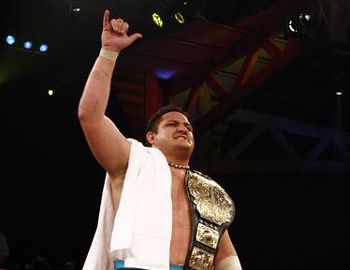 Year Two Winner: Samoa Joe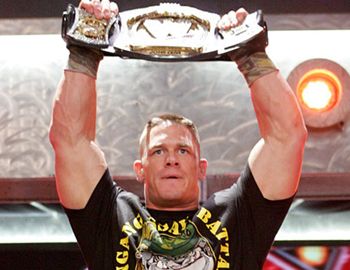 Year Three Winner: John Cena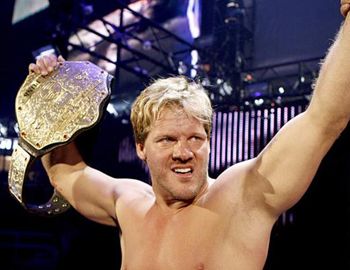 Year Four Winner: Chris Jericho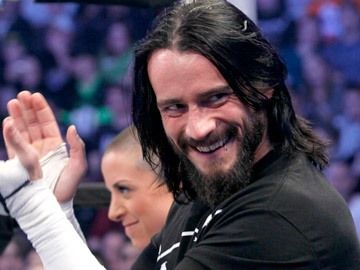 Year Five Winner: CM Punk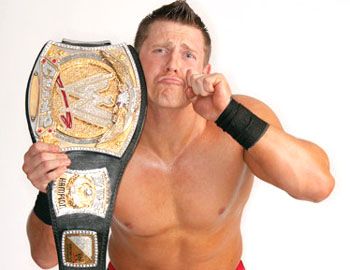 Year Six Winner: The Miz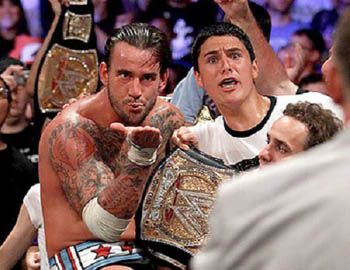 Year Seven Winner: CM Punk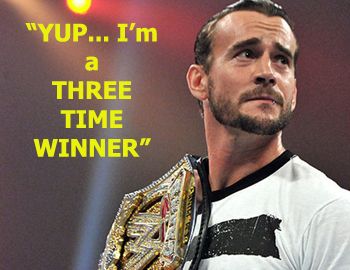 Year Eight Winner: CM Punk
comments powered by