SPOTLIGHTS
Smart Marks 12.07.13: Spoiled Goods
Posted by Dino Zucconi on 12.07.2013

News and thoughts on WWE telling their babyfaces not to sell losses, TNA's Impact tapings, CMLL's latest show and more!

Hello one and all, and welcome back to your place to talk about all things wrestling, Smart Marks! I'm Dino, and I'm the caretaker of this here place.

Last week, I talked about not liking the idea of unifying the WWE and World Titles. While there are plenty of people going with the idea that we'll get some sort of shotty ending where the belts are switched, I'm hitching my personal wagon to the idea that they're actually going through with it. Many of you disagreed with my take, feeling that with the roster already basically being one giant unit again, having two champions is simply silly. Others don't agree that it benefits the roster, and others still were happy to think that the ridiculous title matches we've been given in recent years would disappear with the removal of the second Heavyweight Championship.

Obviously, we're going to have to agree to disagree on whether we like the impending unification (if it does in fact happen), but I'm not afraid to admit that some of the points of those arguing with me, I agreed with. I definitely won't miss the R Truth vs. John Cena and Hardcore Holly vs. Brock Lesnar title shots. I would, however, suggest we exercise caution: Big Bossman main evented a pay per view for the WWF Title against the Big Show, with only one title, and plenty of other guys who could have been plugged into that spot. Let's not pretend that WWE doesn't have it in them to make a stupid title shot, one belt or two.

I guess, much like usual, we just have to wait and see before really getting our undies in a bunch. I'm just not personally looking forward to having one champion again.

This week, I have a few different things I want to talk about, starting off with my continuing journey back into the world of lucha!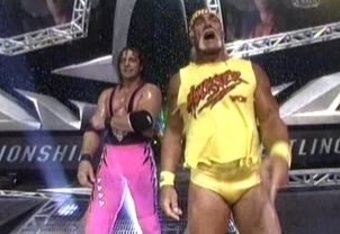 South of the Border



This week's edition of CMLL's Lucha Azteca featured quite the lineup, as we saw:

A "Match de Relámpago" (one fall match, or literally, lightning match) with Titan vs Boby Zavala, a trios contest featuring Blue Diamante, Blue Panther, Atlantis vs. Comandante Pierroth, Felino, and Mr. Niebla, and another pitting La Sombra, Rush, La Máscara vs El Terrible, Negro Casas, and Tamatonga.

First things first, I was really stoked to see a one on one match. Even better, it featured Titan, who I immediately became a fan of two weeks ago upon my first viewing. While my knowledge of the history of the competitors is still pretty weak, it was easy to see that Zavala is a young wrestler with a seemingly bright future ahead of him (of course, those more "in the know" may disagree), as he was able to hang with the much more aerial inclined Titan. There was plenty of action both inside the ring and out, before Titan finished Zavala off with a flying headscissor cradle (for lack of a better description). I'd like to see Titan get a look from WWE, especially if they're still trying to find the replacement for Rey Misterio (and even if not, it's okay to have more than one masked wrestler on the roster). Zavala is also fun to watch, constantly playing to the crowd, and even entering the ring in a full mask and costume, only to take the mask off before the match started. I can only assume there's a reason for this, one that I'll have to continue to look into.

The trios match with Blue Diamante, Blue Panther, Atlantis vs. Comandante Pierroth, Felino, and Mr. Niebla was also fun to watch. It was a bit odd, as both Blue Panther and Atlantis are older wrestlers, and certain spots seemed a bit contrived (or at least slowed down to accomodate them), but make no mistake- these dudes can still go pretty damn well. Watching Atlantis throw a plancha from the top rope to the floor is still an amazing sight to think about. It's also nice to see how respected the older luchadores are, as the crowd goes nuts at seeing their longtime heroes still beating some ass.

On a personal note, I dig Mr. Niebla. I had seen him before during his brief AAA stint, so seeing a familiar face in CMLL was nice. He's a creepy guy, and while I'm sure I haven't seen all he has to offer, I enjoy watching him do his thing.

In fact, here, watch the match if you want:





Finally, I'm becoming a gigantic fan of both Tamatonga and El Terrible. As I was told by a reader last week, Tamatonga (son of Haku) is a New Japan Wrestler who comes to Mexico every so often for tours, and boy is it ever obvious. Everything he does in the ring looks good, even if he's just trying to stand menacingly. His team with El Terrible (an incredible rudo, for my money) make for a great counterbalance to the pairing of tag champs Rush and La Máscara. What a really enjoyed in the trios match featuring them, however, was the interaction between Rush and lucha legend Negro Casas. Again, my knowledge of the history of the feuds isn't quite there yet, but there seemed to be an obvious Get out of my way, old man vibe to everything Rush did when they were in the ring together. Even though Rush was the face and Casas the heel, it was obvious that the fans still support the legend, as they could definitely be heard booing Rush.

The end came when Rush dropped Casas with a kick below the belt while the ref was distracted, getting him the pin. After the fact, Rush had a major Who gives a shit? look on his face while his partners seemed surprised he'd stoop to such measures.

Another solid week of lucha action, and I can only hope to learn more of the actual stories (I don't pay enough attention to commentary only because that's how I've trained my WWE/TNA brain to be) as time goes on.

As always, want to add to the lucha talk? Anything you'd like to see me discuss about lucha? Hit me in the comments!





Losses Are No Longer to be Sold



Much like other newsbits, this is clearly something that can easily be dismissed as utter tripe. The story goes that at Survivor Series, after Eva Marie was eliminated, she shook hands with fans and smiled on her way back, instead of sulking or looking bummed about it. Shortly thereafter, we (the fans) got word that apparently the new edict in WWE training is that faces shouldn't sell losses.

Important: I'm not saying it's true. I'm only going to discuss this as if it WERE true. Because if it's not, clearly there's nothing to talk about. So let's manufacture some bitterness, huh?

This could very well be the stupidest thing I've read in a long, long time. And I've seen the other thoughts on why it's dumb- it basically destroys kayfabe (it already was destroyed! they say), and really makes you as a fan wonder what exactly motivates these wrestlers if losing matches doesn't make them bummed out.

On top of the kayfabe killing and lack of motivation, it just really makes the faces look like complete dummies. I know that my smarkier friends will talk about how John Cena's "been doing this for years!" but I honestly can't remember him losing a straight up match and immediately tagging fans and not showing any disappointment. Say what you will about not selling beatings long enough, or having his promo leading up or even the next night being nonchalant, but when Cena loses a big match, it does matter to him. They made a whole story about how much he hates losing with The Rock, no matter how poorly executed it was.

I couldn't imagine Hulk Hogan losing to the Ultimate Warrior and just tagging fans and still doing his pose while Warrior celebrated. What made that moment so awesome was seeing that Hogan had been defeated, and that he had to concede that defeat to the man who pinned him. It made everything more important. Now when a diva gets pinned and just starts skipping around the ring, who cares?

I really hope this is the usual garbage newsbit. I don't know *why* this would be the fake news that we create, but I really hope it is. I literally can think of zero things that make this a good idea. Where the hell is Hunter to stomp this crap out?

What do you guys think? Anyone even want to try to Devil's Advocate an argument in support of faces shrugging everything off? Get to the comments!





A New Champion in TNA / Spoilers



At the end of Impact, we were left with two men remaining in the TNA Title Tournament: Jeff Hardy (shock!), and Magnus. I've called Magnus winning this as Dixie's hired gun from the start, and am waiting to see the resolution of this.

However, it recently came to my attention that TNA has not only filmed the episode that contains the finale of the tournament, but that they've filmed BEYOND that. And then the fans go and read the spoilers, and then they go all over the place spouting out the results.

Why? I'm not going to tell anyone what they can or cannot read, but why would you read spoilers for nearly a month in advance of a show that (I'd assume) you may actually plan on watching? And on top of that, just how much gel do you have to put in your hair to show what a rebel you are as you spout out spoilers? Seriously, just so cool that you learned how to read and repeat stuff - wow!

I could understand reading spoilers for the current week's show- or even next week's, if you know you're gonna miss it. But man, how much of a fun killer does one have to be to read results for a JANUARY 2014 EPISODE OF IMPACT?! That's just insane to me.

I manage to avoid the results because usually the person who'll give spoilers usually talks like such an uppity lunk that it's pretty easy to see where it's headed, but man, have some courtesy. There should be like a staunch "Shut the Fuck Up" rule for anyone trying to give out spoilers for shit that far in advance. I mean, the results are up. If people want to read them, we will. The internet isn't that difficult to figure out.

That ends my spoiler rant. What do you guys think? You know the drill- comments!

And that will do it for the week. I do hope to see a fantastic match between Magnus and Jeff Hardy, regardless of the winner. Until next time, enjoy your WWE, your TNA, your Lucha, your Puro, and your Indies.







It's All Wrestling. It's All Stupid. We All Love It
comments powered by