SPOTLIGHTS
411 Fact or Fiction 12.12.13: WWE Teasing Bryan vs. Michaels, TNA Losing AJ Styles, Sin Cara II, More
Posted by Larry Csonka on 12.12.2013

Is WWE teasing a Daniel Bryan vs. Shawn Michaels WrestleMania match? Is TNA making a mistake by not re-signing AJ Styles? Do we like that WWE is keeping the Sin Cara character? 411's Dino Zucconi and Michael Benjamin debate these topics and more!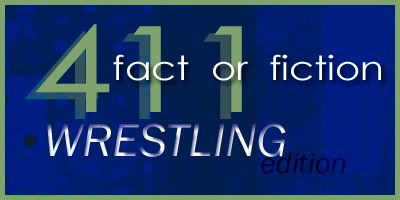 Welcome back to the latest edition of 411 Fact or Fiction, Wrestling Edition! Stuff happened, people loved/hated it and let everyone else know. I pick through the interesting/not so interesting tidbits and then make 411 staff members discuss them for your pleasure. Battling this week: it's longtime 411 personality and author of the Saturday Smart Marks column, he is Mr. Dino Zucconi! He faces off with the man that recaps both Main Event and Smackdown, he is Mr. Michael Benjamin! Lets get to work…


Questions were sent out Monday.


Participants were told to expect wrestling-related questions, and possible statements on quantum physics. .




1. WWE is making the right call by keeping the Sin Cara gimmick, but changing the wrestler playing the role.




Dino Zucconi: FACT It almost honors a lucha tradition of making it about the character, and not the man under the mask. There's more than one La Parka, more than one Psicosis, and even more than one Gronda if my memory serves. However, I'm not going to pretend that they ditched Místico and gave Sin Cara to someone else (Hunico for the time being) in some bizarre tribute to lucha libre. Still, I feel they have absolutely made the right call. Rey Misterio isn't getting any younger or less fragile. There IS money in a masked wrestler, provided he can click with the audience. When Místico debuted, the kids loved him. But too much time off TV to heal from various injuries derailed all his momentum. If Hunico (or anyone else who dons the mask) can stay healthy and on TV, the Sin Cara character can rebuild momentum and again become a favorite. The current wins over Alberto Del Rio show that the company wants to make this work. As Triple H himself has said, you can have the best ideas, but if you don't have the right pieces, they'll never work. They're just looking for the right piece to make Sin Cara work.

Michael Benjamin: FACT Sure, why not? This won't be the first or last case of a wrestler working somebody's gimmick from under the hood. There's no character traits tying the man behind the mask to the actual mask itself, so this isn't anything resembling a slap in the face to fans. The gimmick, while never given the spotlight we all expected, is still a better bet than any other random lucha gimmick they would come up with. The crowd is familiar with the gimmick, gear, and move set already so if we can avoid the several month period of jobber squashes on TV, I'm all for it.

Score: 1 for 1





2. Randy Orton and John Cena are the wrong guys to have in the title unification match.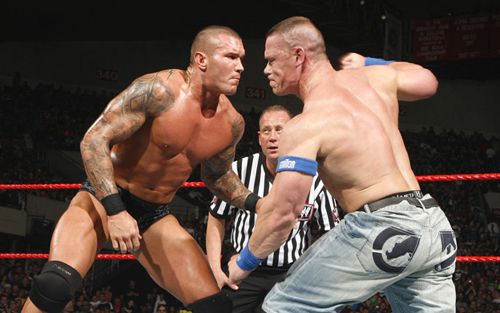 Dino Zucconi: FICTION Sure, if you hate these two guys or find them boring or whatever, you may say that they are, indeed, the wrong guys. Some would prefer that Daniel Bryan was in one of these spots (preferably Orton's), and others still would prefer it was maybe Bryan and CM Punk in this match. Other than those four, however, who else could do it? Alberto Del Rio and Christian? Jack Swagger and a returning Sheamus? I'm not so cynical that I can't appreciate that Randy Orton and John Cena are two of their biggest stars, and have been for the last decade. It may not be the most popular pick, and there may be better wrestlers available for the spots, but this is the collision of the WWE's Modern Mega Powers, and if pitting them against each other for the ultimate prize strikes you as the wrong move, then I'd suggest you're listening to your heart more than your brain.

Michael Benjamin: FICTION When I think of established big players in the current era, the names Randy Orton and John Cena are at the top of the list. They're both over, they both get a reaction, and their in-ring skills, while not the catch as catch can, are stellar. They know the main event style like the back of their hand. Their history is storied, and they're currently the top face and top heel in the company. It makes a whole lot of sense to me. We can pretend like this isn't the popular pick, but it's just unpopular amongst us. The WWE Universe wants to see John Cena vs. Randy Orton in a TLC match and they're going to get it. We might as well get this out of the way now than at WrestleMania 30, right?

Score: 2 for 2





3. If the reports that surfaced over the weekend are correct, TNA has made a huge mistake by not re-signing AJ Styles.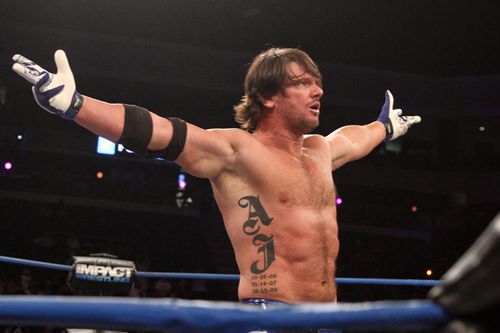 Dino Zucconi: FACT I really wanted to say Fiction, because I believe TNA is in a period where it's time to invest in the future at the expense of its longtime favorite stars (more on that in a bit), but if TNA honestly just loses AJ Styles, that wouldn't be the best thing, either. AJ Styles has been such a dominant force in TNA for such a long period of time, that if he were to go without having really established anyone else on the way out, TNA would be in quite the bind. I'm not saying that AJ wins all his matches, but he's clearly the "underdog that wins most of his matches anyways" guy for TNA. Besides that, he's the heart and soul of the company, and I honestly can't imagine TNA without him, even if that day is coming, one way or the other. That TNA wouldn't throw him diamond-crusted filets of bacon wrapped money to make sure he stays is baffling.

Michael Benjamin: FACT Almost every decision TNA makes is a mistake now a days, but none of them are particularly huge. AJ Styles was easily their best worker. He had crowd support that you can't buy and in-ring charisma you can't teach. The thing is that TNA has been spinning their wheels and actively getting harder to support for so long that this is just another piece of bad business for the company in a string of them. Only if AJ Styles goes to WWE will this be considered a huge mistake.

Score: 3 for 3





4. Having the Slammy Awards on the go home Raw for such am important PPV was poor planning by WWE.




Dino Zucconi: FACT I'm not going to discuss the quality of the program itself, because I'd rather focus instead on how having the Slammy's just seemed to kill any momentum the show could try to gain. A night that should have had a real serious tone to it, with two of the current most popular guys preparing for huge handicap matches, the World and WWE titles being Unified, and the Divas and Intercontinental belts being defended, was instead focused on silly year end awards, with minor pushes for the matches thrown in. Yes, Sandow and Big E had a minor altercation. Yes, the Wyatt's and Daniel Bryan had a run-in, and CM Punk and Dean Ambrose had a fun match. Still, I feel like I remember Shawn Michaels renaming the trophy the "HBShizzle" more than anything else. It's not that this was the worst idea of all time, but I'd call it poor planning, sure.

Michael Benjamin: FICTION Poor planning? Nah. Great planning? Yeah. The Slammy awards draw a bigger audience than the average Raw so why not use it to promote your final show of the year? The ratings came in high like they were hoping and everybody in management was all smiles. They're not concerned that an angle got cut short for awards, a match got overshadowed for some legends to grace the stage, or that a match didn't get promoted as much as it would have on a typical show. That's what we're here for. They could have done everything better with the full show used to hype TLC, but it wouldn't have been enough to move the ticker very much. The go home show getting a lot of viewers is good business.

Score: 3 for 4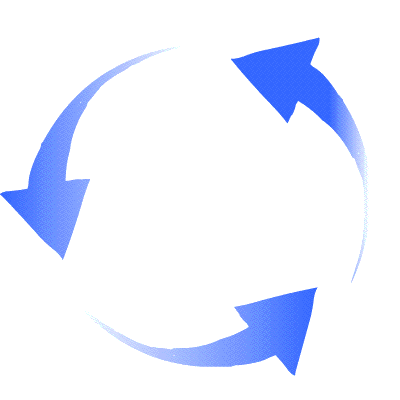 SWITCH!
5. You like the TNA Tournament finals match up of Jeff Hardy vs. Magnus.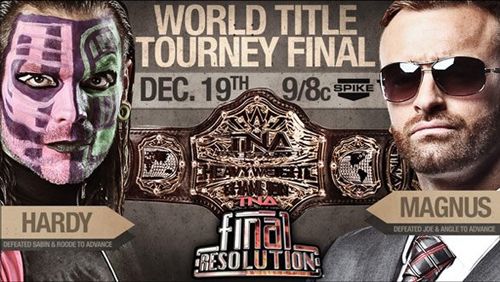 Michael Benjamin: FICTION No, I actually don't like it at all. I'm very much over seeing Jeff Hardy end up in these big matches. He's over, I get it, but I just can't bring myself to enjoy the idea of him headlining, let alone winning. Magnus is still improving by leaps and bounds in my opinion. I enjoy his work and I believe that he has a lot to offer TNA. He just doesn't do it for me yet when it comes to being in a position like this. Perhaps I could get into the idea of Magnus being in this spot if he had the right opponent. Unfortunately Jeff Hardy isn't that opponent.

Dino Zucconi: FACT I'm not thrilled that Jeff Hardy's in there, but it's TNA and Jeff Hardy's invincible there most of the time. What I do like, however, is what it represents. TNA is getting closer and closer to the day that their Wave 1 guys are old. Guys like AJ Styles, Christopher Daniels, Kazarian, and yes, Jeff Hardy. These are guys they've leaned on repeatedly through the years, and have rewarded the loyalty they have shown by keeping them as big stars. No matter who you are, if you wrestled in TNA, you've lost to AJ Styles. The problem has become that no one is allowed to really be a big star, because no one can get past these guys, no matter how big, how strong, or how good. Eventually, AJ Styles and the rest of the Wave 1 guys will be gone. The fact is, the time is winding down on these names, and TNA is going to have to do something fast to build up a new roster. The Wave 2 guys are ready, and Magnus is clearly the best of the bunch. It's time to start treating the Wave 1 guys like big time stepping-stones. There's no reason for Kurt Angle, Jeff Hardy, and AJ Styles to still be the main championship threats at all times. It's time to build up some new guys. This match represents the first step towards the changing of the guard that's happening, regardless of who ends up winning the match.

Score: 3 for 5





6. Judging by the final segment of Raw, WWE is setting up CM Punk vs. Triple H and Daniel Bryan vs. Shawn Michaels for WrestleMania.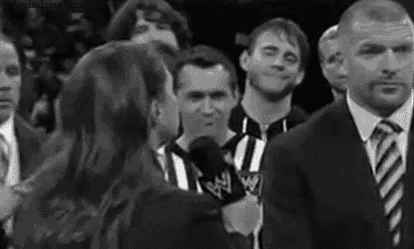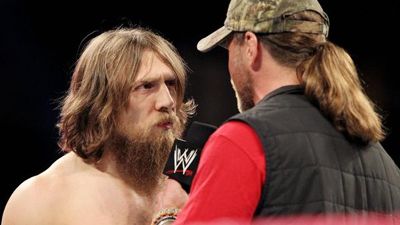 Michael Benjamin: FACT They're at least considering it. It's being teased way too close to WrestleMania for it not to be on the table at least a little, right? I think a tag match is just as, if not more, possible than the two singles matches. I'll call it a fact since the idea is very much the same. Bryan and Punk are being booked as on the same page right now. HBK is being more of prick every time we look, and Triple H and CM Punk are back at it again. The timing for all of this is extremely peculiar. If this does happen, I think we already know what our match of the night is going to be.

Dino Zucconi: FICTION I just don't buy it. I'd argue that judging by the final segment of Raw, WWE wanted to have a pretty hot altercation between its two most popular stars and it's most hated, along with that HBShizzle cat who screwed over Daniel Bryan. I mean, as always, maybe, but I've hitched my wagon to Daniel Bryan winning the Rumble and getting the WrestleMania title shot, and that'll be tough to do if he's in a tag match with those young renegade rebels, Degeneration X. Even with my personal pick out of the way, I think Shawn Michaels has simply replaced Steve Austin as the Wrestler Who Will Never Come Back in a Match, but the Fans Will Always Hope He Will Anyways. And make no mistake, I'm pretty sure that match might be somewhat good. Decent, if you will. Adequate. Those four have put on some all right matches. Still, I don't ever see Mr. Shizzle actually returning to the ring, so I don't buy into the "setup" on Raw.

Score: 3 for 6





7. In your opinion, TNA will have a better year in 2014 than they had in 2013.





Michael Benjamin: FICTION I see it staying exactly the same unless something astronomical and drastic happens. They've had trouble getting momentum and maintaining it since their inception and I don't see 2014 being any different for them at this point. I think it's safer to say "TNA will seem to be having a better year momentarily until something bad happens to kill their momentum immediately." Sorry, TNA fans. I was right there with you for almost the entirety of the promotion's history but I can't do it anymore. To be honest however, I'd love for TNA to prove me wrong and bring me back around on them. More wrestling to watch is never a bad thing.

Dino Zucconi: FACT I think they're getting better the further the Hogan Experiment gets in their rear view mirror. It sucks for me to say as a lifelong Hulkamaniac, but they just didn't mix so well together. Now with Hogan gone, the distractions have ceased, and TNA has been able to focus on putting on a good wrestling product. Young wrestlers are being developed again (the surprising attention being paid to the BroMans, for example), there's more than just a main event feud going on, and it looks like they're ready to make some advances. The snarkers out there will probably point out how they still won't have a "good year compared to WWE" or something, and that's fine. One step at a time, and I see TNA improving quite a bit in the year 2014.

Score: 3 for 7





8. You are interested in this weekend's ROH Final Battle event.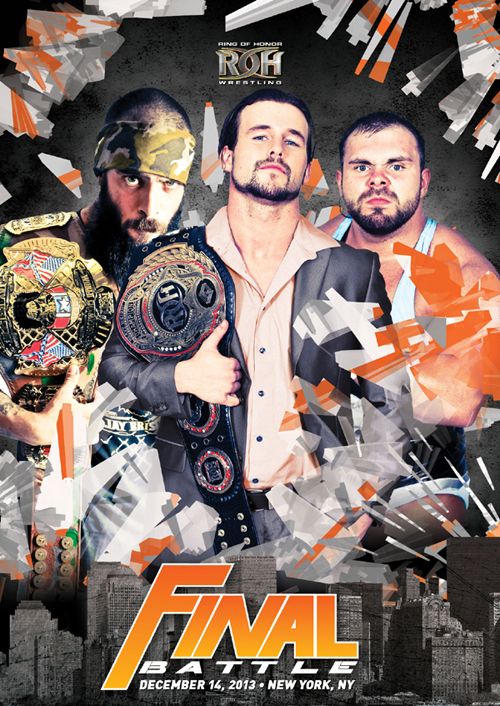 Michael Benjamin: FICTION Nope. Not so much. ROH reminds me of TNA in a lot of ways. Every time they seem to be on to something great, they end up right back where they were. I haven't been sold on the roster in a couple of years at this point either. Hopefully the show is great so that all of their paying customers enjoy themselves and come back for more. If it gets enough good reviews, I'll check it out and attend the next ROH show in Dearborn, MI. ROH, much like TNA, ultimately isn't lighting my world on fire so I have to give it a pass.

Dino Zucconi: FACT I won't get to see it, and I hardly get to follow Ring of Honor out here besides reading up, but the card looks like it could be fun. I really don't get as much Ring of Honor viewing as I'd like to, as there's no TV for them out here. I know some fans have been down on them lately, and I've hopefully stressed enough that I don't really know what I'm talking about for this question, but I'm usually down for a Homicide match, Steen and Bennett should be good, I always root for my fellow paisan Ciampa, and the ROH Title match should be fun, I'd imagine. I'm interested, but I'll probably only get to read about it once it has happened.

Score: 3 for 8


Michael and Dino got into some good disagreement in the second half, and I love when the kids fight. Tune into next week's column for more debating fun, and thanks for reading.







Have you checked out the Csonka Podcasting Network? If you haven't, you should We run anywhere from 15-20 shows a month, discussing pro wrestling, the world of MMA, the NBA, general sports, popular TV series of the past, bad movies, battle rap, interviews, MMA & Wrestling conference calls and more! Around 10 different personalities take part in the various shows, which all have a different feel; so you'll likely find something you like. All of the broadcasts are free, so go ahead and give a show a try and share the link with your friends on the Twitter Machine and other social media outlets! Running since May of 2011, there are currently over 400 shows in the archive for you to listen to.



Larry Csonka is a Pisces and enjoys rolling at jiu jitsu class with Hotty McBrownbelt, cooking, long walks on the beach, Slingo and the occasional trip to Jack in the Box. He is married to a soulless ginger and has two beautiful daughters who are thankfully not soulless gingers; and is legally allowed to marry people in 35 states. He has been a wrestling fan since 1982 and has been writing for 411 since May 24th, 2004; contributing over 3,000 columns, TV reports and video reviews to the site.


Your heart is free. Have the courage to follow it…TO CSONKA'S TWITTER!

http://www.twitter.com/411wrestling
http://www.twitter.com/411moviestv
http://www.twitter.com/411music
http://www.twitter.com/411games
http://www.twitter.com/411mma
comments powered by