SPOTLIGHTS
Smart Marks 12.14.13: Tables, Ladders, Chairs, Briefcases, Title Belts, Resolutions
Posted by Dino Zucconi on 12.14.2013

We take a look back at the week that led towards TLC, Final Resolution, and of course, we discuss some CMLL wrestling action!

Hello again to one and all, and welcome back to another edition of Saturday's Smart Marks, one of the few non-themed columns here at 411 where we can just sit back and talk about all things wrestling!

Last week, my take on those who read and spout out spoilers caused the most feedback. After reading the comments, here's some additions to what I said last week, that perhaps wasn't so clear:

1- You're allowed to READ spoilers. I don't give 1 crap about that. I have no issue with anyone who simply reads spoilers, for whatever reason. That's all good.

2- You're a huge douche if you provide spoilers unsolicited.

3- Putting the onus back on the person who has events spoiled because "this is the internet and there's jerks" is such a cop out. There's bad people everywhere you go in life, but we still get up in arms over bad things being done. No, providing spoilers isn't comparable to assault, theft, or anything that high up- it's still a dick move.

As always, we're gonna disagree on this one, and that's fine. Some people value their right to be jerks over the rights of others to be shown the smallest amount of common decency.

This week, we saw WWE fill out the final phases on their way to TLC, TNA set itself up for next week's Final Resolution edition, and there was some good action south of the border! Let's hit the marks!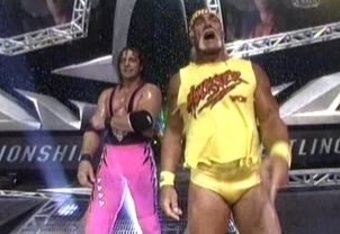 TLC



This past Monday, RAW ended with former champions standing around as John Cena and Randy Orton relinquished their belts, placed them on the hook that they'll hang from this Sunday, and shook hands like the champions that they are. Until Orton decked Cena, and a chaotic brawl was on.

So much to take from this show-ending skirmish. Is Shawn Michaels prepping for a return? Would he team with Triple H? Are CM Punk and Daniel Bryan going to fight them? Is Mark Henry going to get in trouble for effectively getting a crowd to quiet down??

I loved the ending of RAW. It's been a long, long time since anything felt chaotic. I know those of us who pine for the Attitude Era tend to glorify it and ignore the shitty storylines and matches, but it's that feeling of "What the hell is NEXT?!" that's been missing for a long time. It's happened twice in the last 7 years that I can remember: The Nexus Arrival, and CM Punk's "Pipebomb" promo.

Monday Night, at least for me, brought back that feeling. CM Punk trying to get Orton to calm down, only to get piefaced for his troubles, and thus attacking Orton. Triple H and Punk going at it. Orton getting shoved into Steph (will he take the blame, or will Bryan?!). And is that John Cena standing WITH The Authority?!

It's starting to feel a lot like the start of 1997, where Shawn Michaels, Bret Hart, and somehow Sid were the top guys, but you still had Austin, Vader, Ahmed, Undertaker and others all vying right below the surface for their chance, and you never knew who was going to come out on top.

No, we're not returning to the Attitude Era. Thankfully so, too. However, I don't see anything wrong with an ending that wasn't just the usual cookie cutter stuff. After my appearance on this week's Fact or Fiction, it was made painfully obvious that people will complain when something involves Orton and Cena, just because. They'll point out how doing a round robin tournament with the winner taking on the winner of a 3 way dance between 3 of their favorites for the belt is "better" than having the two most dominant wrestlers in WWE for the last decade going at it. Because, you know, World Titles are to be used as launch points for projects, and not as a final destination for a guy who's actually made it. Knowing that these complaints will exist, I don't expect that everyone loved the ending of RAW. But it is nice to see, if only for a brief moment, the return to unexpectedness that has been so sorely lacking.

I've called John Cena winning the whole thing at TLC, and I do it because I firmly believe that the "swerve" is going to be that there's no swerve. No "champs switch belts" finish. No screwjob. Just John Cena winning a title match clean. Isn't that different? No, it's not. But it's not what most are expecting, either. That's what makes them so "creative", right? (Don't quote and answer this; it's rhetorical).

Where does this leave us WWE fans as 2014 begins? I personally see a Cena/Orton rematch at Royal Rumble. Daniel Bryan wins the Rumble, Cena wins the title match, and they meet once again at WrestleMania in a rematch of their SummerSlam encounter. And Bryan wins, again.

Outside of the main event, I'm looking to TLC to show us just how into Big E Langston the company currently is. Will the IC Title match be an evenly contested affair? Will it be more important to perserve Sandow than to rocketpush Langston? I have a feeling Big E is going to dominate this match, but maybe it's more important at this point to make sure that Sandow doesn't languish like, say, Dolph Ziggler.

What did you guys think of the closing segment of Raw? Picks for the title match at TLC? Any other TLC picks you want to share? Hit me up in the comments!





Final Resolution



As TNA heads towards the Final Resolution edition of Impact, lots of different programs look to be coming to a head. We saw Rock Star Spud break into AJ Styles' house in an attempt at reclaiming the TNA Title belt, Bully Ray cut a threatening promo on Ken Anderson while some elevator music played in the background, and Eric Young gave Joe Park his own theory - that Park himself is Abyss! Crazy!

Let's get to the Bully Ray and Ken Anderson feud, first. Bully Ray has really lost himself following the demise of Aces and Eights, and I don't say that in a good way. Losing his mind would be good. Getting meaner would be fine, too. Walking into fake funeral services and talking about being "raped" while threatening someone's pregnant wife? Eh, that didn't resonate so well with me. But the attack on Anderson last night was just something so ridiculous, I half expected Kane to show up on stage and shoot fire at a tech alongside Bully.

So after a piledriver on the stage, Bully Ray grabs a mic, and begins rambling off some deep sounding prophecy. And while this is happening, some soft, haunting music played in the background. Because, you know, TNA techs care more about "the mood" than the safety of the guy who rid their company of the gang in the first place. Poor Ken Anderson; maybe he was right in joining Aces and Eights all along.

The whole thing just felt so cartoonish. Yes, cartoonish like when Undertaker floats, for those who want to immediately negate the stupidity of this segment with a "WWE does it too!" argument. Bully Ray saying exactly what he said with no music at all would have been much better. Unless they think that their audience believes music just strikes up on cue with no one helping out. I hate it when WWE does the music over the promo (like with Kane a few years back), and I hated it on Impact. This is a blood feud that's being played for accidental laughs, and that's not a good thing.

Meanwhile, AJ Styles was able to show what a badass he is by scaring Rock Star Spud. I'm sure AJ's showing up as soon as our new champion is crowned, and I hope that the match can deliver. Meanwhile, the only thing I've enjoyed about "Renegade AJ" is the fact that they show footage of his international matches. That IS a nice touch, in my opinion.

We also saw the Feast or Fired match make its unwanted return, with Chavo Guerrero, Ethan Carter, Zema Ion, and Gunner receiving briefcases. I was very excited by this, because I had called Chavo Guerrero being the man to get fired, and this can still allow it. I also see Gunner getting the World Title shot after he took the briefcase from Storm (what a sad coincidence THAT would be!), Zema Ion getting a tag title shot (because his boys are the champs and that would be crazy!) and Ethan Carter getting an X Title shot, where he can then show how good he is against Austin Aries. Just my thoughts, though I'm still hoping Chavo is gone. He just doesn't bring anything to TNA anymore.

What I REALLY liked about Feast or Fired, however, was Curry Man doing what I've ALWAYS wanted to see in this match- the guy who just leaves, because why would you ever risk your employment just for a quick title shot? I'd much rather earn my way to a title shot than risk it all and come up unemployed. It's one of the reasons I consider Feast or Fired to be the stupidest match in wrestling. Of course, the historical reason for Curry Man walking out is obvious- he has been fired in this match before! Of course the second, why even sign up for the match in the first place? TNA! TNA!

Of course, all this will be revealed next week at Final Resolution, and I'm sure there's plenty of you out there who already know the results. I'm looking forward to Final Resolution, and seeing who the new champ is, what happens with Abyss, who got what briefcases, and much more!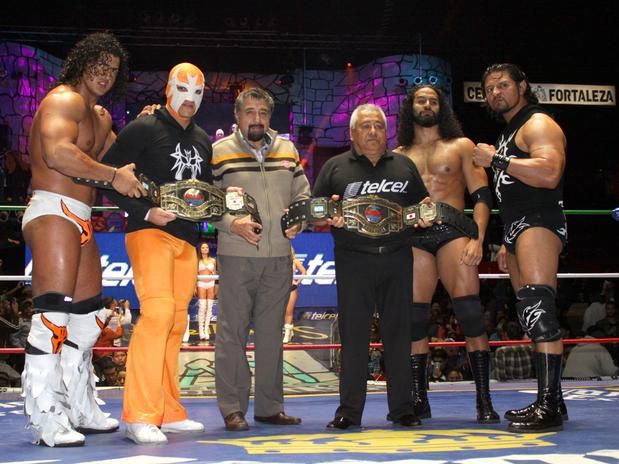 Meanwhile, in CMLL...



I'm wondering if I've gotten anyone to give CMLL a look since I started on my quest to get back into lucha. Just curious.

This week, I was able to watch roughly 3 hours of some good lucha libre action, and I'm finding myself getting more and more into it.

I even went and identified some other aspects to lucha that I've loved. This includes:

1- the complete and utter lack of an "owner" on my screen every other segment to set up matches. This can't be stated enough. Even AAA had its feuding Roldans (father and son) constantly bickering for power. In CMLL, the show starts, and wrestlers make their way down to the ring, and a match happens. After that match, you go to commercial, come back, and hey- another match! I really love a wrestling program that gives me wrestling.

2- At the end of each fall (remember, most matches are held under 2 out of 3 falls rules), the winner(s) will be listed as "Rudo(s)" or "Tecnico(s)". I don't know why I like it so much, but I really dig the idea that it's only important that we know whether the victors were good or bad, and not so much what their actual names are.

3- Máscara Dorada. It took me a minute to really understand how good he is, until I saw a trios match with him teaming up with Valiente and Místico (the replacement) and watched them all fly around. Valiente is a stockier guy and doesn't really have the flying chops of his partners, but he's still fun enough. Máscara Dorada, on the other hand, flew around with some of the craziest topes and flying headscissors I've ever seen. If you're unfamiliar with Mr. Dorada, check this out:





There was very little El Terrible this week, which was a huge bummer for me as I enjoy the CMLL Heavyweight Champion the most. Still, getting to see Místico finally was nice, plus there was a title match between Diamante Azul and Vangellys. Diamante holds an NWA Historical title in CMLL, which I still haven't really figured out the significance for. However, Diamante is a solid wrestler with nice suplexes, as is Vangellys, and the match did not disappoint. Diamante retained after a beautiful german suplex. It's been really fun getting more into lucha, and recognizing who is who, and when I get handed a title match, I'm a happy camper.

That oughta do it for the week. TLC should be good, and hopefully Final Destination can deliver, as well.

Until then, have a great weekend, enjoy your WWE, enjoy your TNA, enjoy your Lucha, your Puro, and your Indies.







It's All Wrestling. It's All Stupid. We All Love It
comments powered by