SPOTLIGHTS
The DB Report 12.15.13: The 2013 TNA Year End Awards
Posted by Danny Bennett on 12.15.2013

From the departure of Hulk Hogan and the greatness of Bully Ray to the E.G.O Hall of Fame segment and more, 411ís Danny Bennett breaks down the best and worst of TNA from 2013!

Welcome
After all the hype and talk regarding the Slammys and even the wrestling observer awards due, I have decided to give my own take on the year's happenings and give you two columns giving out awards for both companies this one is dedicated to the company who I cover the most and the one I review every week in the 4Rs column (cheap plug), without further a due I give you the TNA 2013 Awards.




TNA Wrestler Of the Year


HM - Austin Aries, Kurt Angle, Magnus , Jeff Hardy and Mr. Anderson

3rd Place -AJ Styles: With the speculation regarding his TNA future very much up in the air, it's easy to forget the great matches this guy had, and the transformation and gimmick overhaul that began towards the end of last year. After becoming inactive during the spring, he became a tweener by laying out Bad Influence and James Storm. Styles was then featured in a Sting 97 like story in which he was courted by both TNA and Aces and Eights, finally revealed his allegiance to nobody and became a talking point again. Lost to Kurt Angle in a thriller at Slammiversary. Had a quiet start in the BFG series before defeating Magnus and Austin Aries in two quality matches to clinch the title shot. Feud with the freshly turned Dixie Carter got off to a shaky start before delivering good segments and making Styles the feature man on Impact. Defeated Bully Ray to raise the World Title at BFG and then again in a impact Rematch. Left the company on screen to further his storyline but his real life departure is imminent.

2nd Place -- Bobby Roode: The IT Factor regained lost momentum from late last year towards the end of this year to take his top heel spot again. Alliance with Austin Aries yielded many great matches and segments most noticeably , multi man tag scraps at Lockdown and Slammiversary. Traded the belts with Chavo and Hernandez before finally getting back to singles and looked good in the BFG Series. Lost to Magnus in the semi finals in a good match. Engaged in a series with the returning Kurt Angle and had a scorcher at Bound For Glory. Interviews and collisions remained top drawer with Angle and has took Roode back up to the top.

Winner - Bully Ray: TNA's most consistent act and premier promo man , carried the main event scene for most of the year. Started as a babyface engaged to Brooke Hogan and participated in a memorable wedding segment on impact. Tags and Six mans against Aces and Eights were forgettable. Match at lockdown in which he turned heel and finally won the World title was fantastic and the highlight of the Aces and Eights storyline. Defeated Jeff Hardy again in a hard-hitting ladder match on Impact. Had a surprisingly good Hardcore match against Sting at Slammiversary. Shockingly lost the title to Chris Sabin in a one sided collision at Destination X, regained the title in a boring cage match at Hard Justice. Feud and promo series with Mr. Anderson surpassed expectations and had a full on last man standing match at No Surrender. The dissolving of Aces and Eights sidetracked the champ but gave him good promos week after week. Build to the BFG main event was good and the match with AJ Styles delivered the goods. Resumed his feud with Mr. Anderson and participated in a gripping no DQ match. After dominating 2013 what more can he do in 2014?







TNA Feud of the Year


HM - Sting vs. Bully Ray, Gail Kim vs. Taryn Terrell , Chavo/ Hernandez vs. Roode/Aries

3rd Place - AJ Styles vs. Dixie Carter: Like it or not Dixie has gained a lot of heat, some may say it's go away heat, but like it or not it has gave impact a fresh feel and new direction which was surely needed. The promos and ensuing battles between Styles and Bully Ray were topnotch.

2nd Place -- Bully Ray vs. Mr. Anderson: After spending the majority of the year as allies these two erupted regarding leadership of Aces and Eights and had some of the best backstage segments of the year. This feud revitalized a stale Anderson character and had two of the best brawls of the year at No Surrender and Turning Point.

Winner - Kurt Angle vs. Bobby Roode: This feud helped both men tremendously and had some of the best matches in the ring and segments out of it. The E.G.O hall of fame kickoff saw Angle return and little did we know how great this feud would be. An amazing pre BFG promo followed and the two tore it up on the main show. Since then things have continued and Angle still has yet to gain an in ring victory on his road to redemption.







TNA Knockout of the year


3rd Place - Mickie James
2nd Place -- Taryn Terrell

Winner - Gail Kim: With or without the title Gail was the shinning star of the knockouts having a great feud with Terrell and routinely having solid bouts on impact with ODB and others, looks set to dominate 2014 as well.







TNA Tag Team of The Year


3rd Place - Chavo Guerrero & Hernandez
2nd Place -- Bobby Roode & Austin Aries

Winners - Bad Influence: The best long term unit TNA has going at the minute and two great performers who both give it their all. Surprisingly did not capture the titles all year however did have superb matches against a variety of teams on TV and PPV.







TNA Match of the Year


HM - Bobby Roode vs. James Storm -Florida Deathmatch (Impact), Mr. Anderson vs. Bully Ray (No Surrender & Turning Point)
3rd Place - Bobby Roode vs. Kurt Angle ( Bound For Glory)
2nd Place -- Kurt Angle vs. AJ Styles ( Slammiversary)

Winner -Jeff Hardy vs. Austin Aries vs. Bobby Roode (Genesis): I had the pleasure of watching this match live and it was the best match of the year in my opinion however one which is mostly forgotten due to it being back in January. The dynamic between the two heels and the courageous face was perfect and these guys blew it out of the park for me.







TNA Promo of the Year


HM - Roode and Angle face off Pre BFG , AJ Styles turns down Aces & Eights
3rd Place - AJ Styles and Bully Ray Contract Signing
2nd Place -- Bully Ray Lockdown Reveal

Winner - E.G.O Hall of Fame: This to me was just an awesome segment and really gave TNA something positive to talk about, it really did have it all, it was funny, well written, well performed , featured a good surprise return and setup the feud of the year, everybody involved was at the top of their game and Angle and Roode have amazing chemistry.







TNA Best Gimmick of the Year


HM - Mickie James (Bitch), Bad Influence ( Smarmy Heels)
3rd Place - Bully Ray ( Biker Leader)
2nd Place -- Dixie Carter ( Obnoxious Owner)

Winner - Ethan Carter III ( Entitled Nephew): The AFKA Derrick Bateman has made an amazing debut these past few months and really has the makings of a huge star in TNA. The sky's the limit for this guy who is great at getting heat, entertaining and seems to have the full backing of creative.







TNA Worst Wrestler of The Year


3rd Place - Joey Ryan
2nd Place -- Jay Bradley

Winner - Wes Brisco: I hadn't seen this guy wrestle pre-TNA and he had a great look and lineage so I was giving him a chance to succeed , but holy hell was this guy bad, his match against Angle at lockdown was decent thanks to Angle but after that I don't remember one singles match with him involved. He was taken out by Bully Ray and looks to be done with TNA, good riddance.







TNA Worst Match of the Year


HM - EC3 vs. Norv Fernum (BFG), Gunner vs. Knux (Impact October)
3rd Place- Devon vs. Joseph Park ( Genesis)
2nd Place -- Sting vs. Knux (Impact January)

Winner - Sting vs. D.O.C (Genesis): Ugh, I was actually looking forward to this as it was Sting's return after being injured and D.O.C is actually a decent worker, but this sucked big time and was the guys didn't even look like they tried.







TNA Most Embarrassing Moment of the year


3rd Place - Dixie Carter begs Hogan not to leave
2nd Place -- Tito and Rampage get involved in main event title match

Winner - Kurt Angle checks into rehab two months after HOF induction: This was not a surprise but the timing could not have been worse, Angle was once again caught in a DUI scandal and immediately checked himself into rehab canceling his planned appearance in a 10 man tag at Hard Justice. This to me was such a disappointment considering the birth of his daughter earlier this year and his legacy.







TNA Best Signing of the Year


3rd Place - LeiD Tapa
2nd Place -- Rockstar Spud

Winner - Ethan Carter III: Not many big signings this year due to budget cuts but this guy truly looks like a huge star in the making and a bargain buy based on his upside.







TNA Worst Signing of the Year


3rd Place - Jay Bradley
2nd Place -- Rampage Jackson

Winner - Tito Ortiz: What was TNA thinking, maybe it was done for their Bellator agreement, maybe they thought they could train him, well he didn't due nothing, and stood around in the background before being pulled from TV and injured, way to go Tito.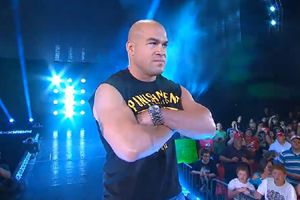 TNA Worst Gimmick of the Year


3rd Place - Joseph Park ( Buffoon Lawyer)
2nd Place -- Garrett Bischoff (Biker)

Winner - James Storm (Drunk Cowboy): Storm looked so apathetic this year, his matches weren't nothing special and his routine is tired nobody needs a fresh gimmick more than Storm.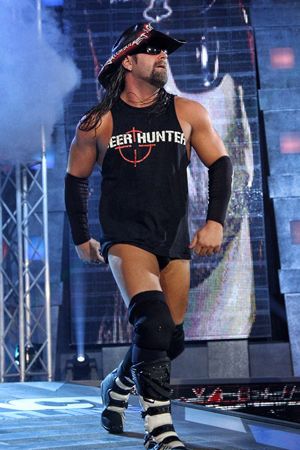 TNA Best Departure


HM - Wes Brisco, Garrett Bischoff , Joey Ryan ,Rampage Jackson
3rd Place - Tito Ortiz
2nd Place -- Eric Bischoff

Winner - Hulk Hogan: I'm not going to lie Hogan did have several good promos and segments this year , his feud with Bully Ray and speech at Slammiversary was great, however he was simply not worth his price tag. Hogan is nostalgia and that doesn't work every week, his creative influence wasn't helping anybody and TNA is a lot better off without him and Bischoff at the helm.







TNA Worst Departure


3rd Place - Tara
2nd Place -- Mickie James

Winner -D.O.C: I really thought D.O.C had found his niche in Aces and Eights and could have been used in the role Anderson was used and in and made into a star, alas we will never know how his storyline would have ended.







TNA Fuck that shit Award


3rd Place - Joseph Park is still here
2nd Place -- AJ Styles possibly let go

Winner - Chris Sabin wins World Title: What a bad move this was, it was designed to elevate Sabin put simply broke Bully's momentum and worse still exposed Sabin as an unworthy champion, the belt was took off him three weeks later, what a stupid idea.







TNA most Underrated Award


3rd Place - Kenny King
2nd Place -- Samoa Joe

Winner - Jeff Hardy: For all the shit Jeff Hardy gets, he is one of the best workers in TNA, he never has terrible matches and looks focused and motivated his title run was really well done and he deserves a lot more recognition.


What do you think? Do you agree? Disagree? Let me know in the comments section, and thanks for reading.
http://www.twitter.com/411wrestling
http://www.twitter.com/411moviestv
http://www.twitter.com/411music
http://www.twitter.com/411games
http://www.twitter.com/411mma
comments powered by