SPOTLIGHTS
The Wrestling News Experience: 12.16.13
Posted by Stephen Randle on 12.16.2013

News and thoughts on the results out of WWE TLC, AJ Lee reportedly flying off the handle at Tribute to the Troops, a preview of tonight's Raw, the latest on when Sting's contract is up and more!

Monday, December 16th, 2013

From 411Mania's Canadian offices in Waterloo, Ontario, Canada, this is The Wrestling News Experience, with Stephen Randle!



Forget About Winter. Christmas Is Coming.

Good morning, everyone, and welcome to the Experience. I am Stephen Randle, and…is that my new PS4 over there? I'll just…be…right…





No, you have to focus! Hell, it only takes a couple hours to write a column anyway, that's more time than WWE spends on long-term booking in an average month. Or short-term booking. Or the next PPV. Hey, speaking of which…




Sullivan had the live coverage.

And we open up with Triple H and Stephanie. Because of course we do.

Cue the "Yes" chants!

Couldn't this speech have been done in a much less awkward video package?

So it's going to be the WWE World Heavyweight Championship. That's quite a mouthful. I hope they didn't strain themselves with that unbridled creativity, at least.

CM Punk vs The Shield – 3-on-1 Handicap Match

Punk continues to pay tribute to past wrestlers by channelling Larry Zybysko's infamous seven-minute stall strategy.

Why is King so shocked that Chris Jericho was Tweeting? Jericho uses Twitter like allergy sufferers use Kleenex.

Oh no! Reigns' eye! He's not supposed to get announce table in it!

Seriously, is Reigns still being checked by the doctor? Did he lose the eye or something? I shouldn't make light, eye damage is a silent killer. The number of people whose lives went downhill after being eyepoked by Ric Flair is staggering.

Well, I'm sure we all saw that finish coming once Reigns starting rubbing his eye like he had conjunctivitis.

Shoot, I went with my gut and picked the wrong handicap match winner. That's not good for Bryan.

CM Punk defeated The Shield (Punk pinned Ambrose, Reigns Spear)

Only in WWE could the person talking candidly about the many accepted truths about the failings of their product, in this case the abysmal Divas division, be the heel in their eyes. No wonder AJ's screaming at news reporters backstage. Allegedly.

AJ Lee © vs Natalya – WWE Divas Championship

See, I get that AJ will be punished, but losing the belt to Natalya is basically leaving you in a big hole, because AJ really is the best and only option for the head of the division. I guess it depends on if WWE cares about keeping it even slightly relevant.

You know, I don't think you're allowed to count things trending on Twitter if you get all your employees and alumni to make them trend. Or at least you shouldn't be.

Pop Quiz, hotshots: you have two women wrestlers with legitimate submission finishers, and in fact the challenger forced the champion and her bodyguard to tap out to it as part of the build. How does their PPV title match end?

Time's up.

AJ Lee defeated Natalya to retain the Divas Championship (pinfall, rollup)

Conveniently, the video package running down great champions fails to mention that guy who unified those two titles the first time. Of course, they probably don't really want to remind you that they already did this once and it lasted roughly eight months.

Big E Langston © vs Damien Sandow – WWE Intercontinental Championship

And the parade of people whose careers got better once they split away from Dolph Ziggler continues. Meanwhile, Ziggler lost to Fandango on the pre-show. That'll really teach him to let someone else give him a serious concussion.

Hey, why does nobody ever ask Langston what the E stands for?

Big E Langston defeated Damien Sandow to retain the WWE Intercontinental Championship (pinfall, Big Ending)

So Miz used the pre-show panel to further a feud with Kofi Kingston? Does he not know that Nobody Cares About Kofi Kingston?

The Rhodes Brothers © vs Ryback and Curtis Axel vs Big Show and Rey Mysterio vs Toni and Big Hoss – Four Corners Elimination Match – WWE Tag Team Championships

According to our crack commentary team, Big Show and Mysterio, the team with a lineage going back to…last week sometime…have to be the favourites in this match. You know what, go back to citing incorrect percentages of title retention in multi-man matches, at least when you're using numbers you sound like you might know what you're talking about.

Although since they were formed less than three weeks ago, there's a chance WWE Creative still remembers who they are.

So, if Rey really is too injured to wrestle full one-on-one matches, couldn't we just put Hunico under the mask? I mean, it's worked before. Twice, even.

Ryback and Curtis Axel were eliminated (Goldust pinned Ryback, rollup)

Holy shit! Did Goldust just do a Code Red?

And a top-rope hurricanrana? Maybe it's Hunico under the facepaint!

The Real Americans were eliminated (Show pinned Toni, KO Punch)

Okay. Sure. I buy that Rey Mysterio could powerbomb Cody Rhodes. No, wait, that looked horribly silly.

Cody Rhodes and Goldust defeated Big Show and Rey Mysterio to retain the WWE Tag Team Championships (Cody pinned Rey, CrossRhodes)

I'm sure I missed a sure-fire LOL Moment of the Year as WWE shilled Brawlin' Buddies, but I chose to use that time to feed the dog and urinate. Both of those activities were still funnier than any of the LOL Moment of the Year nominees.

Brodus Clay vs R-Truth

You know, it's only baby steps, but this PPV is really showcasing some midcard feuds, and as I've harped on for a while, a strong midcard can only help WWE's future. Plus, as bad as Russo was (and he was bad), the one thing everyone gives him credit for is making sure even the undercard guys had something to do, which meant they could have good feuds and even occasionally be on PPV in more than a backstage segment.

I guess they're not turning Tensai as well. If he gets the Funkadactyls in the break-up, he'll survive.

R-Truth defeated Brodus Clay (pinfall, rollup)

Can I say that I loved this? Not the match, it was a squash with a flash finish, but I loved that they told a whole story in the ring. Everyone involved did a good job. Now they just have to keep the story going and not get bored after three weeks. I'm not saying it'll propel Brodus into the main event, but it's a reason to turn into a quarter-hour of Raw instead of "two guys fighting for no particular reason", and what that is, it TV worth watching instead of fast-forwarding.

The Miz vs Kofi Kingston – No DQ Match

Wow, that was a long time to go to get to that finish. I know they weren't going to do a garbage match because that might overshadow the TLC match somehow, but they didn't really use the No DQ gimmick in any real way. I think there were just as many out-of-ring shenanigans in half the matches already, and none of them had that stipulation.

Kofi Kingston defeated The Miz (pinfall, Trouble in Paradise)

Unlike the previous match, I'm having trouble following the storyline here. I mean, it's their fault for forgetting Miz's heel turn for a week so he could promote a shitty movie, but you would think if the entire thing was a justification for said turn, wouldn't Miz win the blowoff match and move on to theoretically bigger competition in any logical universe?

Daniel Bryan vs The Wyatt Family – 3-on-1 Handicap Match

I swear, one of these times, someone's going to screw up and Wyatt's going to sit down and miss the chair completely.

I have to disagree with you King, in the immortal words of Tears for Fears, "Everybody wants to rule the world".

Did Wyatt just tell the referee "Don't judge me, son" when he was counting to force a break?

Whoa. That was sudden. And killed the crowd dead.

The Wyatt Family defeated Daniel Bryan (Bray pinned Bryan, Sister Abigail)

Did Mick just call him "Way Bryatt"?

John Cena vs Randy Orton – TLC Match – WWE World Heavyweight Championship

I get that Orton has never been in a straight TLC Match, but he has been in several Money in the Bank matches, and the principle is largely the same.

When dangling helplessly from the title belts while Orton grabs a chair, here's a thought: let go of the damned belts, you idiot.

Anyone got money on "Cena snaps the handcuffs through pure force of will"?

Oh, Christ, I think Orton cut his finger trying to close the huge ladder. There aren't enough jokes in the world.

Uh…I'm pretty sure Cena was supposed to go through that table. I do hope he's conscious.

That ended quickly. It was like, half of an actual great match.

Hey, I think someone here called this three weeks ago. And then did the "title change" info in Who's Holding Gold before the show even started.

Randy Orton defeated John Cena in a TLC Match to become the WWE World Heavyweight Champion

So, do we get a new belt, or does Orton have to lug around both belts, Jericho-style, until the "real" champion is crowned and they make a new belt?

Oh, I get it, we had to go home early so the McMahons could bookend the show. Why didn't I think of that?

Well, what did you think of TLC, Punk?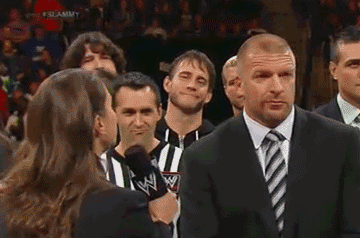 On the bright side, there were signs of a decent midcard building up, just in time for a match that will require a bunch of them for the first part of it. Plus, with Orton becoming champion, there's still a chance that we could get Orton-Bryan at Mania. It's not a big chance, but we wouldn't be wrestling fans if we couldn't live in denial.




Last night, for the second time at a December PPV, WWE had a unification match for the WWE and World Heavyweight titles, in a TLC Match between John Cena and Randy Orton. And to the surprise of people who were not me, Randy Orton, Face of WWE and tool of the Authority (as well as tool in general), emerged victorious and the new WWE World Heavyweight Champion. No doubt, Cena will request some sort of rematch, of course.

And also last night, CM Punk defeated The Shield, but it was mostly through luck, as an eye injury to Roman Reigns may have affected his judgement and caused him to Spear Dean Ambrose, leading to the victory for Punk. We'll see if Shield's claims of being "strong as iron" continue to hold true after failing to beat Punk despite overwhelming odds.

Meanwhile, Daniel Bryan failed to overcome a similar situation, as The Wyatt Family defeated Bryan handily, leaving a final image of Bray Wyatt cradling an unconscious Bryan to assault the mind. Is this bizarre feud over, or just beginning?

Plus, Brodus Clay has lost his tag partner, his valets, and he lost to R-Truth last night. Will this provoke a new attitude from the Funkasaurus? And every other title that was on the line was successfully defended last night at TLC, so it's time to find new challengers, tonight on Raw!




- Word is that AJ Lee garnered a bunch of heat for going off on Michelle Beadle at the Tribute to the Troops taping when she saw Beadle talking to CM Punk, who has most recently been attached to Lee. Come on, AJ, just because it seems like Punk can sleep with any woman he wants doesn't mean that he was trying to get with Beadle. Okay, maybe it does, but you don't go after her in public.

- A TNA executive recently said that TNA had "pushed ahead of WWE" in terms of viewers of weekly television programming in the UK and Germany. Does the United Kingdom only get Superstars and NXT or something? Or is it because Raw airs live at, like, 3 am over there? Is this one of those "Well, the Queen likes it, so we have to" situations? Otherwise, those words make no sense.

- During a video package promoting Orton vs Cena, footage Chris Benoit was seen briefly, as he was being pinned by Orton to give Randy his first World title. Benoit Appearances in WWE Videos: It's like Where's Waldo, if Waldo was a multiple murderer!

- Apparently WWE may move SummerSlam out of the Staples Center next year due to Mania also being in California, and into an East Coast location, possibly MSG. Word is they also are considering running the 2015 Rumble in California. Man, I know they call middle America "flyover country", but WWE really takes it to extremes, don't they?

- And with Robinson Cano having signed with Seattle, we move on to the next most-talked about contract, as Sting's current deal with TNA is up as of 2014. Let us commence wagering on how much money WWE will offer him this time! Of course, TNA is apparently pretty certain that he'll be back, but then, they are currently running an angle where a guy who has no contract (and who apparently isn't likely to sign one, either) is holding their World title, so…




Due to some new restrictions on HTML, I'm working on a different format for this feature. Let's see how this one handles.



HOT: CM Punk

Punk puts himself on the inside track to the main event by getting past The Shield, but one can't help but feel that his actions as the Slammies ended might result in someone making sure that just a few more roadblocks are placed in any path he might seek towards the WWE World Heavyweight Title.

Man, that is going to get tiring to type out.



NOT: Daniel Bryan

While hope remains, and in WWE it's never darkest than just before you become the surprise #1 contender to the title and win it all, Bryan is possibly stuck in this Wyatt angle for a bit longer. And hey, good for Bray and Co, because WWE is a little thin on true top heels right now.



HOT: Sin Cara

Del Rio's out with a concussion, but fortunately, he wasn't the one being pushed at the time, and it seems like it could be clear sailing for the new Sin Cara in the meantime. Hey, another chance at adding a new strong presence to your midcard, what an idea. Now ditch the orange lighting already.



NOT: Bad News Barrett

Barrett's new persona seems to have thudded into the ground on re-entry, and it's going to need some major salvage done if this latest attempt to make him relevant without just making him a big guy from the UK who likes to fight (because that's Sheamus' deal, baby) will have any shot at success.



HOT: Big E Langston

You can always do worse than having such a dominant big man as your secondary champion. If anyone can break the streak of IC Champions who lose every match while they hold the belt, it has to be Langston. Hell, I think he's already had more successful title defenses in 2013 than Miz and Barrett combined.



NOT: Damien Sandow

Oh yeah, sure, he'll be fine even though he lost Money in the Bank. And by fine, I mean "the only person envying his career path is Dolph Ziggler". I guess the IC title is now by default the #2 title in the company, but losing a match for it isn't exactly a positive direction for Sandow. I love the "I>U" shirt, though.



HOT: Goldust

Seriously, how is it that Goldust waited until his forties to become the most exciting wrestler in the world? I know a Code Red is a hugely contrived move that looks better than it actually is, but it still looks damned cool, and remember, this is the guy who stunk up the ring as Black Reign and had a Backlot Brawl with the Roddy Piper that was so dull it may actually have warped space and time back in the mid '90s.



NOT: The Miz

I suppose you could slot Kofi in the same spot, but as you'll recall, Nobody Cares About Kofi Kingston. Also, I feel like when you put a guy in a feud with the intent of turning him heel, and he ends up in a bad No DQ match which he then loses cleanly, then said guy is definitely not the hottest prospect in all of wrestling.



HOT: Brodus Clay

I'm sure everyone's happy that we might be getting the killer Clay we were originally promised before the Funkasaurus appeared, and if the last couple weeks has shown anything, he'll do well as an arrogant, self-deluded heel. He's not really a main event playa, despite his words, but at least he's relevant again.



NOT: Xavier Woods

So, he doesn't even get to wrestle in the PPV match of the feud that he essentially instigated, where the whole climax went down? I'm just warning you, Xavier, the last guy who Truth mentored ended up as Fandango.




Inactive List as of 12.09.13

WWE

- Christian, out indefinitely as of September 2nd (concussion)
- Evan Bourne, out indefinitely as of March 19th, 2012 (foot)
- Sheamus, out 4-6 months as of August 5th (torn labrum)

TNA

No reported injuries

Transactions

- Alberto Del Rio, WWE, out indefinitely as of December 9th (concussion)



**NEW** WWE World Heavyweight Champion: Randy Orton
- 1 day reign (+49 as WWE Champion), defeated John Cena in a TLC Match on December 15th (TLC PPV) to unify the WWE and World Heavyweight Championships



WWE Intercontinental Champion: Big E Langston
- 28 day reign, defeated Curtis Axel on November 18th (Raw)



WWE United States Champion: Dean Ambrose
- 204 day reign, defeated Kofi Kingston on May 19th (Extreme Rules PPV)



WWE Tag Team Champions: Cody Rhodes and Goldust
- 63 day reign, defeated The Shield on October 14th (Raw)



WWE Divas' Champion: AJ Lee
- 183 day reign, defeated Kaitlyn on June 16th (Payback PPV)



WWE NXT Champion: Bo Dallas
- 187 day reign, defeated Big E Langston on June 5th (NXT)



WWE NXT Tag Team Champions: The Ascension
- 68 day reign, defeated Corey Graves and Adrian Neville on October 2nd NXT



WWE NXT Women's Champion: Paige
- 145 day reign, defeated Emma on July 24th NXT to become inaugural Champion

NOTE: NXT Title reigns only count what has aired on TV, not when changes occur at tapings.




TNA Heavyweight Champion: VACANT
- title vacated by Dixie Carter when AJ Styles left the promotion as Champion
- Next title match: Jeff Hardy vs Magnus, "Dixieland" Match, December 19th Impact



TNA World Tag Team Champions: The BroMans
- 57 day reign, defeated James Storm and Gunner on October 20th (Bound For Glory PPV)



**NEW** TNA X-Division Champion: Austin Aries
- 4 day reign, defeated Chris Sabin on December 12th (Impact)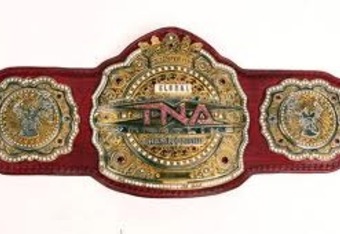 TNA Television Champion: Abyss
- 197 day reign, defeated Devon on June 2nd (Slammiversary PPV)



TNA Knockouts Champion: Gail Kim
- 57 day reign, defeated former champion ODB and Brooke Tessmacher in a Triple Threat Match on October 20th (Bound For Glory PPV)




Acero has The Wrestling 10&1.

Bennett has The DB Report.

De Marco has World's Most Dangerous Column.

Wojcik has TNA Impact Rankings.

Marsico has The Almost Next Week RAW Report.

Dino has Smart Marks.

Daniels has The Ten Count.





On the latest After Dark, I recap the Slammies, including the final segment, and make my predictions for TLC. Plus, whether crowd reactions affect booking, and who the real Superstar of the Year is!








And this week's Co-op Multi took Christmas break a week early, but we'll have back-to-back shows to close out 2013, with lots of GOTY talk, and possibly a Christmas-related contest! The festivities get underway this Saturday at midnight Eastern!



Stealth, Inc.
The Last of Us
Call of Juarez: Gunslinger
Marvel Heroes
Hakuoki: Warriors of the Shinsengumi
Far Cry 3: Blood Dragon
Dragon Fantasy: Book One
Guacamelee!
BioShock Infinite
Dead or Alive 5 Plus
Generation of Chaos 6: Pandora's Reflection
Rocketbirds: Hardboiled Chicken
Ni No Kuni: Wrath of the White Witch
Earth Defense Force 2017 Portable


411 will have live coverage of Raw tonight starting at 8 pm EST.

From our promotional department, I've been informed that if you really do like 411Mania and all it provides, or even just me (and really, who doesn't like me), don't forget to bookmark the site in your browser or make 411 your homepage, and tell all your friends about how awesome 411 is.

And don't forget, you can follow all of the everyday goings on in 411 on Twitter.

Stephen's Twitter
http://www.twitter.com/411mania
http://www.twitter.com/411wrestling
http://www.twitter.com/411moviestv
http://www.twitter.com/411music
http://www.twitter.com/411games
http://www.twitter.com/411mma

That's our show, I will be back next week. Also, don't forget 4PC in the Games Zone on Wednesday, and the TWNE After Dark podcast on Wednesday, airing live at around 11 pm EsT on Spreaker.com, posted on 411 shortly thereafter. Plus, don't forget about Co-op Multiplayer, the official 411 Games Zone podcast, on Saturdays at midnight EST.

Here it is, your Moment of Buddy.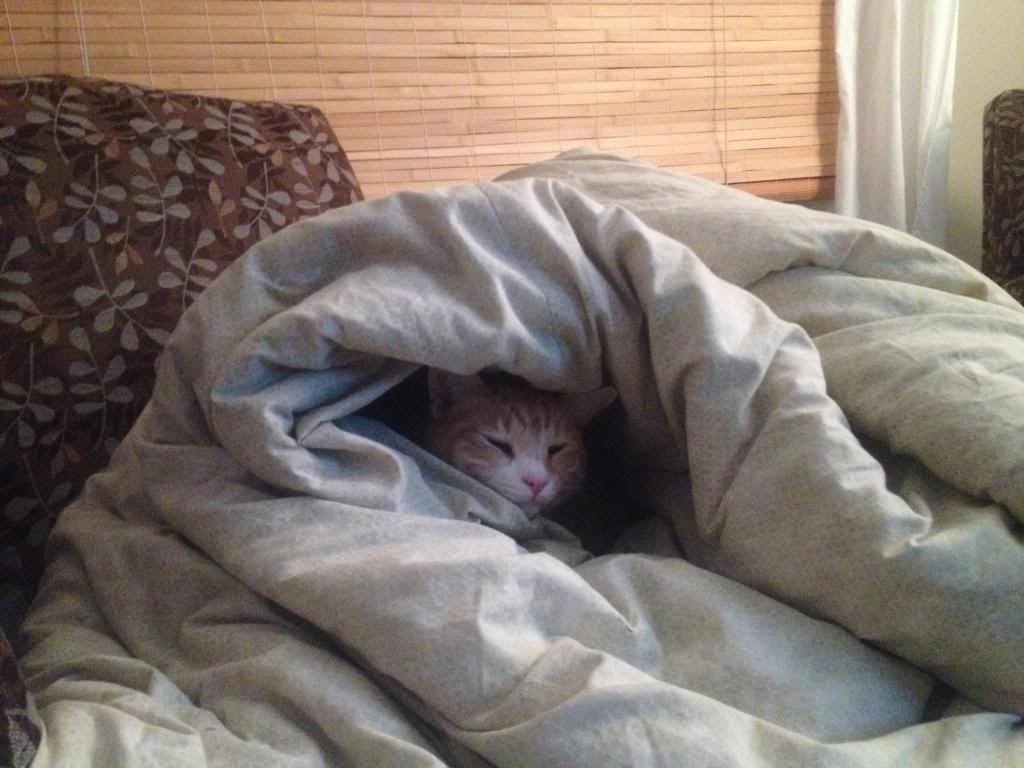 That Damned Snow Is Back Again.




Have a good one, and always be a fan.

comments powered by