SPOTLIGHTS
411 Fact or Fiction 12.19.13: Orton as Unified Champion, Styles Gone From TNA, Hero to ROH, More
Posted by Larry Csonka on 12.19.2013

Was Randy Orton the right choice to win the Undisputed WWE World Title? Is TNA making a mistake by not re-signing AJ Styles? Are we more interested in ROH with Chris Hero back? 411's Sean Walker and Jack McGee debate these topics and more!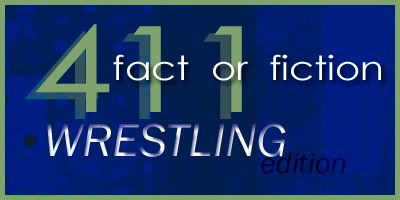 Welcome back to the latest edition of 411 Fact or Fiction, Wrestling Edition! Stuff happened, people loved/hated it and let everyone else know. I pick through the interesting/not so interesting tidbits and then make 411 staff members discuss them for your pleasure. Battling this week: First he is a contributor to the wrestling and MMA zones here at 411, he is Mr. Jack McGee! His opponent is Music Ten Deep writer and all around swell guy, he is Mr. Sean Walker! Lets get to work…


Questions were sent out Monday.


Participants were told to expect wrestling-related questions, and possible statements on quantum physics. .




1. Randy Orton was the right call to become the Undisputed WWE World Champion.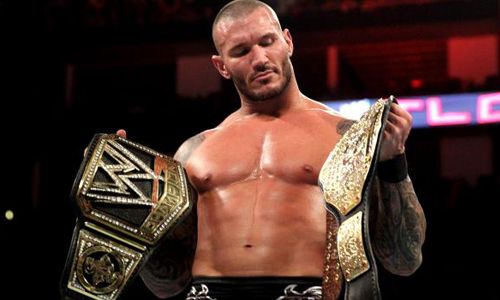 Jack McGee: FACT If the statement means between Orton and Cena, I will go fact. I think that the heel winning right now makes more sense, and plays into the Authority angle they have running at this time. I won't say that it is best for business, but they seem to have a plan, and that plan will likely play out at WrestleMania. If that is the plan, I want them to stick with it and not change things 20 times before then. Orton seems to be in a groove right now, and if they play it correctly, could pay off well at the biggest show of the year for WWE. I am not sure where the angle is exactly going, and who will be the one to end the reign of terror so to speak, I think out of Orton and Cena, and knowing that WWE wasn't going to turn John Cena heel, Orton made the most sense out of what was presented.

Sean Walker: FICTION I was really torn on the this. My heart wanted Orton because I know he's more entertaining in the ring, but my head is saying Cena should have won because he's more interesting outside the ring. That way we could have had Cena/Bryan II or Cena/Punk at WrestleMania. I'm not one for fantasy booking the road to WrestleMania, but I'm hoping for one of those matches to happen and not Cena and Orton again. Now that they've stuck to Orton being champ however, I honestly have no idea what's going to happen. All I know is that leading up to the main event, we're going to witness some of the shittiest booking of the main event since WM X-8. It doesn't really matter who's going to be in the main event, because I can guarantee you with the Authority storyline, the two wrestlers are going to be sideline players to Triple H and Stephanie. Especially if Orton is involved. He's honestly going to throw water into the heat-less fire with his lackadaisical promos and boring nature. I would really hate for the crowd to start chanting boring while I'm trying to watch in the stands. This is not related, but I'm ecstatic that WrestleMania is in my home state this year. I'm a little weary of what the real match card will be.

Score: 0 for 1





2. TNA's recent contract negotiations with AJ Styles do not send a good message to other long time employees who are about to negotiate for new deals.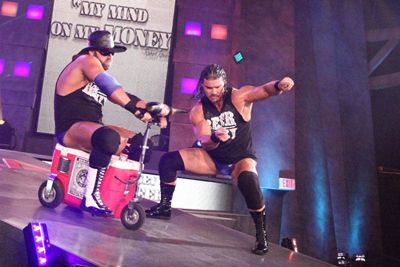 Jack McGee: FACT I think that this sends a very bad message to the guys that have been around for a long time. Storm, Roode, Daniels, Kaz, Joe and others; I think when it comes time for them to negotiate, that that have no bargaining power now. They are all in their mid-30s or older, WWE may offer some of them a deal but if they low balled AJ, they will low ball them just the same. AJ was reportedly making over $300,000 in TNA, and they offered him a non-guaranteed $200,000 contract. WWE's offer was reportedly lower than that. The word is that TNA wants to move away from guaranteed deals and move to more of a paid per appearance structure, with many guys being offered $300 to $500 a night. If AJ Styles, the poster boy of TNA cannot even keep what he was making, what hope do the others have when their time comes? In all honesty, I feel it is a very scary time for TNA, because if you lose AJ, Storm, Roode, Daniels, Kaz, Joe and others you lose the heart and soul of that company, and the guys that made it what it was for so many years.

Sean Walker: FACT Off the top of my head, TNA veterans like James Storm, Bobby Roode, Samoa Joe, and Bad Influence came to mind when I read this. Out of those guys, only Bobby is the only one who really has the best chance of getting what he wants in his renegotiation. That chance still isn't much considering AJ Styles was basically the "face" of TNA and he is having a hard time getting his new deal. Also let's have a memory flashback to when the company basically forgot that Bobby's was due to expire days before he was supposed defend his tag team championship last year. So no, it doesn't bode well for veterans if your name isn't Sting.

Score: 1 for 2





3. Following in the footsteps of the recent World/WWE Title Unification, WWE should unify the US and IC Titles.





Jack McGee: FACT I know people want to use the split house show schedule as an excuse to keep titles separate, but the unification of the big titles was the right plan. The "B-Shows" have had poor attendance, and that is because they have been treated like the Smackdown show, which is not important. Fans realized that, and then didn't pay for the substandard show. Now, the secondary titles have been booked horribly for years, and it doesn't seem as if they have stopped that even with Ambrose as US Champion. The WWE needs to get back to basics, the world, IC, tag and women's title; and go from there. They have the big titles unified, and the tag team division has been revitalized; now they have to make sure that they fix the rest. Go back to basics, keep things simple, and make the titles important once again. When you make things important, and add the proper focus on these titles, people start to care, and when people care, they are more willing to spend money. There was a time when WWE was able to run up to three house show loops, with the world, IC and tag titles main eventing separate shows. There is no reason going forward that they cannot re-establish the titles they have, unify the secondary belts, and then present more balanced shows so that both tours look like they are worth the price of admission.

Sean Walker: FICTION Actually, instead of getting rid of the US championship , the WWE should actually lower the level (cough) of the title to tertiary status, like the European and Hardcore Championship. This kills two birds with one stone. The Intercontinental Championship becomes the sole secondary title, and we can actually have a great stop caring about the title not ever having storyline support to it. Seriously, the last "great" storyline for the title was back in 2010 when Daniel Bryan and The Miz fought for it. That's a damn shame.

Score: 1 for 3





4. Matt Hardy's return to Ring of Honor makes you less likely to watch a show that he is involved on.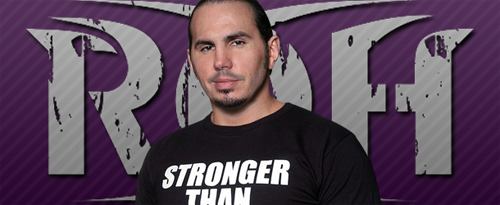 Jack McGee: FACT I completely understand why ROH would want to use Matt Hardy. He has a name, and they want to increase live attendance, DVD and VOD sales and get more attention in the world of wrestling. From a business point of view, I get it. Unfortunately, Matt Hardy in 2013 doesn't do that for me. I have seen almost every time he performed in ROH, and to me, he just doesn't fit. He doesn't work well with the large majority of the roster, and seems to be not all that motivated. Yes the fans react to him, but it is more making fun of Hardy than proper heel heat. Again, I get why ROH is doing this, but there are other people I would rather see in ROH than Hardy, and they would likely be cheaper and more motivated than he is. But that's just my opinion.

Sean Walker: FICTION I only watch ROH when they hold their major events. In those events, having someone who's Indy friendly and a notable name like Matt Hardy will only help business. But don't get carried away with notable names because you'll become TNA. Never become TNA.

Score: 1 for 4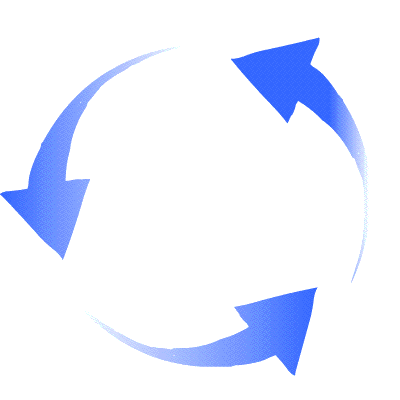 SWITCH!
5. You are excited to watch this week's Final Resolution edition of TNA Impact Wrestling.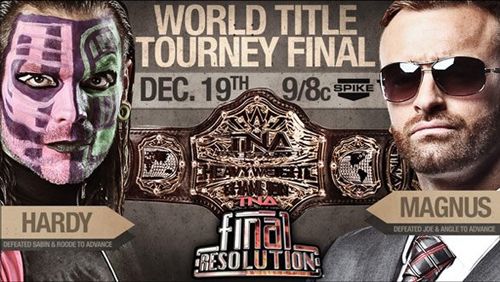 Sean Walker: FICTION There's a formula to me watching TNA:


Are the Knockouts billed for the card knowledgeable of how to run the ropes?

Are the tag teams actual tag teams and not two directionless stars paired together without a cause?

Will the X Division actually even have a match scheduled?

And this is the most important:


How much of a cluster fuck will the main event be?

Going by the formula, this edition of Impact is more than a miss. It's a failure. It's an ugly disaster. What in Snake's Outer Haven is a Dixieland match? Are they wrestling in Dixie's vagina? Will Jeff accidentally Swanton Bomb her vulva? Does Magnus win by smashing her last egg over Jeff's head? I won't be watching this crap.

Jack McGee: FACT I actually am. I am interested to see if Magnus can actually deliver in a big time match, and I wasn't to see the Roode vs. Angle match. While the title tournament has been a main part of the TV show as of late, I feel that Roode vs. Angle has carried the show in terms of matches and having an intense feud. There is the Feast or Fired stuff and the ladies tag, which is fine, but the top two matches make for an interesting free TV show, and I plan to watch. I just hope that the company can deliver.

Score: 1 for 5





6. TNA made the right decision when they decided not to re-sign AJ Styles.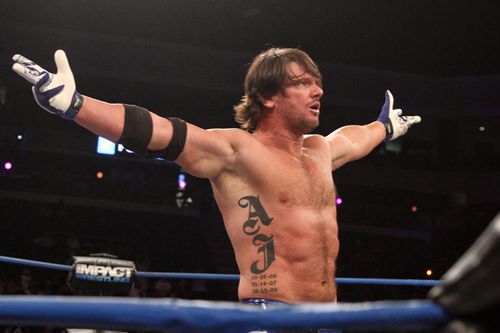 Sean Walker: FICTION While I agreed with TNA doing budget cuts on wrestlers that weren't really great fits on the roster, resigning AJ should have been a main priority. First off, why would you have AJ Styles win the title at Bound for Glory when you knew his contract up, and you weren't able to come to an agreement (unlike CM Punk in 2011). The storyline is great. It's blurring the lines between kayfabe and reality, which is something many companies aren't able to pull off. We don't know if he has resigned or not and TNA is actually keeping fans and critics on their toes. We don't know if that's actually intentional or not but good job. TNA would make a huge mistake not keeping one of the only recognizable non-WWE/WCW/ECW talents they have.

Jack McGee: FICTION When I think TNA, I think AJ Styles, and I do not want to think about a TNA without him. While the whole thing may be more angle than reality, if the truth is that they are low-balling him and not bringing him back, I think that it is a horrible decision. Some will say that his last year wasn't great, but in 2013, that was the booking, not the performer. Even at 36 years old, a properly booked AJ Styles can do a lot of good for TNA, and placing him in matches with the right guys will also bring a high match quality, especially with the talented roster that TNA has. While he may not be a valuable talent to WWE, I feel that he is an essential talent for TNA to hang onto. I say that as someone who still watches TNA on a weekly basis and wants them to succeed. They may never be #1, but there is nothing wrong with us having a strong #2 to have as an alternative.

Score: 2 for 6





7. You are more interested in the WWE Network as an online property than you would be if it was a traditional cable channel.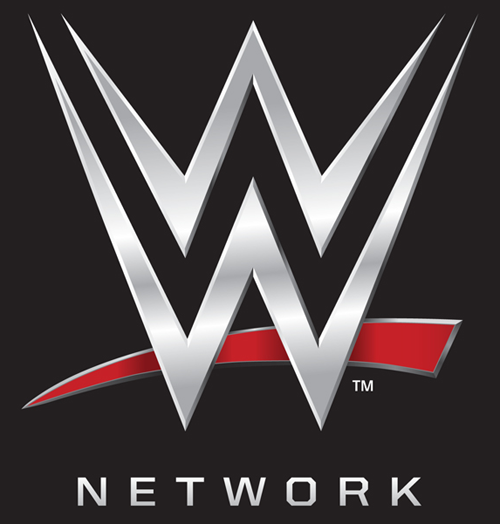 Sean Walker: FACT On a normal day, I'm not able to watch TV for more than 2 hours a day, and those hours are spent watching The Daily Show/Colbert Report, and whatever's on my DVR. Having the WWE network be an online property would be a great idea. I would be more than willing to sign up for this if it was true.

Jack McGee: FICTION I know that the world is moving towards a more internet and mobile friendly way of doing things, and TV is part of that, but not me. While I do like some online features, I tend to use Netflix, Amazon Prime and other stuff through my TV via the XBOX and or Roku device. But when it comes down to things, I am still a big fan of traditional TV, and love having the NFL package, HBO, Showtime and other specialty channels. If WWE goes the online route, I will likely still invest to watch, but I am personally more interested in some form of traditional network and or pay channel through my cable provider. I guess I am a creature of habit.

Score: 2 for 7





8. Chris Hero returning to Ring of Honor makes you more excited for the ROH product in 2014.





Sean Walker: FICTION As I said before, I only watch ROH for it's major events. Also, I've only watched exactly TWO Chris hero matches. One was with CM Punk in a throwaway Indy match, and the other was when he was Kassius Ohno and he was facing William Regal. While they were brilliantly wrestled matches (especially the regal match), him returning to ROH does nothing for me.

Jack McGee: FACT While I will freely admit to being a bit down on ROH in 2013, I am a fan of Chris Hero, and I will be interested to see what he can do in ROH in 2014. While Hero didn't work out in WWE for various reasons, his return to the independent scene has been met with great anticipation. His DGUSA performance against Johnny Gargano was a damn fine match, and his ROH return at Final Battle was a great way to introduce him to the fans. Now as they head into 2014, losing Richards and Edwards, they certainly need someone fresh for the main event scene, and Hero will provide that. If Chris Hero is on a card, I am more likely to part ways with the money to see the event, plain and simple.

Score: 2 for 8


Jack and Sean disagree, a lot, and I loved it. Tune into next week's column for more debating fun, and thanks for reading.







Have you checked out the Csonka Podcasting Network? If you haven't, you should We run anywhere from 15-20 shows a month, discussing pro wrestling, the world of MMA, the NBA, general sports, popular TV series of the past, bad movies, battle rap, interviews, MMA & Wrestling conference calls and more! Around 10 different personalities take part in the various shows, which all have a different feel; so you'll likely find something you like. All of the broadcasts are free, so go ahead and give a show a try and share the link with your friends on the Twitter Machine and other social media outlets! Running since May of 2011, there are currently over 400 shows in the archive for you to listen to.



Larry Csonka is a Pisces and enjoys rolling at jiu jitsu class with Hotty McBrownbelt, cooking, long walks on the beach, Slingo and the occasional trip to Jack in the Box. He is married to a soulless ginger and has two beautiful daughters who are thankfully not soulless gingers; and is legally allowed to marry people in 35 states. He has been a wrestling fan since 1982 and has been writing for 411 since May 24th, 2004; contributing over 3,000 columns, TV reports and video reviews to the site.


Your heart is free. Have the courage to follow it…TO CSONKA'S TWITTER!

http://www.twitter.com/411wrestling
http://www.twitter.com/411moviestv
http://www.twitter.com/411music
http://www.twitter.com/411games
http://www.twitter.com/411mma
comments powered by