Smart Marks 12.21.13: Gift Time
Posted by Dino Zucconi on 12.21.2013

Join me as I discuss Final Resolution fallout, TLC/Raw, and of course some CMLL talk! You know how we do!

Hello one and all, and welcome back to another installment of the Weekend Wrestling Lounge, Smart Marks. We're fresh off the TLC pay per view in WWE, the Final Resolution edition of Impact in TNA, and there's definitely some unknowns in the air!

Randy Orton winning the WWE Title at TLC marked my only "incorrect" call for the show, but I'd like to throw an asterisk there, as I was more firmly in the camp of "the swerve is that there will be no swerve, and one man will be the champion." I did enjoy the numerous commenters who KNEW that WWE planned to switch the belts, and talked loads of trash about how they can't wait to see how us idiots who didn't buy that plan would react when they finally did.

So, in the interest of fairness, I'd like to offer the chance for those who KNEW that Orton and Cena were going to switch belts to offer up an explanation as to where they went wrong?

Jokes aside, I don't mind Orton getting the win over Cena, as it makes the Road to Wrestlemania seem a bit clearer, as there's really only one face that Orton's screwed over repeatedly and then ducked in the last couple months, one that would really set the place on fire for getting a proper victory that won't be immediately overturned. Orton vs. Bryan at Mania sounds good to me!

This week, we'll keep it a bit lighthearted as I pick out the coolest things I saw this week. There may be some grumbling mixed in there (as there was a LOT of stupid from WWE and TNA this week), but overall, let's just have some fun and enjoy the gifts that wrestling provides.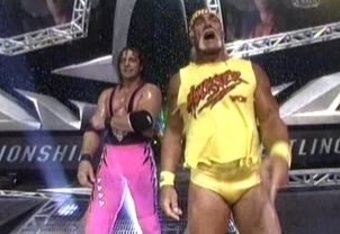 Thankful It's Not 4 Hours



I don't know, Monday Night RAW just felt like a really filler show. It didn't do much for me. However, the Daniel Bryan vs. Randy Orton match, surprise, was fantastic. Sure, we got a cheap finish, but one that actually DOES make sense. Plus, it keeps us wanting Bryan to get his revenge on Orton (at Wrestlemania of course). From start to finish, this match had it all. Bryan's sheer will to have great matches at all times is getting infectious, and you can see his opponents are all stepping it up when they share the ring with him, and Orton is no exception. Stellar work.

I also enjoyed Brodus Clay finally going full heel. This all came out of nowhere, but it's nice to see that the Funkasaurus is going extinct, and maybe we can have Brodus do some actual damage to the roster. I do worry given WWE's recent track record of making sure all their heels are punk bitches who are of no real threat, but maybe Brodus can be the guy they actually allow to hurt people while he's a heel.

The nonsense with the Selfie at the announce table was dumb, though it probably got a bit too much coverage. I'm also used to stuff at the announce table not being very important.

Over on Main Event, however, they really went full stupid idiot on us. Santa Foley was embarrassing. Foley never broke character, which is stupid when more than half of your audience knows exactly who he is. Yes, we also know that Foley loves Santa Claus, and this was probably a wish of his to do, but it sure was stupid having Miz, Ryback and Axel all act like he really was Santa, too. That it led to a Miz vs. Curtis Axel match (which in actuality wasn't so bad) made it even worse. Ever since CM Punk sat on the ramp and yelled at John Cena, the Miz has been completely lost. He's still trying, and he's still young enough that he might find some footing again, but his complete fall from the upper echelon to his current water treading position is amazing.

The AJ vs. Kaitlyn match, while not being some barnburner, was at least enjoyable enough. But the Santa Foley stuff was borderline insulting.

All said and done, though... Randy Orton vs. Daniel Bryan > All the bad crap WWE handed out this week.

What'd you guys think of Raw? Main Event? What are you looking forward to?





Title Situation: Resolved



Now, much like Raw/Main Event, there was a lot that I did not like about this week's offering from TNA. I felt that the Magnus vs. Jeff Hardy match was underwhelming, hampered by the ridiculous match rules, as well as the overbooking of the finale. I just want to get that out of the way. No, a cage match that leads to a short walk up the ramp where you climb a ladder isn't the most complicated match of all time. It's not even the most complicated match in TNA at the moment. However, it didn't allow for a constant flow of action, as both combatants were inhibited by what they could do. Add in the EC3 AND Rock Star Spud interference, and... man. I double dog dare TNA to have a title match end normally once in a while.

That said, I am very happy that Magnus won. He might not be quite ready for the top level yet, but the idea that TNA is willing to try and get him there makes me happy. It's Step 1 in getting the Wave 2 guys at the same level as the Roodes, Angles, Styles, and Stings of TNA.

I'm also very intrigued by Sting and his complete hatred of Ethan Carter. Yes, his speech and proposed deal during the Feast or Fired reveal was a bit hokey. And again, the elevator music playing in the background helped to undercut it all and make it a joke. Still, it's nice to see that EC3 may have an actual purpose now besides beating up TNA officials, and with that tag title shot in his pocket, I have a feeling we could have WACKY TAG CHAMPIONS WHO HATE EACH OTHER coming back, soon!

I also enjoyed Eric Young's attempt to get Joe Park to realize he's Abyss. The whole thing was done well, as Young is quite adept at playing with the crowd. Once he busted out Janice, Park's whole demeanor changed. We've waited a long time. We've screamed it to the mountaintops. We just want one thing. WE WANT ABYSS! The Monsters Ball match against Kaz and Daniels should finally deliver what we want.

TNA continues to make strides towards reclaiming its identity after the Hogan Experiment ended, and as it gets ready to close the year, a lot of the pieces are falling into place. You can't hate on future planning, and TNA is clearly in that mode right now. It wasn't perfect, but man, find me the wrestling show that is.

What'd you guys think of Final Resolution? Enjoy the final match more than I? Anything I forgot?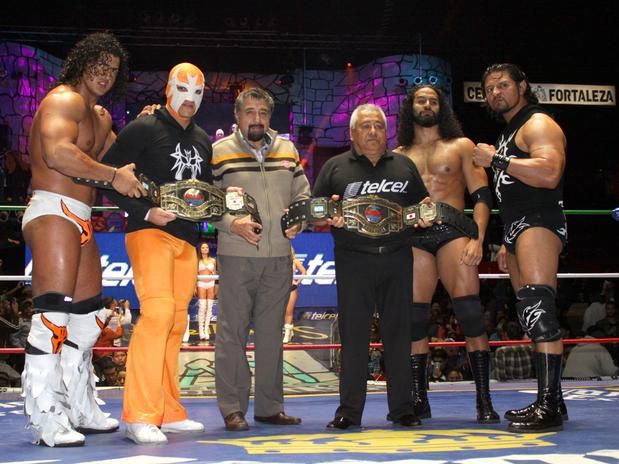 El Regalo del Torneo Cibernetico



This past Saturday, while watching another edition of CMLL wrestling, I was treated to my first ever Torneo Cibernetico. In this match, two teams (in this case, teams of 5) go at it in an elimination match. Usual lucha rules apply with the teammates being able to enter the match if their partner rolls outside or is eliminated, keeping the action constantly flowing. On top of that, there's an apparent "order of entry" instituted, in that each man is given a number, and can only tag out to the person next in that order.

The match was set between Team CMLL (Blue Panther, La Máscara, Máscara Dorada, Valiente, and Místico II) against Los Invasores (Morphosis, Kraneo, Volador Jr, Mr. AGUILA and Psycho Ripper). For those unaware, Psycho Ripper is the new name for Psicosis II, and it's come with a bit of a change in the mask, and a lot more snakes. As well, Mr. AGUILA is the artist formerly known as Essa Rios / Papi Chulo / Aguila here in the states during his time in the WWF.

The Los Invasores group (clearly, the Invaders) are comprised of numerous men who used to compete in AAA. Kraneo, for example, used to be known as El Alebrije, and Mr. Aguila also competed there.

The match itself was a fun one, with constant action, and a storyline that was easy to get into. After many eliminations, it boiled down to Místico being left against Psycho Ripper, Mr. Aguila, and Volador, Jr. Volador entered the ring, shook hands with Místico, and a short time later, got the elimination by using Místico's own move, La Mística. Afterwards, however, things got crazy. Volador had apparently been coming close to a face turn for a while, and after beating Místico, he told Psycho Ripper that he wanted his mask. Volador was immediately jumped by Mr. Aguila and Psycho Ripper. What made this more interesting is that in a Torneo Cibernetico, if one team has more than one winner, then THOSE guys have to fight until there's a single winner. Well, Aguila and Ripper took turns beating down Volador before finally eliminating him. Then, Mr. Aguila simply laid down for Psycho Ripper, and the rudos reigned supreme.

Here's Volador getting uppity and then put in his place:





I know that CHIKARA used to run these types of matches, but this was my first time seeing it. This event happened on November 30, but aired for me just this past Saturday, the 14th of December. I'm still trying to figure out how to get more recent on my CMLL coverage, but a couple week lag isn't the worst thing in the world.

It was really cool to be able to finally see one of these matches, as well as observe a face turn for Volador. I'm also really intrigued to see what Los Invasores have in store for Volador now that he's no longer with them, and if he's going to form a team with his former rival, Místico. Great stuff happening south of the border!

And with that, we'll call it a column. I hope everyone has a wonderful weekend, and a Merry Christmas if that's your thing. If it's not, well I hope your day is fantastic nonetheless. Enjoy your WWE, your TNA, your Lucha, your Puro, and your Indies.







It's All Wrestling. It's All Stupid. We All Love It
comments powered by