SPOTLIGHTS
The 8-Ball 12.23.13: Top 8 Needed Changes Following WWE's Title Unification
Posted by Mike Hammerlock on 12.23.2013

From de-emphasizing John Cena and bringing back a TV title to unifying the U.S. and Intercontinental titles, making every champion count and more, 411's Mike Hammerlock counts down the top 8 needed changes in the aftermath of the WWE Title unification!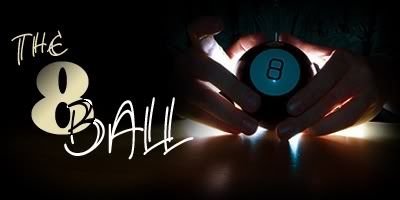 In case you hadn't heard, the WWE world titles have been unified. Potentially this marks a sea change for the WWE. It should mark a sea change for the WWE, though you're right to be worried about the whole thing getting undone as long as Randy Orton (or whomever beats him in the future) lugs around two separate belts. It would not be alien territory for the WWE to swerve, turning something that should have historical significance into a footnote.

However, the Magic 8-Ball remains optimistic that the McMahon family is in on this whole unified title thing for the long haul. It's one thing to cheese off the portion of your audience that's rooting for Guy A over Guy B. It's another to sell the dawn of a new era and then blow it apart before it ever really gets rolling. Being a wrestling fan you know they're going to mess with you, but they've got to draw the line short of abusing you. Plus, undoing the unification would be such a Vince Russo move that you've got to figure sane, ostensibly sober people would avoid it like the plague. Confusion does not sell tickets. So the safe money is that WWE is going to have a single pinnacle for the foreseeable future.

What isn't as safe a bet is that the WWE has thought through what it means to have a single champ again. The corporate temptation no doubt is to act like a unified title is a standalone decision that affects nothing else. Work avoidance is a powerful force. Unified title + business as usual certainly will have a strong appeal for some inside the walls of Titan Tower. Problem is, that's wrong. This matters and it can't be treated as an isolated incident. Like it or not, the WWE did pull the trigger on a new era. The unified title has consequences. It brings a new logic with it. That's why the 8-Ball is stepping in. It has eight suggestions to guide the WWE through these transitional times. A unified title is the sort of game changer that should reverberate down the card. The winners and losers in this new world order should be the ones who quickly adapt to and help forge the new landscape. Anyway, enough preamble, let's get to it.




8. Unify the Intercontinental and U.S. titles too



I'm a Dean Ambrose mark. My expectation is he's going to keep rising the ranks in the WWE and become a headline performer. That said, the U.S. title has become nothing more than a piece of midriff jewelry during his reign. He almost never defends the belt and he hasn't had so much as one meaningful singles feud since winning the title in May. The belt is functionally dead at the moment. Time to put it out of its misery. Plus, one of the problems with having both the Intercontinental and U.S. championships is that one devalues the other. Essentially they are the same thing with different names: a mid-card title. That served a purpose during the brand split. Each brand needed a secondary belt. Now that everyone is one big, happy family again it's time to weed out the redundancy. We've got belt fatigue. The same logic that led to unifying the WWE title with the World Heavyweight Championship applies here. Going back to one secondary title would increase the prestige of that title (and let's be honest, it will be the Intercontinental title that survives). Building toward a big unification match at Wrestlemania would make sense and I actually expect this will happen.




7. Every champ counts



There should be no such thing as a transitional champ. A guy can have a short reign, but when you've got the top belt in the industry, then your champ has to be worthy of that belt. It's the responsibility that comes with being a superpower. Even if your title reign is brief, it should be meaningful: more Mick Foley and less Ronnie Garvin. A stiff like the Great Khali should never get into the picture. And aimless reigns like we've seen from Jack Swagger and Big Show (1999) need to be avoided at all costs. This belt is not a prop. Once a guy wins it, the WWE needs to book him strong for pretty much the rest of his career. Anything less than a Hall-of-Fame career for a WWE title holder should be viewed as a fail. When you give someone this belt, you're making a lifetime commitment.





6. Get back to real feuds/storytelling



With only one top title (and one secondary title if the WWE pulls the trigger on the IC-U.S. title unification), a lot of the card isn't going to be contending for a championship. That means fewer matches where the motivation is waist candy. Frankly, that's an awesome turn of events. What were Roddy Piper and Jimmy Snuka fighting over? A coconut to the head. What were Bruno Sammartino and Larry Zbyszko fighting over? Betrayal. Think about every real life fight you've ever seen. They weren't contesting the World Saturday Night Championship. Dudes get angry at each other, violence ensues. To give ROH some credit (though I've got serious issues with the after-match in this case) Kevin Steen and Michael Bennett feuding over the use of the piledriver was a fabulous idea. Title matches have become a crutch for the WWE. Now they're going to have to give guys reasons to fight where there's no expectation that it will pay off with a belt. They're just going to have to want to tear each other apart. Ultimately that means more variety and, hopefully, matches that do a better job of jacking up the crowd.




5. The fight to become the top contender is as interesting as the title fight



The WWE has gotten lazy about how someone gets a title shot. Either get in the champ's face, hijack the champ and beat him down, or come out at the start of Raw/Smackdown one at a time insisting you should get the shot and then win the three- or four-way match that ensues. Getting a title shot has become a hasty affair. Yet allow me to quote the great Lemmy Kilmister here, the chase is better than the catch. The WWE has forgotten that thanks to the pressure to constantly gin up two separate world title matches. Now, thanks to the unification, we can get back to guys working their way up the card. When Bret Hart and Shawn Michaels won their first titles, it was the culmination of years of work. So, when they won, it felt huge. To be fair, Daniel Bryan beating John Cena clean had that same feel. We need more of that. Just as only one guy can hold the title, only one guy can be the top contender (though obviously multi-man matches exist). More attention should be paid to the gauntlet a guy has to run in order to get his title shot. It's not something that should come together in a flash the Monday after the most recent pay-per-view. Plus, if a guy works his way into contention, truly earning his title shot, then even if he loses the title match he's still legitimate.




4. Break from the heel-face dynamic sometimes



The WWE currently does its weekly power rankings. Yes, they're meaningless, but they do tell a bit of a story. It ranks the top contenders for Orton's title as, in order, Punk, Bryan, Cena and Big E. Cena obviously holds a title rematch clause, making him first in line for the next PPV, but I think those guys would be a pretty much universal top four challengers no matter who did the rankings. You don't see a single heel in there, do you? And if you wanted to slingshot somebody from lower down the rankings into a title match and have him seem like a legitimate threat to win who could do it? Big Show? Mark Henry? That would be about it. Personally I'd take Cesaro seriously because his excellence is glaring, but I doubt there's any chance the WWE would drop the big belt around his waist without a high profile, multi-month build. Had Sandow been booked strong after his briefcase failure he'd be a credible threat, but that didn't happen.

Anyway, where I'm going with this is, say Cena wins the rematch against Orton and ultimately the dust off (though I expect Orton will prevail at the Royal Rumble, sending Cena off to non-title feuds). Who would he fight? All the top choices are other faces. In fact, the top choices are other faces who are more over with the live audiences than Cena is - Punk, Bryan. More than that, it would be difficult to turn either of those guys if they challenged Cena. Their fans (e.g. me) aren't going to be predisposed to root against them. And banish the thought that Cena's going to turn any time soon. Not … going … to … happen. When there's only one title, it's a thinner pool of absolute top challengers. At times the best match you can put on, the match everyone will want to see, will be face vs. face or heel vs. heel. I think the E can be secure enough to recognize its audience likes pro wrestling and will get behind a great match/program without it having to force it through the same face-heel dynamic as every other match. Put the best guys in title matches. We'll sort it out from there.




3. TV titles



With two titles (potentially) disappearing from the landscape, it opens the door for some new titles to take their place. But what would make for a good tertiary title? Given the success of wrestlers like Mysterio, Punk and Bryan in recent years, a cruiserweight title has become obsolete. It would prevent smaller guys from competing for the WWE title, treating them like a sub-standard division. Don't want or need that. With the push not to become a travelling OSHA violation, a hardcore belt doesn't make sense, though the 24/7 rule of the old WWE Hardcore Championship was fantastic. It really turned that title into something different and interesting. The reason why was that it didn't behave like the other belts. Regardless of the hardcore rules, the belt was constantly up for grabs. For 2+ years it was pure chaos. It certainly gave Crash Holly, Stevie Richards, Raven, JBL and Shawn Stasiak something to do. And that's exactly the purpose of a tertiary title: shine a spotlight lower down the card.

However, a 24/7 rule isn't the only way to generate a ton of activity around a given belt. 24/7 worked great with hardcore rules because you could always lay out a guy when he least expected it. With a non-hardcore championship you need a ring for the whole thing to make sense. So we're keeping the heightened activity and not the rule. And we're melding that with a proven winner in the world of pro wrestling that the WWE has never used: television titles. Every week you've got Raw and Smackdown. They may not be separate brands anymore, but they are still separate shows. Let's give each show a TV title. More than that, stipulate that the TV titles must be defended every week. Every Monday and Friday you've got a title match with new faces constantly cycling in and out of the title picture. This would be something you can't see in PPV and a one-month title reign would be a fairly significant achievement. If you want a hot start to open the show - TV title. If you want a pick up in the middle of the show - TV title. If you've got a hot mid-card rivalry you're looking to showcase with a climactic finish - TV title. Guys like Damien Sandow, Ryback and Jinder Mahal have never held a belt of any kind. A TV title reign would help put some gravitas on their resumes. When you're rebooting guys like Wade Barrett and Dolph Ziggler, you could use a TV title. And it's the perfect vehicle for a hot, new kid up from NXT.




2. Time to make some new stars



One advantage the two-belt setup had going for it was that a larger number of wrestlers cycled through the championship scene. It kept things fresh. We're going to need more than Orton, Cena, Punk and Bryan to chase the big belt. If not, the WWE title is going to get stale quickly. Sheamus probably springs into the title picture once he's fit, but he hardly qualifies as new blood. It looks like Big E and Roman Reigns are getting rockets strapped to their backs. Good. We need more of that. The pool of serious threats to win the title needs to get a lot larger. That doesn't mean everyone has to win the title (see above), but the list of possibilities needs to grow. The worst thing you can be with a single title is be predictable. It was one of the chief sins of the Hogan years. Don't let your audience get complacent.




1. Downsize John Cena



Probably my favorite run for the WWE in post-Attitude history is when Punk carried the WWE title. Unfortunately there was a dark lining on that silver cloud. We got sent the not so subtle message that John Cena > WWE title. When Punk was breaking off killer match after killer match against guys like Chris Jericho, Daniel Bryan and Dolph Ziggler he was consistently getting buried beneath whatever Cena was doing. With only one title, the WWE can't repeat that. Obviously John Cena is the WWE's primary cash cow so it's got to keep milking him, but it needs to send the unmistakable message that the top guy is the one wearing the belt. And the WWE title match doesn't always have to be the main event. If you've got a huge tag match or the dust off of a hot feud, matches like that could close out a PPV instead of the WWE title. It just can't consistently play second fiddle to John Cena. He's hitting that point in his career where he doesn't need and should only infrequently hold the WWE title.

Also, the WWE needs to have some historical memory here. Remember how dire things got after Hogan left in the early '90s? That's the price you pay for building your entire company around one guy. Randy Orton beating John Cena clean in the TLC unification match was an extremely important step for the WWE to take. Assuming Orton wins the dust off match (or cheats just enough to keep the belt) then what happens with Orton's future defense of the WWE title needs to get showcased as more important than John Cena's next big deal. Cena's fantastic promo work about the monumental importance of the unified title needs to be backed up by elevating the title over John Cena.


comments powered by