SPOTLIGHTS
Thoughts from the Top Rope 12.26.13: The Art of Storytelling
Posted by Daniel Wilcox on 12.26.2013

In the return of Thoughts from the Top Rope, we examine how WWE can make stars out of its mid-card acts and count down the Ten Most Wanted WrestleMania XXX Matches!

Let's get the formalities and niceties out of the way. Merry Christmas to one and all. Whether you celebrate the festive season or not I hope you all are well and enjoy the festive season responsibly. Now then...

Welcome, ladies and gentleman, to the first edition of Thoughts from the Top Rope since December 16th 2010. That's right, it's a return three years in the making. No comeback has been clamoured for so much since Sforcina retire and Watry took over Ask 411 Wrestling.

Although in all honesty, I'm probably being a little overzealous here in assuming people will remember my original stint with this great website so allow me to re-introduce myself. I am Daniel Wilcox and I started writing for 411 back in 2006 with a column called Schmozzes and Screwjobs, first posted on December 19th 2006. I won't link it because it probably wasn't very good. Throughout my time with the site I have provided the WWE SmackDown vs. Raw Pay-Per-View simulator for Jeff Small's Small-for-All News Report, hosted The Fink's Payload for a stint, provided live Monday Night Raw coverage, written two football soccer columns in the Sports Zone (RIP) and compiled two different weekly news reports in the music zone. I've reviewed albums, concerts and wrestling DVDs. I ran 411 Music's Versus, Top 5 and 3R's columns for a cup of coffee as well as running three or four big site-wide features. I was fortunate enough to be able to recap WWE's ECW in a column called the Palace Perspective, named after John Morrison's Palace of Wisdom. I was also the go-to "fill-in" guy for a period of time; I've covered wrestling news reports on every day of the week and even had a go at Ask 411 Wrestling – I was slightly better than Watry.

So actually, if you've been visiting 411 for more than three years or more, you have absolutely no excuse to not know who the hell I am!

In total, I've posted 966 articles for this site. When I started here I was just shy of 15 years old – to my knowledge there's been no younger writers on the site. In the early days I wasn't too good. I also had a tendency of biting off more than I could chew, aiming to provide far more content than I reasonably could. I often let Larry and the site down with an inability to meet deadlines or very occasionally going awol. I would like to thank Larry, Ashish and the site for welcoming me back; I'd like to think it's either because I'm a half-decent writer or because I have contributed a lot to the site over the years, or maybe they were just like "Hey, another column with a list! Sign him up!" Either way, it's good to be back.

I have actually been around the site in the past couple of years, mostly in the music zone. See, I tried a lot of different gigs here at 411 and while music has always been my main passion, I always loved writing about professional wrestling. This is partially because pro wrestling isn't something you can talk about in public without getting mocked or humiliated, but mostly because wrestling fans are incredibly passionate and it makes for some great debate. Thoughts from the Top Rope gave me a forum to discuss whatever I wanted pro-wrestling wise. The name is something I came up with when considering the concept of the column; it's a metaphor. When a wrestler is on the top rope, anything can happen – they can perform a spectacular aerial assault that could bring them immeasurable glory, or they could plummet to the ground and suffer tragic defeat. In this column, anything can happen, anything goes.

This site has changed a lot since I was last a regular contributor, and I look forward to seeing how I get on with this comments section. There seems to be more of an emphasis on scantily-clad women, gimmick columns, lists and the like, and while I will incorporate that, I also seek to bring out a few good old fashioned debates. Each week I will provide one main topic for discussion, one noteworthy match from any time period or any company, and one brief list. This is a column about wrestling and its fans, from a wrestling fan, to other wrestling fans. This is Thoughts from the Top Rope.



Social Media Propaganda



411Mania is not just a website, it's a revolution. Join the revolution, and more importantly, follow it on TWITTER and like it FAECBOOK!

And what about me? I don't TWEET MUCH but I might if I had more followers. I am, however, all over that FACEBOOKIZZLE so be my friend on that and then like all my statuses so all my real life friends think I'm funny.




This Week's Match




So this portion of the column is very straightforward. This is the bit where I present the readers with a match, any match, and then tell you why it's so great. This is match personal favourite match from 2013, hence its appearance in the column. These two guys have tremendous chemistry and many believe their classic Money in the Bank encounter was a five-snowflake classic. This was the last major match these two had, with a WWE Championship showdown with The Rock at WrestleMania 29 hanging in the balance. This is one of those instances where everybody knows the outcome of the match before the first bell rings, but you cannot help but get sucked into the drama and emotion of the contest thanks to the performances of the players involved. Many people remember the piledriver spot as well as some of the great false finishes, but this was a fantastic wrestling match from bell to bell. It may not be their most memorable match, but from a pure wrestling stand point I don't thing CM Punk and John Cena have topped this. An incredible match.



This Week's Feature


This is the meaty portion of the column, wherein I take a broad subject and talk about it in a ranting style until I am quite literally blue in the face. This week I look at WWE's improved mid-card product and explore how they can unlock an unholy amount of potential in their performers.


The Art of Stroytelling


With the end of any year comes reminiscing, particularly around 411 where every writer has to think back over the past twelve months and pick out the favourite matches, moments, movies, albums of the year and compile them into lists. And the all the little lists are made into one big list in some extravagant site-wide feature, and then all you lot can have at it, ripping us down for the lowly unpaid freelance writers that we are.

Of course, because I'm generally a positive person I tend to look back kindly over the past year. What stands out to me in the world of professional wrestling is just how much fresh talent is on display in 2013. While WWE hasn't quite got the balance right when it comes to mixing part-time mega-stars and the future's hottest young prospects at WrestleMania, they've allowed these new faces to take the company by storm this year. The obvious example is the trio of Dean Ambrose, Roman Reigns and Seth Rollins, collectively known as the Shield. I don't think even the most cynical of writers could have any qualms about how they have been booked since their debut just over a year ago and with their demise seemingly pending, it looks as though we could be about to get our first breakout star of 2014 in Roman Reigns.

But the year hasn't solely been about the Shield. We've also seen the debut of the Wyatt Family. Much praised for their work in NXT, the Wyatts debuted in the summer and although it took them a while to find their feet, they do just seem to be coming to the boil, particularly having been involved with the company's hottest talents in Daniel Bryan and CM Punk. Partially the success of both groups is down to the major talents they've been able to work with; working with seasoned professionals is always going to help you improve. But just as importantly is that the creative team has given both groups something to work with. All six guys are well-rounded characters. Both groups have characteristics unique to them, which gives the fans something to latch onto. Thankfully the talents involved have enough natural charisma that they've been able to bring their own little idiosyncrasies to the characters and really take them over the top. However there are plenty of individuals on the roster with similar talent who haven't quite connected the way they perhaps should have. Some guys have forced themselves into the limelight by making use of every last second of TV time they've been granted. Others are seemingly just waiting to be gifted a chance. And then some to never get a chance.

Such is the nature of the WWE television product in 2013 that TV time is like gold dust. And TV time where a mid-card guy gets a chance to talk? Well that's like looking for a needle in a haystack. There's a plethora of talented individuals that have been treading water for a long time, some for years, and for all any body knows some of those individuals could turn into money-making machines given the right opportunities. The way WWE books its weekly episodic television shows only allows a certain number of Superstars a certain amount of time to get themselves over and connect with the WWE Universe. Now I'm not going to sit here and pretend I could do a better job, because I understand there's a lot more thought put into how they book these shows than just picking winners and losers. The higher-ups in WWE like to have certain performers appear in certain segments, which they then follow up with a cool-down segment. And then you have to start the hour with a strong segment and so on and so forth.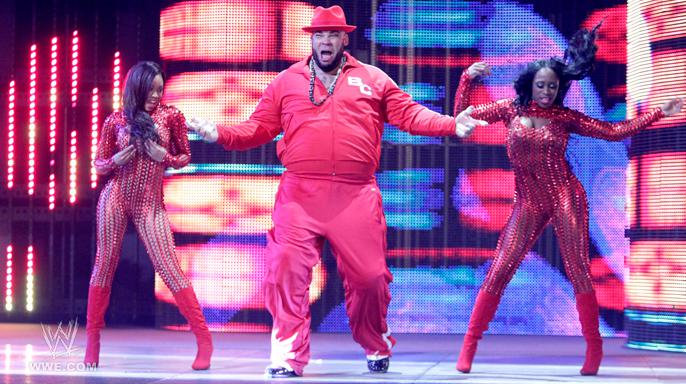 If I did have to make some changes or modifications however, I'd look at the chances I'm giving talent to tell stories. The majority of WWE's televised matches only go on for a matter of minutes. You probably get one or two longer matches on an episode of Raw, with a handful or more three-to-five minute matches. And because you only have a limited sized roster, invariably you have guys winning one week, who then lose the next week, win the following week and do the job on the pay-per-view. Some people around here refer to it as 50/50 booking and it has to stop if WWE wants to stop the ever-decreasing pay-per-view buys. In order for the WWE Universe to buy merchandise, DVDs, T-Shirts, pay-per-views, video games etc, they have to be invested in the characters. Unsurprisingly the likes of John Cena, CM Punk and Randy Orton shift a hell of a lot of merchandise. It's no coincidence that those are the guys at the top of the card and that those are the guys who get the mic time. Those guys do not lose on television very often, and when they do they at least get a little bit of mic time to encourage viewers to buy back into their characters and stories.

Taking kayfabe into account for a moment, although not all WWE Superstars are as accomplished in the squared circle, they obviously all have their own motivations, their own individual goals that drive them to perform night in and night out. Unfortunately outside of the top half dozen or so guys on the card, we have no clue about the rest of the roster. We don't know what makes Kofi Kingston go out there week in, week out, even though he's not moved up or down the card for a good four years now. Similarly, we know the Usos are forever chasing the tag titles, but what motivates them? How badly do they really want it? In order for your average viewer to be willing to plonk down money to watch these guys on a pay-per-view or at a live event, they need something to sink their teeth into. They need a story that's simple to follow and that everyone can relate to.

Consider for a minute then the role of the WWE announcers, taking the three-man team of Michael Cole, Jerry Lawler and JBL. In an ideal world, they would have plenty of time to put over the performers in the ring, give us a little bit of their back story and talk about their mindset and motivations. In an ideal world, they would spend an entire segment talking about Brodus Clay's frustrations with his former tag team partner, his anger at Xavier Woods and the changes in his psyche that have prompted his change in attitude in recent weeks. This way Brodus Clay doesn't need promo time because the guys on commentary will fill in the blanks. But Cole, Lawler and JBL are not able to do this because this is 2013 and WWE is a multi-faceted entertainment organization. In the seven or eight minute segment Clay and Woods may have on any given episode of Raw, the announcers have to briefly put over the performers and their angle while ticking a load of other boxes that include but may not be limited to;

Put over the previous segment
Hype the main event of the evening
Attempt to sell the upcoming pay-per-view
Mention a couple of Superstars' Tweets
Tell viewers how to download the WWE App
Promote Total Divas
Take a selfie





In case you didn't know how to download the WWE App.


In years gone by commentators sole purpose was to put over, not necessarily the matches, but at the very least the story taking place in the ring. Now they're glorified salesman; Joey Styles would not cut it in modern day WWE in the same way that Matt Striker didn't. This makes it all the more pivotal that WWE allows it's performers – from the top to the bottom – to have promo and interview time to give the WWE Universe a chance to invest in them. I genuinely think it's great that WWE is using social media, Twitter, the App, wwe.com etc to promote their product, but if more fans bought into more of the characters that they see on TV each week, wouldn't more people be flocking to their facebook pages and downloading the App? Interest generates interest.

I feel like for the first time in years WWE has built itself a roster of talent that has unlimited potential and just as importantly, the creative is doing a good job of keeping everyone busy. If you look up and down the card there aren't too many characters sitting around doing nothing. Kingston and Miz are in a mini-feud, Barrett has adopted another new gimmick, Ziggler, Sandow and Fandango are trading wins but at least they've steered them all toward the Intercontinental Championship. That's an Intercontinental Champion who is being booked as a solid threat to just about anybody on the card, by the way. And that tag division is thriving in a way it hasn't for the best part of a decade. Everyone seems to be fighting for something. We're almost at a point where wins and losses do mean something.

But now I'm going to argue something I've never seen argued before on this website or any website like it - there's too much wrestling on WWE TV these days.

Allow me to use the Miz-Kofi feud as an example. One week they're teaming up in a nothing tag team match. Kofi goes for the tag but Miz leaves him high and dry. There's no emotional investment in this bond whatsoever, so why are we even worried that this occurred? Six days later they're wrestling on the Survivor Series pre-show, Miz gets the win clean. The following night on Raw, they wrestle again and Miz gets another win; Kofi is his bitch at this point. Then they're teaming again, in another losing effort thanks to some miscommunication and then after the match Miz humiliates Kofi again. So of course they must fight again, and Miz wins the third straight one-on-one match but Kofi takes a measure of revenge following the match. So we move to the blow-off at the Tables, Ladders and Chairs pay-per-view and it's a no DQ match... set up on the pre-show. But the feud has benefited no one. We have no clue if Miz is a heel or a face, and in between matches with Miz, Kofi has been used to rebuild Alberto del Rio. So nobody has benefited, we've just got a bunch of mediocre matches out of it, and WWE has certainly made no money. There would have been no point advertising the TLC match beforehand, because the match was already shown three times for free in the build up, and the Miz won every single time.

Now let's take the same personnel and book the feud a little differently. Air a backstage segment where Miz talks to Kofi about their misfortunes in recent months leading them agreeing to team up in order to turn their careers around. In the space of a week give them victories over 3MB, Curtis Axel and Ryback and the Real Americans on Raw, Main Event and SmackDown. Their successful week lands them a tag team title shot against the Rhodes Brothers, which they lose following some miscommunication. They shake hands and leave the ring together, both dejected after the match. Follow that up with a number one contender's tag match, which Kofi and Miz again due to miscommunication. This is where you do the turn, Miz taking out Kofi after the match in a brutal attack. From there Miz sets his sights on Big E Langston, inviting him onto Miz TV. Miz brags about taking out Kingston and challenges Big E to a title match, which he accepts because he's a fighting champion. The bout can take place the following week on Raw, and just when Miz looks like he's about to win via nefarious means, Kofi makes his return attacking the Miz; the match finishes a No Contest. You follow this up with Kofi cutting a promo about how Miz attempted to light a fire under his ass by forming a tag team and going after the titles, but now Kofi has real fire in his belly thanks to the Miz's actions. Miz retorts with a promo via satellite how Kofi took his Intercontinental Championship shot from him and invites him to be a guest on Miz TV next week. On Miz TV, Miz challenges Kofi to a match, and Kofi wants Miz to put his Intercontinental Championship title shot on the line. Miz eventually agrees, we conclude the segment with a pull-apart brawl before making the first Kofi vs. Miz match of the feud something that some fans might actually pay to see. At the very least they could make it a featured, multi-segment showcase on an episode of Raw.

This way, both guys get promo time to sell their dislike for one another and their motivations, they end up fighting over something important, they have clearly defined roles and we don't bore the audience to death by making them sit through the same match four or five weeks in a row! When you have six or seven hours of weekly television you have to make the most of it. WWE employs a creative team to be creative, strangely, and there are plenty more tools at their disposal to build stories as opposed to just wrestling matches.




I feel I've seen this match a thousand times in the last month.



The exact same thing can be said for the Brodus Clay heel turn. We've seen Brodus get beat convincingly by Woods, Truth and Clay – all four have wrestled in tag matches numerous times over the last month and I already have no desire to see any combination of these guys wrestling again for the foreseeable future. But execute the Brodus heel turn, then have him explain his actions while a pissed off Woods looks for revenge? Have the face chase the heel while the heel squashes no-name jobbers whilst avoiding the real challenge of Woods? That's episodic television that doesn't give away the product you're intending to build towards.

Of course another benefit of having less matches and more talking on your three-hour Raw broadcast is that you have less people losing, and this means everyone looks stronger. There's nothing wrong with featuring one or two complete squash matches on Raw. It might not be what the average Internet writer wants to see but it does allow you to showcase a talent without having to sacrifice another member of your mid-card. That works twice as well if your showcase talent cuts a pre or post-match promo to get their agenda across. WWE wouldn't dream of having Orton and Cena trading wins back and forth on a weekly basis, so why are they not using the same principles up and down the card? The unification of the WWE and World Championship should lead to a tightening of the pack. WWE can no longer afford to allow John Cena to be portrayed as so far ahead of the chasing pack, and your mid-card champions need to get competitive with the Cenas and Ortons of the world, real quick. This doesn't mean you no longer feature wrestling on your wrestling show, but the ADHD style of booking needs to go.

I give the roster and the creative team a ton of credit for the work they've done in 2013. It can not be easy to book six hours of compelling television every week while keeping about thirty or forty performers busy. I believe great strides have been made this year to promote multi-dimensional characters that the WWE Universe can get behind. I also believe WWE has more talent on their roster than they have had at any point for a good number of years, and if they can combine that talent with intriguing and consistent story-telling, WWE's roster will be making money from top to bottom. There's been no greater area of improvement for the company this year than in the tag ranks, and it's no surprise that the Rhodes family angle with the Shield is garnering such praise in everyone's year-end awards. WWE made us invest in the Rhodes family through the power of great story-telling, driven by some fantastic promo from Dusty, Cody, Goldust and even Triple H and Stephanie. It was a basic tale of good vs. evil told to perfection and the fans reacted to it. Cody and Goldust are reaping the rewards with big crowd reactions several months later. If WWE and its creative powers that be can repeat that formula with a few more talents up and down the card, they'll be making some sound investments into their own future.



Have Your Say: What does WWE need to do to create a more compelling television product using the tools they currently have at their disposal?






From a stroytelling perspective, this is one of the best matches of 2013.




This Week's List


This is the segment of the column where I present you, the reader, with This Week's List. There's a couple of lines of thought behind this; the first being that lists equal hits. That's pretty much the first thing they teach when you sign up for this gig. Secondly, lists are fun, whether it's compiling them, debating them or just reading them, there is not a single person on the Internet that doesn't love a good list. So each week I'll count down the top top ten/eight/five/three/whatever I feel like of any given subject. It may not always even be wrestling related, but if one were to speculate I would suggest that the next few months' lists will be Royal/Rumble/Road to WrestleMania themed. So without further ado...



The Top Ten Most-Wanted WrestleMania XXX Matches



Pretty self-explanatory. Obviously this is purely my opinion, simply what I'd like to see. The only caveats being that I won't use any performer more than once, and I've also tried to keep things in touch with WWE's current television product.

10. Goldberg vs. Ryback: I don't particularly like the Ryback character; I think it's far too one-dimensional to succeed at any significant level in 2013. And I was never a massive Goldberg fan either. I can, however, see the entertainment value in running this angle. Whether WWE eventually agrees to pay Goldberg the amount of money he'd want for such an appearance is yet to be seen but the real intrigue here is whether this match would stink up the joint on the level that Goldberg/Lesnar did ten years ago, and how will the crowd react? Or would they just run a squash match, and if so in whose favour? This makes it onto the list for the train-wreck factor and nothing else.

9. Rey Mysterio vs. Sin Cara: This match has been rumoured for the last couple of years, supposedly because WWE has some big elaborate plan to break a world record regarding the number of people wearing a mask in one place. But put that to the side for one minute and let's talk about the potential this match; if Mysterio can stay healthy, and the "new and improved" Sin Cara can build up some kind of momentum, then this could be just the kind of match we need for a WrestleMania opener. It'd get the crowd involved, would surely be fast-paced and highly entertaining no doubt. What I love about Mania is how it usually showcases a ton of different styles, and this would be the ideal choice for an opener.

8. Gimmick/Legends' Battle Royal: I love it when WWE does these types of things. It was awesome at WrestleMania X-Seven, and awesome at the Raw 15th Anniversary show. I particularly liked the latter simply because it featured a host of Attitude era guys like Gangrel, Scotty II Hotty, Steve Blackman and Pete Gas! As I said previously, WrestleMania is all about variety, and giving something like this ten minutes on the card isn't going to harm anybody and it'll give the likes of us a bit of light-hearted entertainment. Nothing wrong with that.



I Ask You: Who would you want to see in a Gimmick Battle Royal at WrestleMania XXX?



7. Hulkamania at WrestleMania: I am cheating a little bit here because I actually have no interest in seeing Hulk Hogan in a wrestling match. On the contrary, I'm one of those guys wouldn't be fussed if I never saw Hogan on a wrestling show ever again. Sure I respect what he has accomplished and what he means to the business we all cherish, but it's the 21st century, we've moved on long ago. But I'd be lying if I said I wouldn't suddenly rush to the edge of my seat if "Real American" began blasting out in New Orleans come April 6th. All you need is some dickish heel running down the crowd or beating on a defenceless baby face, and then the stage is set for a marquee WrestleMania moment. Think Hassan/Eugene at Mania 21. Either 3MB or the Real Americans would be the perfect foils for such a heroic return. Make it happen.

6. Cody Rhodes vs. Goldust: So I would be lying if I said this was a match that I'm particularly desperate to see, but I know that there is an audience out there who seem to be clamouring for this brother vs. brother collision to take place at WrestleMania. Considering how good Goldust has been since his return, I'd have to imagine this would make for a great little mid-card match up. The intriguing issue here is who works heel? Cody has only recently become a babyface and you have to believe that's where his future lies as he progresses up the card, but does anybody really want to boo Goldust right now? Maybe they could use some shades of grey, use Dusty Rhodes' legendary promo skills to make both performers come across as sympathetic and simply let the fans pick a side as the match progresses.

5. The Wyatt Family vs. The Shield: Any booker/creative team member worth a damn had this pencilled in for WrestleMania a long time ago, we just have to keep our fingers crossed that the inevitable Shield break-up is kept on the back-burner until post-Mania. Remember when these two teams briefly got into fisticuffs on Raw a few weeks ago, and how the crowd went banana? Yeah, people want to see this match. Although I don't think the Wyatts have been used to their fullest potential, I love both acts and would be intrigued to see how this one goes down. I don't think any member of the Shield has had a bad match in the year they've been on television, and the Wyatts certainly have a unique style that makes all their match intriguing. Should this go down, I would imagine the Wyatts would go over in a wild brawl that would serve as the catalyst for that aforementioned Shield implosion.





Just a taste of what we could be in store for.


4. A High-Profile Intercontinental Championship Defence: I'm not asking for miracles here, just a title defence. Now the WWE and World Championships have been unified, creative has to put some effort into elevating their mid-card titles. I can only imagine the United States Championship will play second fiddle to the Intercontinental Championship and that's fine, so long as Big E Langston and his challengers are allowed to give the illusion of prestige to the IC strap. I have two ideas for a feud for Langston going into Mania, one would be a face. vs. face match with his new ally Mark Henry. It would be a great showcase for Langston who would have to go over in order to cement himself as the latest next big thing. Alternatively, Langston's former buddy Dolph Ziggler needs to do something, anything to get his career back on track, so a heel turn motivated by jealously could work. In that scenario, Ziggler should probably win and allow Big E to chase the belt for a couple of months. Either way, give the match fifteen minutes and you've got a decent mid-card title bout that the crowd can invest in.

3. Tag Team Championship, Tables, Ladders and Chairs: Speaking of investments, I absolutely love the new and improved tag team division in the WWE. We have a good ten or more tag teams right now, most of which are over and aren't just thrown-together singles guys. And I'll go on record and say I think WWE missed the boat big time by not profiling the division better with a big multi-man Tables, Ladders and Chairs match at the previous pay-per-view, but they have a chance to rectify that by honouring one of tag team wrestling's heydays. WrestleMania isn't the same with some blunder or a spotfest, and this match ticks both boxes. Assuming the Rhodes brothers, Shield and Wyatts are all tied up, that still leaves you the Real Americans, Usos, Prime Time Players, Los Matadores, Truth and Woods and more to choose from. If they can get Evan Bourne back on TV, featuring a AirBoom as a regular team again would make this match that much more compelling. The only problem with the Shield's dominance this year is it hasn't allowed the Usos to get the run with the straps that they deserve, and this would be the perfect showcase for Jimmy and Jey to get their big moment. And, they could feature it on Total Divas!

2. The Undertaker vs. John Cena Of all the big rumours we've heard this year, from Taker vs. Brock, rumours of Goldberg, Hogan, Michaels, Rock, Triple H, Lesnar, even Austin, there's not a match more tantalizing than Undertaker vs. John Cena. You have the face of the company for the better part of the last decade, and the conscience of the WWE who's undefeated at WrestleMania. And almost as if by fate, the two have been kept apart for the majority of that time and if I'm not mistaken, they haven't had a one-on-one encounter since 2003 before Cena had even won his first championship. It's also arguable that there is nobody who poses a greater threat to the Streak than Cena, and there's no doubt in my mind that both men deliver and create some WrestleMania magic. And in all honesty, I believe that this match is more of a draw than anything else that they could come up with without repeating what's already been done. If you want a marquee match to headline the biggest WrestleMania of all time than look no further than Taker/Cena. This match needs no titles, but should absolutely main event, because no one will want to or be able to follow this. This match needs to happen and it needs to happen more than any other... bar one...

1. The Rock vs. John Cena: Thrice in a Lifetime: I know I'm breaking my own rule by using somebody twice, but if there's a scenario that demands it, it's the Rock vs. John Cena III. I mean, how could they not? These two warriors are tied at one victory a piece and as such they have to collide again on the grandest stage of 'em all if for no other reason than to settle the score once and for all.





"Old School" John Cena is fantastic in small doses.


Oh hell, I'm just fucking with you!

1. Shawn Michaels vs. Daniel Bryan: Shawn Michaels is my favourite wrestler of all time, but some distance and I know that there are plenty of people around here who feel the same. Some of those people feel that Michaels coming out of retirement, even if it's for one more match, would be sacrilege. But if Shawn's happy to do it and healthy enough to do it, then I wouldn't care if the guy came back full-time because there is no one, not a performer on this planet, who entertains me more than Shawn Michaels does. This is professional wrestling, nothing lasts forever, and there could be no more perfect a scenario for old HBK to step back into the ring than to collide with Daniel Bryan, a man he helped train and a man who idolizes him. And let's not forget that Daniel Bryan is the best in-ring performer in North America right now, coming off the back of an incredible few months. Shawn Michaels is of course Shawn Michaels and I have a sneaky suspicion that should he lace up the boots one more time, he'll be ready to tear the house down in order to live up to his moniker of Mr. WrestleMania. We may all be disappoint, angry or upset that Bryan hasn't had the championship success we'd have liked, but if the end result of the last few months' booking is a Bryan/Michaels showdown, then I'd say that's not a bad outcome to say the least.



Give Me Your Feedback: and that concludes our list. There's a number of big names I ended up not finding a space for including CM Punk, Brock Lesnar and Triple H, not to mention Batista.
What matches have I missed?




This Week's Farewell


Writing this column - my first wrestling piece in three years - has been a long and emotional experience. Seriously. I've written, re-written, edited and re-edited this bad boy a LOT before finally putting it into the 411 Vault. Hopefully I did ok, nobody got too bored and some of you may even come back for seconds next week. Before I leave you, don't forget to leave your thoughts and opinions on...

- What does WWE need to do to create a more compelling television product using the tools they currently have at their disposal?
- What are your most wanted WrestleMania XXX matches?
- Who would you want to see in a Gimmick Battle Royal at WrestleMania XXX?
- CM Punk vs. John Cena, how was it for you?

And one last question for those who do remember, would anyone be interested in a return of The Fink's Payload? Just a thought.

Next week sees the return of a Thoughts from the Top Rope year-end tradition as we count down the top ten matches... of the next twelve months!

Thank you for reading, and thank you to those who remembered. See you in 2014.
comments powered by