SPOTLIGHTS
The 411 Wrestling Year-End Awards 1.09.14: Part Five – The Best Female Wrestlers of the Year
Posted by Larry Csonka on 01.09.2014

From AJ Lee and Gail Kim to Brie Bella, Mickie James and more, the 411 staff continues their year-end awards by breaking down the top 5 best female wrestlers of the year!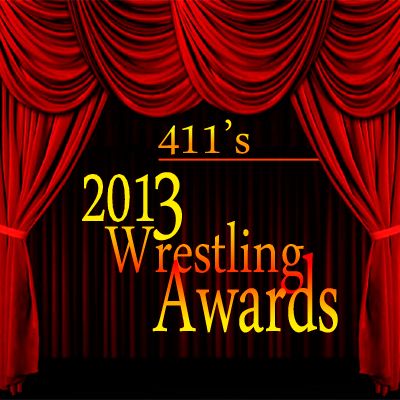 Welcome:
Welcome back to the Wrestling Top 5, year-end awards edition! What we are going to is take a topic, and all the writers here on 411 will have the ability to give us their Top 5 on said topic, and the end, based on where all of these topics rank on people's list, we will create an overall Top 5 list. It looks a little like this…

1st - 5
2nd - 4
3rd - 3
4th - 2
5th - 1

It's similar to how we do the WOTW voting. At the end we tally the scores and get our overall top 5! It's highly non-official and final, like WWE's old power rankings. From some of the best and worst, the 411 staff is ready to break down the awards! Thanks for joining us, and lets get down to work.




And now…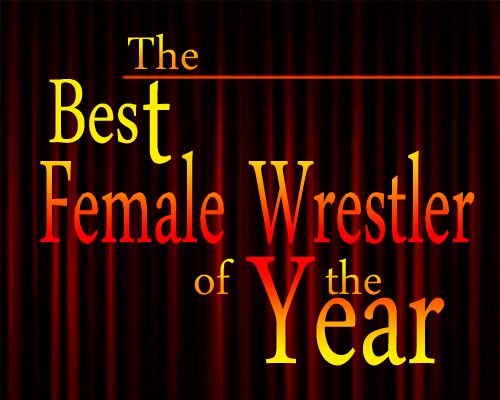 THE TOP FEMALE WRESTLERS OF 2013






James Wright




5. Summer Rae
4. Gail Kim
3. Paige
2. Mickie James



1. AJ Lee - There are many things to say about AJ Lee, including that she is nearly the longest reigning Divas champion, that she has broken the mould of plastic divas with no personality, can't wrestle, or both, that she is damn fine and has mass geek appeal. But the biggest thing about AJ Lee that I can point to as to why she is the woman of the year in wrestling is that she really does seem to be acting as a means to get more females interested in wrestling.

Sure in many ways she is a psychotic parody of some female stereotypes, but there is also something that strikes a chord with any woman or girl I have known who has given wrestling a chance in the last year, and that is a good thing. I'm actually surprised that the WWE did not feature her on Total Divas as I think it would have been a better way to get even more crossover viewers for their product, and hopefully she will get some time in the next series.

What's more putting aside her psychotic ex-girlfriend side for a minute there is the fact that she has held a position of (relative) power in the WWE of being the Raw GM, and looked damn good in a pant-suit. And if we are speaking in kayfabe terms here, she has as champion seen off challenge after challenge for her title, even if the field isn't exactly in the most competitive of states right now. This was true even before Tamina came into the picture, and often she doesn't even need her bodyguard's help to get her out of sticky situations, and to top it off many of these wins came from submission victories, which should still mean something, even if it actually doesn't.

---





MIKE HAMMERLOCK




5. Brie and Nikki Bella
4. Mickie James
3. Kaitlyn
2. Gail Kim



1. AJ Lee - I maintain AJ will be the Hulk Hogan of women's wrestling. She's the one who's going to kick the female portion of the business to a whole new level. Prior to 2013 she was the dominant woman in the WWE even though she wasn't wrestling that much. This year she got the belt. If the McMahons are smart, and they are, they will push her to the moon (with or without a belt, because she may become too big for that title). No one, and I do mean not one single person, gets their character across in every moment of match and screen time like AJ. She's brilliant. I don't care what any other woman has done in the ring, AJ is the only female in the business that I'll stop what I'm doing to watch.

---





JUSTIN WATRY




5. Eva Marie
4. Nikki Bella
3. Brie Bella
2. Kaitlyn



1. AJ Lee - I would hope AJ Lee wins this unanimously. Never can be too sure though. She is on pace to be the longest reigning Divas champion in company history, as well as delivering the best female promo of the year. While standards may not be very high, she is doing her best to raise them. In fact, WWE has done that all year with Total Divas and more attention to the girls on camera. For this award, that credit goes to AJ.

---





DINO ZUCCONI




5. Kaitlyn
4. ODB
3. Gail Kim
2. Natalya



1. AJ Lee - She's head and shoulders above every other woman on the WWE's roster not named Stephanie McMahon. She's the best woman character on screen, and she's easily a top 10 character in WWE. Able to have good matches, able to connect with the audience as a sympathetic face or in her current incarnation as just a little bit crazy, her push to get rid of the Total Divas endeared herself to a segment of the fan base who actually like women wrestling. AJ Lee owned this category from the first tick of 2013, and looks to continue to do so heading into 2014.

---





Paul Lapointe




5. Mickie James
4. Cheerleader Melissa
3. Paige
2. Gail Kim



1. AJ Lee - I vote for AJ not for the sake of the IWC's love for her and all that jazz banana's but she has earned it. From her shellacking on commentary of Jerry Lawler about his grimaced fascination with the younger ladies to her attempt to make the Diva's title mean something by having the moment she won the strap tattooed on her body in spite of JBL's objections to her own pipebomb on the Total Divas on RAW and actually being the focus of storylines that are not involving the title or men she did a lot to bring in all the praise and attention she gets outside of the fact that she is so damn cute. But gosh darn golly gee she is so damn cute for her own good anyhow and I guess I am one of dem IWC rubes because of it. Plus she is now set on becoming the longest running champion of the modern age, just like her beau CM Punk, which in itself is an accomplishment, take that future Ms.'s Miz.

---





Larry Csonka




5. Rain
4. Cheerleader Melissa
3. Mickie James
2. Gail Kim



1. AJ Lee - There seems to be no other real choice for #1 this year. AJ Lee has been the most featured female performer in the wrestling business, and has held the WWE Divas Title since June 16th through the time of the writing of these awards (around 200 days). There have been other good female performers in the year, but they never got booked as consistently as Lee has during the year. Mickie James' run, which was great, was cut short due to TNA not re-signing her. Gail Kim has had a good run and good matches, but it was later in the year and out on necessity due to James leaving. Cheerleader Melissa in SHIMMER and Rain in SHINE have been good on the independents, but in smaller doses due to the schedules of the promotions they are a part of. Lee has been a focus of WWE TV, has carried the title and overall has done well in her role. And that is why she takes the top spot for 2013.

---





Mike Chin




5. Nikki Bella
4. Brie Bella
3. Natalya
2. Gail Kim



1. AJ Lee - No question here. Lee remains a true rarity in mainstream women's wrestling--a legitimately talented in-ring performer who can deliver on the mic and matches the WWE's vision of what a female star should look like. I'm glad Lee ended up with the Diva's Championship this year, cementing her place as the division's dominant star, and I glad to see Tamina at her side as a bodyguard who both adds to Lee's aura of importance, and will probably provide her with a relatively interesting challenger before 2014 is out

---





Jake St-Pierre




5. Brie Bella
4. Taryn Terrell
3. Mickie James
2. Gail Kim



1. AJ Lee - There's not much of a race here, I'm sad/happy to say. AJ is just on another level from her peers in WWE and it's blatantly obvious every time she steps in the ring with a Bella or an Alicia Fox. She just "gets it" and even in WWE's overly scripted universe, she sticks out as somebody who is devoted to their character and craft. Whether it's her verbally destroying the Total Divas (amidst the worst, shrill yelling I've heard this side of Jillian Hall) to having my favorite women's match of the year with Kaitlyn at Payback, she's about as close to significant as a Diva can get in this era of WWE. This is a landslide victory for me.

---





Steve "Mr. Hot 100" Cook




5. Rain
4. Paige
3. Brie Bella
2. Mickie James



1. AJ Lee - The AJ backlash has already started and will be further intensified by year-end posts like these talking about how great she is. Heck, I rated her #1 in the Hot 100 and I'm kind of getting tired of hearing about her. But she was the dominant female character in WWE this year and has been involved in the better Diva matches. Mickie James rebounded from a down stretch and had a stellar heel run in TNA before leaving the company. Brie Bella stepped her game up big time in-ring and was one of the highlights of the Total Divas program. Paige became the first NXT Divas Champion and waits to be called up. Rain's career is winding down but she's ending it with a bang in SHINE.

---





Robert S Leighty Jr




5. Brie Bella
4. Natalya
3. Mickie James
2. Gail Kim



1. AJ Lee - No female wrestler has had a better year than AJ Lee. She has been the dominant figure in the WWE's female division with her title reign, and has been made to stand out even though she isn't featured on "Total Divas." I was waiting for her to drop the strap to a Bella or Nattie for sake of the TV show, but hasn't happen and it shouldn't because she is the single most intriguing female in the WWE.

---





Ryan Byers


5. Arisa Nakajima


4. Alpha Female
3. Io Shirai
2. Cheerleader Melissa



1. The Bella Twins - I've been voting in these year end awards for 411mania for a long time now (I don't know how long, but it's been a while), and I'm fairly confident that, every year I've voted in them, I've given my first place slot in this category to an independent wrestler or a wrestler from Japan . . . but not this year. This year, we're going straight to the top of WWE, and I'm giving my vote to the Bella Twins. Why? Because they have done something that no other woman in professional wrestling done has done all year long and something that no other woman in professional wrestling has done for several years. They have become the main stars of their own wrestling television series, which, on a regular basis, draws well over a million viewers. Think about that for a second. Total Divas starring the Bella Twins on average pulls in just as many viewers (if not slightly more viewers) than TNA Impact. That means, in 2013, Brie and Nikki Bella were professional wrestling stars on the same level as Kurt Angle, Jeff Hardy, Sting, and Hulk freaking Hogan. No other woman all year long can come even close to claiming that, but the Bella Twins can, even if they're not the best in-ring performers in the world.

---





Jack McGee




5. Cheerleader Melissa
4. The Bella Twins
3. AJ Lee
2. Mickie James



1. Gail Kim - I was planning on going with the majority here, but I just couldn't do it. Why? Because, as much as the WWE tries to push her as the next big thing for the ladies division, AJ Lee is NOT that good. She has been champion forever, which is fine but it feels boring because she has not evolved. She does the same thing, has the same matches, and while they have built the division around here, people still don't care (for the most part) about women's wrestling in WWE. Also, that "pipebombshell" promo sucked; to even try and put it in the league of the work Heyman and Punk have been doing for the last few years is an insult. I am going with Gail Kim for my top spot. No, she wasn't pushed as much as AJ Lee was in 2013, but she was much better. Gail Kim always delivers in the ring; she made people think that Taryn Terrell was the next great women's wrestler, she is much better on the mic and actually makes me dislike her as a heel. Gail Kim does her job, but continually gets overlooked because she works for TNA and is still cool to shit all over TNA, even if they do some things right. So yeah, Gail Kim gets my nod this year because she always does her job well, and for the fact that I feel AJ Lee is vastly overrated.

---





Daniel Wilcox




5. Summer Rae
4. Brie Bella
3. Mickie James
2. Gail Kim



1. AJ Lee - At this point I imagine you're all sick of reading about AJ Lee. Due to the lack of credit given to foreign and independent works in this Year End shindig, AJ Lee was always going to runaway with the award for Best Female Wrestler of the Year considering she has been the figurehead of the Divas division in WWE for the better part of the last eighteen months, beginning with her love interest angle involving CM Punk/Kane/Daniel Bryan/John Cena last year. In 2013 AJ became a more regular competitor, finally dethroning Kaitlyn for the Butterfly Belt at Payback in the Summer in a good ladies' bout. AJ Lee should be given credit for people to take notice of the Divas for the first time in a long time, and although she may not be one of the Total Divas, she is without question the total Diva. She has great personality, commits to her characters, and is a joy to watch in the ring and of course she's beautiful. She's been involved in some of the best women's matches in the company for years and has had many memorable moments this, not least the "Divas' pipe bomb" promo but also a fun contract signing with Kaitlyn back in the summer. If you're looking at mainstream, North American pro wrestling, there was only ever going to be one winner and it's AJ Lee.

---





JACK STEVENSON




5. Taryn Terrell
4. Tamina Snuka
3. Summer Rae
2. Natalya



1. AJ Lee - It was a bad year to have a vagina in WWE. Well, unless said vagina was a plot device in the horrifically successful Total Divas, in which case it wasn't such a bad time. But by and large, WWE's women had to put up with the same demeaning shit they do every year; thrown to the wolves in dreadful tag matches in which half the opponents had despicably little in ring talent, and the other half were far too good for such tragedies; placed in feuds that were essentially the same as the feuds they were having last year; put into musical chairs contests while Jerry Lawler yelped happily at ringside, hornier than a well endowed unicorn. The only woman who marched through this barrage of humiliation and came out with credibility and pride intact was the ever-wonderful AJ Lee, and it's unsurprising she's the runaway winner this year. In the ring she did the best she could with limited time and an array of sub-standard opponents. In terms of promos, she was peerless, with her very own Pipe Bomb in the summer being perhaps the only thing that came from the Women's Division this year that was fantastic in its own right and not just for a Divas thing. Her guest appearances on commentary saw her run rings around anyone she was sharing the booth with. She worked hard and smart all year, and that's reflected in her popularity. AJ Lee is the best women WWE have had on the roster since Trish Stratus, and the quicker they realize that, the better.

---
AND 411's Best Female Wrestlers of the Year Are...
5. Natalya – 13pts.
4. Brie Bella – 19pts.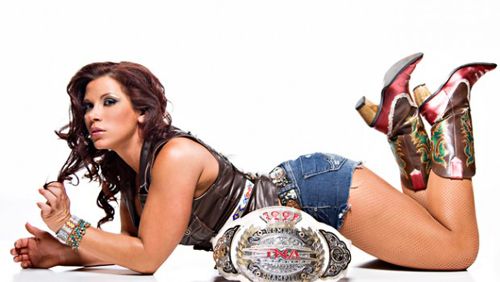 3. Mickie James – 27pts.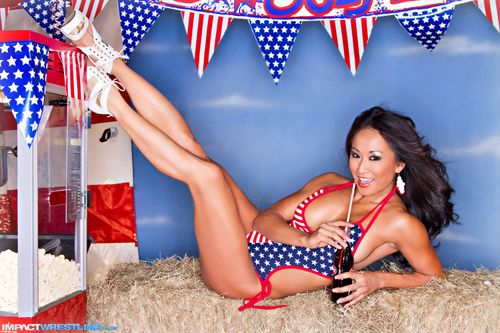 2. Gail Kim– 38pts.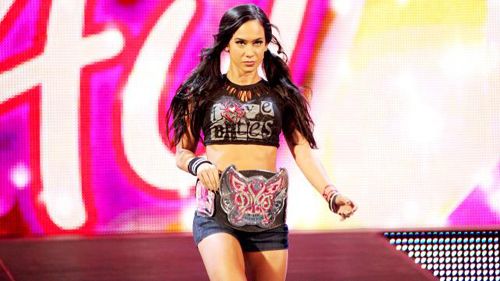 1. AJ Lee – 63pts.
THE 2013 411 WRESTLING AWARDS
The Biggest Disappointments of The Year: CHIKARA's Disappearing Act – 44pts

The Best Promo of The Year: Mark Henry Fakes His Retirement – 38pts

The Best Tag Team of The Year: The Shield – 87 pts

The Worst PPV/Major Show of The Year: WWE Battleground – 53pts

The Best Female of The Year: AJ Lee – 63pts

The Best PPV/Major Show of The Year: TO BE DETERMINED (January 10th)

The Best Feud of The Year: TO BE DETERMINED (January 13th)

The Best Match of The Year: TO BE DETERMINED (January 14th)

The Best Wrestler of The Year: TO BE DETERMINED (January 15th)

comments powered by