SPOTLIGHTS
The 411 Wrestling Year-End Awards 1.10.14: Part Six – The Best PPVs/Major Shows of 2013
Posted by Larry Csonka on 01.10.2014

From WWE SummerSlam and NJPW's WrestleKingdom 7 to the Raw after WrestleMania 29 and more, the 411 staff continues their year-end awards by breaking down the top 5 PPVs and major shows of 2013!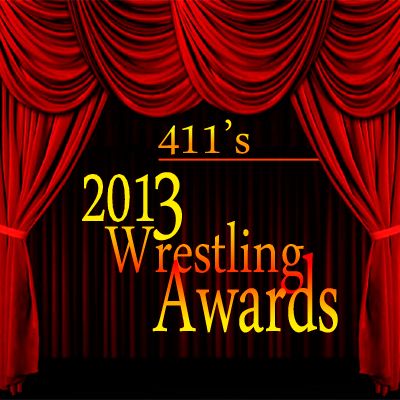 Welcome:
Welcome back to the Wrestling Top 5, year-end awards edition! What we are going to is take a topic, and all the writers here on 411 will have the ability to give us their Top 5 on said topic, and the end, based on where all of these topics rank on people's list, we will create an overall Top 5 list. It looks a little like this…

1st - 5
2nd - 4
3rd - 3
4th - 2
5th - 1

It's similar to how we do the WOTW voting. At the end we tally the scores and get our overall top 5! It's highly non-official and final, like WWE's old power rankings. From some of the best and worst, the 411 staff is ready to break down the awards! Thanks for joining us, and lets get down to work.




And now…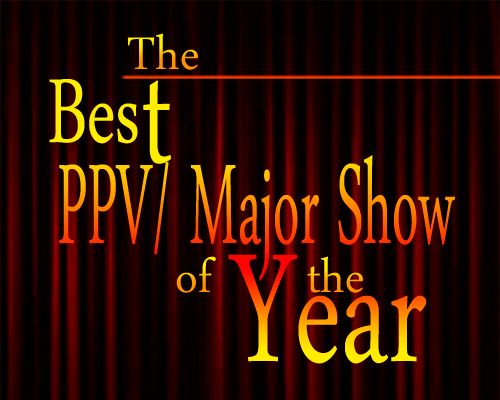 The Best PPVs/Major Shows of the Year






JUSTIN WATRY




5. WWE Royal Rumble
4. WWE Heck on a Deck
3. WWE Money in the Bank
2. WWE SummerSlam



1. WrestleMania 29 - SummerSlam was a great show. The top two main events delivered in a major way. Nobody is going to debate that at all. However, the buy rate was lower than usual (take a guess as to why). Just like other topics, money and business MUST enter the equation. It just does. Once again, that leaves WWE WrestleMania 29 as being the most purchased event of the year. Most attended live event for WWE all year, as well as the final chapter to The Rock/John Cena story. Two of the biggest stars from the past decade. No other pay-per-view can claim to have any of the success as WrestleMania. Over one million PPV buys does not lie...

---





Larry Csonka




5. NJPW Invasion Attack iPPV
4. NJPW KIZUNA Road II iPPV
3. NJPW Dominion iPPV
2. NJPW WrestleKingdom 7 iPPV



1. NJPW G1 Climax Finals - The finals iPPV was an amazing show from New Japan, with FOUR matches rating **** or over, and the usual suspects (Tanahashi, Okada and Anderson) rocking as always. Tanahashi worked two times, nearly 40-total minutes, and delivered two top notch matches, solidifying for me that he is currently the best wrestler in the world at this time. At the level he has delivered at this year, it is a shame that more people will not seek out NJPW and see what he is offering. Naito vs. Tanahashi was one of the best finals I have seen (I have not watched them all) and while Tanahashi is reportedly very injured right now, the fact that he delivered so well and as able to have such a tremendous finals match speaks to his greatness. The Naito win was interesting, also stating that he wants the NEVER Openweight Title first, which he did go onto win. If you have the chance to see the show, this is a MUST SEE event. New Japan Pro Wrestling's Wrestle Kingdom had some great matches, and a huge atmosphere, WrestleMania like for a US comparison. This show was more like a Rumble/Rumble level event, but in all honesty, was a better overall show, and right up there with the great PPVs. Such good wrestling, good pacing and I felt as if I was watching something special as the show went on. Go out of your way to see the show, mortgage your house and or sell your brother's child; the show felt big time, paid off the tournament well and delivered in regards to wrestling big time. Worth every bit of the money I spent.

---





MIKE HAMMERLOCK




5. ROH Supercard of Honor VII
4. RAW after WrestleMania, 4/8
3. WWE Elimination Chamber
2. WWE Money in the Bank



1. WWE SummerSlam - Two MOTY candidates, plus Del Rio-Christian (still wish they had given those guys 20+ minutes), plus Orton's cash-in. All the main stories in WWE right now are fallout from this event. Daniel Bryan joined the WWE's elite, Randy Orton assumed the role of mega heel, HHH had his "It's me, Austin!" moment, the world got a license to love CM Punk again and the Rhodes brothers emerged from the dust off of Cody vs. Sandow. Big night. People will be talking about it for decades.

---





Mike Chin




5. WWE TLC
4. WWE Royal Rumble
3. WWE Money in the Bank
2. WWE WrestleMania 29



1. WWE SummerSlam - Rare is the WWE show that delivers two truly exceptional matches--much less does so in divergent styles. Yet that's exactly what happened in LA as we witnessed the a wildly entertaining outing between CM Punk and Brock Lesnar, followed by the (maybe-kinda-sorta)ascension of Daniel Bryan when he beat John Cena clean in an exceptional match. While I would have preferred a longer showdown for Cody Rhodes and Damien Sandow, and something more interesting from the Inferno Match, the show stands out for including no stinkers and plenty of spectacle. The Miz and Fandango as feuding hosts even added a taste of humor in the proper proportions to round out the finest night of wrestling in North America this year.

---





James Wright




5. WWE TLC
4. WWE Royal Rumble
3. WWE Slammys
2. WWE SummerSlam



1. WWE Raw After WrestleMania - While the point is debatable I would certainly claim that in the past couple of years the Raw after WrestleMania has been what you could define as a 'Major Show'. The crowd in the arena was a-buzz and were incredibly vocal, which at the time was more interesting than having such a feeling of redundancy as it does now. As a first time thing the 'We are awesome!' chant was even fine as the fans had been shitting all over the Orton-Sheamus match for ages, chanting all kind of things under the sun, now however it just seems sad and doesn't really even make much sense as it is more annoying than awesome.

There were many memorable moments to the show, the biggest being Ziggler's cash in, which arguably should have come at WrestleMania but never mind. Then there was the turn of Ryback, which due to the crowd at the time was actually greeted with unanimous cheers rather than the boos that the WWE were expecting. Fandango got a great reception and for like a day the WWE had started an internet fad, which they still seem to be trying to recreate now.

I think a big bonus for this show was also that it was free! Never underestimate the appeal of 'free'. Moreover compare this show to the free specials that TNA have put on, do you see any of them on these lists? No, and that is despite the multiple title matches and 'interesting' moments that they presented us with. This was the perfect storm of free and entertainment that has made the 'Raw after WrestleMania' such an anticipated show that it is already sold out for next year.

---





Jake St-Pierre




5. ROH Supercard of Honor VII
4. NJPW Wrestle kingdom 7
3. PWG All Star Weekend 9, Night 2
2. PWG Battle of Los Angeles Night 2



1. WWE SummerSlam - There hasn't been a WWE show since Money in the Bank 2011 that matched this SummerSlam for anticipation. Even the two WrestleManias we've seen before it have been relatively lax on the groundbreaking storylines and the like. SummerSlam was finally the night we got to see the hard work of Daniel Bryan pay off. Us that have seen him since his days as ROH World Champion and even others that just started following him during his NXT days finally got to see the former American Dragon pin (cleanly, might I add) the number one man in the company to finally win the top belt in the company. It didn't matter that John Cena was going out with an injury, Daniel Bryan just pinned him clean! It doesn't hurt to mention that the match was fantastic. Even with the angle after the match (which in itself, was tremendous too) it was the best thing WWE has done since the first month of Summer of Punk 2. Beyond that, Brock Lesnar and CM Punk had one of the best matches of the year in a knockdown, drag-out spectacle of awesomeness. Other than just going through synonyms of "great", I don't have much of worth to add from here on out. I'll just say that--as a standalone show, not counting the bad build-up or anything--this was just about as perfect as WWE can get in their current incarnation.

---





JACK STEVENSON




5. WWE Hell in a Cell
4. ROH Supercard of Honor VII
3. WWE Payback
2. WWE SummerSlam



1. WWE Money in the Bank - Yeah! Money in the Bank 2013! Bet you weren't expecting THAT were you? I'm such a rebel. In all seriousness, while I'm sure New Japan put on many, many great shows this year, I am but an ignorant Westerner who needs the comfort blanket of his American style sports entertainment to fully appreciate a show, and while SummerSlam delivered big time with a brilliant, fresh, invigorating double main event, it didn't appeal quiiite as much to my own personal tastes in the wrestling as much as Money in the Bank did this year. I like Ladder matches where at least nine people fall from terrifying heights and we got two of those, including the opening match which was the best Money in the Bank effort in a fair while. I like matches where heroic good guys have to overcome large, angry men, and lo and behold John Cena and Mark Henry put on a shockingly fabulous match, a simple but effective effort from two of the hardest working guys in wrestling. I like tag team wrestling, particularly good tag team wrestling, and the Usos and the Shield delivered as early as the pre-show with an outrageously great effort considering its lowly position. Alberto Del Rio and Dolph Ziggler was so fun you'd think they'd still be relevant come the end of 2013. Even the Divas match was as solid as a rock. It was just a fantastic, seamless show that cemented Money in the Bank's status as the newest 'big four PPV.' Sorry Survivor Series.

---





Paul Lapointe




5. ROH Supercard of Honor 2
4. WWE MITB
3. NJPW Wrestle kingdom
2. WWE SummerSlam



1. The Hangover WrestleMania RAW - I know, I know the Raw after WrestleMania had a lot of problems that RAWs have nowadays and was in no way a real BIG show PER SE. But fuck it if it was not entertaining as all get out. I mean writing for an internet site that focuses a lot on wrestling and being an internet wrestling contributor to said site it was just so damn surreal to watch a crap ton of IWCers or Smart Marks or you know anything but sheep be so passionate or raucous or hilarious throughout three hrs. that it was a was a joy, one I took great pleasure in more so then some of the BIG shows this year. Now some people audience wise have tried to copy and paste this moment but after WrestleMania Raw audiences are a breed of there own and whether in Bizarro land Canada or Chicago= audiences who truthfully have their own identity nothing can really duplicate them no matter how hard they try, especially this years. I do give special cred to Seattle though as them shitting all over the ASCENSION ceremony was a thing of fucking brilliance. Also being Canadian and living in Chicago I have been part of some crazy folk and I was still taken aback by this years crop of wrestling brethren on this particular Monday Night.

More pressing business though is also the fact that the show had some important moments take place and some decent wrestling and highlights that also make it stand out I believe. First off we have The Miz losing the IC title which is something at least from my understanding is great for business when poking around the internet in what could have lead to Wade Barrett being taken seriously, Bad News on that one but carrying on. Another solid outing by Swagger and Del Rio lead to Dolph cashing in his MITB briefcase which is always a huge way to pop a crowd and Ziggler winning though should have been at Mania this happening I think was a little bit more gratifying and started things anew it seemed with Dolph and set up a break out year, BAD News. The Shield even made a statement by putting Taker in there sights and re uniting the Brothers of Destruction for a fun little moment, and then the App Orton-Sheamus debacle, I still laugh. That match though fine in retrospect wrestling wise was just a wash of fucking hilarity that the E still to this day does no understanding of given Ortons position in the company and Sheamus's returning to no real heat, Bad News. Fandango-ing! Which the E then promptly murdered, Bad News! And the main event was shit but had Ryback of all people go Hella over when attacking Cena and set himself for a banner 2013...oh wait...BAD News! So though the plants were seeded and the crowd was hot a lot of stuff just did not pan out but what was good news was that this show is worth remembering and that's some Good News! Hoping this coming year is ready.

---





Ryan Byers




5. NJPW Dominion
4. NJPW Power Struggle
3. NJPW Kizua Road
2. NJPW WrestleKingdom VII



1. NJPW G1 Climax Finals - Here's the thing . . . if you're voting in these awards and you don't have this show in your top five, your only valid excuse is that you didn't watch it . . . and I'm pretty close to saying that isn't even a valid excuse given the almost universal praise that it received and the fact that you should have hunted it down and watched it by now. This is the kind of show that professional wrestling should be all about, with strong personalities up and down the card going at it in intense, edge-of-your-seat matches, each one having a slightly different style that brings something to the table that the other matches don't. First, you had Shelton Benjamin and Shinsuke Nakamura locking up in what had to be one of the sleepers for best feud of 2013. You had the classic grizzled veteran vs. cocky upstart match with Satoshi Kojima upsetting Kazuchika Okada to set up what would be an even better IWGP Title match later in the year. Then, you had the true stars of the show, Tetsuya Naito and the single best in-ring performer in the world, Hiroshi Tanahashi, hitting it hard twice in the same evening, with Naito facing Karl Anderson, Tanahashi going up against Katsuyori Shibata, and then the two men wrestling each other for almost half an hour in the main event of the evening. Every flipping single one of these matches delivered and delivered big time, and it was made all the more impressive by the fact that every wrestler on the show was coming off of a GRUELING tour schedule during which the body of the round robin tournament occurred, showing the roster's true dedication to their craft. If you're not doing it already, WATCH THIS PROMOTION. You don't have to understand Japanese. This is professional wrestling, and good professional wrestling is a universal language.

---





J. Nguyen




5. WWE Hell in a Cell
4. WWE Royal Rumble
3. WWE Money in the Bank
2. NJPW WrestleKingdom VII



1. WWE SummerSlam - With the exception of WresstleKingdom VII (an amazing show), I did not get to see anything in the PPV scene besides WWE and a bit of TNA. That being said, SummerSlam was my favorite show this year from the WWE. We got my favorite match of the year in Punk/Lesnar, two great title matches worthy of the money spent to see this show, and of course the greatest WWE event poster of all time.

---





Jack McGee




5. Dragon Gate USA Open The Ultimate Gate
4. ROH Supercard of Honor VII
3. WWE SummerSlam
2. NJPW WrestleKingdom VII



1. NJPW G1 Climax Finals - Over the last few years I have become frustrated with the main US wrestling scene. ROH, TNA and WWE have all either frustrated me or caused me to take breaks. I always come back to see how it goes and give it another chance, but if it pisses me off, I won't watch and or spend money. When that started happening more often, and I discovered New Japan on iPPV, I decided to give them a shot and I am so glad I did. For my money, and yes my friends I do pay for shows, the New Japan Pro Wrestling G1 Climax finals event was my show of the year. This was a show with high quality wrestling in the semi and finals of the G1 tournament, and then the finals were even better. This show had the tremendous wrestling; it had the big show feel ala a WWE SummerSlam or Royal Rumble, with Naito and Tanahashi pulling double duty to crown the G1 winner. It all clicked, the whole show is good, is paced great, but there are also some outstanding performances, and not only did you get Naito winning the G1 and a title shot, but he also declares that he will go after the NEVER Title before challenging for the IWGP Title. This show is so good, but it also sets up where they were heading on the road to the big January 4th WrestleKingdom event. If you've been on the fence about New Japan, you need to give them a chance, because they are well worth the money.

---





Jack Bramma




5. WWE Survivor Series
4. WWE WrestleMania 29
3. WWE Payback
2. WWE SummerSlam



1. WWE Money in the Bank - As a fan of the indies and of puro, I hate to admit that I've mainly watched WWE this year with only a small smattering of pieces of other shows and standout matches. That being said, I think WWE had a dynamite stretch from March to August with Daniel Bryan's rise, The Shield's undefeated run, Cena's strong run of matches against Rock, Ryback, Mark Henry, and Daniel Bryan, the beginnings of the Bryan-Orton feud, Heyman turning on Punk, and many other things. MITB gets the nod for having two phenomenal, ****+ matches, Cody's breakout performance of his career, ADR and Dolph have a great rematch (even with a DQ), and The Shield and Usos delivering even when relegated to kickoff show status.

---
AND 411's Best PPVs/Major Shows of the Year
Are…
5. The Raw After WrestleMania – 12pts.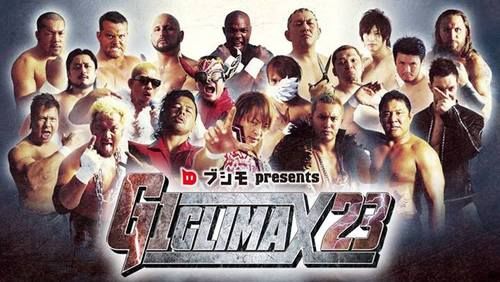 4. NJPW G1 Climax Finals – 15pts.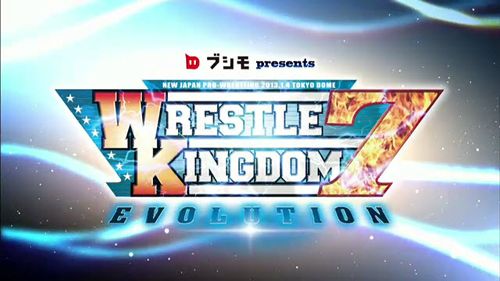 3. NJPW WrestleKingdom 7 – 21pts.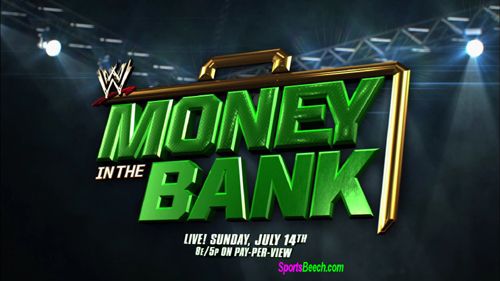 2. WWE Money in the Bank – 24pts.
1. WWE SummerSlam – 43pts.
THE 2013 411 WRESTLING AWARDS
The Biggest Disappointments of The Year: CHIKARA's Disappearing Act – 44pts

The Best Promo of The Year: Mark Henry Fakes His Retirement – 38pts

The Best Tag Team of The Year: The Shield – 87 pts

The Worst PPV/Major Show of The Year: WWE Battleground – 53pts

The Best Female of The Year: AJ Lee – 63pts

The Best PPV/Major Show of The Year: WWE SummerSlam – 43pts

The Best Feud of The Year: TO BE DETERMINED (January 13th)

The Best Match of The Year: TO BE DETERMINED (January 14th)

The Best Wrestler of The Year: TO BE DETERMINED (January 15th)

comments powered by