SPOTLIGHTS
The 411 Wrestling Year-End Awards 1.13.14: Part Seven - The Best Feuds of 2013
Posted by Larry Csonka on 01.13.2014

From CM Punk vs. Brock Lesnar and Hiroshi Tanahashi vs. Kazuchika Okada to Daniel Bryan and Friends vs. The Shield and more, the 411 staff continues their year-end awards by breaking down the top 5 feuds of 2013!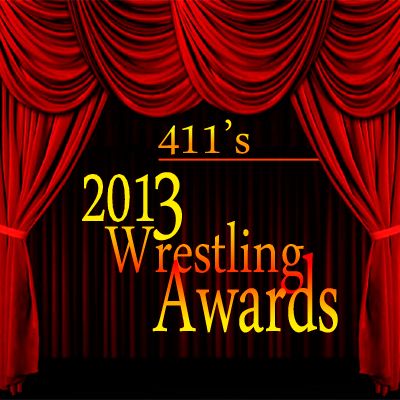 Welcome:
Welcome back to the Wrestling Top 5, year-end awards edition! What we are going to is take a topic, and all the writers here on 411 will have the ability to give us their Top 5 on said topic, and the end, based on where all of these topics rank on people's list, we will create an overall Top 5 list (as best we can). It looks a little like this…

1st - 5
2nd - 4
3rd - 3
4th - 2
5th - 1

It's similar to how we do the WOTW voting. At the end we tally the scores and get our overall top 5! It's highly non-official and final, like WWE's old power rankings. From some of the best and worst, the 411 staff is ready to break down the awards! Thanks for joining us, and lets get down to work.




And now…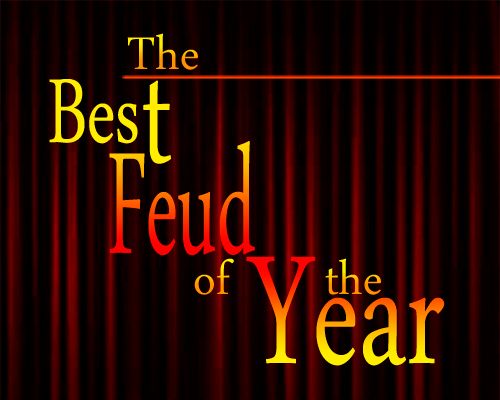 THE BEST FEUDS OF 2013






MIKE HAMMERLOCK




5. Bobby Roode-Kurt Angle
4. Hiroshi Tanahashi-Kazuchika Okada
3. Rhodes Brothers-Shield
2. Daniel Bryan-Randy Orton



1. CM Punk-Paul Heyman - It was great long-form storytelling. While I prefer the simplicity of two guys leaving it all in the ring (Tanahashi-Okada being the best example this year, but I grade that on the same curve as Sadaharu Oh's 868 home runs), Punk vs. Heyman was messy and spectacular. It spilled all over the place. The seeds were planted when Heyman's machinations were keeping the WWE title around Punk's waist. Punk had to fight through a crisis of confidence, losing four huge matches in the process (Rock twice, Cena and Undertaker). It broke him and when he returned after his self-imposed exile, his need to win without Heyman's string pulling set off his best friend and manager. The prelude to the feud was just as important as the feud itself. The Summer Slam match with Brock Lesnar was epic. While the conclusion of the feud didn't live up to that standard, Punk beating Ryback clean and wailing away at Heyman with a Kendo stick was cathartic. It was the only way Punk could move forward. Yet I think we all know Mr. Heyman is far from done with his former associate. This isn't a wrestling feud, it's German opera.

---





Larry Csonka




5. The American Wolves vs. reDRagon
4. Hirooki Goto vs. Katsuyori Shibata
3. Daniel Bryan and Friends vs. The Shield
2. The Bullet Club vs. NJPW



1. Kazuchika Okada vs. Hiroshi Tanahashi - 2013 was a really weird year for pro wrestling. There was a LOT of great wrestling from around the world, but as far as traditional, making you care feuds, there really weren't a lot. This list was the hardest for me to compile; I had my #1 locked in, but then had to really think about the other four. But for the purposes of the column and awards, Kazuchika Okada vs. Hiroshi Tanahashi was easily my top feud of the year. Kazuchika Okada vs. Hiroshi Tanahashi was the top feud in New Japan for the year; they not only battled for the title but also for the right to be the top guy in the company. It was simple, they never got away from the goal and it worked. And their battles produced some very excellent matches….


NJPW Kings of Pro Wrestling iPPV - Kazuchika Okada vs. Hiroshi Tanahashi [*****]

NJPW Invasion Attack iPPV – Hiroshi Tanahashi vs. Kazuchika Okada [****¾]

NJPW WrestleKingdom 7 iPPV: Hiroshi Tanahashi © vs. Kazuchika Okada [****¾]

Those listed above are their best matches from this year, and in my opinion the three best matches I got to see in 2013. Kazuchika Okada is my personal wrestler of the year, and Hiroshi Tanahashi was the best wrestler on PPV in 2013. I have said it before, Kazuchika Okada vs. Hiroshi Tanahashi is this generation's Flair vs. Steamboat, but better. The Tanahashi vs. Okada feud carried New Japan for more than the year and their feud gained steam. But most importantly, and this is a harsh reality that many refuse to accept, while Flair vs. Steamboat was in ring excellence, it was box office disaster. They did not draw. Tanahashi vs. Okada not only drew money, but they have been a huge part of the company's resurrection. For me, there was nothing more enjoyable or meaningful than the Tanahashi vs. Okada feud, and it was an easy #1 pick for me.

---





JUSTIN WATRY




5. CM Punk/The Rock
4. Daniel Bryan proving himself
3. Rhodes Brothers being fired and rehired
2. The Authority vs. the entire roster



1. CM Punk vs. Paul Heyman - Another easy choice. There was not much to go with for feud of the year. This spanned for most of the second half of 2013 but also was teased earlier in the year when Punk lost his WWE Championship. In the end, you had two great talkers going at it with many opponents in between. Ryback made an appearance. Curtis Axel was somewhere in there. Even Brock Lesnar came back to WWE for an excellent Summerslam showdown. All of these guys were working for Heyman, and it was very entertaining. The best part? It may not be over just yet.

---





Mike Chin




5. Cody Rhodes vs. Damien Sandow
4. The Undertaker vs. CM Punk
3. Dolph Ziggler vs. Alberto Del Rio
2. CM Punk vs. Paul Heyman



1. Daniel Bryan vs. The Shield - This particular feud has the complementary benefits of maturing over time and producing fantastic in-ring action.

In an age when PPVs come up roughly once a month, there's a real tendency for blow-offs to come too soon. The best feuds simmer to a boil. Following WrestleMania, The Shield and Team Hell No were on a collision course. Between the long tag title reign of Bryan and Kane had enjoyed and The Shield's tidal wave of momentum, there was little surprise that Rollins and Reigns took the titles. Given the talents of the performers involved, there was also little surprise that the six-man contests leading up to it and the title match at Extreme Rules were pretty thrilling encounters. Bryan went on to team with Randy Orton against The Shield on the way his breakout summer in which The Flying Goat took on a tendency to tackle The Shield one-on-three--and as often as not come out the better for it.

Thus The Shield functioned as an ideal tool to get Bryan over--first beating him, then falling prey to his unstoppable desire to prove himself. Moreover, as The Authority angle took over, The Shield assumed a new position as Triple H's enforcers, and thus continued their role as foils for Bryan under a new guise--and continued to deliver excellent matches in any number of singles and tag team permutations.

Both The Shield and Daniel Bryan had notable feuds with others throughout 2013, but they could never seem to get too far away from each other, either--and given their natural in-ring chemistry, every WWE fan should feel grateful that was the case.

---





Jack Bramma




5. John Cena vs. Mark Henry
4. The Shield vs. Hell No
3. CM Punk vs. Paul Heyman and Brock Lesnar (not Curtis Axel and Ryback)
2. CM Punk vs. The Undertaker



1. The Rhodes Family vs. The Shield and The Authority - When the Authority anointed Orton as their face of the company, it seemed that DB/Orton would carry the company through the fall. But in the meantime, Orton wrestled Cody with his job on the line. Cody came up short and cut the promo of his life --http://www.youtube.com/watch?v=b0fzTwF4G98. The following week, the Authority brought Goldust in to give him a shot to win back Cody's job for the family's honor. Orton and Goldust arguably put on a contender for free TV match of the year even better than the one between Cody and Orton. To up the stakes, another later week, Dusty was given the opportunity to choose which son could get their job back. Big Dust couldn't bring himself to choose between his kids so Show, against his will, laid him out with the WMD. For all the marbles, The Authority gave them all one more chance with Dusty in Cody and Goldust's corner at Battleground against the unbeatable Shield. After stealing the show and winning their jobs back in the process, Cody and Goldust were primed for big things. The Authority ordered The Shield to shut them down for good in a tag title match on RAW with no disqualifications. It seemed The Shield would use the damned numbers game to put them over the top finally, but instead, the tables were turned when Show interfered and help The Rhodes Brothers dethrone the Shield and capture the tag titles once and for all.

---





Ryan Byers




5. Shinsuke Nakamura vs. Shelton Benjamin
4. The Rhodes Brothers vs. The Shield
3. CM Punk vs. Brock Lesnar
2. Hirooki Goto vs. Katsuyori Shibata



1. Hiroshi Tanahashi vs. Kazuchika Okada - Simply put, New Japan Pro Wrestling's Hiroshi Tanhashi and Kazuchika Okada have put on the best pure in-ring rivalry of this generation, something that should go down in history with Ric Flair vs. Ricky Steamboat or the legendary All Japan main event run of Misawa, Kobashi, and Kawada. During the course of 2013, the two men had four singles matches, building on the two bouts that they had against each other in 2012. It began on January 4 in the Tokyo Dome when, at New Japan's equivalent of WrestleMania, Tanahashi successfully retained his IWPG Heavyweight Title over Okada. At that point, there was some fear that NJPW may have given up on Okada as a top player, but that theory was quickly disproved when Okada regained the championship in an April 7 match and then successfully retained the belt against Tanahashi for the first time in his career on October 14, with Tanahashi vowing to not challenge for the title again if he lost. In between those last two matches, the duo also wrestled a thirty minute draw as part of the annual G1 Climax tournament. I can't say that each match in the series was better than the last, but each one was at least ****1/2, and it's almost impossible to argue that they haven't hit the five snowflake mark at least once. No, there might not be a heated, intense personal issue between the two beyond "Which man is the best?" and, if you're reading this website, more likely than not you can't understand their promos, but sometimes the quality of the in-ring so far surpasses those other factors of what makes a great feud that you've got to vote for the best pure wrestling rivalry regardless. That's exactly what's happening here. If you haven't tracked these matches down, you're doing yourself a disservice as a professional wrestling fan. Period.

---





Chad Nevett




5. John Cena vs. the Rock
4. CM Punk vs. the Undertaker
3. The Shield vs. the WWE
2. Daniel Bryan vs. the Authority



1. CM Punk v. Paul Heyman - At first, a feud between a wrestler and a manager seems like it can't compete with a regular wrestler/wrestler feud, because, well, clearly, the payoff match where the wrestler finally confronts the manager is sure to be a giant steaming piece of crap, right? When you have two men as talented as CM Punk and Paul Heyman along with a lineup of in-ring proxies headed up by the likes of Brock Lesnar, the disadvantages that would normally befall a feud of this sort disappear. Over the course of the middle half of 2013, Punk and Heyman created a rare long-term story in the WWE that managed to stay engaging, managed to build well, and, when it ended, it paid off immensely. It even had a match of the year contender in Punk's SummerSlam match with Brock Lesnar.

If this feud had a failing, it was that Heyman's proxies didn't always seem like genuine threats to Punk. Curtis Axel was rarely more than a nuisance, while Ryback was clearly on the downward slide to the midcard. However, even that weakness became a strength often as it led to showcasing Heyman's slippery nature and cunning as he still managed to elude Punk's grasp despite Punk triumphing. It kept the feud going as Punk continually won only to be told that the princess was in another castle and a new match with a new guarantee of getting his hands on Heyman was just around the corner.

No feud has managed to engage me over so many months in the WWE since Jericho/Michaels in 2008. No feud has been as personal and emotional. No other feud could touch Punk/Heyman in 2013.

---





Paul Lapointe




5. Kurt Angle Vs Bobby Roode
4. Okada V Tanahashi
3. -TNA VS Itself (Indy Wrestling Itself)
2. The Shield Vs The WWE Locker Room



1. Punk V Heyman Saga - I get why people may have soured on this feud and I totally understand I do not let blame you one bit. As a personal mark for the two people involved I will blame bias but I will also blame shackles as a lot of the feud had to be dragged out as the E figured out how to make more money and piss on the wrestling fan. Now are in hindsight Curtis Axel and Ryback the best replacements for Brock Lesnar...umm, No. But considering at the beginning of the year Ryback was Lesnar by WWE terms and Axel just needed elevation and to be fair not everybody is meant to succeed but at least given the chance, Axel got it and now its poof.
The reason this feud ranks number one is simple really it had layers not just wrestling matches. It had history, it had IWC cred, it had glory boys, it had transitionals, PROMOS, again PROMOS, and it really TRIED, no matter what it tried. Maybe a little too hard but still I liked more then I did not and in the end I think though not golden it was worth its price in gold. VOLCANO!!!!!

---





Jake St. Pierre




5. The American Wolves vs. reDRagon
4. Adam Cole vs. Jay Briscoe vs. Michael Elgin
3. John Cena vs. Mark Henry
2. Daniel Bryan vs. The Shield



1. Kevin Steen vs. Jay Lethal - This one probably seems like a left-field choice and to some, it probably is, but looking back on Steen/Lethal now makes me really appreciate how good the feud really was. It started in 2012, but extended into the first quarter of 2013 and never faltered in quality. But let's be honest, there weren't many good feuds in wrestling this year. I'm largely disqualifying myself from using New Japan examples as I don't follow their storylines, so that would make me an idiot. Kevin Steen was the "heel" champion in ROH for 9 months, having MOTYC's with people like Michael Elgin, Eddie Kingston, Davey Richards, and others. But the last real rivalry he had with anybody during his reign as champion was against Jay Lethal, former TNA mainstay and former ROH TV champion.

In 2012, Jay Lethal asked a desperate Jim Cornette for a title shot. Jay was shot down however, when Corny told him he didn't have the 'killer instinct' to make it to the top. Pissed about Corny's comment, Lethal went around causing havoc and was a dick to everybody he came across. Corny finally give him the shot, but the match went south after Mr. Wrestling spit on Jay's mother and father, causing Jay to flip his shit and throw the match out, even chucking Jim Cornette over a table after the match. Steen threatened not to come back after that, unless Jay was banned from getting a title shot ever again. Under pressure, ROH had no choice but to grant him his wishes. The feud wasn't over yet...

Steen wrestled El Generico at Final Battle in a Ladder War, while Lethal had a throwaway match with Rhino on the undercard. After Final Battle, Kevin Steen started to change and distance himself from the utter destruction he'd caused the year prior. He took the mic on an episode of ROH TV to say that he loved Ring of Honor, and was only acting out because he hated what Jim Cornette turned it into. Since ROH had seemingly returned to the form he wanted, he granted Jay Lethal his title match at the 11th Anniversary. However, a still royally pissed off Jay Lethal was still not convinced Mr. Wrestling had changed. He still went at him ruthlessly on the microphone, but was kept at bay by Steen's cronies Steve Corino and Jimmy Jacobs.

The blow off to the feud barely missed my list for top 5 matches of the year, but it was a sensational match. It was a tad overbooked if I'm being honest, but had a definitive finish after a hot finishing stretch. It proved Kevin Steen was a real champion, but also proved Jay Lethal deserved to hang with the big dogs in Ring of Honor. What this feud did for Jay Lethal cannot be ignored, as it showed to everyone what he was really worth as a total package. He proved to be a stupendous talker, a good brawler when he needed to be, and one of the best assets Ring of Honor has.

So that long-winded, overblown post is my favorite feud of 2013, even if it started in 2012. The year ROH had wasn't exactly great from there on out, but they started it off with a bang.

---





Daniel Wilcox




5. CM Punk vs. The Rock
4. CM Punk vs. The Undertaker
3. Cody Rhodes and Goldust vs. The Shield
2. CM Punk vs. Brock Lesnar and Paul Heyman



1. Daniel Bryan and co. vs. The Shield - To be honest, I didn't feel as though there was a whole lot to chose from for this category. I don't follow foreign wrestling so I cannot comment on that, and TNA and the indies haven't offered a lot to catch my attention this year. CM Punk's body of work this year is spectacular; his feuds with Rock and Taker would be on here via Punk's mic work alone, but they also produced good matches - they just weren't long enough to get the top spot. The feud with Heyman should be higher, but it went on too long, and the matches with Axel and Ryback left a lot to be desired. The Shield vs. The Rhodes' Brothers was great, produced a couple of great matches and memorable moments and deserves its spot.

So that leaves my number one pick, Daniel Bryan and his various partners (Kane/Orton/Cena/Punk) against The Shield and that makes the top spot for two reasons. The first is that it has paid an integral part in Bryan's rise to the top of the company. Fans won't get behind a babyface unless he has a strong heel (or in this case heels) to go up against. The Shield have had an amazing year and have served as the perfect foil for Bryan allowing the fans to rally behind him and make him one of the most popular guys on the roster. Secondly, the matches have been fantastic. I can think of a dozen or so matches involving any combination of Bryan and the Shield from various episodes of Raw and SmackDown that have been great contests. I'm probably forgetting a load more as well, which just speaks volumes of how good WWE's in-ring product has been in 2013. From a pure wrestling standpoint, this has been my feud of the year hands down.

---





TJ Hawke




5. Independent wrestling vs. good booking
4. CM Punk vs. Brock Lesnar
3. Katsuyori Shibata vs. Hirooki Goto
2. The Bullet Club vs. NJPW



1. Kazuchika Okada vs. Hiroshi Tanahashi - NJPW has done this radical feud over the last two years where they have taken their biggest star (Tanahashi) and used him to turn a fantastic talent (Okada) into a giant star in Japan. I know, it sounds crazy, but hear me out. These two are both talented, and NJPW gave multiple main events to put on the best match possible every time out. It's revolutionary storytelling, and it's the only choice for feud of the year.

---





Jarrod Atkinson




5. Kurt Angle vs. Bobby Roode
4. Dolph Ziggler vs. Alberto Del Rio
3. CM Punk vs. Undertaker
2. Daniel Bryan vs. The Authority



1. CM Punk vs. Paul Heyman - And why is this the Best Feud of the Year? It started with a wrinkle in the friendship of Punk and Heyman, it progressed with the introductions of Brock Lesnar, Ryback, and Curtis Axel, and it had a definitive payoff. The feud was personal, had many layers to it, and had the chance to grow through the year. Watching Punk beat the hell out of Heyman after all those months is the feeling that every feud should have in the blow off match. That's what has been missing from feuds lately, a definitive winner and loser. Every now and then WWE gets it absolutely right, and this year it was CM Punk vs. Paul Heyman.

---
AND 411's Best Feuds of 2013 are…
5. CM Punk vs. Undertaker & CM Punk vs. Brock Lesnar – 13pts.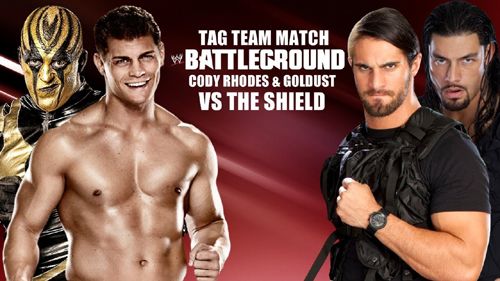 4. The Rhodes Brothers vs. The Shield – 16pts.
3. Daniel Bryan and Friends vs. The Shield – 17pts.
2. Hiroshi Tanahashi vs. Kazuchika Okada – 18pts.
1. CM Punk vs. Paul Heyman – 36pts.
THE 2013 411 WRESTLING AWARDS
The Biggest Disappointments of The Year: CHIKARA's Disappearing Act – 44pts

The Best Promo of The Year: Mark Henry Fakes His Retirement – 38pts

The Best Tag Team of The Year: The Shield – 87 pts

The Worst PPV/Major Show of The Year: WWE Battleground – 53pts

The Best Female of The Year: AJ Lee – 63pts

The Best PPV/Major Show of The Year: WWE SummerSlam – 43pts

The Best Feud of The Year: CM Punk vs. Paul Heyman – 36pts

The Best Match of The Year: TO BE DETERMINED (January 14th)

The Best Wrestler of The Year: TO BE DETERMINED (January 15th)

comments powered by