SPOTLIGHTS
The 411 Wrestling Year-End Awards 1.14.14: Part Eight – The Best Matches of 2013
Posted by Larry Csonka on 01.14.2014

From John Cena vs. Daniel Bryan at Summerslam and CM Punk vs. The Undertaker at WrestleMania 29 to Kazuchika Okada vs. Hiroshi Tanahashi at Kings of Pro Wrestling and more, the 411 staff continues their year-end awards by breaking down the top 5 best matches of the year!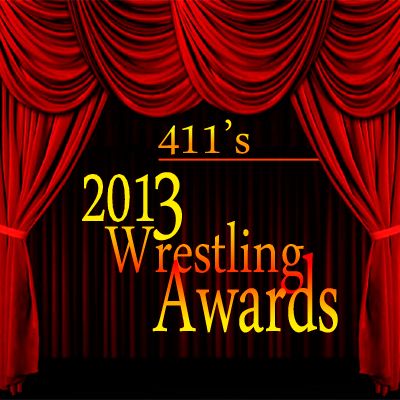 Welcome:
Welcome back to the Wrestling Top 5, year-end awards edition! What we are going to is take a topic, and all the writers here on 411 will have the ability to give us their Top 5 on said topic, and the end, based on where all of these topics rank on people's list, we will create an overall Top 5 list. It looks a little like this…

1st - 5
2nd - 4
3rd - 3
4th - 2
5th - 1

It's similar to how we do the WOTW voting. At the end we tally the scores and get our overall top 5! It's highly non-official and final, like WWE's old power rankings. From some of the best and worst, the 411 staff is ready to break down the awards! Thanks for joining us, and lets get down to work.



And now…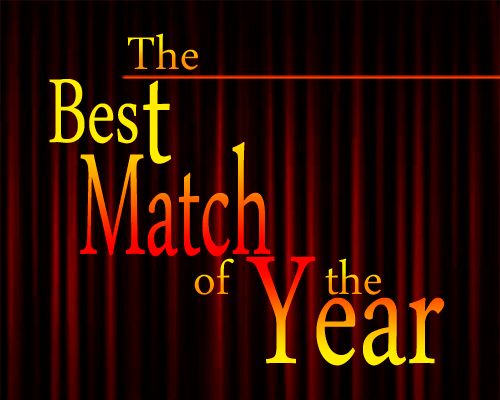 The Best Matches of 2013!






Jon Harder




5. Steel Cage Warfare (ROH vs SCUM) – ROH TV, 7/29/13
4. Undertaker vs CM Punk – WrestleMania 29, 4/7/13
3. AJ Styles vs Bully Ray – Bound For Glory, 10/20/13
2. CM Punk vs Brock Lesnar – SummerSlam, 8/18/13



1. Daniel Bryan vs John Cena – SummerSlam, 8/18/13 - You can say what you will about the incredible nature of Punk vs Lesnar, but I will stand by my pick for Match of the Year being John Cena and Daniel Bryan. The atmosphere was electric, the match was gritty, and the fans were anticipating change. And trust me, the way this match went, it was a changing of the guard in the most subtle of manners.


But it wasn't just the match; it was the heart of the performers. The intensity Daniel Bryan had shown leading up to and in this contest was absolutely off the charts. John Cena went into the battle with a legitimate injury to his left arm. It was an unbelievably gritty performance. Punk and Lesnar might have had that as close to a perfect match as people can expect, but I feel that Cena and Bryan just had everything in their favor that night. And although, the aftermath wasn't what the fans ultimately wanted at that exact moment, at SummerSlam 2013, John Cena made Daniel Bryan THE MAN.

---





MIKE HAMMERLOCK




5. (tie) John Cena vs. Damien Sandow, Raw 10/28; Randy Orton vs. John Cena, TLC
4. Rhodes Brothers vs. Shield, Battleground
3. Daniel Bryan vs. John Cena, SummerSlam
2. Brock Lesnar vs. CM Punk, SummerSlam



1. John Cena vs. CM Punk, Raw 2/25 - In the end I wound up with six top five matches. Two of them were on free TV, including my pick for Match of the Year. IMO, sometimes free matches don't get the respect they deserve because they're not supposed to be mind-blowing affairs. However, both Cena-Sandow and, especially, Cena-Punk delivered the goods. They didn't require the free TV booster seat to sit at the table with the big matches. They were awesome in their own right. In February Cena put his WrestleMania 29 slot against Rock up for grabs in order to prove that he could beat Punk. I knew Cena was going to win as soon as they made the match and I was resigned to that foregone conclusion when the match started. Then the damnedest thing happened: they made me believe Punk had a chance. I turned in Marky Markington. I was up and down the whole match, shouting at my television. When Punk broke out the piledriver my head nearly exploded. Yes, Super Cena then put his cape and won, but that match hooked me like no other this year. It completely overrode what my brain knew to be true and reduced me to being a crazed fan. More than anything, that's the mark of a great match. As an aside, as a long time Cena hater, I am amazed to see his name all over my top matches list. Tip of the ballcap to him for his work this year.

---





Robert S. Leighty Jr




5. WWE World Heavyweight Title: Randy Orton vs. Daniel Bryan (RAW 12/16)
4. WWE Title: John Cena vs. CM Punk (RAW 2/25)
3. WWE Title: John Cena vs. Daniel Bryan (SummerSlam)
2. CM Punk vs. The Undertaker (WrestleMania XXIX)



1. CM Punk vs Brock Lesnar (SummerSlam) - After seeing Lesnar kind of wasted in 3 matches with HHH, it was refreshing and exciting to see that we would get Lesnar facing Punk. These two were kept from each other for well over a year even though Paul Heyman was in the corner of each man, and it finally all came to a head when Heyman started a feud with Punk. What we go at SummerSlam was easily the Match of the Year and quite possibly the greatest match of Lesnar's career (which says a lot). These two men beat the piss out of each other and it was utter joy to watch Lesnar toss Punk all over ring. The powerbomb sequence was just one of those moments that make me proud to be a wrestling fan. I am still holding out hope for a rematch with Punk getting his revenge, but it doesn't look like that is happening anytime soon.

---





Larry Csonka




5. From NJPW Dominion iPPV - Katsuyori Shibata vs. Hirooki Goto [****¾]
4. From The NJPW "A New Beginning" iPPV: Hiroshi Tanahashi © vs. Karl Anderson [****¾]
3. From The NJPW WrestleKingdom 7 iPPV: Hiroshi Tanahashi © vs. Kazuchika Okada [****¾]
2. From NJPW Invasion Attack iPPV – Hiroshi Tanahashi vs. Kazuchika Okada [****¾]



1. NJPW Kings of Pro Wrestling iPPV - Kazuchika Okada vs. Hiroshi Tanahashi [*****] - These guys fucking rule, and if you are just a fan of great in ring action, you are doing yourself a disservice if you are not watching NJPW. The crowd knew they were watching something special, and reacted like it. It wasn't that they were reacting to faces and heels, but in stead went with the ebbs and flows, going back and forth on who they supported, but always into it. The best thing about the Okada vs. Tanahashi matches is that while they play variations on a theme and go back to spots in previous matches in order to get a reaction, they never feel like reruns. This felt like a culmination of the feud, which has been hot for over a year now, and not only a culmination but one that allowed me to walk away happy. There were tons of rumors that New Japan was going to change the title because they wanted to have Tanahashi in the main event of the dome show. But they went with Okada, they continued the course they set in making Okada a big time player, and they didn't change their mind or get cold feet. The big story of the match was Tanahashi working the arm of Okada, in an effort to take away the Rainmaker. This was a well-crafted story, and adding in things like Tanahashi using the Gedo clutch on Okada right in front of Gedo worked perfectly. Simply put, this was awesome, and worth the price of the show alone. For me, this was the best of the bunch from these guys this year, but that is also like picking from a selection of perfect 10 models. They are all sexy, but it comes down to personal preference on which one you want to take home.

---





JUSTIN WATRY




5. Royal Rumble 2013 Match
4. The Undertaker vs. CM Punk at WrestleMania 29
3. Daniel Bryan vs. John Cena at SummerSlam
2. Brock Lesnar vs. CM Punk at Summerslam



1. John Cena vs. CM Punk on Raw in February 2013 - Honestly, you could mention any number of matches this year with The Shield. It seemed like every week they were wrestling a great six-man tag team match on television. You could say the same with Daniel Bryan for most of 2013. He and Randy Orton have had some good ones. Ultimately tough, this is only a top five list. I am a big fan of the Rumble match. Even when it is average or just passable, it is enjoyable in my eyes. The Undertaker competing at WrestleMania is the same thing - always love those matches. Then we come to the great Summerslam main events! Nothing to add, just amazing. In the end, my top choice goes to a match not even on pay-per-view. That may the first time I have EVER done such a thing. When thinking about this topic, I simply thought about which match I re-watched on Youtube/DVD's the most. After about two seconds, it was obvious: John Cena vs. CM Punk from Raw in February. I recall the next day writing a column just gushing over the match and praising it up and down. I was a kid in a candy store. Months later, that feeling is still there. If you have not seen this match, go do so NOW! Match of the year.

---





Mike Chin




5. The Undertaker vs. CM Punk at WrestleMania 29
4. John Cena vs. CM Punk on Raw 2/25
3. Cody Rhodes and Goldust vs. Seth Rollins and Roman Reigns at Battleground
2. CM Punk vs. Brock Lesnar at SummerSlam



1. Daniel Bryan vs. John Cena at SummerSlam - For me, this one was a dead heat between Punk-Lesnar and Bryan-Cena. I might give "The Best vs. The Beast" a very minor edge for in-ring entertainment, but, despite ostensibly being part of the Punk-Heyman saga, the feud more or less existed in a vacuum, only influencing the two men involved, and it looks like their summer showdown was a one-off and Lesnar will move on to other things when he inevitably returns for 'Mania season. Thus, I have to give match of the year honors to Bryan-Cena--an exceptionally exciting, well-executed match that marked the culmination of a summer-long build and that may or may not have long-term implications for Bryan beating Cena clean.

2013 was the year when Bryan cemented himself as the greatest in-ring performer in WWE, and despite his real-life injury, a very game Cena showed up to LA to give "The Flying Goat" what will likely go down as the single biggest win of his career. Twenty-five minutes of fast-paced action, ending in one of the most emotionally satisfying victories of the year--it just doesn't get much better than that.

In fact, the only thing that could ruin the moment would be a Money in the Bank cash-in, followed by two month of schmozz finishes.

Sigh.

---





Jake St. Pierre




5. Candice LeRae, AR Fox, & Rich Swann vs. The Young Bucks & Adam Cole...PWG Battle of Los Angeles 2013, Night 2
4. William Regal vs. Antonio Cesaro, WWE NXT 12/25/13
3. Adam Cole vs. Drake Younger...PWG All Star Weekend 9, Night 2
2. Adam Cole vs. Sami Callihan...PWG Is Your Body Ready?



1. John Cena vs. CM Punk...RAW, 2/25/13 - What can really be said about this match? In my opinion, it's the best in RAW history in front of the sensational Cena/HBK bout from England. It's the only match I've rated five stars (as if my rating matters) in 2013 and I stick by that rating even 11 months later. Rarely ever do matches have me screaming at my TV and afterwards have me repeating "that was fucking amazing" multiple times. Was the result of this match ever in doubt? In hindsight, not really. We knew what the WrestleMania main event was (unfortunately) going to be and had accepted it, but CM Punk and John Cena--in their almighty glory--had me fooled for 27 minutes of a match that rivals some of the best WWE has had in its existence. When a match like this happens, it doesn't matter if it was on free TV, PPV, or a house show. A classic is a classic, and there's nothing in wrestling this year that beats this for me.

---





Paul Lapointe




5. 2013 Royal Rumble Match
4. The Brotherhood Vs The Shield "WWE Battleground"
3. Daniel Bryan Vs Randy Orton "No DQ" Raw 06/24/13
2. Okada/Tanahashi Gruesome Twosome + 1 (Wrestlekingdom/Invasion Attack/Kings of PW/)



1. CM Punk Vs Brock Lesnar "WWE Summerslam" - After all this time I was actually expecting something else to come up and dethrone this as my personal favorite match of the year but here we are. The Tag line in this bout was simple and marketable was the beginning chapter of the Punk/Heyman Saga and even had a part timer go over the Best in the World. I am not a fan though of the WWE's reliance in bringing in old acts to spice things up the last few years due to lack of star building but Brock somehow finds an exception to the rule because he has a point. He is used sparingly and to put the other guy over win or lose and his bout with Punk at Summerslam was a frickin roller coaster of a match. Exhausting, brutal, violent, technical, mouthy, near falls, the winner was in doubt it just had a lot going on outside the wrestling. This was more then a match, it was a story. Plus a story well told is one worth remembering and that is why after this year ends its my favorite bout.

---





Jesse Nguyen




5. Jason Kincaid vs. Americos - TCW Last Stand
4. Rhodes Brothers vs. The Shield - WWE Battleground
3. John Cena vs. Daniel Bryan - WWE Summerslam
2. CM Punk vs. Undertaker - WWE WrestleMania 29



1. CM Punk vs. Brock Lesnar - WWE Summerslam - I've never been the biggest Lesnar fan, and his matches against HHH were no different. The matches were fine, just not spectacular (to me, anyway). When I heard that Lesnar and Punk would have a match at Summerslam, I was interested. One of my favorite wrestlers going against a person that I believe was not up to the hype he receives. The story was being built up pretty well, and Punk was ready to explode by the time Summerslam had arrived. The match I saw far exceeded the expectations I had. This match was a brutal battle that reminded me why I love wresting (in what has been a terrible year in my life).

---





Ryan Byers




5. Kazuchika Okada vs. Hiroshi Tanahashi (NJPW Invasion Attack)
4. Kazuchika Okada vs. Hiroshi Tanahshi (NJPW WrestleKingdom VII)
3. Daniel Bryan vs. John Cena (WWE Summerslam)
2. Hirooki Goto vs. Katsuyori Shibata (NJPW Dominion)



1. Kazuchika Okada vs. Hiroshi Tanahashi (NJPW Kings of Pro Wrestling) - I already said something very similar to this in the write-up for feud of the year, but it bears repeating: Tanahashi and Okada have had a series of matches this year that, when everything is said and done, are probably going to rank within the top five in-ring rivalries of all time, and perhaps even top three. The capper on the entire rivalry came this past October at Sumo Hall at "Kings of Pro Wrestling," where Okada and Tanahashi put on an all-time classic five star encounter, besting even the best of their prior stellar matches. It was a topper not just because of the straight in-ring action but also in terms of its significance. Prior to this encounter, Okada had defeated Tanahashi for the IWPG Title, though the championship was put back on Tanahashi for the promotion's biggest show of 2013, leaving some to fear that maybe NJPW had given up on the Okada experiment. Things looked somewhat better when Okada regained the title from his rival, but, when this rematch was booked, there was a question as to whether the powers that be would pull the rug out from underneath Okada again. However, there was no such result, as the young star successfully retained his championship against Tanahashi for the first time in company history, which was particularly significant because Tanahashi's pre-match vow was that he would no longer compete for the title if he was not successful in this encounter. It was the perfect combination of in-ring action and a memorable moment in a rising star's career that put this one on my short list for MOTY contender. Plus, as a result of this match, the event it took place on more than lived up to it name.

---





Jack McGee




5. CM Punk vs. Brock Lesnar (WWE Summerslam)
4. Daniel Bryan vs. John Cena (WWE Summerslam)
3. Undertaker vs. CM Punk (WWE WrestleMania 29)
2. Hiroshi Tanahashi vs. Karl Anderson (NJPW A New Beginning)



1. Kazuchika Okada vs. Hiroshi Tanahashi (NJPW Kings of Pro Wrestling) - There was A LOT of great wrestling in 2013. WWE had a lot of their TV shows, which made some of those long Raw shows worth watching, and the New Japan product was amazing almost all year. And it is to New Japan I will go for my match of the year, and it was one of the many great Kazuchika Okada vs. Hiroshi Tanahashi matches. This one comes from the Kings of Pro Wrestling event. These guys had a series of matches this year that were amazing, and I feel that this one tops the list due to the in ring quality, and the story of finally making Okada the big star they wanted him to be. Okada kept the title here, in a spectacular match, and was the climax to his story of overcoming New Japan's ace and becoming the top dog. You don't need to understand the commentary because the in ring action and storytelling were so good. I just wish that more people took the chance on the New Japan product, because they would not be disappointed.

---





Daniel Wilcox




5. Street Fight: Daniel Bryan vs. Randy Orton (WWE Raw)
4. CM Punk vs. The Undertaker (WWE WrestleMania 29)
3. CM Punk vs. Brock Lesnar (WWE Summerslam)
2. John Cena vs. Daniel Bryan (WWE Summerslam)



1. John Cena vs. CM Punk (WWE Raw, February 25th) - Just a couple of weeks removed from CM Punk losing the WWE Championship that he had defended for 434 days, Punk had one last chance to make it to WrestleMania 29 to challenge The Rock. See, John Cena had won the right to face Rock by winning the Royal Rumble, but Punk made the valid point that Cena was never able to beat Punk when it matter and Cena's pride led to him agreeing to but the title shot on the line against the Best in the World. What followed was a match where two guys went out there fighting for the biggest opportunity in the business, but also simply just to prove who the better man was. Punk and Cena wrestled a phenomenal 25-minute match that captivated the audience that night. As soon as the match was booked, you knew that Cena was finally going to vanquish his greatest rival, but I'll be damned if I wasn't on the edge of my seat at the match's climax as these guys made me believe that there was a chance that Punk could pull off the win. Back and forth they went, trading signature moves and finishers, neither man giving up. Yes, we even saw the piledriver in one of the hottest false finishes in years. This match encapsulated everything that professional wrestling is all about; drama, emotion, showmanship and entertainment. It had everything, and it stands out as one of my favorite matches in a long time. It should come as no surprise, because both guys are fantastic in-ring talents but more than that, they are masters at holding the audience in the palm of their hands, which is exactly what they did on this night.

---
AND 411's Best Matches of 2013 Are…
5. Kings of Pro Wrestling iPPV - Kazuchika Okada vs. Hiroshi Tanahashi – 15pts.
4. Undertaker vs. CM Punk – WrestleMania 29 – 18pts.
3. John Cena vs. CM Punk (WWE Raw, February 25th) – 24pts.
2. Daniel Bryan vs. John Cena – SummerSlam – 31pts.
1. CM Punk vs. Brock Lesnar – SummerSlam – 36pts.
THE 2013 411 WRESTLING AWARDS
The Biggest Disappointments of The Year: CHIKARA's Disappearing Act – 44pts

The Best Promo of The Year: Mark Henry Fakes His Retirement – 38pts

The Best Tag Team of The Year: The Shield – 87 pts

The Worst PPV/Major Show of The Year: WWE Battleground – 53pts

The Best Female of The Year: AJ Lee – 63pts

The Best PPV/Major Show of The Year: WWE SummerSlam – 43pts

The Best Feud of The Year: CM Punk vs. Paul Heyman – 36pts

The Best Match of The Year: CM Punk vs. Brock Lesnar – SummerSlam – 36pts

The Best Wrestler of The Year: TO BE DETERMINED (January 15th)

comments powered by