SPOTLIGHTS
411 Fact or Fiction 01.09.14: Full Time Brock, Batista in the Rumble, Jarrett's New Promotion, More
Posted by Larry Csonka on 01.09.2014

Would Brock Lesnar becoming a full-time WWE performer be best for business? Does Batista's inclusion in the Rumble make it more interesting? 411's Tony Acero and Scott Rutherford debate these topics and more!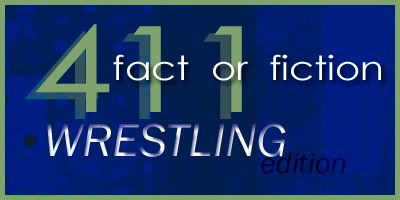 Welcome back to the latest edition of 411 Fact or Fiction, Wrestling Edition! Stuff happened, people loved/hated it and let everyone else know. I pick through the interesting/not so interesting tidbits and then make 411 staff members discuss them for your pleasure. Battling this week:

First, he does the live Raw report and Eminem's wingman, he is Mr. Tony Acero! His opponent has been around 411 for over nine years in various capacities and is an all around swell guy, he is Mr. Scott Rutherford! Lets get to work…


Questions were sent out Monday.


Participants were told to expect wrestling-related questions, possible statements on quantum physics and hydroponics.




1. If the Undertaker wants to face Daniel Bryan at WrestleMania, WWE should honor that request.




Scott Rutherford: FACT If the WWE is willing to let Undertaker only wrestle one match a year then they might as well let him pick and choose who to work with. Besides that, a couple of years ago UT was still working well in the ring but if reports of his injures are only half right, then UT needs someone that can work around him and still put on a great match. While Bryan is small, he is also an incredibly smart worker and most importantly he's a safe worker. You know UT is coming out of the match the same shape as he went in and that means UT comes back for another year. While I would love to see a UT/Brock Lesnar match-up, I could only imagine how beat up 'Taker would be. You work Bryan this year and you are still free to work John Cena next year and then you could see UT calling it a day.

Tony Acero: FICTION Don't get me wrong, I'd love to see it, but the way the statement is posed is to deliberately just hand Taker the match with Bryan. I think it's just a tad more complex than that. I wanted to put Fact because I think the match itself would be great, the story going into it could be potentially good, and the awesomeness of the idea is grand. But there is something missing that I don't think even the Wyatt storyline could culminate into something. We are about three months away, and that's a lot of time to make something happen, but I feel this is one of those newsbytes that was taken out of context or something. I don't know why I don't feel excited about the possibility of the match, maybe it's because there's no story. But back to the question of whether the WWE should honor the request and not so much whether I want to see it go down. I think that even with all the respect Taker is given, the WWE doesn't really have to honor his request so much as listen to his demands. If Taker is like, "I ain't comin back unless it's against Bryan," then sure, give in, but it just doesn't seem that way.

Score: 0 for 1




2. Even with two title changes in the last month, you aren't that interested in the current TNA X-Division.





Scott Rutherford: FACT The TNA X-Division is one of the saddest remnants of the old TNA. We all draw the same parallels between the WCW cruiserweight division and the X-Div and how it meant one really great and spectacular match ever card. Now it's a place where beyond green workers try to avoid killing themselves in worthless matches in a (likely) dying promotion. TNA would be smart to reinvent the division and make it a true second tier title that is wrestled under more hardcore type rules. At the very least it bring better workers back into the matches.

Tony Acero: FACT I'm not that interested in any division that TNA has to offer. I will be getting back on the train to watch a few episodes in a week or so, and I hope I can latch onto something while trying again, but I we will see. As for the X-Division, I hear it's a far cry from what it once was and doesn't seem to be heading back in that direction. My interest is nill simply because I don't watch TNA, and can only go off of what you people tell me. So, tell me...is the current X-Division interesting right now?

Score: 1 for 2




3. WWE is making the right move by airing Chris Benoit footage in the future, since they will run an advisory before the show including the footage.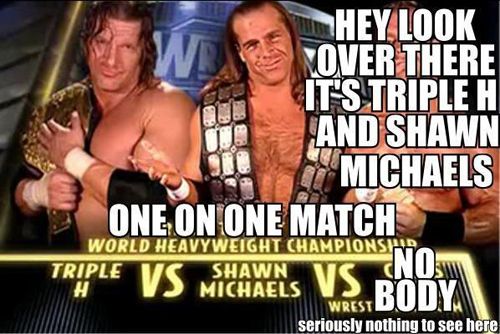 Scott Rutherford: FACT It had to come some day. Common sense tells us that it would happen and in truth I'm surprised the WWE took this long to change their stance. "Serious" news outlets interview everyone from OJ Simpson, to Charles Manson, to Mark David Chapman and all those in between and shamelessly promote these killers to draw bigger ratings in the hopes of selling more expensive ad time. There are those making movies and releasing books about the Benoit murders that will be hoping to make millions in profit off the story. Media glorifies killing and murderers for their own profit every day. The fact that the WWE has held out this long sticking to their "No Benoit" rule puts them ahead of almost every one else.

Tony Acero: FACT I really don't think that there is some large reasoning for this other than the sheer amount of time it would take to edit out all things Benoit from the product. A DVD or two here or there makes sense, but to basically redact the existence of an entire person in HOURS of footage over the course of the network's presence is just nonsensical. Monetarily, it doesn't make sense, and there is going to be times where the product that they are presenting will hinder their ability to minimize his presence. There's no high horse here, and there's no moral compass to be spun, it's simply a good business decision to not go through all of that work. After all, the network is made for fans who - although divided - don't really seem to care all that much.

Score: 2 for 3




4. With Batista's inclusion in this year's Royal Rumble, this is the most interesting the match has been in years.




Scott Rutherford: FICTION The Rumble match always has inbuilt intrigue because it directly shapes the next two PPV's after it. What Dave brings is star power and freshness to the main event. Word is he's hanging around for a couple of years so putting him into the main event slot at WrestleMania and winning the title is not the worst idea in the world. The Rumble match itself will always be OK since the match itself is what people want to see.

Tony Acero: FICTION Batista's return is a big deal, and I'm looking forward to seeing the big man again. But him being in this year's Rumble doesn't suddenly make the match the "most interesting" in years. It's the Royal Rumble, peeps, it's ALREADY interesting! With only one title shot on the line, it does make this Rumble a bit more important, but that has nothing to do with Batista being in it. So yes, it is a very interesting one, but no, not because of Batista.

Score: 3 for 4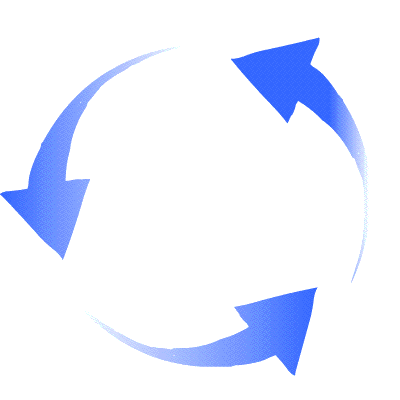 SWITCH!
5. With his TNA contract reportedly ending in eight months, and TNA looking to cut costs, Kurt Angle will leave TNA to work a part time schedule with WWE.


Tony Acero: FICTION I want to say fact, because I'd love Angle to come back to the E, and yeah TNA is cutting costs, but I don't think they'd go so far as to cut Angle...right? I'd hope that they had better sense than that. Angle has been with TNA for long enough to make him seem like an original there. I assume they would want to hold onto that. Angle can still go, and he's still such a bad ass. He's one of the guys where age isn't necessarily a factor, even if he is gettin up there. IF Kurt does leave, however, and takes a part time schedule with WWE, I wouldn't complain at all.

Scott Rutherford: FICTION Unless there's a sea change of their opinion of Kurt, the WWE currently files him in the "10-Foot Pole" category. When Kurt's contract was up last time the WWE showed exactly ZERO interest in him and now we are a half dozen serious injuries and a few more DUI's down the road, nothing is likely going to change that. Kurt is the proverbial time bomb and the more time between his employ with the WWE and when it goes off the better it is.

Score: 4 for 5




6. It would be "best for business" for Brock Lesnar to win the WWE World Title and, at least for a short time, work a more full time WWE schedule.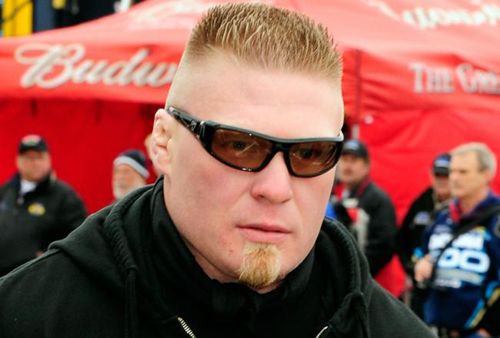 Tony Acero: FICTION I don't think it would be "best for business" but similar to previous questions, I don't think I'd be opposed to it. Brock just brings something to the ring aside from presence - even though he brings that in spades. The dude is huge, and the past few promos of Heyman have really brought upon the importance of the belt moreso than I think Orton or Cena have. With Brock winning it, I think he'll continue to do that and bring importance to the title. Aside from the belt, seeing Brock take a few more matches under his belt with others aside from the big names he's already fought, would be a lot of fun. As of now, he's a spectacle, and a special attraction. With the belt, he could still be that but also be a part of the roster that means a bit more and actually is worth the money they put into the guy.

Scott Rutherford: FACT Back in the year before last when I was writing "The Wrestling Sandwich" column, I said this very thing. The big money with Brock was everyone chasing him. First match in I would have put the title on him. Have him agree to wrestle once a month at PPV, have Paul Heyman do all the legwork on TV and have the story be that no one on the roster can beat the man. Work it up until WrestleMania, have Vince/HHH so desperate to get the title off him you bring in The Rock to get the job done. It's basic storytelling. Right now, Brock is just another guy since he's lost a few times. Putting the title on him is not a bad idea and booked right can still make money, but his aura has long vanished and so has the millions he could have made.

Score: 4 for 6




7. Considering how he has been booked over the last few years, Wade Barrett will not be with WWE at the start of 2015.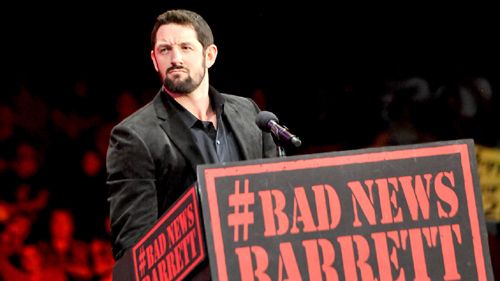 Tony Acero: FICTION Wade will be there, and he'll have another shitty gimmick to work with. Wade seems to me to be a mainstay who is always on the cusp of something badass. This Bad News Barrett thing even feels that way. Like, it appears cheesy and just another in a long list of bad ideas for Barrett, but there's something about it that may just catch on soon. He's got a delivery that just works, although I don't know how it will translate into anything aside from a dude on a podium talking shit.

Scott Rutherford: FICTION The WWE knows they have something with Barrett. He has a great look, charisma and is getting more than capable in the ring. The problem is he's been jobbed out so badly that people could give a fuck about him. The maddening thing is about a year ago WWE management knew they had a good prospect then all of a sudden it was jobsville and now a shitty gimmick. Nothing is a lost cause these days and there is still value in keeping him around. It's just in what form he's here is the question.

Score: 5 for 7




8. Jeff Jarrett trying to start a new wrestling promotion in 2014 is not a good idea.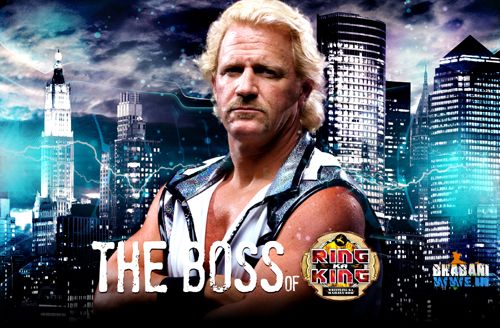 Tony Acero: FACT I mean, ok, it's not a HORRIBLE idea, but it certainly isn't a good one. Then again, it depends on his expectations. Is he trying to compete, or is he just trying to fill a void in his life with some wrasslin. If he's just trying to do the only thing he knows how to do, then more power to him. I don't know what the scope of his idea is, but it can't be too large because we've seen what happens. TNA happens. Then again, who am I to complain about more wrestling for us to whet our appetites with?

Scott Rutherford: FACT People don't care about wrestling much these days. It's as cold as the business has ever been and most everyone is sitting around waiting for the WWE to light the fire again. The problem is the WWE is making money right now and while I'm sure they would like to make more, they aren't going to change things too much while they still have John Cena. The best thing Jarrett could do is kiss and make-up with Vince and come in for a last heel run with Cena and then go down to run developmental. He's the perfect guy for it. Doubt we'll ever see it but it would be the best for everyone

Score: 6 for 8







Have you checked out the Csonka Podcasting Network? If you haven't, you should We run anywhere from 15-20 shows a month, discussing pro wrestling, the world of MMA, the NBA, general sports, popular TV series of the past, bad movies, battle rap, interviews, MMA & Wrestling conference calls and more! Around 10 different personalities take part in the various shows, which all have a different feel; so you'll likely find something you like. All of the broadcasts are free, so go ahead and give a show a try and share the link with your friends on the Twitter Machine and other social media outlets! Running since May of 2011, there are currently over 450 shows in the archive for you to listen to.



Larry Csonka is a Pisces and enjoys rolling at jiu jitsu class with Hotty McBrownbelt, cooking, long walks on the beach, Slingo and the occasional trip to Jack in the Box. He is married to a soulless ginger and has two beautiful daughters who are thankfully not soulless gingers; and is legally allowed to marry people in 35 states. He has been a wrestling fan since 1982 and has been writing for 411 since May 24th, 2004; contributing over 3,000 columns, TV reports and video reviews to the site.


Your heart is free. Have the courage to follow it…TO CSONKA'S TWITTER!

http://www.twitter.com/411wrestling
http://www.twitter.com/411moviestv
http://www.twitter.com/411music
http://www.twitter.com/411games
http://www.twitter.com/411mma
comments powered by