SPOTLIGHTS
Smart Marks 1.11.14: Blockbusters
Posted by Dino Zee on 01.11.2014

Let's take a look at Wrestling as Action Adventure, and discuss a forthcoming Lucha de Apuesta!

Hello again, and welcome back to another edition of 411's themeless column, Smart Marks! I'm Dino, and this is my vehicle to discuss whatever topics come to mind when I sit down to author the latest installment. Most times, I try to keep it current with the most recent of happenings in WWE and TNA, along with a bit of CMLL Lucha Libre thrown in! Other times, I might throw out an opinion on a larger topic altogether. I'd assume that by this point, my readers pretty much know what to expect when they click here. Honest opinion hoping to trigger discussion, and hopefully doing so without being a gigantic troll. A minor one, sure. But a gigantic one? Nah, I'm better than that. And so are you.

Last week I went after TNA for the ludicrous segment featuring Joseph Park, Ken Anderson, Bully Ray, and a Bic lighter. Even the most ardent of TNA Defender had to admit that the segment was, at its absolute best, pretty dumb. I also griped about Daniel Bryan completely betraying the very character they had spent the better part of 10 months building up (NOT the Weak Link) by having him give up after multiple assaults at the hands of the Wyatt Family.

After watching the latest Raw and Impact this week, I'm still not sure I like either. Give TNA credit, though- they're sticking with this Comically Angry Bully Ray character, even adding in the new wrinkle- he's a spectre of sorts, capable of disappearing from a room in mere seconds unnoticed! Jokes aside, I actually do like that they're giving Bully some creative freedom with the character, and while the little things that go with it aren't working for me personally, the overall idea of a man who has completely gone off the deep end is fine with me.

I'm still not too happy about Bryan's heel turn for the sake of a heel turn, though. Sure, his match on Monday was fun, showcasing a more brutal style not really seen by his WWE fans, but I was never worried that the turn would suddenly make him forget how to have the best match of the night, every night. I am worried that the fans may eventually get bored of waiting for him to finally climb the mountain, and by the time he does at WrestleMania, the reaction may not be as hot as it could have been. And to be sure, I've worried about a LOT of things in wrestling history that never happened. At the same time, I've been pretty on the money. I'm not calling it the end of the world, but I still think it was a poorly planned move, one done simply for shock, and even that didn't really register all that high.

Ah well... once he wins the Rumble, we'll be good.

This week, I wanted to touch on a theme that is much more prevalent (I feel) in TNA, but one that absolutely makes its way into WWE. So, let's get to it!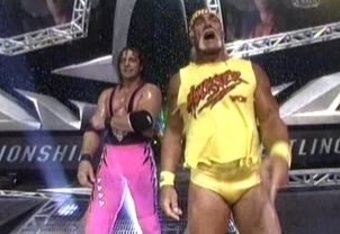 Action Adventure



Lately, TNA has felt much less like a professional wrestling television broadcast, and much more like a poor attempt at an action adventure movie. Background music during scenes, oddly filmed backstage segments where one cameraman is acknowledged while a second one is "hidden", the entire current Bully Ray angle, and even the AJ Styles vs. Magnus TNA Championship Unification match have all, to me, felt really odd, somewhat out of place (but not completely), and have me questioning what's going on.

Don't mistake this as me simply complaining, either. I'm actually just wondering aloud, Is this the new direction for wrestling to take? With WWE currently enjoying its so-called "Reality Era" that caters both to the mark and the internet fan in equal parts, perhaps not. But at the same time, WWE is the land of the TLC match, of Kane being a regular guy until he decides to put on his mask and then magically transform into a monster, and the overall hope to be recognized as "real entertainment".

To clarify- the AJ Styles / Magnus match, for those who didn't read the spoilers 8 weeks ago or tune into Impact, was basically AJ taking finisher after finisher from nearly the entire heel roster of TNA, and constantly kicking out. This wasn't a match with interference- it was, from the start, AJ Styles getting attacked, eating a finisher, Magnus covering, and AJ kicking out. AJ Styles. All 193 pounds of him, kicking out of moves designed to end a match. Yes, I'm a bit biased when it comes to the treatment AJ has historically received in TNA (you know, where he's allowed to beat absolutely everyone, regardless of how overmatched physically he may be), but this was absurd. A fun absurd, though.

That's another point- it's okay to be dumb. Or stupid. Or absurd. That's what makes wrestling fun. And while the AJ/Magnus match was really, really stupid, it was oddly fun to watch. The same goes for the interviews with elevator music, or Bully Ray and his magic Bic. No, it's not what I'm used to and yes, it does seem a bit weird right now. However, perhaps with some more practice, and some more tinkering, this direction of TNA can work out? We can't have Dixie Carter saying "I need to talk to someone" to the cameraman and close the door in his face, only for another "invisible" cameraman to be in said room. We just can't. There still needs to be some sense. As much as is allowed in wrestling, that is. We don't mind lapses in storyline nearly as much as lapses in editing and production, I'd say. I'd also say that we don't mind silliness, as long as it's not completely nonsensical. It's the same reason I'm okay with The Undertaker as his character has historically been presented, but furious about Kane suddenly deciding that he's actually a normal guy who may decide to be a monster again at some point. Undertaker always being a dead man? Great. Kane being a monster, sometimes, by choice? Umm, I'm not so sure about that.





A Star is a Star



We know that wrestling is usually likened to a "male soap opera" or some sort of "live action show" by its fans and its participants, so perhaps this direction TNA has been leaning towards makes actual sense. And while WWE doesn't have some of the sillier production additions that TNA has experimented with, it still has pyro, and features an extreme amount of dialog meant to move along storylines instead of relying on the matches and the endings of said matches to get from point A to point B.

WWE also likes to consider its very wrestlers as "larger than life" which immediately grants them a status along the usual action movie star. When you meet even someone like Justin Gabriel, you're still meeting a STAR. Not just a wrestler. Which is why WWE continuously attempts to make movie stars out of its wrestlers. It's almost completely opposite in approach than TNA, while still having the same end point: TNA treats its wrestling show like an action movie, while WWE puts its wrestlers into action movies.

I could most definitely do without the background music during interviews. It just doesn't feel right. It's the same thing with entrance music playing on run ins in that it serves to remind me that there's a ton of people helping to produce the show I'm watching, instead of allowing me to get lost in my escapist programming, pretending that the heel is gonna get his comeuppance at the hands of the faces.

It's why the current Reality Era of WWE has been so fun, as its allowed a mix of both. Triple H has for years been hated for his marriage to Stephanie McMahon, perceived burying of other superstars, and simply for using his pull to get what he wants. So, now he's on screen doing the same thing. Daniel Bryan is a long time internet sensation with a diehard fanbase that won't be silenced. So he's made into the guy that Triple H goes out of his way to screw over. With the help of Golden Boy Randy Orton, no less! It's the perfect script, and I really feel that if we could merge WWE's storytelling with TNA's new production tricks (tweaked, obviously), we may be onto something new.

While I hated the match as a professional wrestling exhibition, there WAS something really cool about the Magnus/AJ match. It was crazy to see AJ constantly kicking out. To see all the shenanigans, with multiple referee switches, and all this added drama was really something to behold. It was like everyone actually gave a damn about the outcome. It's not often that the entire roster is enveloped into a World Title Feud, but TNA pulled it off. James Storm, Gunner, Bad Influence, Bobby Roode, Kurt Angle, Joseph Park, Eric Young, ODB, The BroMans, Rockstar Spud, ECIII, Dixie Carter, Earl Hebner, Brian Hebner, and friggin Stifler all figured into the overall angle for this match. And, I dug it. I dug seeing Sting give a crap about whether or not AJ kept his belt, even if he really has nothing to gain or lose from it. Whereas in WWE, people only care about the gold if they want it, TNA managed to make everyone figure into the main event, whether it was directly or indirectly. This type of storyline intermingling may very well be something TNA needs to get it going.

Or they'll give up on it in three weeks. Who knows? I wouldn't mind to see the presentation of pro wrestling switched up a bit, and if making it something like a movie in the middle of the show is the way to do it, well, count me in.

What do you guys think? Like TNA's latest tricks? How about WWE's Reality Era and attempt at creating movie stars? Hit me up, down below in the comments!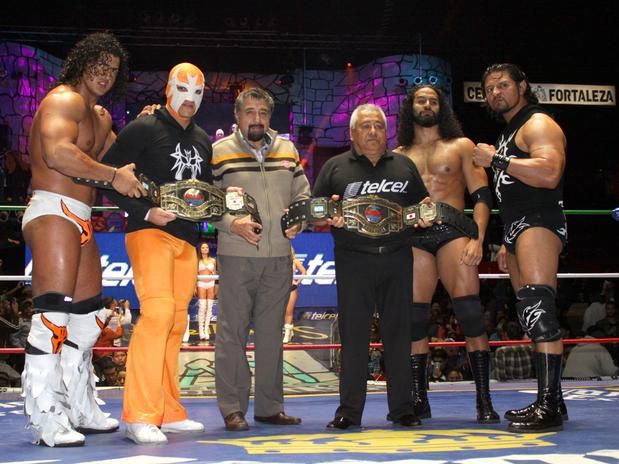 Lucha de Apuesta



So, down in CMLL, this past week saw the challenge of a LUCHA DE APUESTA! For the uninitiated, this is a Mask vs. Mask match, and boy am I stoked for this!

Rudos Dragon Rojo and Niebla Roja will be going at it, and this feud got started off properly a few weeks back, and then in a six man tag match, Niebla Roja removed Dragon's mask and assaulted him further. After some trash talking on the mic, Dragon challenged Niebla to a one on one match, which NIebla accepted.

This past week (aired, not live), Dragon beat Niebla in a 2 out of 3 falls "mano a mano" match, ending it in the third fall with a slingshot sitout powerbomb. After the match, he removed the mask of Niebla, and taunted him further on the mic, laying out the challenge for the Lucha de Apuesta.

While I'm more than familiar with the match, and the history of the Lucha de Apuesta, this is the first one I've seen organically come together. A rudo vs rudo feud is always a good time, and the ruods in CMLL seem to be in chaos, with quite a few factions having beef with each other currently. But watching Niebla attack and embarrass Dragon, and then having that escalate to a regular match, followed by *that* escalating to this, has been really neat for me just as a fan.

Personally, I'm rooting for Dragon Rojo to keep his mask, but I don't exactly hate Niebla Roja. I just really can't wait to see it all come together, and am very excited for my first chance to watch a luchador lose his mask without the help of YouTube!

If you have CMLL programming in your area, I strongly urge you to pay attention this week and next, as the Lucha de Apuesta is sure to be airing soon! And as always, if any CMLL fans have extra information they'd like to add to this feud, please do down in the comments!

That should do it for this week. I hope you all have a wonderful weekend, and enjoy your WWE, your TNA, your Lucha, your Puro, and your Indies.


comments powered by