SPOTLIGHTS
The 8-Ball 1.13.14: Top 8 WWE Network Ramifications
Posted by Mike Hammerlock on 01.13.2014

From wrestlers becoming celebrities a la the Rock and gimmicks sticking with talent longer to TV becoming more PPV-like, a new focus on history and more, 411's Mike Hammerlock counts down the top 8 potential WWE Network ramifications!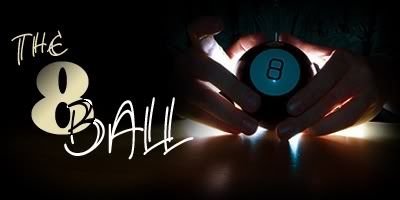 To hear WWE officials tell the story, the new WWE Network is going to align the planets and bring them into universal harmony, allowing meaningful contact with all forms of life, from extraterrestrials to common household pets. While it won't be quite that momentous, it does look like a most excellent way to put the WWE in front of more eyeballs and make lots of money while doing it. And if you change the way millions of people observe your product, it's going change the product itself. You don't airlift a whole new network into the mix and nothing else changes.

Eventually it's going to lead to a whole new kayfabe. Wrestlers are now going to be establishing their characters and building their matches across multiple types of programming. Whatever you want to call the era we've been in recently, the debut of the WWE Network will be the definitive line in where it ends and a new one starts. So what's going to be different? That's what the Magic 8-Ball is for. Get ready for a weird, new world.





8. The end of fake couples

One of the go-to gimmicks in pro wrestling is to put an up-and-coming guy together with a hot chick in order to help get him over. The idea is the guy must be an alpha male because he's bagged that hot chick. Sometimes there is an actual romantic interest between the two. Sometimes one develops. More often it's just an act. What? Kelly Kelly and Mike Knox weren't really an item? You can do this when few people know much about your personal life, but with the advent of Total Divas and now the WWE Network (not to mention social media), the private lives of pro wrestlers are getting outed live never before. The E needs to recognize these personal details are now out there for mass consumption.

For instance, it's hard to run a gimmick where Jinder Mahal has won the affections of Naomi when everyone knows she's in-Fatu-ated with Jimmy Uso. Reality television already has rescued Natalya from the unsavory fate of being Khali's kayfabe love interest, or maybe she was holding his hand so he didn't get lost on his way to the ring (in a less PC world, the Khali-Natalya-Hornswoggle-Santino faction would have been known as Short Bus). So this isn't a bad thing. There's just going to need to be some reality behind the love interest angle. Think Lita, Edge and Matt Hardy. Or maybe they could run a program where a female valet keeps screwing over her real-life boyfriend in favor of her on-screen partner. "Baby, what happens in the ring stays in the ring."





7. Outside influence



Networks buy shows from production companies. Not everything gets made in-house. Much as WWE might believe it can conceive and produce a 24/7/365 network all by itself, sooner or later it will have to recognize other people have good ideas too. At some point, if you can put together something compelling and original, the WWE might buy it. They're going to give scripted dramas and comedies a try at some point. I mean, after seeing Kevin Nash in Almighty Thor with Richard Grieco, who doesn't want to see the WWE try its hand at sword and sorcery? The Asylum and WWE teamed together could produce the schlockiest movies ever made. And they'll probably give some off-label wrestling a try. For instance, a daredevil division where every week you take a small group of high flyers and have them put on a show in a public place: modern playgrounds with spongy landing pads, meat processing plants, Chinatown. The door is open for someone to do the X Games of wrestling. Somebody is going to push the boundaries and progress the sport. The WWE Network probably won't build it, but it might buy the rights to air it. Or maybe combine a foreign wrestling broadcast with MST3K-level running commentary. How could the WWE Network say no?





6. Love thy gimmick



I've got some bad news for Wade Barrett. With all the eyes that are going to be on the WWE product once the new network gets rolling, it's going to become harder to hide from your last dopey gimmick. This actually has more ramifications for NXT. It's going to be getting a much brighter spotlight, making it tougher for a Husky Harris to go down and reinvent himself as Bray Wyatt. Vestiges of who you are in NXT (or wherever you debut in the WWE universe) may stick with you forever. That's a lot of pressure. Repackaging is going to take more time and effort when you have nowhere to hide. We may see more guys get generic debuts - smile if you're a face, frown if you're a heel - and develop gimmicks/personality over time. Big E has done that. The Shield has been a testament to simplicity. Those guys have a wide open range of possibilities in front of them. Curtis Jonathan Hussey will be Fandangoing forever. The upside of people seeing a lot of you is the money and recognition that comes with it, but typecasting is a very real thing. NXT wrestlers could become the new child actors. Beware the fate of Corey Haim.





5. Celebrity problems



If you're like me, you bristle whenever someone calls pro wrestlers "entertainers" or "superstars," but when millions watch you every week on television and they've built an entire network around what you do, then you are pretty much a celebrity. We can argue which list WWE talents are on (e.g. C-list, D-list), but they're likely moving up the scale after the dawn of the network. There's going to be no shortage of wrestlers who decide to parlay a strong WWE ring/network run into a more comfortable celebrity career. There's also going to be a few folks who go full diva like Warrior Warrior, obsessed with their "brand" like they were a cereal company or a porn star. Point is, more WWE wrestlers are going to follow in the steps of Roddy Piper, the Rock and Stacy Kiebler. Keeping the top folks around is going to cost money and we may see the emergence of a system where NXT needs to churn out talent to replace the marquee players leaving for cushier jobs. On the flipside, we may also see an influx of wannabe action stars turning to wrestling as a way to burnish their tough guy/girl credentials. If Batista jumps to the A-list thanks to Guardians of the Galaxy and his WWE return, then it's only going to crank up the Hollywood effect.





4. Every episode is a PPV



After the WWE Network launches, the next shoe that drops will be the broadcast rights for Raw and Smackdown, which should be as valuable as sports broadcasting deals. The Philadelphia Phillies just signed a 25-year, $2.5 billion deal for their local broadcast rights. The WWE really ought to be more valuable than a baseball franchise that plays in a football town. The WWE no longer is going to be a PPV-driven business. It's still going to run 12 big events, but the bulk of its money will flow via other streams. The effect is the E will be putting on the equivalent of 116 PPVs a year. Raw and Smackdown might even be more valuable properties than the PPVs. First, Smackdown should go live. Sounds like that's in the works. Second, they need to use the WWE Network to help sell fans on watching the next episode of Raw/Smackdown. Hurry home early, hurry on on home, Damien Sandow's fighting Rey Mysterio.

It opens the door to work a larger number of guys into main events. There's no reason why the Rhodes Brothers can't cap a show with a tag title defense. Most of all, it means Raw and Smackdown aren't a means to an end, they're an end in themselves. Every show needs hot in-ring action, making guys who can whip out a *** match on a moment's notice like Christian and Dolph Ziggler super valuable. To the E's credit, the quality of the action on both Raw and Smackdown during the past year has been great. In fact, the weekly shows have been better than the PPVs. While that's a problem when you just paid $60 for a PPV, it's also a very cool thing for the millions ... and millions ... who watch the flagship programs. The standard of wrestling is rising. People are being conditioned to expect a steady diet of good-to-great matches.





3. History matters



If you're going to put older wrestling shows/PPVs on the air plus make them available on demand, then you can't pretend it didn't happen. The tape libraries and historical reach of the WWE Network are going to be major selling points. The major plot lines in WWE history are going to be known by a larger chunk of the audience. Is there any doubt they'll produce historical looks back on things like Summer of Punk and Punk's 434-day reign? If so, then you shouldn't just willy-nilly throw Punk and John Cena into a 6-man tag match against the Shield. At the very least it should be tense between them. Booking in this business often deploys convenient historical amnesia, but that needs to get dialed way back. The WWE needs to Russo-proof the product. Those who don't know history are doomed to confuse their audience.





2. Iconic moments will be more iconic



One of the problems wrestling has had during the pay-per-view era is a fairly small group of people have watched it's major moments. 500,000 buys is a large PPV audience, but it's a terrible number in terms of television ratings. If 500,000 is your viewership, even for a cable network show, you're cancelled the next day. If a show had only 179,000 viewers (like Survivor Series), the network might stop it mid-broadcast and air the public execution of the head of programming. Boxing has had this problem too. Supposedly huge fights aren't big cultural phenomenons. Floyd Mayweather vs. Canelo Alvarez set a record with 2.48 million PPV buys. An estimated 700 million people saw the Thrilla in Manila back in 1975. In four decades we've gone from Muhammad Ali being the most recognized person in the world to boxing being a niche sport.

The price of pay-per-view is you trade audience for cash. The money's good, but you matter less. If the WWE Network delivers on its potential, it could push big event viewership into the tens of millions (not immediately, but within a few years). Randy Orton had three huge moments in 2013 - his Money in the Bank win, his briefcase cash-in at Summer Slam and his title unification win at TLC. Significantly more people saw the Jinder Mahal vs. Great Khali snake charmer battle than all three of Orton's big moments combined. The WWE Network is going to put the promotion's PPV highlights into the Monday morning water cooler circuit (like the Travis Pastrana double backflip above). More people are going to watch Wrestlemania XXX than any Wrestlemania before it and the numbers will only rise from there. As that happens, the WWE's cultural impact will grow by leaps and bounds.





1. The medium is the ring



Every time the camera is rolling, the talent is putting over themselves and their matches. The business has expanded miles beyond matches and promos. The biggest stars in the industry are going to be the ones who maximize every ounce of exposure. Steve Austin got that back in the day and that's why we got Austin 3:16. The WWE Network is a giant spotlight for the company's workers. Do something with it. Stand out. Show some character. It means we're partially beyond good and evil, and this might have been what Vince McMahon meant when recent reports had him proclaiming there were no more faces and heels. It doesn't mean there won't be faces and heels, but your character has to register beyond good guy/bad guy binary. The WWE needs wrestlers people want to watch. It's got 8,760 hours a year of WWE Network to program on top of 312 hours of Raw, Smackdown and Main Event. It can't tell just one story over and over and over again. Every ounce of air time you get, you're competing for hearts, minds, eyeballs and relevance. The Usos seem to be figuring that out. They're working it in the ring, during every entrance and on Total Divas. On Friday Jimmy Uso laid down a pretty sweet promo, making the case that he and his brother are a whole lot more than props in tonight's clash vs. Daniel Bryan and Bray Wyatt. To borrow from the above video. If you want to be a player, always be playing.

I take requests.. The purpose of this column is to look forward. What could be? What should be? What is and what should never be? What would make more sense? If there's someone or something you think should be given the 8-Ball treatment, mention it in the comments section. I might pick it up for future weeks.
comments powered by