SPOTLIGHTS
Wrestling's 4Rs 1.20.14: Smackdown, Impact & EVOLVE on iPPV Reviewed
Posted by Larry Csonka on 01.20.2014

Kane delivered a special message for CM Punk, the New Age Outlaws battled the Rhodes Brothers and more! Wrestling's 4Rs breaks down the Right, the wRong and the Ridiculous of Smackdown, Impact and EVOLVE!


How the 4Rs of wRestling Work!
Here is a quick explanation of the 4R's. The column will run TWO times a week. We will group our feelings on the shows in various categories: The Right, the wRong and the Ridiculous. The Right is stuff that worked very well: a great promo, a great match and so on. PuRgatoRy is a section between the right and wrong. It shows equal traits from both sides that cannot be ignored and needs discussed. It is not a bad place per say, as things can get remedied or go the wrong way the very next week. The wRong is what it sounds like: bad matches, bad or boring promos and so on. The Ridiculous is stuff that had no right on TV: Stupid angles and so on. And there is always a possibility of a 5th R, which is as bad as they come. This column is supposed to be analytical, and at the right time very critical of the shows, it was the whole reason it was created. This is not a "mark" column, nor a "smark" column, our goal is to analyze the show from many different fronts, reward the good and call out the bad. We will not apologize for our opinions, they are as they are, whether positive or negative.
---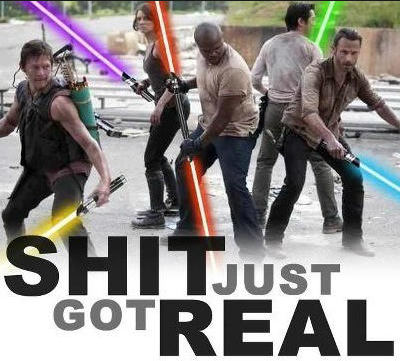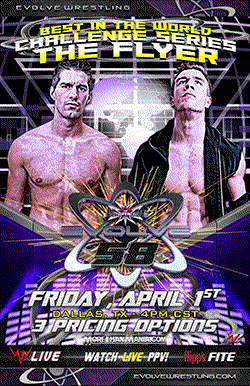 EVOLVE 25
By: Larry Csonka
Trent Batetta defeated Anthony Nese [***¾]

Uhaa Nation won a FRAY! To earn a title shot [***]

Ricochet defeated Chris Hero [***½]

Rich Swann and the Young Bucks defeated Johnny Gargano and the Bravado Brothers [***¾]

AR Fox defeated Davey Richards [***]

EVOLVE 25 was a good show for the company to kick off 2014 with. I liked the change, going with a five-match format, but giving the guys time. It felt different, and especially on triple shot weekend, can be something they could do more often. The new HD Cameras make a big difference in presentation, and WWNLive should be commended on the change. I felt that the event was a good show to kick off the weekend, with the main event lacking in my opinion. Davey Richards can be hit or miss, and for this performance was a miss here; I felt that the main event lacked flow. Add in the fact that Fox forgot to sell the leg down the stretch and this felt more like a mid-card match. I liked Uhaa Nation winning the FRAY to get a title shot, he has improved a lot over the last year, thanks to touring with Dragon Gate Proper. The usual suspects of Gargano, Baretta, Young Bucks, Swann, Ricochet, Nese and Bravados all delivered good performances and make the company worth following and checking out.

FINAL SCORE: 7.4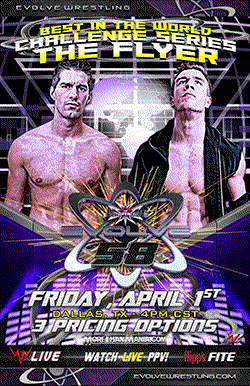 EVOLVE 26
By: Larry Csonka
Mia Yim defeated Su Yung [**]

Lince Dorado defeated Caleb Konely [**¾]

Chuck Taylor defeated Maxwell Chicago [**]

The Bravado Brothers defeated Los Ben Dejos [***¼]

Ricochet defeated Trent Baretta [****]

AR Fox and Uhaa Nation defeated Johnny Gargano and Jon Davis [***½]

Chris Hero defeated Anthony Nese [***¾]

The Young Bucks defeated Rich Swann and Chuck Taylor [***½]

EVOLVE 25 was a good way to kick off the weekend, and I felt like EVOLVE 26 kept that momentum going and this show was even better. The first half of the card was fine, nothing special, but a nice mix with the SHINE Showcase, the comedy match, and the Dorado vs. Konley and Bravados vs. Ben Dejos matches. After intermission was all money with, once again, Trent Baretta being an unsung hero for the WWNLive Universe. I've only been saying it for months, and people are now just catching on. The second half was really good, with the only knock being that the main event was, again, not the climax of the show. I know that it doesn't always work out that way, and it wasn't bad at all, but it feel deflating, especially after watching Ricochet vs. Trent Baretta. Another good show, which I felt built off of the first, and set the stage for the next.

FINAL SCORE: 7.6
Impact 1.16.14:
By: Irfan Alam
QUICK MATCH RESULTS:
Samoa Joe, Eric Young, Joseph Park, ODB, James Storm, and Gunner def. Daniels, Kaz, Robbie E, Jesse, Zema Ion and Lei'D Tapa at 7:00 via submission(by Joe on Daniels).

Bully Ray def. Mr. Anderson 3 at 10:00 by pinfall in a NO DQ match

Madison Rayne def. Gail Kim at 4:00 by pinfall to become the new TNA Knockouts Champion

Ethan Carter III def. Sting at 5:00 by pinfall



THE RIGHT:
Bully Ray vs Anderson: Anderson attacks Bully on the entrance ramp and attempted a mic check right there to start the match. They brawl a bit before getting to the ring, and it doesn't take long until weapons come into play. There were chair battles, steel chain and guardrail spots, and a very cool Green Bay Plunge onto a slanted table. In the end, Bully takes out the lighter fluid and tells Anderson that this is for his wife and two bastard children, while Anderson instantly shows some recovery and hits a mic check. But instead of pinning Bully, Anderson now pours down the entire lighter fluid on a table and as he teases with the lighter, Bully low blows him from behind and immediately hits a piledriver for the win.

This was a basic hardcore match. There was no blood, but these two worked a very intense style, which never made the match dull. Fire was teased again, but I don't think a fire spot should be expected on free TV. Besides, Bully had said last week that he could have set Anderson on fire before, but he didn't as that would have been too forgiving. So, from a storyline point of view, the lighter fluid is just a psychological tool of Bully and he won't necessarily use it unless absolutely necessary. I'm guessing this feud will continue till Lockdown where a fire spot should finally occur. The build-up till then should help in the evolution of Bully's new character and I am certainly looking forward to it.

"Thank you, and it's Samuel." : Pat Kenny is shown backstage, telling a cameraman to shoot anything he sees. More push for the reality era, I guess. Anyway, he then sees Samuel Shaw walking by and stops him to compliment about his intensity and submission. Samuel is keeping an intense look throughout, as he shakes Pat's hand and starts going. Pat then makes a remark about Shaw staring Christie, and that she is a pretty woman but he should worry about his opponents. This snaps Shaw, who then attacks Pat violently. The facial expressions of Shaw were perfect in this one, which makes this psychopath character much more entertaining. This was a short segment, which did its job of character development well. I hope Christy sees Shaw's psychotic actions on TV and asks him about it, as that would be perfect in the reality era that TNA is pushing lately. Whichever way this goes, it's intriguing at the moment.

Angle is unstable, but will do what's right: Kurt Angle is shown in two backstage segments where he is furious at Al Snow driving him away last week for a family emergency which never was. He finds Al Snow, who just says that he has a family to feed when asked about who told him to do that. Kurt then comes out to the ring to get answers from Dixie. The commentators say that it's an unwritten rule in this business to never mess with a guy's family, which really sets up the intense promo that follows. Dixie explains that she faked an emergency with his family because she cares about Kurt. She says that TNA is not the same as it was when Kurt arrived 7 years ago, and things are changing around here. She says that Kurt is not smart enough to make the right decision and would have injured himself had she not sent him away from the building. She doesn't want Kurt to end up like AJ Styles or Jeff Hardy, and so she protected Kurt from himself as that was the best for him and for her team(TNA). Kurt despises Dixie for how she screwed AJ and intends to be in Sting's corner against EC3, after his match with Roode. Dixie says that Kurt looks to be unstable tonight and she can't put him in a match in that condition and postpones the match till next week. She also warns Angle that if anyone decides to interfere in the Sting/EC3 match, then there will be consequences that may cost a job. Angle says that this is way beyond his job, and asks her to fire him now if she wants to as he'll only do what's right. Dixie asks for security saying that Kurt is unstable, as Roode attacks him from behind, and hits him with the Roode bomb. Security then escort Angle out of the building to end the segment. The promo was entertaining, and helped progress Dixie's character when she said that she wanted to protect Angle so that he keeps making money for her. Dixie's character spoofs her IWC image of a silly, wealthy girl who marks out for popular wrestlers. That is why she is again considering to re-new Sting's contract(as mentioned by Magnus in the show-ending promo) and wanted Jeff Hardy to align with her earlier. Kurt showed his resilience, while Roode's attack was well done. Overall, this segment served its purpose. I'm just hoping they don't ruin the cage match next week with needless Dixieland interference.


puRgatoRy:
Velvet wants to be with someone who can stand up for her: Velvet Sky is shown backstage, talking with Austin Aries, who bails out when he sees Sabin coming there. Sabin takes Velvet to the ring as he wants to talk in front of the whole world. Sabin is frustrated with Velvet's "selfishness". Aries comes out and calls Sabin the worst boyfriend that ever lived, and tries to persuade Velvet to be herself. Velvet seems flattered by Aries. Aries says that Sabin can't beat him on his own, and proposes an X-Division title match for next week, with Velvet in a cage at ringside. Sky says that she wants a man who can support her and stand up for her, not blame her like Sabin has been doing recently. She agrees to go inside the cage to really test her boy. And if Sabin can't beat Aries, she may have to find someone else to spend her time with. The performance of Aries was good in both the backstage and in-ring segments. The promo was very cheesy and so is the stipulation for next week. However it was still entertaining, and should result in a good match-up next week. That will be their third meeting in 6 weeks(they met on two alternate Thursdays, each resulting in a title change), and they have at least tried to build this one. It's just that the build-up could have taken a less-cheesy path, but we'll see how it progresses before calling this a failure.


THE wRong:
Madison becomes the new champion: JB was interviewing Madison Rayne when she says that she has been waiting for well over an year to get her hands on (supposedly Gail) as Lei'D Tapa interrupts her, making way for Gail to attack from behind. Madison comes out for the match in a semi-injured state to sell the backstage attack. Midway through the match, the referee sees Tapa attacking Rayne and bans her from ringside. But the attack allows Gail to apply her signature figure-four leglock on the ring post, which she had to break before the ref's 5 count. Rayne however manages to overcome the pain and wins within the next minute. Not only did the match end too prematurely (Rayne should have sold her legs more), the title change also happened too soon. Firstly, Rayne had left TNA due to maternity while she was a heel and on Gail's side, and there really should be no reason for her to say that she has waited to get her hands on Gail for 1 year. This kind of animosity should be built gradually and giving Gail the victory tonight after Tapa's interference would have served that purpose well. There was no need to give Rayne the title now without even a proper feud with the champion.


THE RIDICULOUS:
Opening segment and 12-man tag: We open with Rockstar Spud in the ring while the crowd isn't letting him speak among the boos and "you suck" chants. He says that tonight he presents the most monumentous night in all of professional wrestling. He then taunts the crowd by saying that he is doing them a favor as nothing monumental ever happens in Huntsville, Alabama. This statement was symbolic of the new regime in my opinion, as they don't acknowledge the accomplishments of TNA so far, which began at this very place, but instead tout tonight as the new beginning, the beginning of "Dixie Carter's TNA". Dixie Carter and Magnus soon come down, exchanging praises of each other, and threatening anyone who tries to go above the law(Dixie). Magnus presents one of his two world titles to Dixie as she is a champion to everyone in the industry. Dixie then brings out all of the heel midcard (sans EC3) to the ring who helped them last week, and says they all will get benefits in their next paychecks. She is especially appreciative of Roode. She then brings out EC3 saying that he has to take out Sting tonight so that they stand tall as a company on this genesis of "Dixie Carter's TNA".

Lights soon go out, and we are greeted by Sting in the crowd. Sting cuts a very energetic promo while coming down the arena stairs. He mocks both Dixie and Magnus. He says that they took Magnus into the Main Event Mafia because they saw him as the future, but he sold out. He says that this is not a house united, but a house divided, something which cannot stand, and so they have to do something before it topples down. He says "we" will fight tonight. The faces who were taken out last week appear on the ramp as we head towards a chaotic brawl, marred by another commercial. After the commercial, several brawlers were conspicuously absent(so that we can eventually have a tag match without wrestlers having to do 2 matches for the night). Joe says that they came here for a fight and won't leave until they get one. A furious Spud gives him his wish, as we get a 12-man(ODB and Lei'D Tapa being counted as men, yes I also didn't notice until the commentators mentioned that, j/k) tag match right then.

Most of the tag match was a random brawl, with some consecutive finisher sequences from opposing teams alternately. Towards the end, we get a bleeding Joseph Park-Abyss transformation who takes out almost all of the heel team. Joe finishes Daniels off with a submission to end the match.

The opening promo-match took much more than half an hour of Showtime, along with many commercial breaks. Sting was very good in his promo and the crowd was really behind him. But devoting so much time for this in a special themed show was beyond ridiculous. In fact, even in a regular show, this would have been overkill. We got a 12-man tag match, with hardly any time per wrestler, and it looked too rushed despite us having already wasted one-third of the show for it. This blends into my next point.

"There's so much going on that we have to spread it over two weeks", except nothing is actually going on: The commentators repeatedly said the above line throughout the show, which made the viewers think just what "so much" was going on that prevented them from having all matches tonight. And the answer is that nothing was happening. They wasted one-third of the show to set-up a pointless and rushed multi-man match, and then waste more Showtime to set-up matches for next week, instead of focusing on tonight like a PPV show(which these themed Impacts are hyped to be: "free Paves"). They need to either go 3 hours for these special Impacts, or cut the crap. I would prefer the latter.

Suspension of disbelief is not enough for the new investor storyline: Dixie is shown backstage with The Wolves. She is impressed with her videos on the internet, and is willing to give them a tryout match next week, and may even think about contracts after that. The Wolves say that they have already signed their TNA contracts in the morning. Dixie is surprised at this and asks who countersigned those contracts. They give her an envelope saying that this should clear things up, and leave the room leaving Dixie perplexed, as she finds that a new TNA investor has signed them. She calls someone on her phone as we cut away from her office.

There were several problems in this 1-minute long segment. Firstly, those who don't follow any indie wrestling don't even know who The Wolves are, but they are still supposed to believe that they are sort of big. It must be confusing for most of the casual viewers. Secondly, we all know that Dixie's new character is a little goofy, but she is still the owner of the company and it shouldn't be possible for someone to gain as much stock in her company as to be able to hand out contracts, without her even noticing about it. Sorry TNA, but this was an epic fail, and it spits right on the face of the reality era before it even starts properly. I don't even know how to fix this logically.

Was that the main-event of a special Impact show?: The less said about the main event, the better. Rockstar Spud was the special referee as Dixie didn't allow Earl Hebner to officiate in it due to his actions last week. We get an average 3-4 minute match marred with Spud's interferences. Spud jumps on Sting's back to break a Scorpion Deathlock, but Sting manages to overcome and hits the Scorpion Deathdrop on EC3. Spud won't count, and as Sting forcefully uses Spud's hand to count, Magnus breaks it up, reveals a ref shirt under his regular shirt, and makes a super quick 3-count after a EC3 roll-up to finish the match.

After the match Sting grabs a mic and wants to fight Magnus and says that he'll do anything to get that fight. He chose Magnus to be in the MEM, but he paid Sting back by spitting in his face. He has disgraced AJ Styles, Jeff Hardy, the belt, the fans and the entire business. He calls Magnus a cancer that needs to be cut out, which can only happen in only one way(as I have flashbacks of Sting calling Jarrett the cancer way back in 2006). He demands a world title shot. Magnus reminds Sting that he can't get any more title shots after his loss at Slammiversary last year, and besides, Magnus doesn't owe anything to Sting. Sting tries to play mind games with Magnus. At one point, he says "a man is a champion, a champion is a man and boys wear belts". Magnus says he is not going to fall for Sting's reverse psychology tactics, but he instead proposes a deal to Sting. He says that despite his objections, Dixie is considering to extend Sting's contract again. Magnus proposes a world-title match in which if he wins, he gets to tear that contract up, meaning Sting will be done in TNA. Sting says "let's gamble" as accepts the stipulation. Magnus says he can't wait to tear up Sting's life and legacy along with that contract, as we close the show.

Despite the super-interferences last week in the AJ/Magnus "match", that was still very enjoyable, while this Sting/EC3 main event didn't deserve to be anywhere near the main-event of a Genesis show. For that fact only, this comes under the Ridiculous this week. The after-match promo of Sting was good though, but that's about it.



The 411:


This week's show had been hyped all over the internet as a new beginning for TNA. New faces were promised but never delivered outside of a 1-minute long backstage segment, which must have left most non-indie fans scratching their heads. There were pointlessly long segments that achieved almost nothing compared to the time spent on them. Yet they had to split the Genesis matches over two weeks in order to accommodate those segments. There was also a forgettable title change and a joke disguised as main event. All in all, the much built-up Genesis show was used to build up "Genesis Part 2" for next week, which at least looks much better in terms of match lineup. This also exposes some lack of planning on TNA's part, as they could have set Sabin/Aries on last week's show(where no X-Division appeared) so that we don't have to sit through matchmaking promos on a show being touted as a free PPV. Although there was one good match between Bully Ray and Anderson, the show was simply bad most of the time. As a die-hard TNA fan, it pains me to rate this so low and hope that I'll never have to rate an Impact show that low again.


Show Rating: 3.2

As a reminder, I will be going by the 411 scale…

0 - 0.9: Torture
1 - 1.9: Extremely Horrendous
2 - 2.9: Very Bad
3 - 3.9: Bad
4 - 4.9: Poor
5 - 5.9: Not So Good
6 - 6.9: Average
7 - 7.9: Good
8 - 8.9:Very Good
9 - 9.9: Amazing
10: Virtually Perfect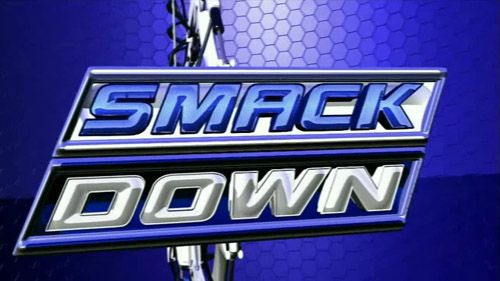 Smackdown 1.7.14
By: Daniel Clark
QUICK MATCH RESULTS:
The New Age Outlaws def. The Rhodes Brothers at 4.29 by pinfall

Rey Mysterio def. Alberto Del Rio at 8.51 by pinfall

Naomi def. Tamina Snuka at 2.34 by pinfall

Big E Langston def. Fandango at 4.11 by pinfall

The Usos def. The Real Americans at 9.07 by pinfall


THE RIGHT:
Mae Young Tribute: Something that the WWE get right and tend to do very well with the tribute to Mae Young at the start of the show, and then the video package tribute to her during the show. Very respectfully produced and got across her career highlights.

The New Age Outlaws vs. The Rhodes Brothers: Some good continuity here with the match and the New Age Outlaws being put straight into a match with the tag champions by the authority given that the Rhodes Brothers have had their own issues with the Authority and therefore you can imagine them wanting to get the tag team titles off of them, and this looks to be setting up a match between the two teams at the Royal Rumble. Match itself wasn't the best, but that is partly due to it being limited in time and the interruption from Vikki Guerrero in the middle of the match was a novel way of using someone as a distraction, and in doing so, protects the Rhodes Brothers as they lose the match, but it wasn't due to the match itself but an outside agent. Would expect these two teams to put on something better than this at the Rumble, but for setting up the match, there was nothing wrong with the way they have got there.

Bray Wyatt's promo: For one of the first times since he debuted, Bray Wyatt cut a fantastic promo. A lot of the work he had been doing was good, but this was the step up that he needed to make and was on the level of the promos and character work that got people's attention on NXT. The delivery of the promo was excellent and you could believe what he was saying, but he comes across just crazy enough. It also helped to explain some of the stuff as to why Bray Wyatt is the way that he is, with him being betrayed by a father who never believed in him, and although he was cast out to be amongst the likes of us, he knew he was destined from greater things, and the relationship between him and sister Abigail was touched on again, with Bray explaining that he was enthralled by her beauty and obsessed by her power. And the closing line that Daniel Bryan will burn with the saints was a great way to end the promo. Just to touch on it quickly, but Bryan leaving and turning on the Wyatt family was probably the right thing to do, even if it happened too quickly, just because the fans were not really buying Bryan being a heel and just wanted to cheer him, so rushing the turn has to be the right call as when the audience is so opposed to it, Bryan as part of the Wyatt Family was not going to work. It keeps the feud with Bryan going and gives more depth to the back story of Wyatt and his inception as a cult leader.


Batista video: Again, the video demonstrated the threat of Batista and what he is about, and just in case you had forgotten, reminds you that he will be returning on Raw so that the fans have no excuse not to know about it, and can also promote it to casual fans who may want to see Batista again.

The Usos vs. The Real Americans: Good continuity from Raw, with the Usos being taped up from the beating that they suffered in their matches with the Wyatt Family, and Zeb Colter being in a wheelchair following him being knocked out by the Big Show. The match itself was the match of the night, with the Real Americans working over Jimmy Uso well, with them using good in-ring psychology to target his injuries and not allowing Jay into the match at all. And there was a very hot finish to the match which worked well, with Jimmy breaking up the ankle lock with a superkick, Cesaro using Zeb as a shield to protect him from the Usos, only for it to backfire and Zeb ended up getting pushed into Cesaro taking him out of the match and allowing the Usos to pin Swagger. The Usos are on a roll at the moment and keep producing good stuff in the ring and are probably in line to be the tag team champions when Cody Rhodes and Goldust break up, which is a massive turn around from the position they held on the card 12 months ago.

The Shield promo: The subtle and slow collapse of the Shield continues to take place with their being a little bit more tension between the members as to who will the Rumble, with Rollins saying he would throw Ambrose over the top rope, but perhaps more intriguingly, saying that Ambrose couldn't throw him over the top. Roman Reigns steps in to calm some of the tension by making it clear that all that matters is one of them wins the Rumble, but I would expect that the Rumble could be the start of the breakup of the Shield, with one of them throwing the other of the top rope, and perhaps, not just when they are the last people in the ring.


puRgatoRy:
The Miz on commentary: They still have no idea what to do with the Miz but they want to keep featuring him, so having him on commentary for the evening is a way of getting him on the show and keeping him in the minds of the viewers. And the best attribute that the Miz has when he is a face is his ability to put over what is happening and his promotional skills, as it is why he does a lot of outside promotional work for the WWE in this regard, and he did a decent job of doing this throughout the evening, although he wasn't particularly memorable in terms of being fantastic or terrible. The chemistry between the Miz, Michael Cole and JBL would need some work, particularly between JBL and the Miz as they tended to argue a bit too much, but there is potential for this to become a decent commentary team. And even if it is not a permanent arrangement, having a current wrestler on commentary, providing that they are good communicators, is something that I do think is a good idea, as it allows them to develop their character and personality as well as giving a different and current perspective on what is happening in the ring.

Rey Mysterio vs. Alberto Del Rio: The match between these two was fine in itself – not the best that these two could put together, but for a throw-away TV match, it was absolutely fine. And the pre-match promo from Rey Mysterio in which he referenced the return of Batista on the upcoming Raw but told Del Rio that he should be worried about him tonight was a good way of making the match feel important as well as reminding you about the return of Batista. But if Del Rio is going to be feuding with Batista, even if it just for one match, then he needs to be coming across as a threat who might actually be able to beat him, and thus, should really have won this match. I know he gets some of his heat back by beating Mysterio up after the match, but it would have been far more effective for him to beat Mysterio clean again in the middle of the ring. Mysterio is in the stage of his career that he will always be over with the crowd and thus wins and losses do not really affect him, while given his injuries, he is unlikely to ever be back in the title picture, so taking losses to Del Rio, who at the moment, is around the main event, is not going to hurt him and will benefit Del Rio, who needs wins to actually look like he could beat Batista.

Big E Langston vs. Fandango: The Miz on commentary here did some of his best work of the night in making the Intercontinental title feel important, which added to the overall experience of the match and continued a steady build of Langston. That said, he seems to be treading water at the moment and although the WWE know that they potentially have something with Langston, they don't really seem to have any set plans for him, as his mini-feud with Ryback seems to have been dropped. While they try and figure out where Langston is heading next, it's not necessarily the worst idea in the world for him to just keep picking up victories, and beating Fandango keeps his momentum going in what was an okay match, but not close to the same standard as the match they had for the title a few weeks ago.

#Emmalution: It looks like Emma is soon going to be stepping up from NXT to TV and showing her in the crowd and introducing her slowly and steadily is not a bad way to introduce her to the fans who have not seen her before and know nothing about her. It does look as if they are keeping the same gimmick that she has used on NXT, which has to be a positive, as the gimmick has got over well there and is one of the over the top gimmicks that seems to work really well on the smaller stage but might not necessarily work so well on the main roster. I hope it does, but I'm reserving judgment as to whether it will until she properly debuts.

Paul Heyman and the Big Show: This segment just did not ever really get going and felt almost as if they were filling time and repeating what had already happened in the past and did not tell the audience anything we did not already know. Heyman was always going to run away from the Big Show when he came out, the message the Big Show delivered, saying that he would knock out Brock Lesnar, was one he has already given. What perhaps saved this from being in the wrong was that during the promo he cut, Paul Heyman made it clear that Brock Lesnar would be in attendance on Raw on Monday, and thus again, with his appearance being promoted and mentioned, it should draw in a few more people to see what he will do, particularly with Batista also being on Raw.

CM Punk calls out the Shield/Outlaws: CM Punk directing his ire towards the authority and more specifically, HHH, seems to be continuing the set up for the two of them to meet at WrestleMania clarifies his intentions and starts the transition away from him putting with the Shield and directly with the Authority. That said, something about this segment just didn't truly connect and it just fell a little bit flat, with Kane turning around and chokeslamming Punk to end the show didn't seem to get the reaction it should have done, and the segment didn't quite connect as it could have done.


THE wRong:
Naomi vs. Tamina Snuka: This match a little sloppy and it never really recovered from the botch early on when Tamina went for the face plant, but Naomi does get the win and presumably is the next challenger for AJ for the title, which is understandable perhaps given she has beaten almost all the other potential challengers recently. Not entirely sold on Naomi's in ring ability, and the Funkadactyles as characters haven't really been developed on TV at all since they debuted which makes it a little bit hard to get invested in them. Plus points though for referencing the fact that AJ has surpassed Maryse's title reign to make her the longest reigning champion, and with the Miz on commentary, they could reference their real life relationship to get across Maryse congratulating AJ on her achievement.


THE RIDICULOUS:
NOTHING



The 411:


A hard show to rate, as although there was very little on the show that truly stood out and will be remembered next week, there was also very little that was really wrong with the show with pretty much everything being fairly average and just doing its job.

The Bray Wyatt promo was fantastic and delved deeper into his character, but other than this, everything else was partly by-the-numbers stuff, or in the process of setting something up for the future with the match being a throwaway segment.

The Usos vs. The Real Americans was a good match, as was Del Rio vs. Mysterio, but neither were matches you had to watch had you missed the show, and Del Rio losing hurts his credibility if he is going to be billed as a threat to Batista. With the following Raw being loaded with Batista returning and Brock Lesnar being confirmed, this episode of Smackdown felt very light on star power, with only CM Punk of the top tier talent on the show, and with his role on the show being limited, this episode almost came across as an extended version of Main Event rather than Smackdown.

On the plus side, the format of the show was different to what has been the case over the last few weeks, with no lengthy Shield six-man tag or Randy Orton match, while the Usos had some fresh opponents, and it was nice to watch an episode of Smackdown that wasn't almost a repeat of what had happened before. But what was produced instead was just there almost and other than Bray Wyatt, no one really jumped out and took their chance to do something special.


Show Rating: 6.4

As a reminder, I will be going by the 411 scale…

0 - 0.9: Torture
1 - 1.9: Extremely Horrendous
2 - 2.9: Very Bad
3 - 3.9: Bad
4 - 4.9: Poor
5 - 5.9: Not So Good
6 - 6.9: Average
7 - 7.9: Good
8 - 8.9:Very Good
9 - 9.9: Amazing
10: Virtually Perfect

Have you checked out the Csonka Podcasting Network? If you haven't, you should We run anywhere from 15-20 shows a month, discussing pro wrestling, the world of MMA, the NBA, general sports, popular TV series of the past, bad movies, battle rap, interviews, MMA & Wrestling conference calls and more! Around 10 different personalities take part in the various shows, which all have a different feel; so you'll likely find something you like. All of the broadcasts are free, so go ahead and give a show a try and share the link with your friends on the Twitter Machine and other social media outlets! Running since May of 2011, there are currently over 450 shows in the archive for you to listen to.






The 854th edition is over…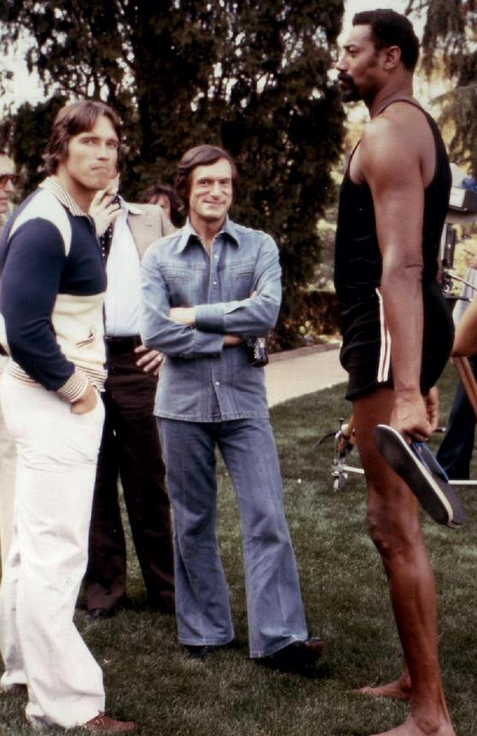 Pimps…
http://www.twitter.com/411wrestling
http://www.twitter.com/411moviestv
http://www.twitter.com/411music
http://www.twitter.com/411games
http://www.twitter.com/411mma
comments powered by