SPOTLIGHTS
Wrestling's 4Rs 1.24.14: WWE Monday Night Raw, NJPW & EVOLVE on iPPV Reviewed
Posted by Larry Csonka on 01.24.2014

Batista made his long-awaited return, John Cena looked to give Randy Orton payback for last week and more! Wrestling's 4Rs breaks down the Right, the wRong and the Ridiculous of WWE Raw, EVOLVE & NJPW on iPPV!


How the 4Rs of wRestling Work!
Here is a quick explanation of the 4R's. The column will run TWO times a week. We will group our feelings on the shows in various categories: The Right, the wRong and the Ridiculous. The Right is stuff that worked very well: a great promo, a great match and so on. PuRgatoRy is a section between the right and wrong. It shows equal traits from both sides that cannot be ignored and need discussed. It is not a bad place per say, as things can get remedied or go the wrong way the very next week. The wRong is what it sounds like: bad matches, bad or boring promos and so on. The Ridiculous is stuff that had no right on TV: Stupid angles and so on. And there is always a possibility of a 5th R, which is as bad as they come. This column is supposed to be analytical, and at the right time very critical of the shows, it was the whole reason it was created. This is not a "mark" column, nor a "smark" column, our goal is to analyze the show from many different fronts, reward the good and call out the bad. We will not apologize for our opinions, they are as they are, whether positive or negative.
---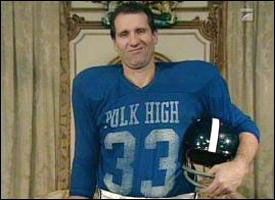 Let's rock…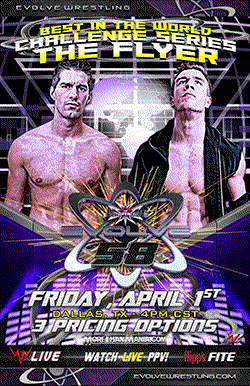 EVOLVE 27
Caleb Konley defeated Lince Dorado [**½]

Los Ben Dejos defeated Johnny Vandal and Maxwell Chicago [**]

Rich Swann defeated Jon Davis [***]

Nick Jackson defeated Lancelot Bravado via DQ [NR]

Chris Hero defeated Chuck Taylor [***]

Anthony Nese and Trent Baretta defeated AR Fox and Ricochet [***½]

Johnny Gargano defeated Uhaa Nation to retain the Open the Freedom Gate Title [***¾]



EVOLVE 27 was another quality event to close of the first weekend of EVOLVE events in 2013. For the overall weekend, I felt that the shows were strong, the new HD look was great and things felt a bit fresher as a whole. Using some of the established FIP talent in Florida was smart, and even thought they still need some work, I feel that Los Ben Dejos are a good addition to the tag scene. The addition of Chris Hero to the WWNLive Universe as it were is a great one, and the new matches are nothing but a good thing for the companies involved. Rich Swann continues to grow as a performer, I like Anthony Nese and Trent Baretta working together, and it is about time that people started realizing how good Baretta is. I told you all last year time and time again, and now everyone is saying the same shit I did nearly verbatim. Strong main event with Gargano vs. Nation; Nation is also growing as a performer, as his time with Dragon Gate proper has been well spent. Gargano continues to be the ace for the company, which is a surprise to no one. They set up some matches, they made some moved to get them going towards WM weekend and it worked; 2014 looks bright for EVOVLE so far.

PS: I know I wasn't planning to cover the shows this year. Plans changed, enjoy the reviews.

FINAL SCORE: 7.5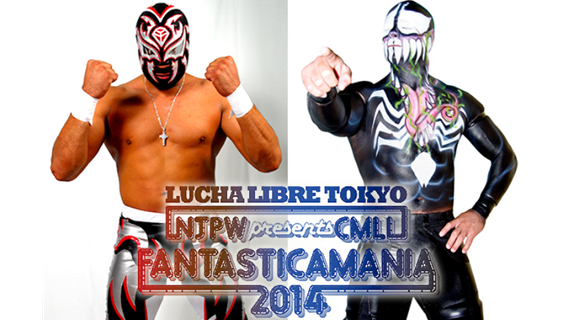 NJPW FANTASTICA MANIA (1.18.14)
Maximo defeated Jado and Taichi [**]

Shigeo Okumura and Yujiro Takahashi defeated Stuka and Rey Cometa [***]

Rey Escorpion, Vangellys, Niebla Roja and YOSHI-HASHI defeated Titan, Fuego, Tiger Mask & KUSHIDA [***]

Mascara Dorada and Desperado defeated Volador Jr. and Bushiroad [**½]

Shinsuke Nakamura defeated Rush [***¾]

Ultimo Guerrero, Kazuchika Okada and Tomohiro Ishii defeated Hiroshi Tanahashi, Tetsuya Naito and La Sombra [****]

Mexican National Lt. Heavyweight Title: Mephisto © beat Mistico II [***½]

This was the second New Japan and CMLL joint FANTASTICA MANIA event on iPPV, and was another enjoyable show. Once again this was another fun joint show, and one where I felt the CMLL talents got the chance to shine a bit more. The top three matches, like many NJPW shows, were the ones that delivered. Nakamura continues to prove he can work with anyone, the six-man was really excellent (with Tanahashi and Okada as anchors) and I felt the Mephisto vs. Mistico II main event good, but not great, similar to EVOLVE 25 and the first FANTASTICA MANIA event. Not bad in any way, but not the big climax match you want. The tag matches tend to stand out a bit more here, as the luchas are so used to working in that multi-man format. Simply put another good show, easy to watch and just fun. While not amazing shows that you'll remember at the end of the year, if you enjoy both NJPW and CMLL, then you won't regret spending the $15 on the event.

FINAL SCORE: 7.4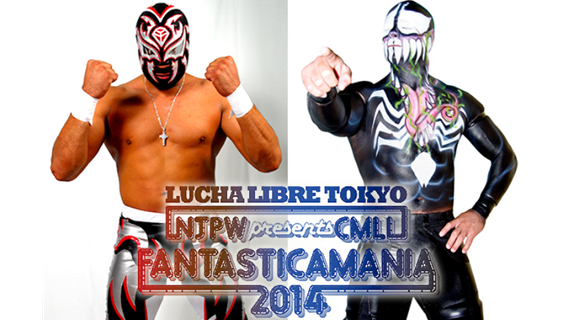 NJPW FANTASTICA MANIA (1.19.14)
By: Larry Csonka
Maximo & Mascara Don defeated TAKA Michinoku Kaientai Dojo & Taichi [**]

Stuka Jr. & Rey Cometa defeated OKUMURA & YOSHI-HASHI [**½]

Titan, Fuego, El Desperado, Tiger Mask & BUSHIROAD defeated Vangelis, Niebla Roja, Toru Yano, Jado & Gedo [***]

Tetsuya Naito & Rush defeated Rey Escorpion & Tomohiro Ishii [***]

La Sombra defeated Ultimo Guerrero [***½]

Hiroshi Tanahashi, Mistico II & Kota Ibushi defeated Shinsuke Nakamura, Mephisto & Yujiro Takahashi[***¾]

NWA World Historic Welterweight Title: Volador Jr.© defeated Mascara Dorada [****]


This was the third and final New Japan and CMLL joint FANTASTICA MANIA event on iPPV, and the finale ended up being the best of the three. I felt as a whole the 2014 version of FANTASTICA MANIA was better than the 2013 version, which felt like a chore to get through at times. This one seemed to be better put together, and the performers were motivated to put on entertaining matches. Once again, there was nothing bad on this show. The tag matches were fun, the six-man Tanahashi and Nakamura was fantastic, and the show peaked properly with the main event. Dorada vs. Volador was a tremendous display of highflying, and just fun from bell to bell. I felt that the show's flow; quality bouts and actually peaking for the main event helped the tour go out on a very positive note. At the end of the year the shows will be afterthoughts even to the hardcore fans, and while there were good matches, there is nothing that will be a MOTC contender from the shows. This is a joint event you can't get from WWE, and that TNA has tried to do with their world cup back in the day; a mix of talent from promotions, with out all of the ego issue since the two enjoy a healthy working relationship. If they can but on events like this (better than last year is what I an getting at) then this should be a very fun tradition following the big January 4 shows. Again an enjoyable show for $15. If you van only buy one show, but the final one; but they are fun and if you just want some fun international wrestling that will put a smile on your face, FANTASTICA MANIA is for you.

FINAL SCORE: 7.7
By: Jack Stevenson
Raw 1.20.14:
QUICK MATCH RESULTS:
The Shield d. The Rhodes Brothers & Big E. Langston

Fandango d. Xavier Woods

CM Punk d. Billy Gunn

Alberto Del Rio d. Rey Mysterio

The Funkadactyls d. AJ & Tamina

The Usos d. The Wyatt Family

Randy Orton d. Kofi Kingston


THE RIGHT:
The Rhodes Brothers & Big E. Langston vs. The Shield: The Shield! A six man tag! It was cracking! I like everyone in this match very much and while they didn't get the chance to really cut loose, they still opened the show in fine fashion. I think it's a shame Langston didn't beat Orton last week, because unlike Kingston a victory would actually mean something for his career. But hey I would be happy if he and indeed everyone in the world competed in six man tag matches in perpetuity till the end of time so I'm still pleased.

Daniel Bryan has left the Wyatts, YES indeed he has, hehehehe: Daniel Bryan never seemed a natural fit for the Wyatt Family, and so while his swift departure has given the storyline a bit of a weird sense of timing, I think it was for the best. His explanation was perfectly rational and the feud now seems sufficiently heated for a fun, intense conclusion at the Rumble. I have few complaints with this.

CM Punk is such a rebel: Kane lost his temper with CM Punk on Smackdown and beat him up and that just wasn't cricket, so Stephanie McMahon made him apologize. He did this and then Punk attacked him and then wrestled another Authority ally (or so it would seem) Billy Gunn. And it was all perfectly OK! Sometimes Punk's "I PLAY BY NOBODY RULES BUT MY OWN HARK AT ME" schtick gets on my nerves so I was a little concerned to see him pitted against the Authority but he has been very likeable and sympathetic so far, and his match with Billy Gunn was far from the disaster it could have been. Gunn has just enough cool power moves to fill a short TV match and so he looked alright in this. All in all, it was fine, incremental progression to the looming Punk-HHH match at WrestleMania.

Rey Mysterio vs. Alberto Del Rio: I thought this was really rather good, a fun, predictably lucha styled match between two guys with nothing better to do than have a good match. It didn't feel hugely important because neither guy is or will be any time soon, but this was still probably the best match of the show.


Large Men Continue to Slam Into Each Other: The Big Show and Brock Lesnar were meant to be together, and I really think they'll put on a great match at the Rumble. This segment kept them ticking over until the PPV in fun fashion. Lesnar showing genuine fear of the Big Show does more for the giant than a win probably would, and Brock will still look unstoppable when he wins with ease at the Rumble. The spill Lesnar suffered over the top turnbuckle and out to the floor was really cool. Aside from the Rumble itself, this is the only match I really want to see on Sunday (Bryan-Wyatt will be fine but nothing remarkable).

The Usos vs. The Wyatt Family: Ah this was a lot of fun. I'm disappointed the crowd didn't feed it some more energy, but even in a vacuum two of WWE's best teams punching each other in the face repeatedly makes for great meaty entertainment. It was kind of just a vehicle for the Daniel Bryan angle, which made it difficult to consider it a really great match in its own right, but this was still good.

A thing about Mae Young: Mae Young was a woman who, at an age older than that of my grandmother, agreed to be powerbombed off the Raw entrance stage through a table by Bubba Ray Dudley. I think that is how she should be remembered; not as a figure to be mocked and derided, as the participant in an extended joke where the punchline was "HAHAHAHA LOOK AT THIS OLD WOMAN SHE'S SO OLD AND A WOMAN," but as someone so nakedly, shamelessly passionate about wrestling she happily did some utterly utterly mad things in its name. Wrestling could do with a few more of those people and it's a terrible shame that we've lost one.


puRgatoRy:
HE WALKS FOR MILES INSIDE HIS PIT OF DANGERRRRRRR: Batista has returned and it's kind of hard to feel excited. I think it's unfair to put this lower than purgatory because he's been back about three hours and all he's done so far is be angry at Randy Orton and beat up Alberto Del Rio a bit, there's not much to judge him on. His original WWE run was in patches excellent; the build to and execution of his split from Evolution was one of the most flawless pieces of storytelling WWE have ever done, he had a lot of good matches while hanging around the main event, and went out with a bang with a tremendous and much needed heel run. So, yeah, Batista is not necessarily a bad thing, but there were no signs in his return that he's going to be anything more than a cool man who we should all admire greatly, and he's not been interesting in that role since 2005. The prospect of him facing Randy Orton at WrestleMania fills me with dismay because it will be such a functional, passable match and that's not what WrestleMania is about, you either have a classic or go out in a Lesnar-Goldberg blaze of dreadful. If I was head of creative (which I will be by Monday should the final round of negotiations go to plan) I'd put him on the undercard with the Wyatts, people who could probably drag something fairly interesting out the character and have a decent outing. But, hey, in the run up to WrestleMania 23 everyone knew Batista-Taker was going to be awful and instead they put on something so wildly entertaining it defined the year, so there's always hope.

Fandango vs. Xavier Woods: This was barely even a thing.

Topless man stands in snow: Randy Orton and Kofi Kingston had a match which was interrupted by John Cena so he and Randy Orton could have a fight through the crowd out to the arena's snowy exterior and eh, it was alright, nothing remarkable that has me buzzing for yet another match between the two at the Rumble, but brawls through the crowd are always mildly entertaining and this wasn't an exception. An inoffensive end to an inoffensive Raw.


THE WRONG:
Divas tag action: Nothing ever happens in this stupid fucking division. Oh, except AJ is now the longest running Divas champion! So well done to her!


THE RIDICULOUS:
NOTHING


THE RAW MATCH OF THE YEAR LIST:
Laptop mayhem forced me to miss last week's column, so the Match of the Year list has changed a lot since we last saw it. It has grown to a full ten and shed some of its skin. There's been no stand-out matches so far this year but I think this is still a respectable top ten.



1.13.14- CM Punk & The New Age Outlaws vs. The Shield


1.20.14- Rey Mysterio vs. Alberto Del Rio


1.06.14- The Usos & Rey Mysterio vs. The Wyatt Family


1.06.14- The Rhodes Brothers vs. The Real Americans


1.06.14- CM Punk vs. Roman Reigns


1.20.14- The Usos vs. The Wyatt Family


1.20.14- The Rhodes Brothers & Big E. Langston vs. The Shield


1.13.14- Rey Mysterio vs. Alberto Del Rio


1.13.14- The Usos vs. Daniel Bryan & Bray Wyatt


1.13.14- John Cena vs. Damian Sandow-


The 411:


There was a lot of decent stuff on Raw this week, but most of it also felt fairly inconsequential, and the big angles with Cena, Orton and Batista fell pretty flat. It was far from a bad episode, but there's nothing here that will sell you on the Rumble or that is hugely compelling in its own right. It's background noise.

Show Rating: 6.0

As a reminder, I will be going by the 411 scale…

0 - 0.9: Torture
1 - 1.9: Extremely Horrendous
2 - 2.9: Very Bad
3 - 3.9: Bad
4 - 4.9: Poor
5 - 5.9: Not So Good
6 - 6.9: Average
7 - 7.9: Good
8 - 8.9:Very Good
9 - 9.9: Amazing
10: Virtually Perfect


By: Nick Sellers


Raw 1.20.14:
THE RIGHT:
Six-man tag: The Shield vs. Big E. and the Rhodes Brothers: Couldn't help but thoroughly enjoy this, and the crowd responded well to it too. The finish was booked brilliantly and I've no issue with Big E taking the fall here; It looks set to give him a program involving Seth Rollins which has some potential, and it's another chink in the armor of Cody & Goldust as they look set to go with a brother vs. brother match in the not-too-distant future. It keeps the Shield strong going into the Rumble match too, and they represent one of more the compelling aspects of that tradition this year. Will they stick together or will they finally implode? Who knows. Great opening match.

Daniel Bryan speaks and Bray Wyatt retorts: Another prime example that Daniel Bryan isn't just a top in-ring worker, but he can absolutely cut it on the microphone as well. Personally I'm still hoping we see Bryan in the Rumble match, but if not I'm sure the match with Bray will have a ton of heat going into it and it'll be great to watch. Bray's promo style isn't to everyone's taste, but I think he makes such a great villain to counteract Bryan's babyface persona and they just seem to click fantastically. Excellent verbal-ness from both men here.

Rey Mysterio vs. Alberto Del Rio: I know they've fought each other several times already, but this was the best of their recent series by a mile. Can't fault any of the in-ring action at all; Rey drew plenty of sympathy from the crowd and Del Rio showcased more of his nasty streak which I think should be the focal point of his character from now on. The stuff with Batista afterwards was great too, even though I think Batista's big reveal could've been saved for later (more on this later in the column). Hopefully Del Rio and Mysterio are kept apart for a bit now, despite how good their latest outing was.

Brock & Big Show altercation: The build-up for this just gets better and better every week. Out of all the programs going into the Rumble, this had by far the best promotion and the most effort invested. Brock losing his temper and going bezerk about it was great, and even though Brock will surely win the match, you're not quite sure how he's going to be able to do it because of how they've made Big Show look like a total hoss. I've no idea how the bout will turn out, but I'll be damned if I'm not hyped to see what transpires.

The Usos vs. the Wyatts: Nearly put this puRgatoRy for a couple of reasons: 1) We've seen these pairings square off a few times already in the past few weeks, and 2) Bryan and the Usos "Yessing" together at the end was a little strange considering they were beating each other up about a fortnight ago and it's all been forgotten in a flash. Reasons this is in the Right? The match was still great and the end of it complimented the earlier back-and-forth promo exchanges nicely. These three baby faces are riding a serious wave of momentum at present and I can only hope it leads to fruitful spells for all of them.


puRgatoRy:
Opening promo with Batista, Orton and The Authority: First, It's good to have the big man back. His promo was short, sharp and to the point: "I'm back to win the Royal Rumble, I'm back to headline WrestleMania and I'm back to become WWE World Heavyweight Champion. So DEAL with it." Enough said. Personally though, I'd have held this off and had him return at the close of the show, in a main event promo. I'd have also combined it with the attack on Del Rio just to round things off. As for Orton and the Authority, the tension is kind of compelling, but at the same time I think it could be executed so much better and without the need for HHH & Stephanie to play it out in a tweener role. I've said before that considering Orton's is the Champion of Champions, his appearance and general demeanor just aren't reflecting that new-found status. The whining and complaining is fine in spades, but he should also be presented as an absolute Don, wearing expensive suits, driving flash cars and looking like Bertie Big Bollocks. Not walking down to the ring in a T-Shirt and his usual gear and hitching rides with common strangers to escape arenas. Which brings us too...

...Orton vs. Kofi and the brawl with John Cena: Back to that last comment, Orton hitching a ride with a stranger? I suppose it was quite cowardly and it worked well in that sense. The Rumble match and the Cena/Orton title match haven't been brilliantly built up for the PPV. Everything leading up to this Orton/Cena encounter just seems so tame and there doesn't seem to be much of a concerted effort to break any new ground from their previous encounters. If anything, with the TLC match taking place last month and only a traditional singles match happening this time, it almost feels like they're going backwards. Still, the match with Orton and Kofi was much better than last week, and Cena worked the crowd up a treat at the end, so this segment escapes the wRong. Nice touch by Cena posing for loads of selfies on his way back to the ring. Also, is it me, or did they deliberately setup the camera backstage just so we could see Cena's new wristbands glow in the dark as some sort of evil marketing ploy? As Ron Burgundy would say: "I'm not even mad. I'm actually kind of impressed!"

CM Punk takes out Kane, then wrestles Billy Gunn: Not sure what to make of this. The match itself was ok, but it was clear towards the end that Billy was losing some steam. Don't get me wrong, it's great to have him back, but the Outlaws should stick with the tag bouts I think. The Punk/Kane stuff was ok but nothing we didn't really cover on Smackdown last week already. There appear to be problems between Brad Maddox and Kane and nobody cares. Punk being made no#1 in the Rumble was the real story here though, and I'm cool with that. At least we're closer now to the inevitable Punk/HHH encounter.


THE WRONG:
Fandango vs. Xavier Woods and #Emmataining: Too short and too pointless to mean anything, and after all time they've spent building up Xavier Woods I'm surprised he lost so cleanly. I like Fandango and hopefully he can move on from this into a decent program with someone else. As for Emma, these shots of her in the crowd for all of about two seconds are rubbish, and she deserves to get a much better and more meaningful debut onto the main roster.

AJ & Tamina vs. The Funkadactyls: Cameron continues to look totally out of her depth, and while Naomi's athleticism isn't in question, the pacing of it doesn't leave a lot of room for the audience to actually breath and digest it. Very lazy build going into this one, but the singles matches with AJ and Naomi do have some potential.


THE RIDICULOUS:
NOTHING


The 411:


There's been better shows already this year and the Rumble PPV build has lacked a bit of spark. Batista's return was a little more low-key than I expected, but it was still good to see him back. The Orton/Cena stuff broke no new ground whatsoever but at least the crowd were into it at the close of the show. The Bryan/Bray and Brock/Show feuds are the best thing they have on TV right now. Other than that, not much to crow about this week.

Show Rating: 6.0

As a reminder, I will be going by the 411 scale…

0 - 0.9: Torture
1 - 1.9: Extremely Horrendous
2 - 2.9: Very Bad
3 - 3.9: Bad
4 - 4.9: Poor
5 - 5.9: Not So Good
6 - 6.9: Average
7 - 7.9: Good
8 - 8.9:Very Good
9 - 9.9: Amazing
10: Virtually Perfect

The 855th edition is over…
"Reigns… SUPER SPEAR ATTACK!



Have you checked out the Csonka Podcasting Network? If you haven't, you should We run anywhere from 15-20 shows a month, discussing pro wrestling, the world of MMA, the NBA, general sports, popular TV series of the past, bad movies, battle rap, interviews, MMA & Wrestling conference calls and more! Around 10 different personalities take part in the various shows, which all have a different feel; so you'll likely find something you like. All of the broadcasts are free, so go ahead and give a show a try and share the link with your friends on the Twitter Machine and other social media outlets! Running since May of 2011, there are currently over 450 shows in the archive for you to listen to.



Your heart is free. Have the courage to follow it…TO CSONKA'S TWITTER!

http://www.twitter.com/411wrestling
http://www.twitter.com/411moviestv
http://www.twitter.com/411music
http://www.twitter.com/411games
http://www.twitter.com/411mma
comments powered by