SPOTLIGHTS
The Magnificent Seven 1.26.14: The Top 7 Most Likely Winners of the Royal Rumble
Posted by Mike Chin on 01.26.2014

From Batista and Sheamus to CM Punk and more, 411's Mike Chin breaks down his top 7 most likely Royal Rumble winners…

To date, WWE has announced twenty names for this year's Royal Rumble. We'll probably see the obligatory nostalgia spots, in addition to appearances from at least a couple stars returning from injury. But who are the favorites to go all the way in this year's Rumble? I'm so glad you asked…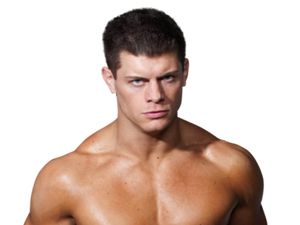 #7. Cody Rhodes



It's probably too early to talk, in earnest, about Cody Rhodes as a Wrestlemania main eventer, but he has thrived as a face since last summer and I do feel there's a sliver of a possibility that now could be the time to give him his big push.

Moreover, Goldust could factor into his brother's main event run in all sorts of interesting ways. He could be an antagonist. WWE has been subtly teasing dissension between the Rhodes brothers (Cody couldn't find Goldust to tag out to at Old School Raw; Vickie Guerrero distracting Cody on Smackdown last week with the reminder he may have to go up against his brother in the Rumble match). I can envision a scenario in which Goldust is jealous, and perhaps does something to cost Rhodes his title shot for 'Mania, or even the 'Mania match itself to ignite a feud in earnest between the two of them.

There's also the possibility that Goldust would act in a similar supporting role for Cody as he did for Booker T at one point, as his closest ally and surrogate victim for heel attacks.

One way or another Cody Rhodes is a fringe main event talent who I wouldn't rule out for an upset win at the Rumble.




#6. Sheamus



It's common knowledge on the IWC that Sheamus is ready to return to the ring and is booked for appearances in Pittsburgh this weekend. So, is the Irishman going to enter the Royal Rumble match? If so, could he win it all?

While I wouldn't call Sheamus the favorite, he has just enough star power to potentially pull off the big win upon his big return. Perhaps the most intriguing part of all is that Sheamus has the potential to win as either a face or a heel. Yes, when he last appeared he was a face, and yes, upon a major star's return, conventional wisdom sees the fans cheering him on. But what if Sheamus were the Authority's secret weapon to ensure CM Punk's elimination? Or what if we went after Batista?

Sheamus already has a Rumble win under his belt and isn't necessarily the most compelling guy to insert in a single-world-title Wrestlemania scenario. Just the same, there's enough intrigue around The Celtic Warrior's return that he's worth watching out for.




#5. Brock Lesnar



Were Brock Lesnar an official, announced participant in the Royal Rumble, I'd probably have him in the top three. As it stands, he can only take part via shenanigans or surprise entry, thus it's a bit of leap to say he'll even participate in the Rumble match.

That said, Lesnar is a threat in any match in which he participates, and given his stated interest in challenging for the undisputed championship, there's every possibility of him entering the title picture during 'Mania season. A Royal Rumble win is the cleanest ticket to a title shot, so don't rule out The Beast.




#4. Roman Reigns



Like Cody Rhodes, Roman Reigns is probably a better pick to win the 2015 or 2016 Royal Rumbles than the 2014 edition. That said, everyone seems to foresee big things for the biggest member of The Shield, and there would be no more decisive way for him to explode into the main event scene than a Rumble win.

A Rumble win for Reigns would open all sorts of possibilities. How would Ambrose and Rollins respond to one of their own clearly surpassing their place on the card? Would Reigns stay heel or turn face? Who will be the reigning champion for him to challenge come Wrestlemania?

No, it's probably not Reigns winning this year, but the possibilities surrounding that outcome are tantalizing enough that I refuse to ignore this scenario altogether.




#3. Daniel Bryan



Truth be told, I've shuffled my top three several times over in the process of drafting this list .

When WWE pulled the plug early on the storyline of Daniel Bryan as part of the Wyatt Family, there was an inherent admission that Bryan was better than the storyline, that the fans didn't want to boo him, and that the WWE faithful is positively ready to see this man finally reach the top of the ladder.

WWE does have other options for Bryan at 'Mania without him entering the title picture. There are well documented rumors about him facing Shawn Michaels in New Orleans. There's still every opportunity for WWE to stretch feud between Bryan and Bray Wyatt out into April. WWE could still revisit the idea of Bryan facing Triple H that everyone seemed keen on when COO Trips got in the habit of screwing with Bryan over the fall. Based on all of these other options, and, perhaps most importantly the fact that he's booked against Wyatt and not yet actually in the Rumble match, I'm hesitant to select Bryan as the favorite.

Just the same, when push comes to shove, WWE does what's best for business. While John Cena is still the man in WWE, no one is more over as his potential successor than D-Bry. Wrestlemania could well be the moment for his ascension, and we all know the road to 'Mania begins here.




#2. CM Punk



The biggest points in Punk's favor are that he's one of the clearest main event level talents in WWE, he's never won a Rumble before, and he's feuding with The Authority, which could easily translate to a program with the reigning champion.

With all of that said, Punk could just as easily find himself squaring off against Triple H at 'Mania, which would reserve a spot for him toward the tip-top of the card without having him challenge for the strap, and thus not having him win the Rumble. That, and while he's clearly standing alongside John Cena and Daniel Bryan as one of the three most popular acts on the permanent roster, he doesn't have quite the electricity behind him that Bryan does now.

All of that said, WWE added quite a bit of intrigue to Punk as contender this Monday with the reveal that he would be entrant number one in the Rumble. It's likely Punk will be this year's iron man, but is WWE ready to revisit a coast-to-coast winner scenario?




#1. Batista



Plenty of pundits claim Batista doesn't have a shot at winning the Rumble since he's just coming back. These are probably the same folks who said Triple H didn't have a shot, returning from his quad injury in 2002.

The fact of the matter is, Batista is a superstar. He's not my favorite, and I don't personally want to see him reinserted into the world title picture with any immediacy, but he's a big enough name, making a return after a long enough period of time, that there's every chance WWE will capitalize and turn the main event roster on its head by pushing Batista all the way to a championship victory at 'Mania.


Those are my picks. Who do you think will win the Royal Rumble? Speak your mind in the comments. See you in seven.

Read stories and miscellaneous criticism from Mike Chin at his website and his thoughts on a cappella music at The A Cappella Blog.
comments powered by